The new Apple iPhone SE is a long-awaited refresh of the original SE released in 2016. The first SE was smaller and less expensive than other iPhone models, and the new SE follows in its footsteps: though it is larger than its predecessor, it's petite compared to most contemporary smartphones and is the most affordable current iPhone. The new SE has a 4.7-inch IPS screen, Apple's latest A13 chipset, and a single 12MP rear camera.
For shooting selfies, the iPhone SE has a single 7MP camera equipped with a 32mm-equivalent f/2.2 lens. The basic hardware specs are the same as the front camera in the iPhone X series (minus the TrueDepth feature), though Apple went with a higher resolution sensor and a wider lens for the iPhone 11 series.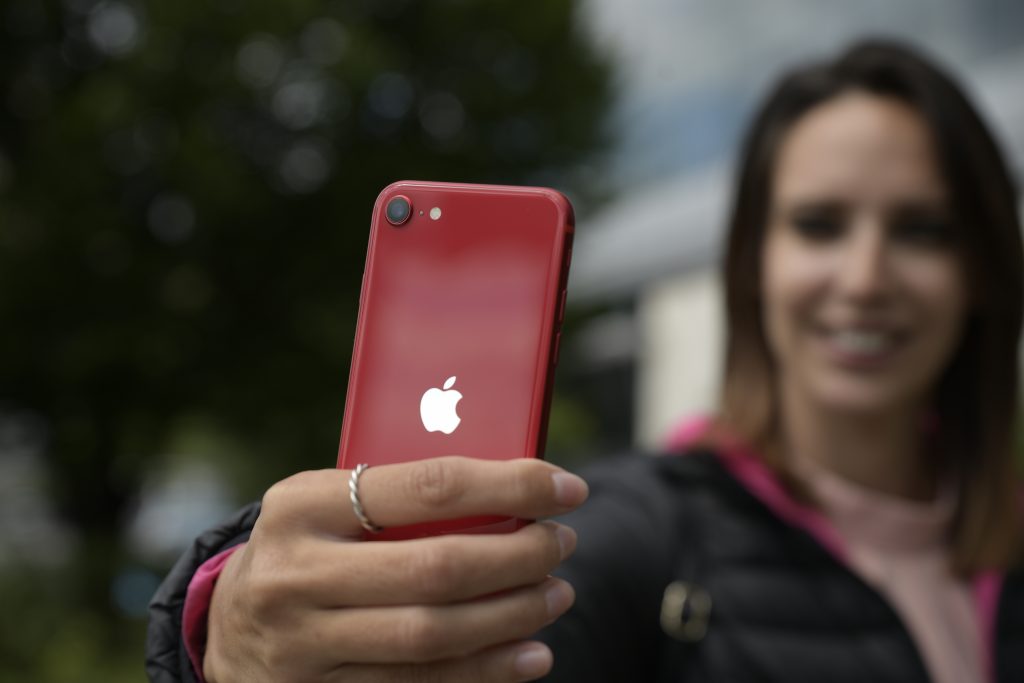 Shooting a selfie with the Product (RED) version of the Apple iPhone SE.
The lens is fixed-focus and does not have optical image stabilization. Apple's automatic HDR is on duty, and the screen can serve as a color-optimized flash.
The iPhone SE's front camera shoots full HD 1080p video at 30fps. Electronic stabilization kicks in when recording video to steady the shot.
Find out how Apple's new budget option measures up in our DXOMARK Selfie tests.
Key front camera specifications:
7MP sensor
32mm-equivalent f/2.2 fixed-focus lens
Portrait mode with bokeh and depth control
HDR, panorama
1080p/30fps video, EIS
About DXOMARK Selfie tests: For scoring and analysis in our smartphone front camera reviews, DXOMARK engineers capture and evaluate over 1500 test images and more than 2 hours of video both in controlled lab environments and in natural indoor and outdoor scenes, using the camera's default settings. This article is designed to highlight the most important results of our testing. For more information about the DXOMARK Selfie test protocol, click here.
Test summary
84
selfie
With an overall score of 84 points, the Apple iPhone SE finds itself among the top 20 in our database for selfie performance. While not hugely impressive by the high-end standards one usually associates with iPhones, it's important to remember that the SE is actually a mid-range handset. As such, its performance is quite competitive.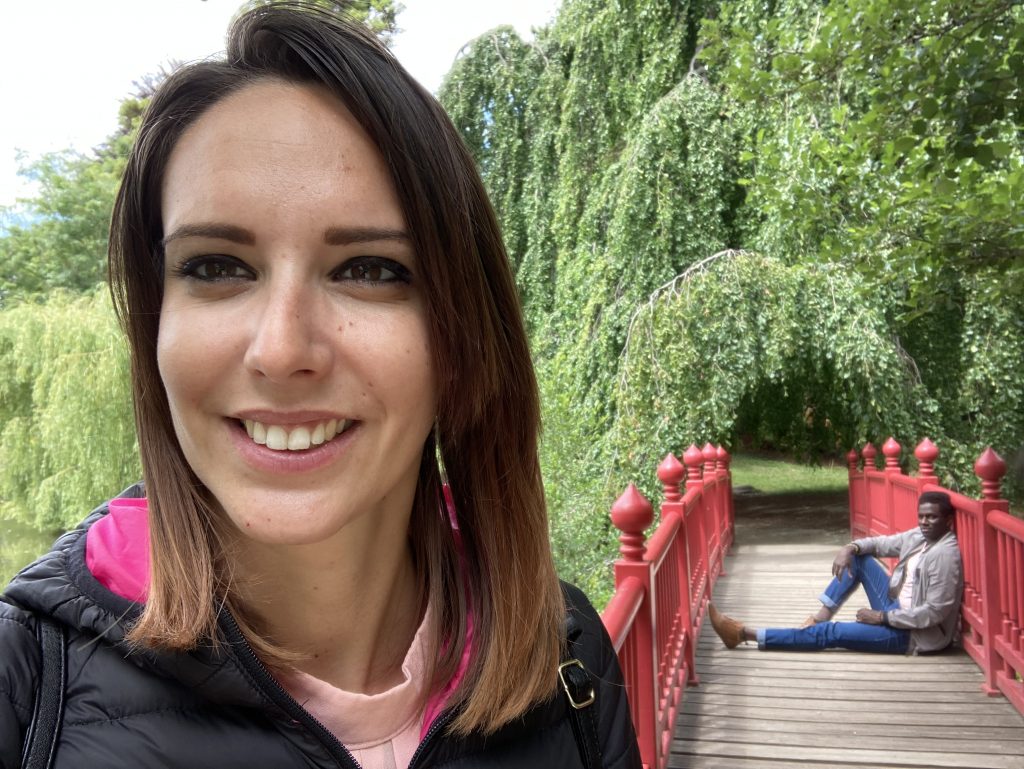 The Apple iPhone SE captures accurate, pleasant, and consistent colors with its selfie camera.
As for specs, the SE's front camera looks a bit last-generation: 7MP rather than the higher-resolution binning sensors that are catching on; fixed focus; no special depth sensing technology. It's a dead ringer for the hardware in the iPhone X series (and for that matter, in the iPhone 8). The SE still manages to edge past the iPhone XS Max in our Selfie testing by a margin of two points. It also ties Samsung's A71, a current and fairly capable mid-range phone that has (on paper) more impressive selfie-cam specs.
The SE's selfie Photo score is 85, which is behind the iPhone 11 (92) and the iPhone 11 Pro Max (93), but just beats the fairly high-end Huawei Mate 30 Pro 5G (84). The SE delivers accurate and pleasant colors in most conditions, though a slight yellow cast is sometimes visible. Exposure is accurate and consistent under most conditions, though exposures can be a bit dark in low light. Dynamic range is acceptable. The SE's portrait mode delivers satisfying simulated bokeh that is competitive with many phones that deploy more hardware to achieve the same effect.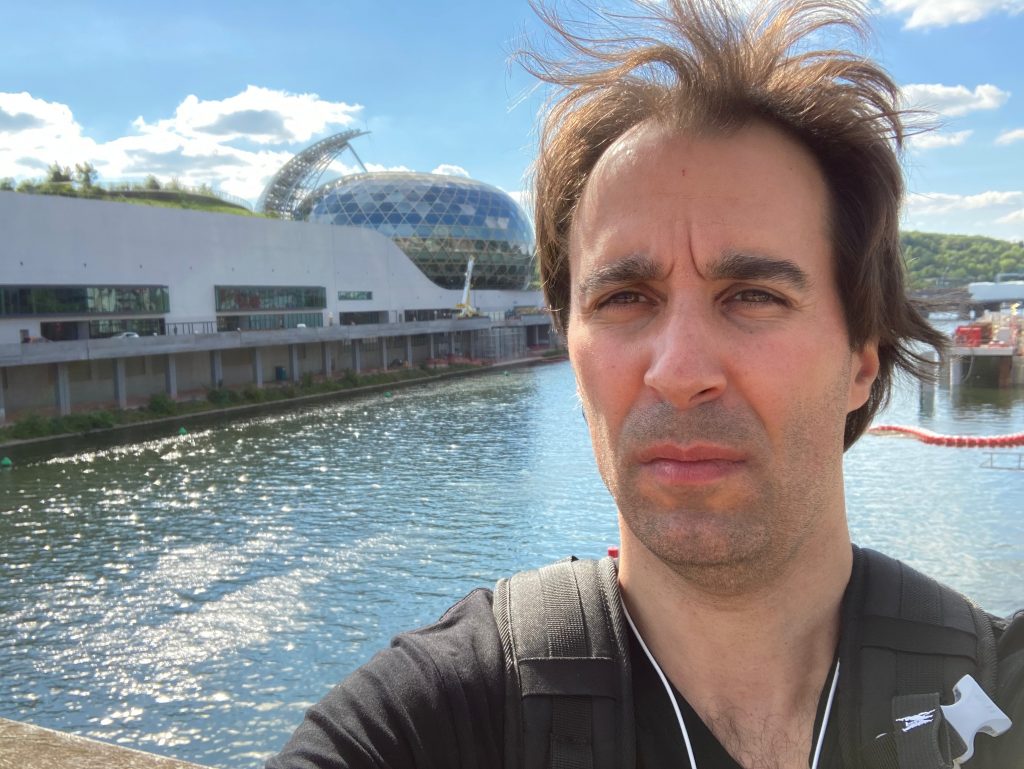 The iPhone SE exposes accurately and consistently; background detail is generally soft.
On the downside, noise is generally higher than we like to see (the exception to this rule is seen in blue skies, which it renders very cleanly). Low-light conditions exacerbate this problem. Backgrounds tend to be soft, since the fixed-focus lens is optimized for fairly close focus, and this also affects people farther from the camera in group shots and even in selfie-stick photos. The SE's front camera is also prone to a few annoying artifacts, including lens flare and color quantization. Flash shots have accurate color, but noise is an issue both on faces and in the background.
The iPhone SE's Video score of 83 represents solid mid-range performance, with accurate exposure is accurate and colors are generally accurate and pleasant. Detail levels are quite high, although the SE does not record 4K video with its selfie camera (the main camera does). Stabilization is quite effective. It's not all roses, though. Detail drops off in low-light conditions, skin tones are sometimes rendered unnaturally, and noise is frequently visible. The fixed, fairly close-focus lens means that depth of field is narrow, so more distant subjects will tend to be soft. The lens flare noted in our stills testing also shows up when shooting video.
Photo scores explained
With a front camera Photo score of 85, the Apple iPhone SE lags behind Apple's current 11-series devices but exceeds the iPhone X series front cameras that we've tested. In this section, we'll consider the SE's still-image performance under varying lighting conditions compared to key competitors and analyze the various sub-scores that add up to its overall Photo score.
Exposure and Contrast
Apple iPhone SE (2020)
70
90
Huawei P50 Pro
Best: Huawei P50 Pro (90)
The iPhone SE earns a respectable selfie exposure score, thanks to generally accurate exposures and acceptable dynamic range. Its performance in this category falls just short of its bigger iPhone 11-series siblings, though it's farther from the best results in our database. (For example, the the P40 Pro clearly outperforms the iPhone SE in low light.)
In outdoor scenes, the iPhone SE generally exposes well for faces. In the photos below, all three phones select an appropriate exposure and manage contrast on the face properly without blowing out highlights or losing shadow detail.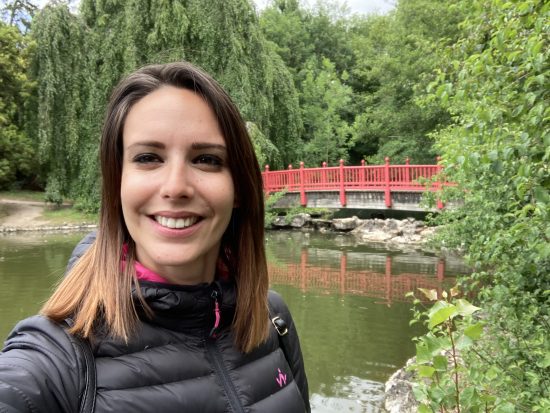 Apple iPhone SE (2020): accurate exposure and good dynamic range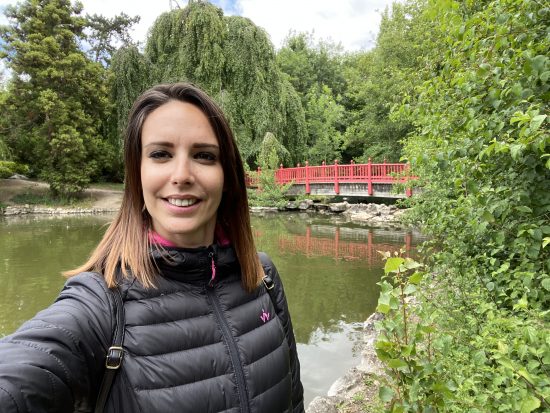 Apple iPhone 11: accurate exposure and good dynamic range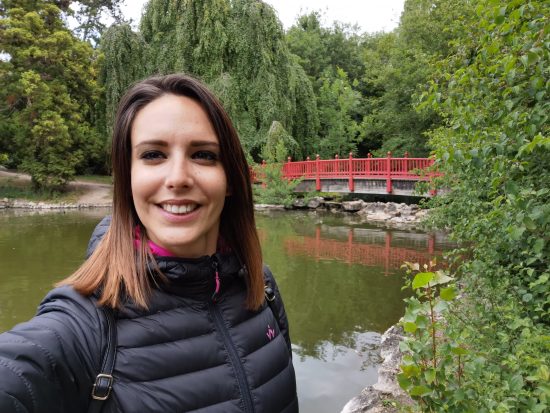 Huawei P40 Pro: accurate exposure and good dynamic range
In challenging high-contrast indoor scenes, exposure remains accurate and dynamic range is acceptable. In the test series below, the SE exposes properly and retains a natural look on the main subject's skin despite some minor red channel highlight clipping. The Galaxy A71 shows visible highlight clipping despite also underexposing the background subject. The P40 Pro opts for a slightly darker exposure that protects the highlights but also underexposes the background subject.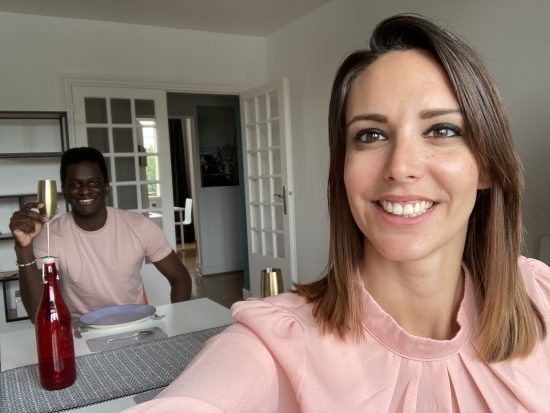 Apple iPhone SE (2020): accurate exposure, minor highlight clipping on face
Samsung Galaxy A71: accurate exposure, visible clipping on face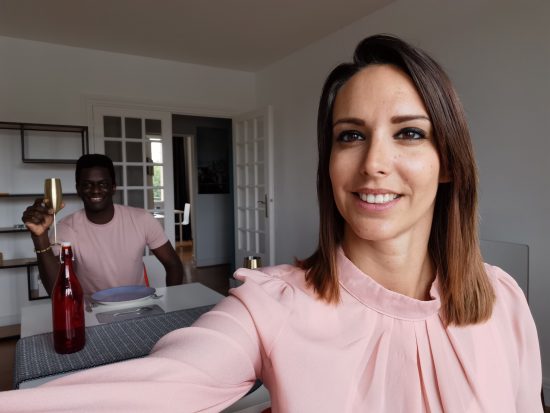 Huawei P40 Pro: accurate exposure, well-controlled highlights on face
Color
Apple iPhone SE (2020)
76
100
Google Pixel 6 Pro
Best: Google Pixel 6 Pro (100)
The iPhone SE delivers bright and vivid colors under most conditions. White balance is usually accurate, though sometimes a yellowish cast is present (visible on the white boat in the sample image below). This additional warmth can be flattering in some cases and might be intentional. The Galaxy A71 opts for a cooler rendering overall, with additional pink in the skin tones, while the P40 Pro's color is quite accurate (with a brighter exposure slightly changing the look of the photo).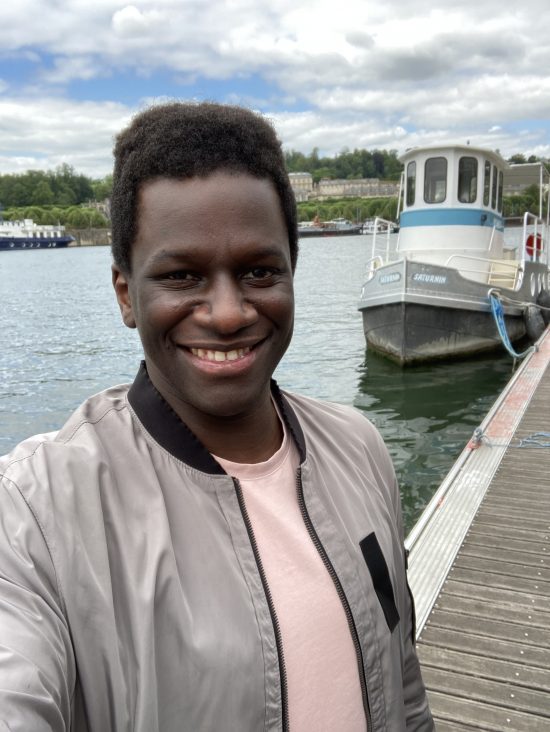 Apple iPhone SE (2020): vivid color, slight yellow cast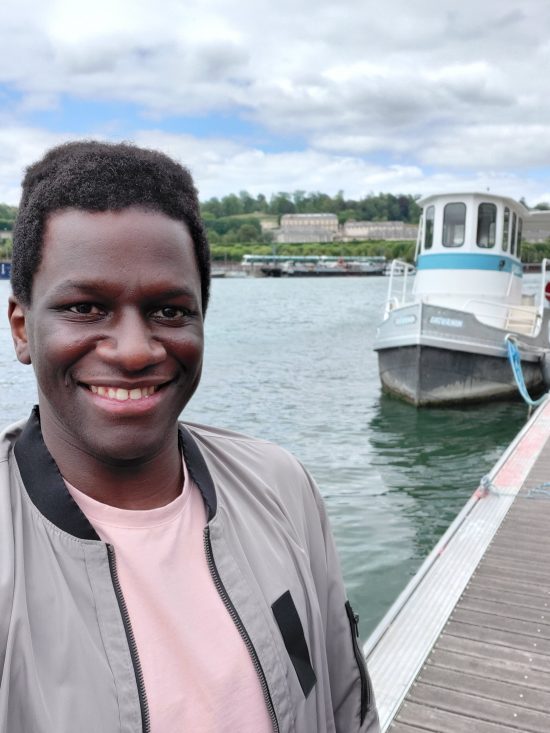 Samsung Galaxy A71: cooler colors, pink skin tones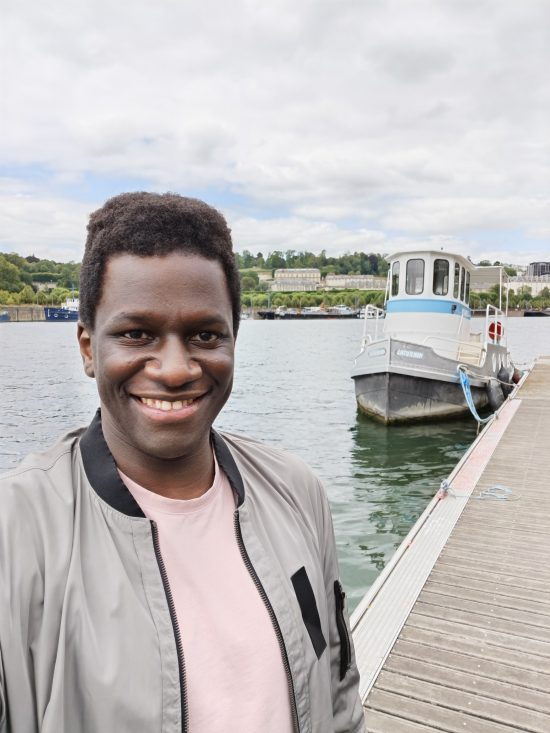 Huawei P40 Pro: accurate color
The SE exhibits some color shading, but it's not likely to be noticeable in most real-world scenes. In the indoor scene below, we again see a slight yellow cast despite the colors being generally accurate and pleasant. The Samsung got quite confused and cranked up the blue, while the Huawei delivered excellent color.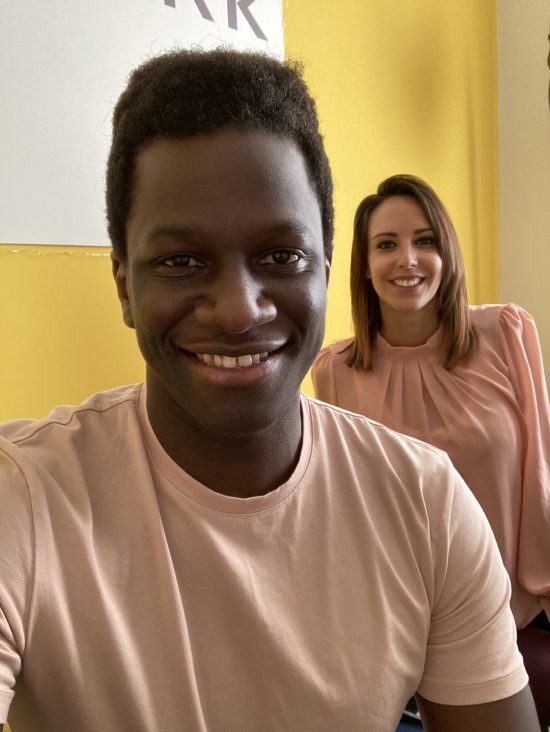 Apple iPhone SE (2020): slight yellow cast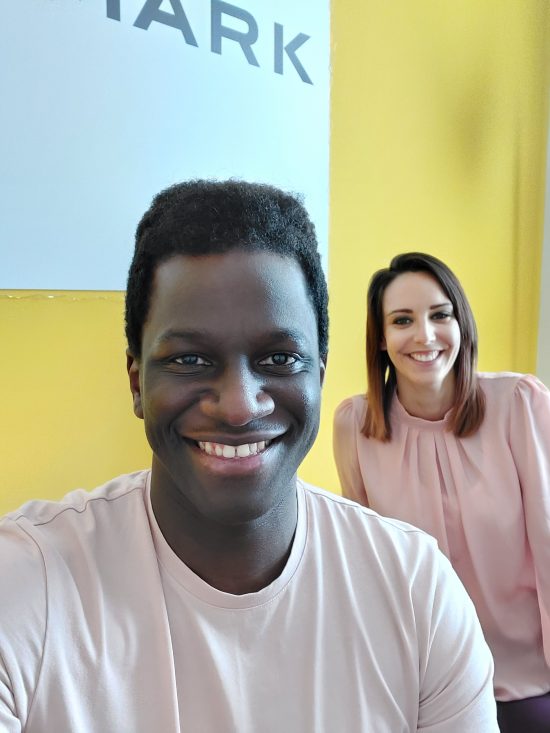 Samsung Galaxy A71: blue cast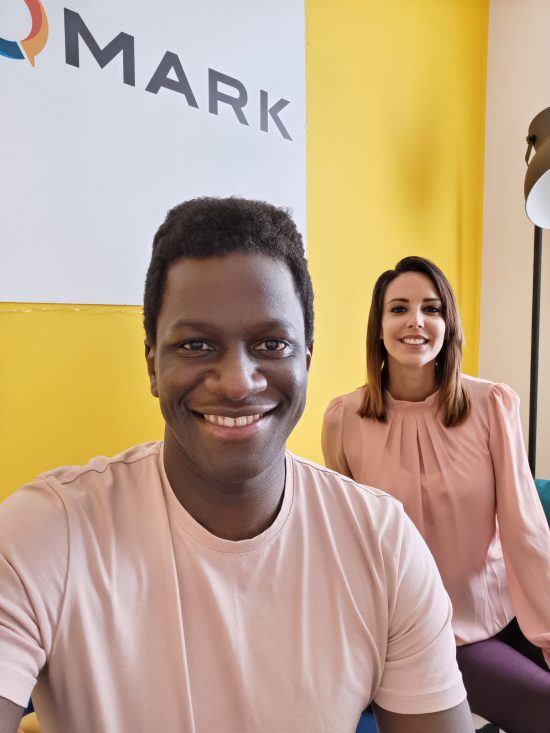 Huawei P40 Pro: accurate color
Focus
Apple iPhone SE (2020)
69
97
Huawei P50 Pro
Best: Huawei P50 Pro (97)
The iPhone SE's fixed-focus lens delivers good detail at close (30 cm) to medium (60 cm) distances, with sharpness falling beyond that. This works well enough for the classic handheld selfie with the subject(s) in the same plane of focus. But the advantage of autofocus at longer focus distances is illustrated by the P40 Pro's flat line in the chart below.

Apple iPhone SE: acutance versus subject distance analysis against competitors in bright light (1000 lux), sharpness falling beyond 60 cm
Because the lens is focused at a close distance, sharpness when using a selfie stick will be reduced and people farther from the camera in a group selfie will be softer than those in the range of optimal focus.
The chart above gives the impression that the iPhone 11 evenly tracks the SE's acutance, but the iPhone 11 actually remains a bit sharper throughout. In the sample series below, it's clear that the iPhone 11's front camera is designed for wider depth of field, with both near and far subjects looking quite sharp.
The SE is slightly softer at close to middle distances, but sharpness drops noticeably for the farther subjects. The P40 Pro actually renders the closest subject slightly soft, probably because its autofocus system settled on the middle subject.
Texture
Apple iPhone SE (2020)
59
85
Samsung Galaxy Z Fold3 5G
Best: Samsung Galaxy Z Fold3 5G (85)
Noise
Apple iPhone SE (2020)
59
90
Huawei P40 Pro
Best: Huawei P40 Pro (90)
The iPhone SE comes in a little low with its texture and noise scores. In the chart below, we see that its texture acutance performance (a good proxy for detail) is quite a bit lower than the reference phones. The gap between it and the iPhone 11 narrows at the lowest light levels, but in good light, the SE clearly captures less detail than its sibling. The P40 Pro puts in a particularly good performance here, and is the current leader in our database for this category.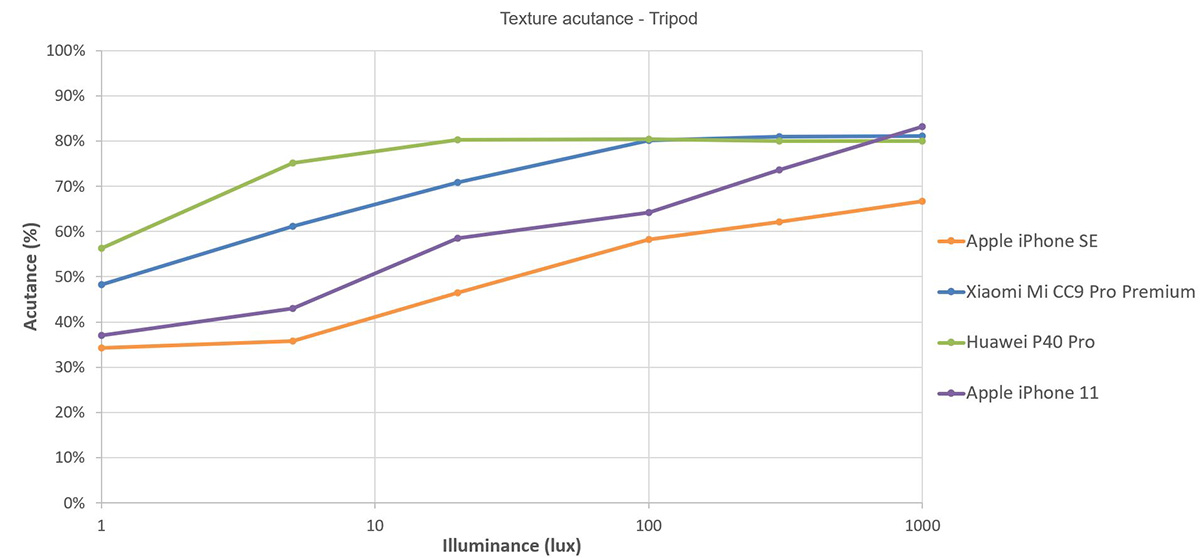 Texture acutance comparison
The overall quality of a selfie is often less dependent on detail levels than on other factors (in fact, some phones actively smooth out texture on faces), but the difference between the SE and the reference phones in good light is quite obvious, even at moderate magnification.
Sometimes reduced acutance is a sign of aggressive noise reduction, but in the iPhone SE's case, noise remains higher than we like to see, despite the relatively low levels of detail. The chart below shows that the SE images are a bit noisier than the reference devices in bright light, with the disparity increasing as light levels drop.

In the test series below we see that the SE's photo is noisier than the iPhone 11's, though the difference would not be dramatic at the display resolutions at which selfies are usually viewed. The P40 Pro's output shows much less noise.
We also noticed that the iPhone SE appears to selectively suppress noise in blue skies, producing cleaner-looking skies than the iPhone 11, which doesn't seem to exhibit this behavior.
Artifacts
Apple iPhone SE (2020)
73
92
Apple iPhone 12 mini
Best: Apple iPhone 12 mini (92)
The iPhone SE controls image artifacts reasonably well, and it earns a score just one point shy of the iPhone 11's in this category. The biggest offender here is lens flare (which the photographer has at least some control over), but the SE also loses points for anamorphic distortion, ringing, color quantization, color fringing, and general loss of sharpness.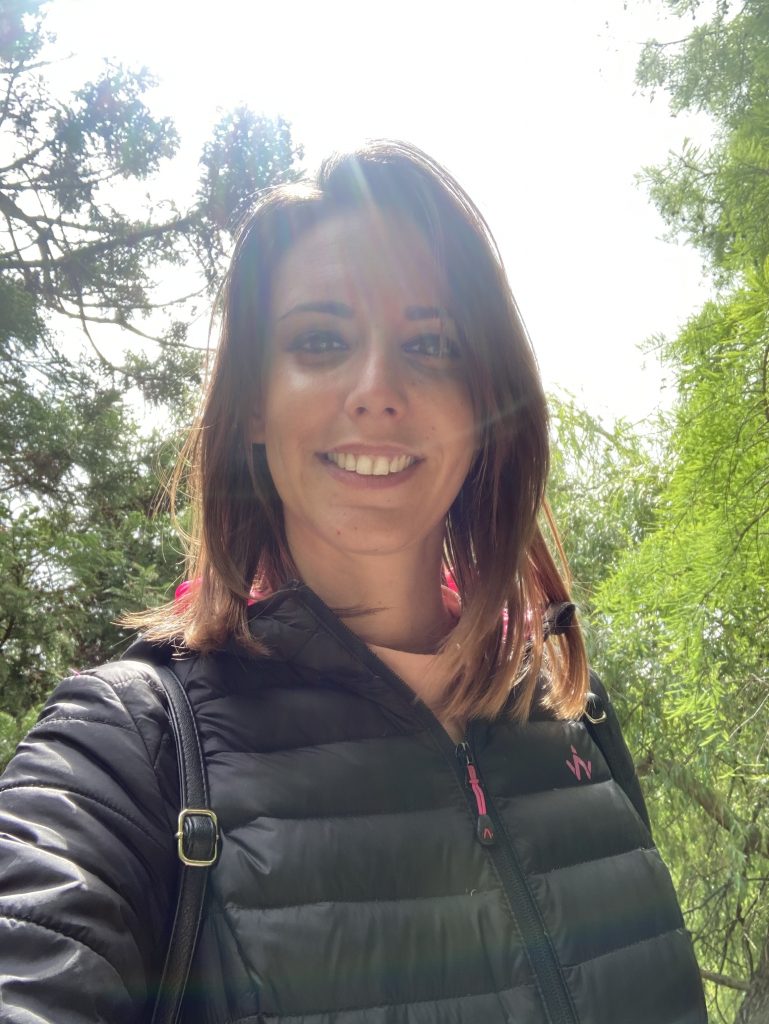 Apple iPhone SE (2020): lens flare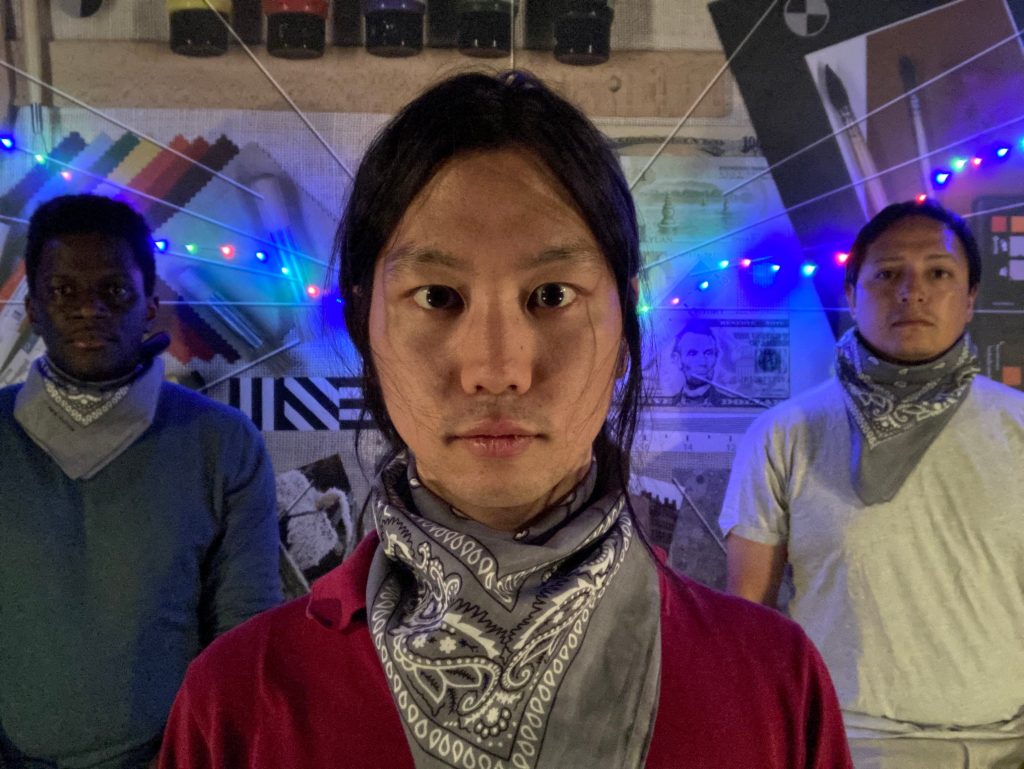 Apple iPhone SE (2020): anamorphic distortion
Flash
Apple iPhone SE (2020)
71
93
Huawei P40 Pro
Best: Huawei P40 Pro (93)
The iPhone SE's flash sub-score is acceptable but not impressive, held down mostly by the amount of visible noise and lack of detail in images. Color quantization and vignetting are quite visible. In the test series below, the SE's screen flash plays nicely with the dim (5 lux) tungsten lighting to produce a selfie with good exposure, accurate color, and pleasant skin tones. But looking closely, it's clear that noise is high and detail is low. The iPhone 11 performs similarly, with slightly lower noise. The Xiaomi uses a much cooler and less-flattering white balance, but noise is well controlled.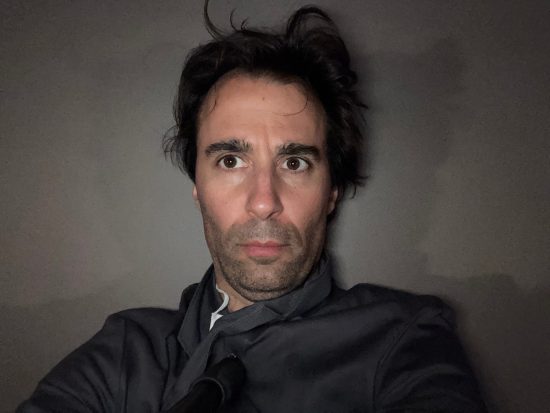 Apple iPhone SE (2020), flash at 5 lux: accurate color and nice skin tones, but visible noise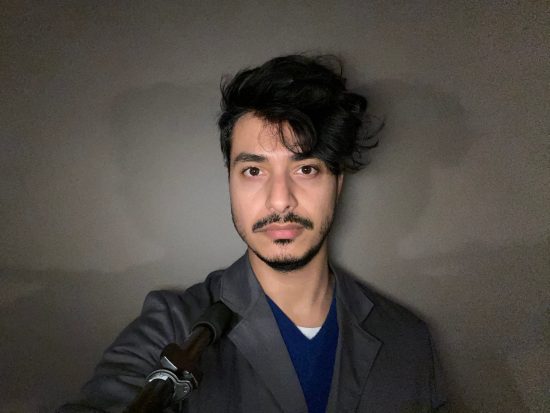 Apple iPhone 11, flash at 5 lux: accurate color and nice skin tones, slightly less noise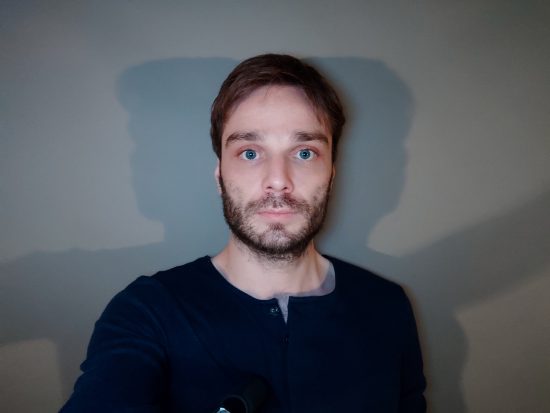 Xiaomi Mi CC9 Pro Premium Edition, flash at 5 lux: cold white balance
Bokeh
Apple iPhone SE (2020)
65
75
Huawei P40 Pro
Best: Huawei P40 Pro (75)
Even without any special depth sensing hardware, the iPhone SE manages a respectable bokeh score that is just five points short of the iPhone 11 and the 11 Pro Max. Presumably brute-forcing the problem of separating subject from background with some good AI, the SE does a decent job of avoiding the worst depth separation artifacts, though errors are still evident. The effect is consistent, and noise is uniform across background and subject. Out-of-focus spotlights are pleasantly rendered.
Certain limitations of inferring depth without actual depth information are apparent in the indoor portrait series below. We see that the iPhone SE blurs the wall to the same degree regardless of where it is relative to the plane of focus, while the iPhone 11 and the Huawei P40 Pro apply a more realistic gradient blur effect, increasing it at greater distances from the plane of focus.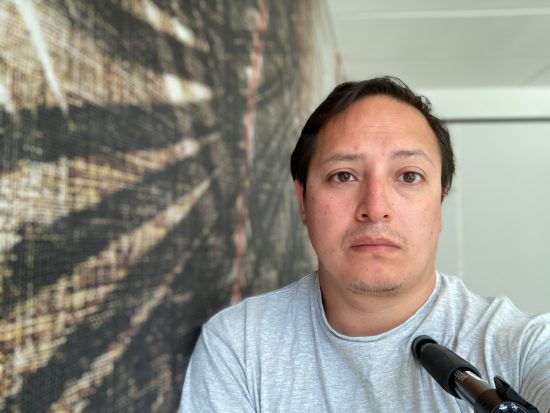 Apple iPhone SE (2020), indoor bokeh: no blur gradient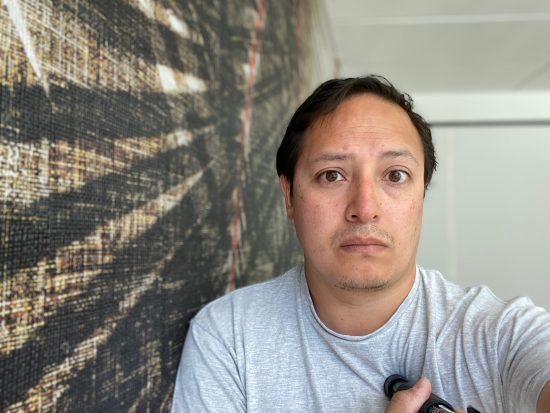 Apple iPhone 11, indoor bokeh: more realistic blur gradient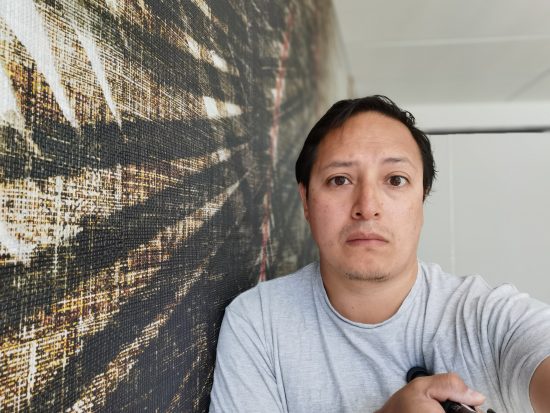 Huawei P40 Pro, indoor bokeh: more realistic blur gradient
Video scores explained
When it comes to video, the iPhone SE acquits itself reasonably well for a mid-range phone, with an overall Video score of 83. Video performance is fairly well balanced, and while no aspect is particularly excellent, neither is anything too bad. Video sub-scores are as follows: Exposure (69), Color (67), Focus (80), Texture (57), Noise (74), Artifacts (84), and Stabilization (72).
Tested in the lab, the iPhone SE delivers accurate exposures until the light gets very low, when nearly all phones struggle. Its performance tracks the iPhone 11 in this test until a very dim 10 lux, when the SE drops lower.

Video target exposure comparison by lighting condition
The SE preserves detail fairly well in its videos, though it's not up there with the best. For this metric, the iPhone 11 is noticeably better until a near-dark 1 lux, when both phones perform about the same (and neither does well). The Huawei P40 Pro holds more detail though most of the brightness range, though it drops below both iPhones at the lowest light levels.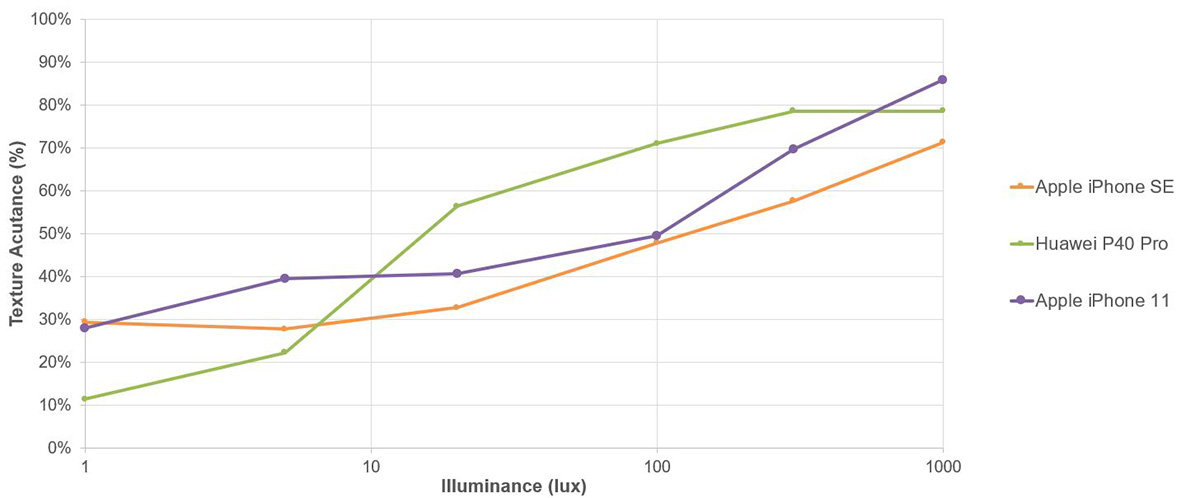 Video texture comparison by lighting condition
The narrow depth of field caused by the closely-focused fixed-focus lens is still visible despite the lower resolution of 1080p videos, and reduces the apparent detail on distant subjects. On the plus side, there's no focus hunting with a fixed-focus lens.
Noise is visible in all tested conditions, but that said, noise levels are usually comparable to the iPhone 11 and even slightly lower than the P40 Pro over most of the tested brightness range.

Video noise comparison by lighting condition
The iPhone SE produces videos with accurate white balance and pleasant colors across a wide range of conditions, though skin tones can look unnatural, which is obviously not ideal for a selfie camera. Artifacts are well controlled, though the lens flare seen in still photography also turns up in videos.
Apple's electronic image stabilization does a fairly good job, though in the videos below we see that it prioritizes keeping the subject steady, with some residual motion visible; by contrast, the iPhone 11 keeps the background steady and allows the subject to move around as he walks. The iPhone SE loses highlight detail in the sky, while the iPhone 11 does a better job of managing the high-contrast scene.
Apple iPhone SE (2020): front camera video
Apple iPhone 11: front camera video
Huawei P40 Pro: front camera video
Conclusion
With generally satisfying selfie performance, the new iPhone SE is a good option for selfie shooters who want a less expensive iPhone alternative to Apple's other current offerings. Although the front camera's basic specs (and the overall phone design) harken back to the iPhone 8, the new SE's selfie performance slips in between the current generation iPhone 11 series and last-generation X-series devices.
Considered against the wider ecosystem of midrange phones, the iPhone SE remains fairly competitive. In stills mode, colors are pleasant and exposure is accurate. Detail levels at the usual selfie arm's-length distance are good, though shallow depth of field softens more distant subjects. Noise could be lower, but artifacts are generally well controlled. Simulated background blur in the phone's portrait mode is handled well.
The iPhone SE shoots satisfying full HD video, with pleasant, accurate color and good detail. When the lights get low, noise predictably increases and backgrounds are soft because of the lens's limited depth of field, but when used with these restrictions in mind, the SE's video capability is acceptable.
While the iPhone SE's selfie performance is not at the same level as other current iPhone models or the best of the market in general, the compromises it makes are reasonable for a mid-range phone and will not disappoint most users.
Photo
Pros
Accurate white balance and pleasant colors
Target exposure is fairly accurate
Details are well preserved at closer distances
Depth estimation is accurate for simulated bokeh and spotlights are pleasant
Exposure with flash is accurate
Cons
Background detail is soft
Noise is visible under all tested conditions
Artifacts such as flare, color quantization, anamorphic distortion, and motion blur visible
Noise and color quantization visible in flash photos
Video
Pros
Target exposure on faces is usually accurate
Accurate white balance and pleasant colors
Good detail levels
Stabilization is fairly efficient
Cons
Loss of detail in low-light conditions
Skin tones sometimes slightly unnatural
Flare is visible in outdoor conditions
Noise is visible in all tested conditions
Narrow depth of field