Over the past three years, thanks to lightning-fast refresh rates, powerful processors, and "monster" batteries, the Asus ROG Phone series established itself as a reference for mobile gaming. And although the phone we're reviewing today is the company's fourth device under the Republic Of Gamers' brand name, it goes by the name of ROG Phone 5 — a denomination which in all likelihood is explained by the tetraphobia of East Asian cultures. The phone will be officially released March 10, but we already got our hands on a production unit.
We put the Asus ROG Phone 5 through our rigorous DXOMARK Audio test suite to measure its performance both at recording sound using its built-in microphones, and at playing audio back through its speakers. In this review, we will break down how it fared in a variety of tests and several common use cases.
The ROG Phone 5 is equipped with no fewer than four microphones, and two speakers.
Audio specifications include:
Qualcomm Snapdragon 888 5G Mobile Platform
Symmetrical dual front-facing speakers (top- and bottom-centered)
3.5 mm headphone jack with ESS DAC
Dirac tuning technology including frequency response correction, and virtual bass technology
About DXOMARK Audio tests: For scoring and analysis in our smartphone audio reviews, DXOMARK engineers perform a variety of objective tests and undertake more than 20 hours of perceptual evaluation under controlled lab conditions. This article highlights the most important results of our testing. Note that we evaluate both Playback and Recording using only the device's built-in hardware and default apps. (For more details about our Playback protocol, click here; for more details about our Recording protocol, click here.)
Test summary
Scoring
Sub-scores and attributes included in the calculations of the global score.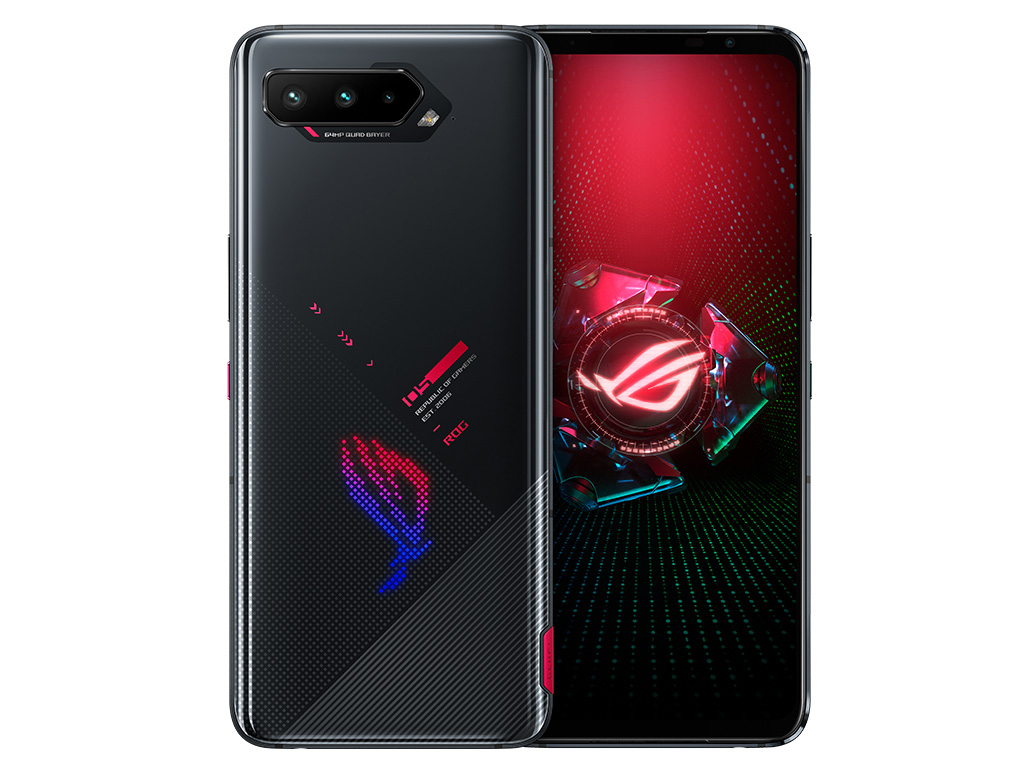 Asus ROG Phone 5
151
audio
Please be aware that beyond this point, we have not modified the initial test results. While data and products remain fully comparable, you might encounter mentions and references to the previous scores.
With an overall score of 79, our Audio protocol placed the Asus ROG Phone 5 at the top of our rankings, surpassing the Xiaomi Mi 10 Pro by three points. While the ROG Phone 3 was, fittingly, the best score for playing games, ROG's latest flagship is now our top-scoring device for both playback and recording, thanks to excellent results across the board.
In playback testing, the ROG Phone 5's performance is anchored by category-leading sub-scores for dynamics, spatial, and artifacts, accurately reproducing most spatial attributes, preserving bass precision and attack sharpness, all while managing to keep sonic artifacts to a minimum. That said, bass could be slightly more present; and maximum volume, somewhat softer than its foremost competitors, could do without the slight pumping effect showing its teeth towards the higher end of the volume scale.
As for recording, Asus' newest gaming phone delivers an outstanding performance, supported by excellent tonal fidelity, realistic spatial traits, accurate envelope rendering, good maximum recording level, and very few noticeable artifacts. However, in loud environments, upper-midrange distortions are perceivable, and bass is slightly lacking. Finally, note that the signal-to-noise ratio can be impaired by elevated background noise.
Sub-scores explained
The DXOMARK Audio overall score of 79 for the Asus ROG Phone 5 is derived from its Playback and Recording scores and their respective sub-scores. In this section, we'll take a closer look at these audio quality sub-scores and explain what they mean for the user.
Playback
Timbre
Black Shark 5 Pro
Best: Black Shark 5 Pro (89)
Timbre tests measure how well a phone reproduces sound across the audible tonal range and takes into account bass, midrange, treble, tonal balance, and volume dependency.
As illustrated in the graph below, the ROG Phone 5 delivers a significantly more homogenous frequency response than its predecessor, with a deep and precise low-end extension, stronger bass that does not induce low-mid prominence, and good balance for midrange frequencies.
Music playback frequency response
Further, bass resonances are more discreet, as are low mids, and treble benefits from a generous high-end extension. Overall, the speakers' top-tier timbre performance and their consistency (depending on the volume) make the ROG Phone 5 particularly comfortable for playing back all music genres and movies.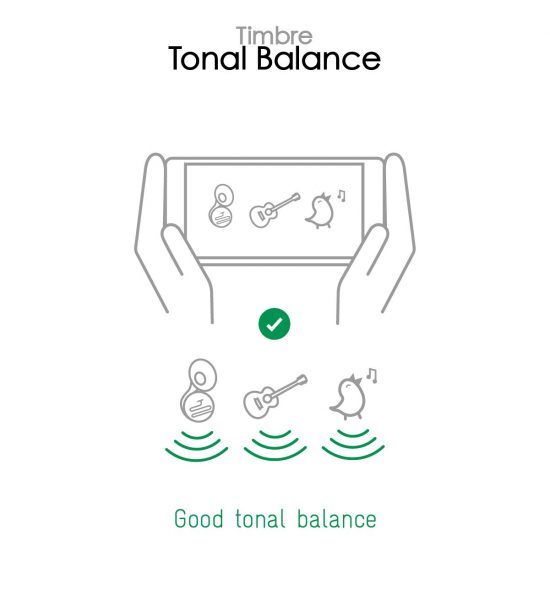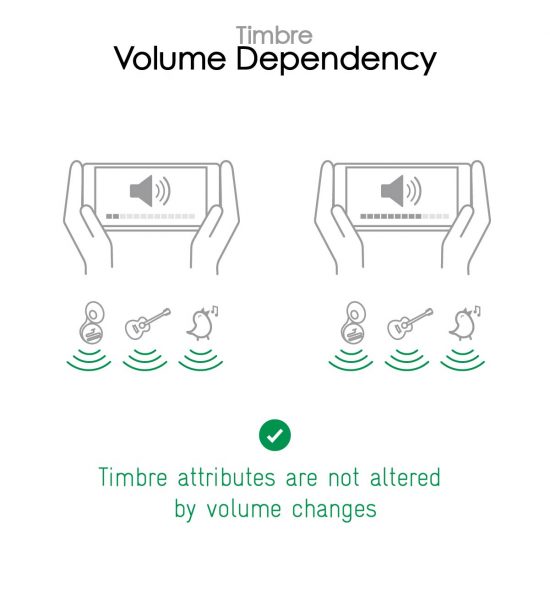 Dynamics
Black Shark 5 Pro
Best: Black Shark 5 Pro (81)
DXOMARK's dynamics tests measure how well a device reproduces the energy level of a sound source, and how precisely it reproduces bass frequencies.
Regardless of the listening volume, the ROG Phone 5's speakers do an excellent job of preserving dynamics when playing back music, watching movies, and playing games.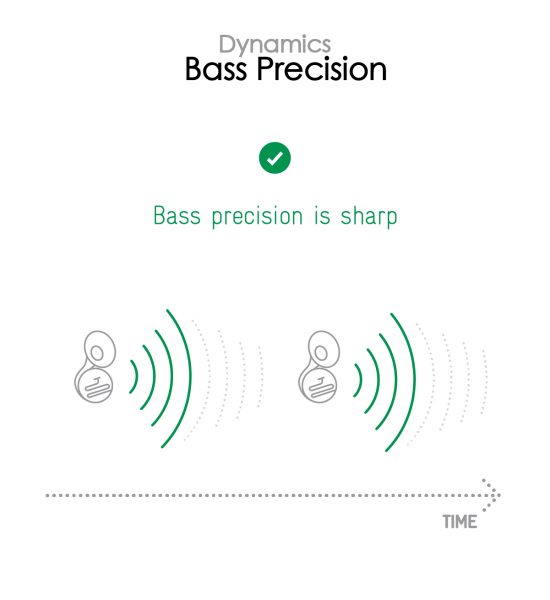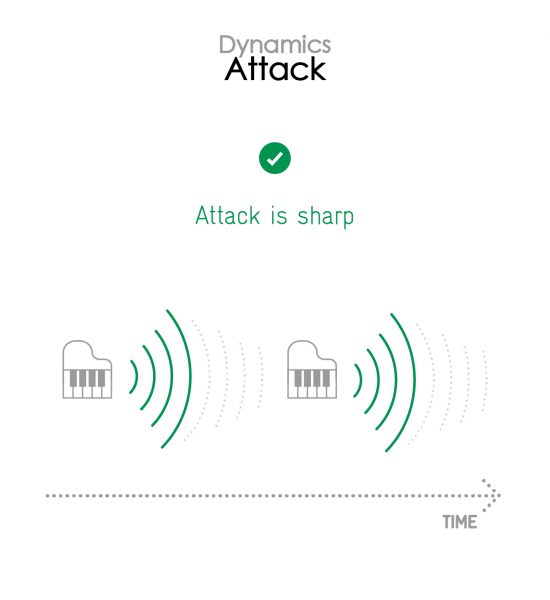 Ample high- and low-end extensions allow the speakers to deliver a particularly sharp attack, precise bass, and good energy in the low end of the spectrum. (Incidentally, the phone got rid of the bass resonances which could impair its predecessor's dynamics.)
Spatial
Black Shark 5 Pro
Best: Black Shark 5 Pro (88)
Sub-attributes for perceptual spatial tests include localizability, balance, distance, and wideness.
Consistent with its other results, the ROG Phone 5 demonstrates very strong spatial attributes. The precision of upper frequencies grants good localizability to the various sound sources, whereas balance between the left and right channels is impeccable across all our use cases.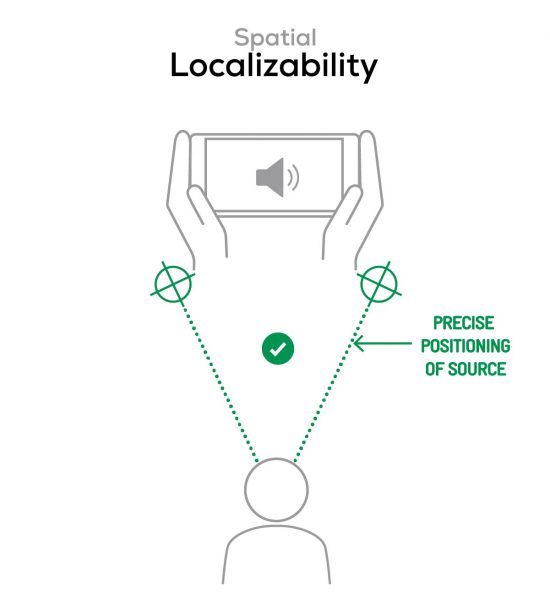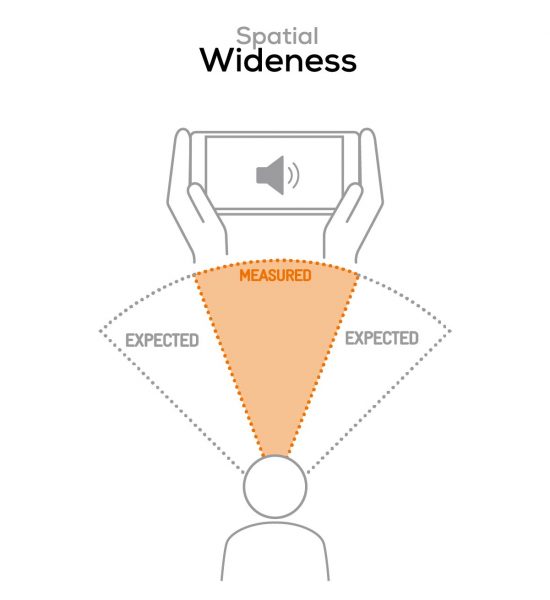 Distance rendering is highly realistic thanks to the midrange evenness. As for wideness, while assuredly above average, it is somewhat narrower than similarly-built devices.
Volume
Nubia RedMagic 7 Pro
Best: Nubia RedMagic 7 Pro (91)
Volume tests measure both the overall loudness a device is able to reproduce and how smoothly volume increases and decreases based on user input.
The ROG Phone 5 fares fairly well in volume, with a sub-score of 72. At minimum volume, dynamic content such as classical music and movies remains fully intelligible. More generally, as shown in the graph above, volume steps are evenly distributed, which allows a precise and natural adjustment of the listening level. Finally, maximum volume is loud enough, although not on par with similarly-built phones.
Here are the results of the objective measurements we carried out in our laboratories, using recordings of both hip-hop and classical music played at the maximum user volume step:
| | | |
| --- | --- | --- |
| | Hip-Hop | Classical |
| Asus ROG Phone 5 | 74.4 dBA | 71.2 dBA |
| Asus ROG Phone 3 | 74.5 dBA | 69.6 dBA |
| Xiaomi Mi 10 Pro | 73.8 dBA | 69.5 dBA |
Artifacts
Xiaomi Redmi K50 Gaming
Best: Xiaomi Redmi K50 Gaming (113)
Artifacts tests measure how much source audio is distorted when played back through a device's speakers. Distortion can occur both because of sound processing in the device and because of the quality of the speakers.
Audio played back on the ROG Phone 5 exhibits very few artifacts overall. Bass resonances and distortions perceived in the previous generation are no longer noticeable, and except for slight pumping at maximum volume, the phone is very skilled at controlling both spectral and temporal artifacts across all use cases and listening volumes. Also, note that our experts detected no user-induced artifacts.
Recording
Timbre
Honor Magic3 Pro+
Best: Honor Magic3 Pro+ (91)
As established by its category-leading Recording timbre sub-score of 85, the ROG Phone 5's microphones deliver outstanding tonal fidelity. Recordings feature great tonal balance in all tested scenarios, with natural midrange, precise treble, and good high-end extension.
Life video frequency response
All frequency ranges fare remarkably well regardless of the use case (life video, selfie video, electronic concert, memo, and meeting). However, recordings made in loud environments show a slight lack of bass.
Dynamics
Black Shark 5 Pro
Best: Black Shark 5 Pro (81)
Dynamics in audio recorded through the Asus ROG Phone 5's microphones are well preserved. The envelope rendering is very good, and vocal plosives (phonemes like "p" and "b") are particularly sharp. However, just like its predecessor, when recording in noisy environments, attack in particular is impaired by the loudness of the background noise.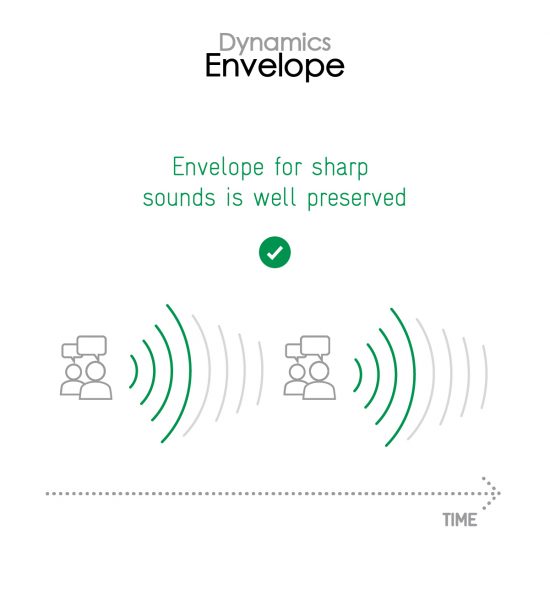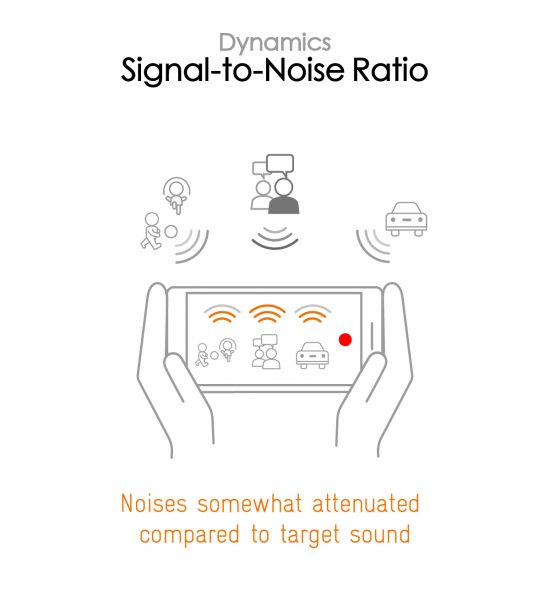 Spatial
With a sub-score of 78, the Asus ROG Phone 5 outperforms the previous title holder in this area, namely its older sibling. The microphones do a very good job of preserving a wide sound stage, even when filming selfie videos in which side voices are slightly attenuated compared to front voices.
Sound sources are clearly localizable, with particularly good results in meeting scenarios. Further, distance rendering is also excellent thanks to the natural reproduction of midrange frequencies.
Volume
Black Shark 5 Pro
Best: Black Shark 5 Pro (99)
The ROG Phone 5's maximum recording level without distortion is excellent, which comes in particularly handy when recording in loud environments. It also delivers a highly consistent volume performance in every use case, and very satisfying loudness for all types of recorded content. Here are our test results, measured in LUFS (Loudness Unit Full Scale); as a reference, we expect loudness levels to be above -24 LUFS for recorded content:
| | | | | |
| --- | --- | --- | --- | --- |
| | Meeting | Life Video | Selfie Video | Memo |
| Asus ROG Phone 5 | -22 LUFS | -21.2 LUFS | -17.9 LUFS | -18.5 LUFS |
| Asus ROG Phone 3 | -23.2 LUFS | -20.2 LUFS | -18.7 LUFS | -19.7 LUFS |
| Xiaomi Mi 10 Pro | -27.4 LUFS | -20.3 LUFS | -18.6 LUFS | -21 LUFS |
Artifacts
Black Shark 5 Pro
Best: Black Shark 5 Pro (97)
Slight upper-midrange distortions are still noticeable on shouting voices, and occasional noises triggered by the user's fingers can be perceivable when filming selfie videos. That all said, recordings made with the Asus ROG Phone 5 exhibit very few artifacts overall, which earns it the highest score we've measured to date in this category.
Background
Black Shark 5 Pro
Best: Black Shark 5 Pro (60)
When it comes to recording, the phone's seamless tonal balance, its accurate reproduction of midrange frequencies, and its ability to control sonic artifacts result in a very natural and harmonious background rendering.
Conclusion
The latest ROG flagship delivers the best audio performance of all the phones we have tested to date, with consistent results and category-leading sub-scores in both Playback and Recording. While it isn't the loudest nor the strongest in bass we've measured to date, the Asus ROG Phone 5 still constitutes an excellent choice for nearly any use case you might need it for — from listening to music, gaming, or watching movies, to recording in all types of configurations and environments.
Playback
Pros
Great performance overall
Very good timbre, with clear tonal balance
Excellent spatial performance, with precise localizability and realistic distance rendering
Accurate attack thanks to precise high-end extension
Very good bass precision
Very few sonic artifacts overall
Cons
Slight lack of bass
The sound field is somewhat narrower than for similarly-built devices.
Maximum volume could be slightly louder.
Subtle pumping effect noticeable at maximum volume
Recording
Pros
Excellent microphone performance overall
Great tonal balance for all tested use cases, with precise treble and natural midrange
Very good localizability and great wideness performance, as the audio scene is wide and realistic.
Great envelope rendering with sharp and precise plosives
Maximum recording level without distortion is excellent.
Very few artifacts overall; bass distortions and resonances issues have been fixed.
Cons
In high-SPL scenarios, a slight lack of bass is noticeable and upper midrange distortions are present.
SNR performance is impaired by loud background noise.
In the Press