Earlier this year, Bang & Olufsen unveiled its latest luxurious multi-room speaker, launched at a starting price of $1549 — although some of the Danish brand's devices reach far loftier prices. The Beosound Level is a modular WiFi and Bluetooth portable speaker, IP54-certified and battery-operated, and despite its rather domestic appearance, it is also suitable for outdoor us.
The 3.3 kg portable speaker is equipped with five Class D-amplified speakers — two 0.8-inch tweeters, a 2-inch full-range speaker and a pair of 4-inch woofers — and offers WiFi connectivity with multi-room capabilities, Spotify Connect, Apple AirPlay2, Chromecast, Bluetooth, and an optical as well as a 3.5 mm jack input. With all that, the Beosound Level claims to deliver a "flawless listening experience in beautiful, portable form" that adapts to the speaker's orientation: "dynamic bass" when laid flat, "unmatched clarity" when upright or "an enveloping soundstage" when placed on a wall. Additionally, the speaker features an active room compensation to also adapt to the space's acoustics for a "clear, detailed listening experience at all times."
We put the Bang & Olufsen Beosound Level through our rigorous DXOMARK  Speaker test suite to measure its performance at playing audio back through its speakers. In this review, we will break down how it fared in a variety of tests and several common use cases.
Key specifications include:
Speakers: two 2 cm (0.8″) tweeters, one 5 cm (2") full-range speaker, and two 10 cm (4") woofers
Weight 3.3 kg (7.3 lbs)
Connectivity: Bluetooth, WiFi, Chromecast, AirPlay2, optical and 3.5 mm jack
Google Assistant
IP54 (dust and splash resistant)
16 hours of battery life
Stereo pair capable
Test conditions:
Tested with iPhone
Communication protocol used: AirPlay2
About DXOMARK Wireless Speaker tests: For scoring and analysis in our wireless speaker reviews, DXOMARK engineers perform a variety of objective tests and undertake more than 20 hours of perceptual evaluation under controlled lab conditions. This article highlights the most important results of our testing. Note that we evaluate playback using only the device's built-in hardware. (For more details about our Speaker protocol, click here.) The Bang & Olufsen Beosound Level falls into the Premium category of devices in the DXOMARK Speaker rankings.
Test summary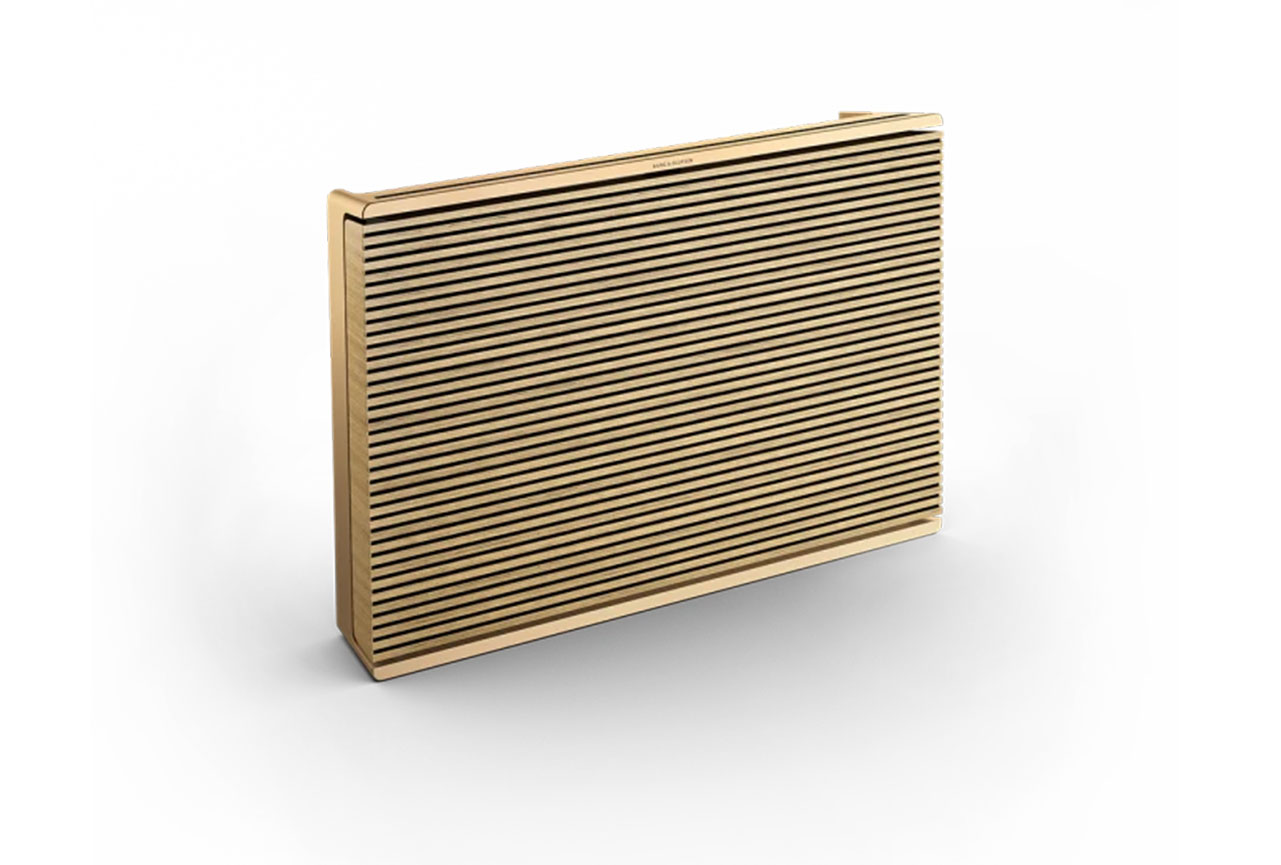 Bang & Olufsen Beosound Level
124
speaker
Pros
Pleasant and colorful timbre at nominal volume
Good distance performance; localizability is correct despite strange stereo
Cons
Inconsistent tonal balance at high volume
Inconsistent dynamic processing and strange stereo rendering
Bass and lower treble resonances
Underwhelming volume and artifacts performances
Its overall score of 124 puts the Bang & Olufsen Beosound Level at the bottom of our premium speaker rankings, right between two advanced speakers: the Sony SRS-XB43 and the Huawei Sound X.
The speaker is fairly suited for listening to music while relaxing at home thanks to a colorful and lively timbre restitution with enhanced bass, clear midrange, and rich lower treble. Bedtime music or podcasts are also possible because timbre at softer listening levels doesn't differ too much from nominal volume, despite a more obvious lack of low midrange.
On the other hand, playback as a whole is too dependent on internal processing, and becomes unreliable at higher volumes: the frequency response becomes even more unbalanced with inconsistent bass, hollow midrange, and occasionally aggressive treble. Dynamics are rather underwhelming, and spatial attributes are strongly hamstrung by a cross-talk issue or a phase processing. Volume characteristics aren't on target either due to inconsistently distributed volume steps before maximum volume; it isn't as loud as its other premium competitors, and the speaker exhibits very noticeable temporal artifacts such as classic compression and pumping.
Sub-scores explained
The DXOMARK Speaker overall score of 124 for the Bang & Olufsen Beosound Level is derived from a range of sub-scores. In this section, we will take a closer look at these audio quality sub-scores and explain what they mean for the user, and we will show some comparison data from two of the device's competitors, the Bowers & Wilkins Formation Wedge and the Bang & Olufsen Beosound Balance.
Timbre
128
Bang & Olufsen Beosound Level
152
Bowers & Wilkins Formation Wedge
DXOMARK timbre tests measure how well a speaker reproduces sound across the audible tonal range and takes into account bass, midrange, treble, tonal balance, and volume dependency.
Playback timbre comparison
The Bang & Olufsen Beosound Level turns a good timbre restitution overall: the tonal balance is characterized by enhanced bass, clear midrange, and rich lower treble. While the frequency response is certainly not flat, it is nevertheless pleasing, colorful and musical.
Music playback frequency response
That said, the bass sounds processed, which induces occasional resonances. This doesn't get better as the listening level increases; at higher volumes, the speaker struggles to keep bass consistent and reliable. What's more, it falls short when it comes to low-end extension.
Midrange frequencies are clear, natural, and pleasant but can sound somewhat hollow, due to a lack of low midrange. The midrange also proves to be quite inconsistent; at softer volumes, the lack of low midrange is exacerbated, and at louder volumes, its "hollowness" extends to higher frequencies thus becoming more obvious.
Finally, treble could be brighter if less emphasis was put on lower treble — which can often sound a bit resonant and tinny, and even slightly aggressive at loud volumes — and more emphasis was cast on the upper treble and high-end extension.
Bang & Olufsen Beosound Balance
Bang & Olufsen Beosound Level
Bowers & Wilkins Formation Wedge
Dynamics
106
Bang & Olufsen Beosound Level
137
Bowers & Wilkins Formation Wedge
Our dynamics tests measure how well a device reproduces the energy level of a sound source, taking into account attack, bass precision, and punch.
Playback dynamics comparison
While attack isn't as sharp as expected, and punch is rather weak, bass precision is the most impaired attribute due to multiple resonances, especially at loud volumes, and an exaggerated bass sustain. As a whole, the sound envelope appears to be affected by the Beosound Level's dynamic processing (compression).
Spatial
89
Bang & Olufsen Beosound Level
111
Bowers & Wilkins Formation Wedge
Our spatial tests measure a speaker's ability to reproduce stereo sound in all directions, taking into account localizability, balance, wideness, distance, and directivity. Please note that wideness is 0 on mono speakers and on speakers that cannot deliver a significant stereo effect.
Playback spatial comparison
The spatial sub-score is heavily impaired by what appears to be a crosstalk issue (audio leaking from one channel to the other), or an ill-adapted phase processing. This results in an unrealistic stereo scene, highly dependent on both the audio content, and the listener's position.
The speaker's spatial performance is otherwise rather good. The localizability of the elements within the mix is fairly precise in spite of these shortcomings, and distance rendering is adequate.
Volume
67
Bang & Olufsen Beosound Level
141
Bluesound Pulse Mini 2i
Our volume tests measure both the maximum loudness a speaker is able to produce and how smoothly volume increases and decreases based on user input.
Playback volume comparison
The maximum level delivered by the Beosound Level is a bit subpar compared to other speakers sharing the same dimensions. Here are a few sound pressure levels (SPL) we measured when playing our sample recordings of hip-hop and classical music at maximum volume:
| | | | | | | |
| --- | --- | --- | --- | --- | --- | --- |
| | Correlated Pink Noise | Uncorrelated Pink Noise | Hip-Hop | Classical | Latin | Asian Pop |
| Bang & Olufsen Beosound Level | 84.8 dBA | 83 dBA | 79.6 dBA | 81.4 dBA | 79.4 dBA | 75.7 dBA |
| Bang & Olufsen Beosound Balance | 93.4 dBA | 91.8 dBA | 90.8 dBA | 93.5 dBA | 91.1 dBA | 85.6 dBA |
| Bowers & Wilkins Formation Wedge | 90.4 dBA | 87.4 dBA | 89.1 dBA | 81 dBA | 90.2 dBA | 83 dBA |
But what really hinders the speaker's sub-score in this category is its very peculiar volume steps distribution, as seen in the graph below, where the maximum volume is reached well before the last volume step!
Playback volume consistency comparison
Artifacts
101
Bang & Olufsen Beosound Level
133
Sonos Five
Our artifacts tests measure how much source audio is distorted when played back, along with such other sound artifacts as noise, pumping effects, and clipping. Distortion and other artifacts can occur both because of sound processing and because of the quality of the speakers.
Playback artifacts comparison
While compression remains fairly discreet at nominal volume, it becomes really obvious at louder volumes. Overwhelming compression and pumping appear, which utterly crush the dynamic range, and it even takes a toll on the speaker's timbre.
Playback total harmonic distortion
Bass distortion, not systematically problematic when it is adequately handled, is less tolerated when it is inconsistent, which is the case with the Beosound Level. And in addition to overwhelming compression and pumping, some distortion is also noticeable at high volumes.
Conclusion
While the Bang & Olufsen Beosound Level certainly has numerous aesthetic and design arguments, its audio performance is not up to par compared to its premium competitors. The Beosound Level is relatively well suited for listening to music when relaxing at home (and probably in the garden, too, by means of its 16-hour battery and IP54 certification) thanks to a rich and colorful timbre restitution, but its performance in the other categories (dynamics, spatial, volume, and artifacts) and especially at louder volumes is strongly impaired by an ill-adapted compression algorithm and a strange stereo field rendition, leaving much to be desired.