Introduction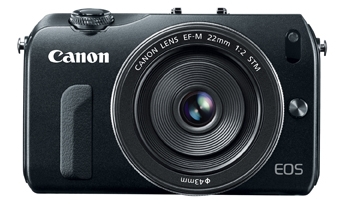 Yesterday, the electronics giant announced its first mirrorless camera, the Canon EOS M, with hopes of making waves in an already crowded field that includes at least half-a-dozen of Canon's rivals: Nikon and its recently launched 1 J1 and V1 models, Panasonic and its popular Lumix DMC-G1, Sony's NEX line, Leica's retro-looking M series, in addition to players Pentax, Olympus, and Samsung.
The EOS M is a camera that resembles a compact and lightweight DSC. But like similar mirrorless cameras, it allows for the versatility and image quality of a DSLR by including interchangeable-lenses and better image resolution.
For the latter, the EOS M employs many of the technologies found in Canon's existing DSLR lineup, including the adoption of an 18-megapixel APS-C size CMOS image sensor (similar to the EOS 650D) and the in-house made DIGIC 5 Image Processor (found in the 5D Mark III).
Canon contends this image sensor and processor combination helps the EOS M shoot just over 4 frames per second. It also says the camera can produce images with excellent dynamic range, even in low light environments with its ISO range of 100-6400 (we'll be sure to test this).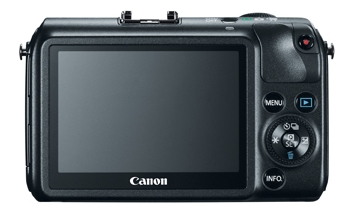 The EOS M also lassos many of the features found in today's most popular point-and-shoot cameras like:
An LCD touchscreen monitor measuring 7.5-centimeters across and boasts more than 1-million dots in resolution. The screen has operational features like a pinch-to-zoom and swiping to review pictures.
Seven creative filters.
"Scene Intelligent Auto" mode, which Canon describes as technology that optimizes photos best on shooting conditions and scene detection.
Canon is gunning to make the EOS M the brightest star in the expanding mirrorless camera division by embedding some of its much adored video technology made popular by the 5D Mark II. The EOS M incorporates Full HD 1920X1080 resolution video that is capable of filming at 30, 25, or 24 fps. The camera also offers up fast video and picture autofocusing with its Hybrid CMOS AF – the 31-point autofocus system is especially effective at zeroing in on moving targets or scenes.
Other video perks of the EOS M include:
Full stereo sound, with manual audio level controls of up to 64 levels, and a built-in stereo microphone.
Its ability to snap pictures while shooting video.
Multiple recording formats, including MPEG-4, MOV, and H.264
Touchscreen editing.
Accessories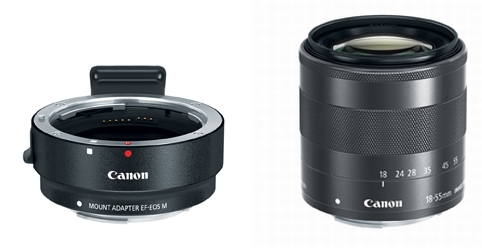 At left is an adapter for the EOS M that allows for compatibility with Canon's EF and EF-S lenses.
At right is the EF-M 18-55mm f/2.5-5.6 IS STM lens made exclusively for the EOS M.
To accommodate the EOS M's mount (which it's coining EF-M), Canon created two unique lenses specifically made for its new mirrorless camera including the pancake-like EF-M 22mm f/2 STM and EF-M 18-55mm f/2.5-5.6 IS STM lenses. Canon has also made it easier for photographers to tap Canon's larger pool of EF and EF-S lenses by making a lens adapter that runs about $200 (USD).
Specifications and Highlights
| | |
| --- | --- |
| Type | Mirrorless hybrid, digital single-lens non-reflex |
| Announced | July 23, 2012 |
| Indicative price (USD) | $799.99 (includes EF-M 22mm f/2 STM Lens) |
| Sensor type | CMOS |
| Resolution | 5184 x 3456 |
| Sensor photo detectors (Mpix) | 18.0 |
| Sensor size (mm) | 22.3 x 14.9 mm (APS-C size) |
| Color filter array | RGB |
| Bits per pixel | 14 |
| ISO latitude | 100-6400 (Expandable to 12800 for video, 25600 for photos) |
| Fastest – Slowest speed (s) | 1/4000 – 30.0 |
| Frame rate (fps) | 4.3 |
| Aspect Ratio | 03:02 |
| Dust cleaning | Yes |
| Mount type | Canon EF-M (EF and EF-S lenses can be mounted using adapter) |
| Weight | 262 grams / 9.2 oz. |
| Dimensions | 108.6 x 66.5 x 32.3 mm / 4.28 x 2.62 x 1.27 in |
| Battery type | LP-E12 |
| Image format | JPEG, RAW |
| Focus | Auto and Manual |
| Focus Modes | Single-Shot AF, Servo AF, Manual |
| Number of autofocus points | 31 |
| Viewfinder type | No |
| Monitor size | 3 in. |
| Monitor pixel | 1,040,000 dots |
| Touchscreen | Yes |
| Video File Format | MOV, H.264 |
| Maximum format image video | 1920 x 1080 |
| Full HD | Yes |
| Connectivity | USB 2.0 Hi-Speed for photos, NTSC/PAL for video |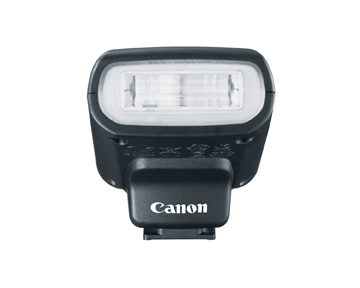 The EOS M does not include an on camera flash, so Canon has created a lightweight unit that can be mounted on top of the EOS M. The lightweight Speedlite 90EX is advertised as having wireless capabilities, and is compatible with other EOS DSLRs.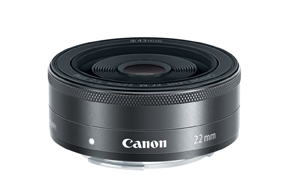 The Canon EOS M will be bundled with the new EF-M 22mm f/2 STM at an estimated retail price of around $799.99 (USD). The camera will come in four colors including red, black, white, and silver, and will hit shelves in October.DxOMark will be sure to provide a full sensor and image quality review as soon as we get our hands on Canon's new mirrorless camera.