The Canon EOS R8 is a new entry-to-mid-level full-frame mirrorless model that is likely to replace the EOS RP with which it shares a passing resemblance. While the EOS RP features a 26MP sensor, the EOS R8 has a full-frame 24.2 MP CMOS type sensor, but that and the AF system are believed to be the same as that used by the EOS R6 II — a $2,500 camera. Canon has paired the EOS R8 sensor with the Digic X processor, enabling a native sensitivity range of ISO 100 to102,400 expansion to ISO 50 to 204,800.
As a price-sensitive model, the EOS R8 lacks in-body stabilization and features a pared-down mechanical shutter with a maximum of just 6 fps in its continuous shooting mode. However, using the fully electronic shutter option up to 40 fps is possible and there's also a 30 fps Raw Burst mode with 0.5-second pre-shot buffering that should prove a useful option for candids and sports.
Even though the EOS R8 isn't positioned as a high-end model, it has some thoroughly impressive video capabilities, with full width (6K) oversampled UHD 4K 60p and slow-mo Full HD 1080 180p to name just two.
At the rear, the EOS R8 features a 3.0-inch (2.3m-dot) LCD vari-angle touchscreen, along with a similar control layout to the existing EOS RP. In an effort to keep the weight and size down (it weighs just 461g/1.0lb for the body with card and battery) there's a small (LP-E17) battery and single SD UHS-II card slot housed in the bottom of the grip.
Connectivity options include USB-C, mini-HDMI, Bluetooth LE and Wi-Fi, plus the EOS R8 features the Next-generation multifunction hotshoe for optional audio and flash-oriented accessories such as the tiny Canon ST-E10 wireless flash transmitter.
The Canon EOS R8 is available now for $1499 / €1799, body only.
Key specifications:
24.2 MP full-frame CMOS sensor
Native ISO 100-102,400, expansion to ISO 204,800
40 fps fully electronic shutter (6 fps part-mechanical)
30 fps Raw Burst mode with 0.5-second pre-shooting buffer
Full-width 4K video downsampled from 6K at up to 60p
2.36 m-dot OLED viewfinder (0.7x magnification)
Fully-articulated rear screen 3.0-in 2.3 m-dot LCD touchscreen
Next-generation multifunction hotshoe
Single card slot (SD UHS-II)
Overall performance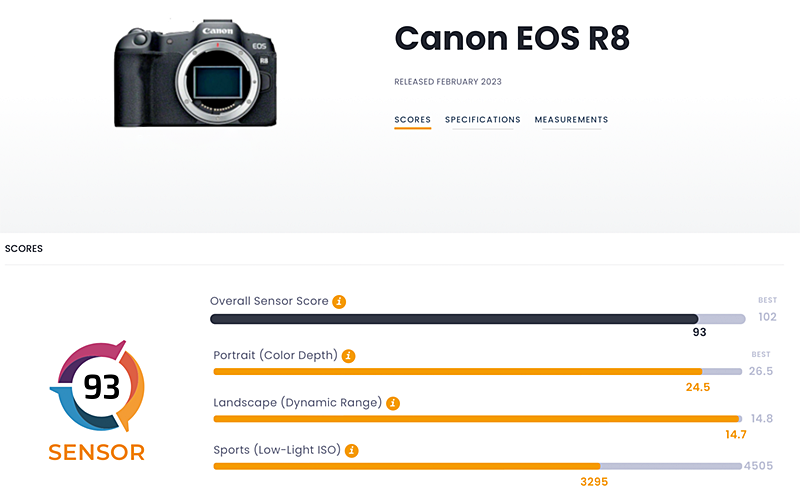 Click on the score chart above to open the Canon EOS R8 product page.
The 24.2 MP sensor in the Canon EOS R8 achieved a DXOMARK score of 93 in our tests, which puts it in joint 10th place overall and in 3rd place for Canon sensors. That's well above the Canon EOS RP at 85 and even above the flagship 20MP Canon EOS 1Dx III but just below the EOS R5 and R3.
The sensor's strongest result is in dynamic range with it achieving a maximum of nearly 15 stops (14.7 EV) at base sensitivity (ISO 100), which is a similar peak value to that of the Canon sensors in the high-end EOS R5 and R3. The sensor's dynamic range response is also impressive over the 100-400 ISO range. Color depth is another high point and is similar to the EOS R5 and R3 at 24.5 bits, while the computed low-light score of 3295 ISO lies between the two cameras.
In-depth comparisons
Although neither 'back-side-illuminated' nor 'stacked' the 24.2 MP CMOS sensor in the Canon EOS R8 has similar performance characteristics to BSI sensors from rivals. As a result, it makes sense to compare it with the 24.2 MP BSI CMOS in the Nikon Z6 II even if that camera sits at a higher position in the market. We've also compared the Canon EOS R8 with another model sporting a BSI sensor and one that also lacks the first curtain in its mechanical shutter, the 24.2 MP Sony A7c.
Portrait (color depth)
Given that the Canon EOS R8 is equipped with a front-side-illuminated sensor it performs exceptionally well in the color sensitivity test. At low ISOs (50-200) it's only just fractionally lower than the Sony A7c and Nikon Z6 II and even matches them at the ISO 400 setting. After that, it falls behind slightly at ISO 800 and then throughout the ISO sensitivity over a range of just 0.1-0.4 bits to ISO 51,200. However, images from the Canon EOS R8 stay above our 14-bit minimum quality threshold at ISO 25,600, which is in line with the BSI sensors in the Sony A7c and Nikon Z6 II. The Canon EOS R8 even outperforms the two rivals at the ultra-high ISOs of 102,400 to 204,800. It's not clear what Canon is doing with its sensor tech but it's an impressive result for a conventional CMOS sensor.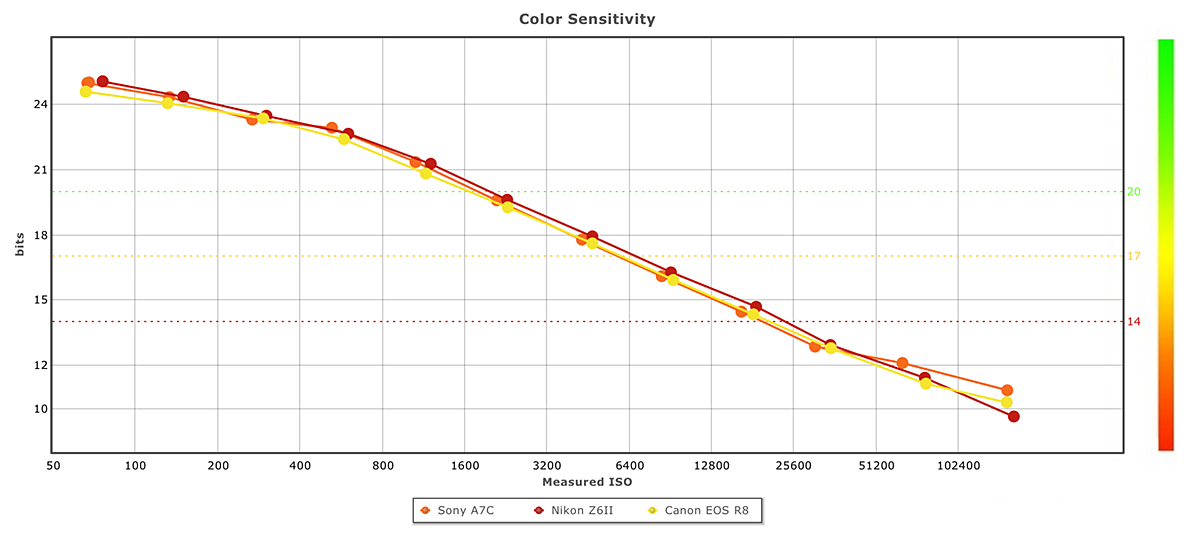 Landscape (dynamic range)
The Canon EOS R8 sensor has unexpectedly impressive performance in dynamic range, particularly at low-to-mid ISOs. Sensor response is particularly interesting over the ISO 100-400 range, where the Canon EOS R8 captures the widest dynamic range of the three models. At ISO 50/100 the Canon EOS R8 has a maximum DR of 14.7 EV outperforming both rivals. However, while the differences there are small, the EOS R8 continues to capture a dynamic range of over 14 EV at both ISO 200 and ISO 400, well over +1.0 EV advantage at the latter setting. Both rivals perform a gain in sensitivity at ISO 800 with the A7c seeing a difference of around + 0.25 EV over the EOS R8, but this is really only a slight advantage. Where you might expect to see the BSI sensors outdo conventional CMOS sensors is in high ISOs after the mid-ISO gain. However, there's only a marginal (+0.1-0.2 EV) difference between them, except perhaps for the Sony A7c at ISO 204,800 where there's +0.8 EV uplift.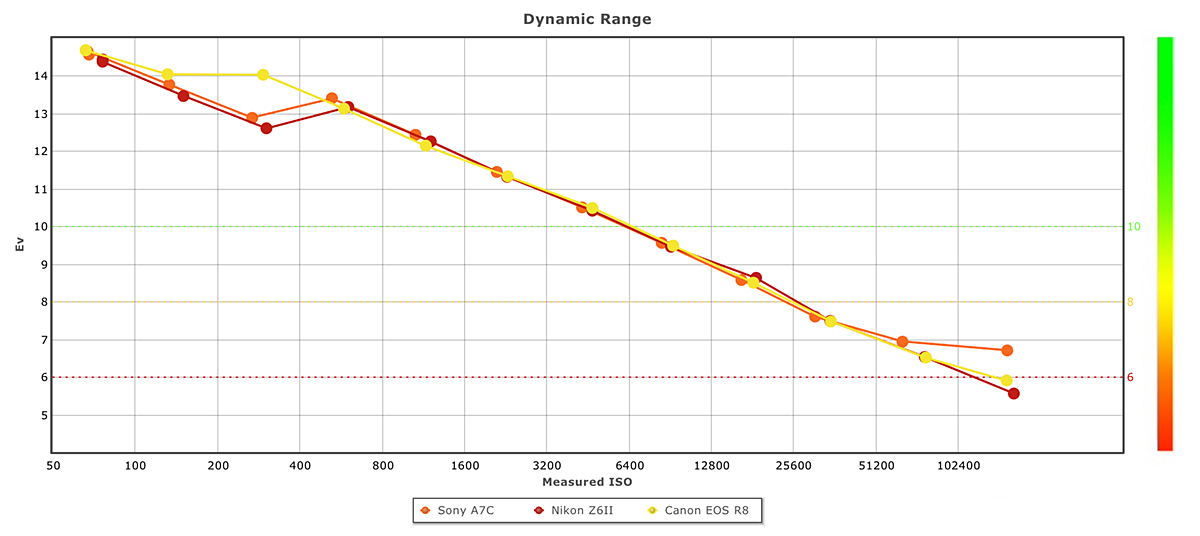 Sports (low-light ISO)
At the 30dB threshold where we calculate the low-light ISO value that satisfies the quality standards of 9 EV, SNR 18% and 18-bit color depth, the Canon EOS R8 sensor is comparable to the Nikon Z6 II at ISO 3,295 and 3,303 respectively. Even the Sony A7c at ISO 3,407 is only +0.05 EV ahead in sensitivity – a negligible amount in real terms. The EOS R8 dips below our 20 dB minimum quality standard at ISO 5,120, which is approximately the same as the rival BSI sensors and shows how far Canon has extended the performance of their sensor tech.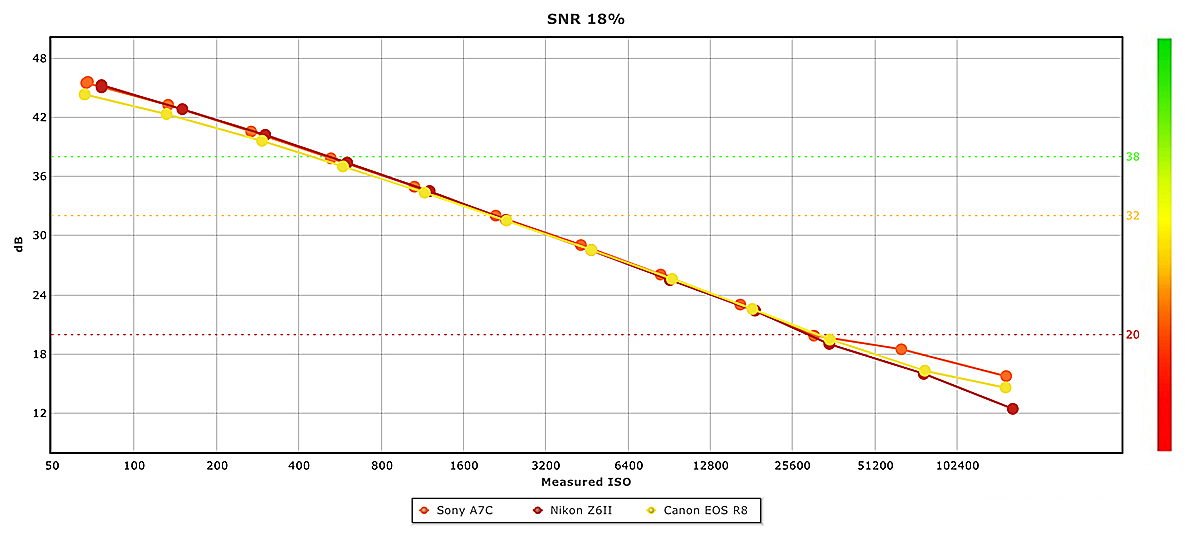 Conclusion
The full-frame Canon EOS R8 is touted as an ideal travel camera, and its mix of affordable pricing, relatively compact dimensions and strong feature set make for a compelling argument. Initially, though, the adoption of a conventional front-side illuminated 24.2 MP CMOS sensor appears to be a weak link. However, it's clear, from our tests, the Canon EOS R8 sensor is capable of producing extremely high image quality. Indeed in terms of color depth and dynamic range, it is on par with the leading BSI-type CMOS sensors. What's more, that's throughout the ISO sensitivity range not just at the 'headline' maximum or peak value measured at base. While it remains unclear exactly how Canon has achieved such a significant performance uplift with an FSI-type CMOS sensor, competition like this is always good to see.
In this review, we have mentioned the Canon EOS R8's most relevant rivals from other brands. As usual, you can compare it with these and with other models and create your own comparisons and in-depth analyses using our interactive image sensor ranking tool.