Launched in late 2018 alongside the Canon EOS R, the Canon RF 24-105mm F4L IS USM is a highly compact and versatile standard zoom. With a constant f/4 maximum aperture, it is intended to appeal to both photographers and videographers alike.
The lens has 18 elements arranged in 14 groups and includes one UD (ultra-low dispersion) element to reduce chromatic aberration and three aspherical to reduce astigmatism and spherical and geometric aberrations.
It also has Canon's Air Sphere and Super Spectra coatings to suppress flare and ghosting, and fluorine coatings on the front and rear to help with cleaning. This L-series lens also features a dust- and moisture-resistant design.
As a lens intended for occasional video, it uses a newly-developed Nano USM (thin-type) motor for smooth focusing, and has a 0.45 m minimum focusing distance. It's relatively compact and weighs 700 grams (24.69 oz).
You can view the results for all tested lenses and create your own comparisons and in-depth analyses using our interactive image lens comparison tool.
Key specifications:
18 elements in 14 groups
3x aspherical and 1x UD elements
5-stop optical stabilizer

Nano USM
Dust- and moisture-resistant
77 mm filter thread
Minimum focus distance: 0.45 m (1.48 ft)
Test results
We tested the Canon RF 24-105mm F4L IS USM on the Canon EOS R. Paired with 30 MP sensor, the lens achieved a DXOMARK score of 23. It's a sharp lens generally, especially at the longer focal lengths, though zooms are anything but consistent throughout their focal range. Tests using the higher-res 45 MP Canon EOS R5 would improve the score, as the P-MPix component is dependent on the spatial resolution of the sensor.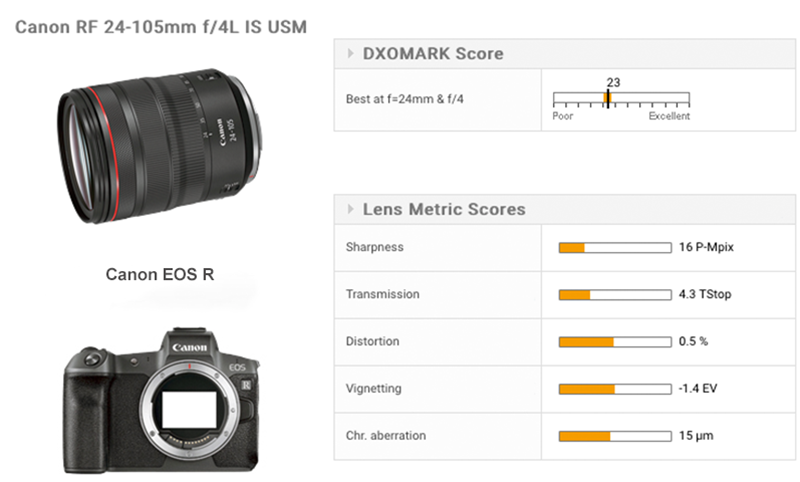 Transmission and distortion are generally quite well controlled. However, the same can't be said for lateral chromatic aberration, which is relatively high between 24-50 mm. Vignetting also is a higher than for similar lenses, though it's not excessive. As always, it's worth looking through the more detailed data to see how the lens performs at different focal lengths and aperture settings.
In-depth comparisons
We've compared the Canon's mirrorless RF series lens with similar stabilized 24-105 mm f/4 models from rivals. Panasonic's Lumix S 24-105mm F4 Macro O.I.S isn't from their high-end "S-Pro" series, but it's a high-performing model nonetheless, and costs $1,300. We've also compared the Canon with the highly-regarded Sony FE 24-105mm F4 G OSS, which is also available now for around $1,300 or 1,350€.
You can see an overview of this comparison in our database.
Sharpness
The Canon RF 24-105mm F4L IS USM has relatively good sharpness, better than the EF Mark II version, but the lower resolution of the 30 MP sensor in the Canon EOS R should be taken into account in this comparison. Despite that, sharpness in the center is a little lower than expected when wide open at 24 mm, and there's noticeable astigmatism-like behavior in the mid and outer zones at this focal length. Sharpness improves, centrally at least, through the zoom range at f/4, though the outer zones don't improve until stopping down to f/5.6, or when zooming beyond 70 mm. Wide open in the 85-105 mm range, the Canon performs almost as well as the Panasonic combo, complete with the S1R sensor's resolution advantage, and would likely match the Sony pair on a higher-resolution body the EOS R5.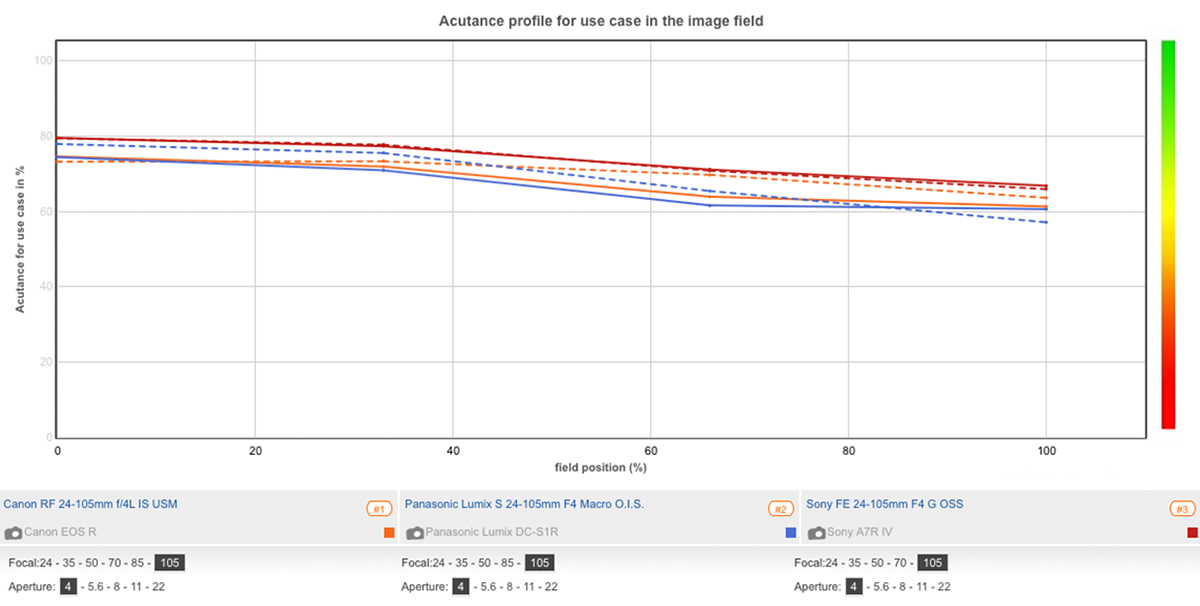 Chromatic aberration
Most zoom lenses have higher levels of lateral chromatic aberration than fixed focal length lenses, and that's the case here with the Canon. It's even higher in our tests than the model it replaces, the EF 24-105mm F4L IS USM. Still, against rival mirrorless models it has far lower levels than the Panasonic at 24 mm, and around the same as the Sony, with an almost identical profile across the frame. If there's a downside, it's that the fringing lingers through the range to 35 mm. From 50 mm onwards through to 105mm, however, it's highly corrected, a trait shared by the Sony and to a lesser extent the Panasonic.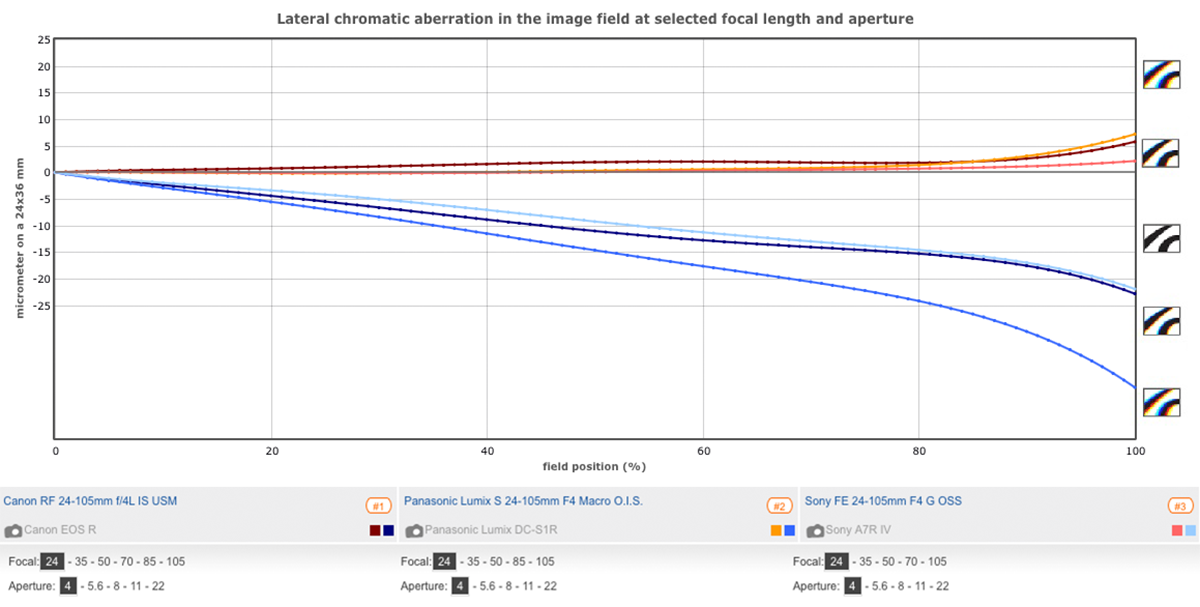 Geometric distortion
The Canon fared pretty well for control of distortion. It has the lowest levels of barrel-type distortion at 24-28 mm of the three in our comparison, measured at a maximum of + 0.8% at 24 mm, compared with +1.5% and +2.1% for the Sony and Panasonic, respectively. However this is immediately replaced with some pincushion at 35 mm, which is visible through the range to 105 mm. While the Canon doesn't display the lowest pincushion of the three, it is still relatively low at -0.5% and arguably the best controlled overall.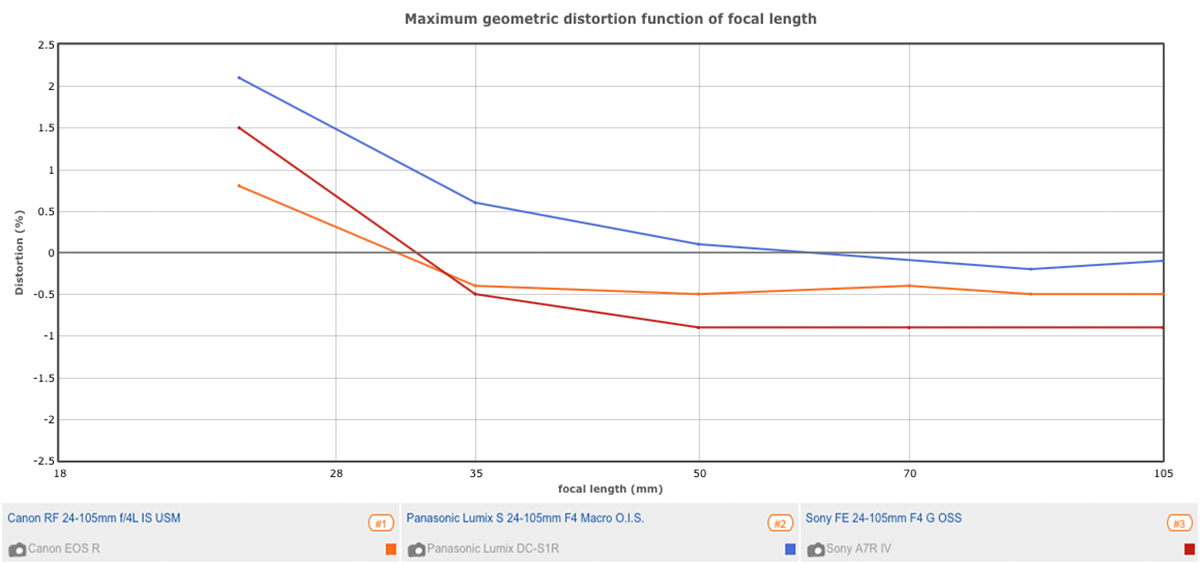 Vignetting (corner shading)
It's not really surprising to see some vignetting in lenses, especially zooms, and the Canon is not any different in this respect. Indeed, it's pretty average, with some darker corners visible at 24-28 mm, and even then it maxes at -2EV in the very extreme corners at 24 mm. Vignetting becomes noticeable again at 70-105 mm, though it's a bit lower than on the wide end.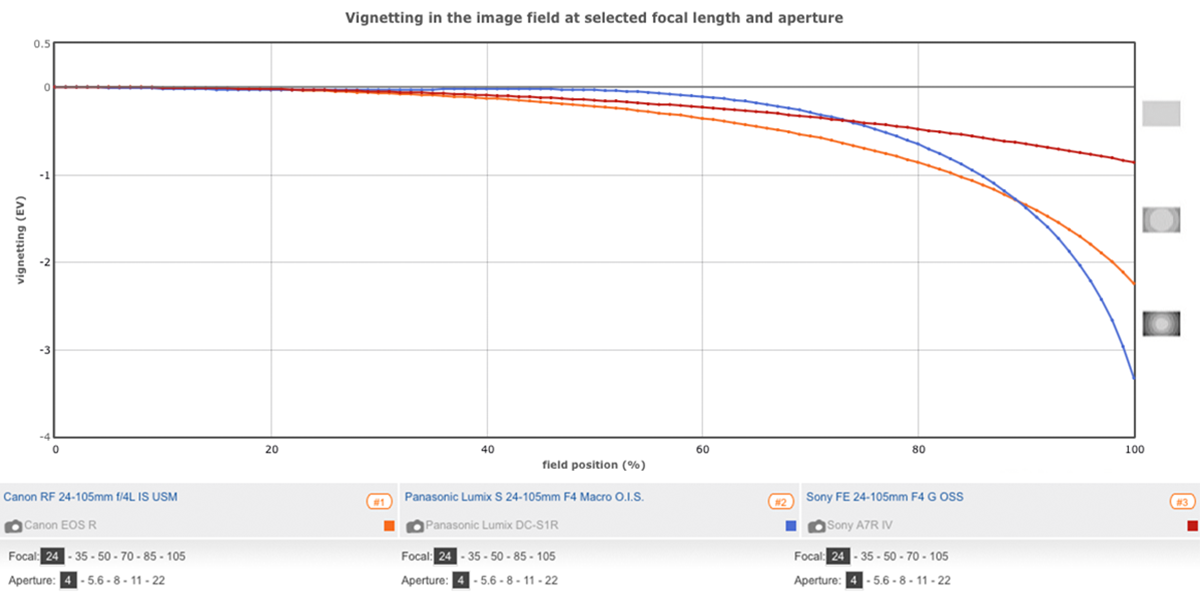 Transmission
Ordinarily, transmission doesn't concern photographers too much, but this lens is also targeting videographers, so this characteristic is more relevant than usual, as it can result in distracting brightness levels when zooming. Fortunately, transmission doesn't vary that much, with it falling just -0.1 EV across the zoom range, measured at T4.3 at 24 mm and T4.4 at 105 mm. As for light loss against full aperture, it's bettered only slightly by the Sony, measured at T4.2-4.3, though obviously that also varies by -0.1 EV.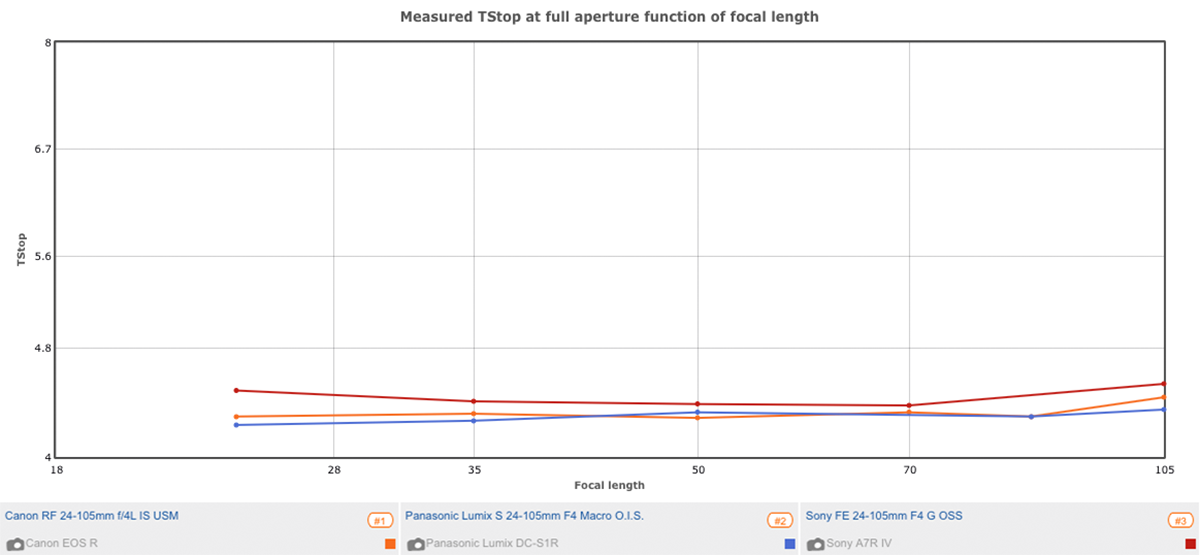 Conclusion
When Canon launched its first full-frame mirrorless camera, the Canon EOS R, they made sure the RF 24-105mm F4L IS USM was among the first lenses available for it and even bundled it as a kit lens. Evidently, it's an important model. However, while this lens is a little weaker than rivals at the shorter end of the zoom range, it's still a step up from the highly-regarded EF 24-105mm F4L IS USM II, and thus a decent performer in its own right.
In this review, we have compared the Canon RF 24-105mm F4L IS USM mounted on a Canon EOS R to its closest rivals from other brands. Remember that those lenses may be used on different cameras, or in some cases on different camera systems using different mounts, so those comparisons are not strictly applicable.
As usual, you can create your own comparisons and in-depth analyses using our interactive image lens comparison tool.