Released in October 2019, the Pixel 4 is Google's latest flagship smartphone, running the latest Android 10 OS powered by Qualcomm's Snapdragon 855 chipset and 6GB of RAM. In the imaging department, the device offers a dual-camera setup with dedicated tele-lens, and the 5.7-inch P-OLED display comes with Full-HD+ resolution.
For audio, the Pixel 4 comes with dual stereo speakers and a dedicated microphone for noise cancellation. On the software side of things, the Pixel 4 comes with Google's new Recorder app that is currently specific to Pixel devices and uses AI to transcribe your audio recordings (it's not covered by our test protocol, though).
We put the device 4 through our rigorous DXOMARK Audio test suite to measure its performance both at playing audio back through its built-in speakers and at recording sound using its built-in microphones. In this review, we'll break down how it fared in a variety of tests and in several common use cases.
Audio specifications include:
Dual stereo speakers
Separate amplifiers for each speaker
Dedicated microphone for noise cancellation
About DXOMARK Audio tests: For scoring and analysis in our smartphone audio reviews, DXOMARK engineers perform a variety of objective tests and undertake more than 20 hours of perceptual evaluation under controlled lab conditions. This article highlights the most important results of our testing. Note that we evaluate both Playback and Recording using only the device's built-in hardware and default apps. (For more details about our Playback protocol, click here; for more details about our Recording protocol, click here.)
Test summary
68
audio
The Google Pixel 4 achieved an overall DXOMARK Audio score of 68, putting the device in our list of the top 5 smartphones tested so far by the DXOMARK Audio team, and making it the third best Android phone in our ranking, after the Huawei Mate 20X and Asus ROG Phone II. It outperformed the Samsung flagships Galaxy Note 10+ 5G and S10+, but ranked below Apple's iPhone 11 Pro Max and XS Max.
In terms of audio hardware, the Pixel 4 has two speakers and three microphones. One speaker is at the top center on the front of the phone, and the other speaker is at the bottom on the phone's edge. One microphone is at the top, slightly to the right of the phone, and another microphone is at the bottom on the device's edge. The third microphone is placed to the right of the LED flash on the back of the camera.
In a breakdown of the overall audio score, the Pixel 4 scored higher in Playback than in Recording. The Pixel 4's Playback result was decent and quite impressive, considering its smaller size when compared with many other flagship smartphones on the market today, and it holds up reasonably well against Huawei's Mate 20X, the best device we've tested so far. Music playback was the Pixel 4's strong suit when compared with movie and gaming uses. But bass still lagged behind other high-end devices, and that led to lower dynamics scores, particularly in the sub-attributes of bass precision and punch performance.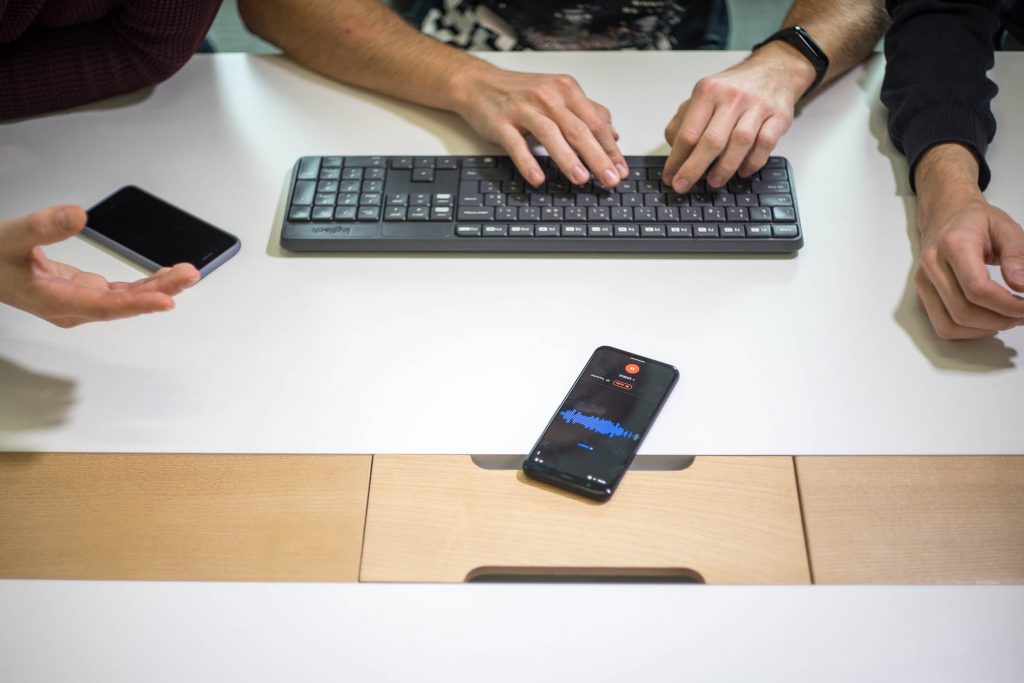 Voice recording during meetings isn't one of the Pixel 4's strengths, but the device performed very well for recording rock and electronic music concerts.
The Pixel 4's overall Recording score, however, showed some weaknesses when compared to the Huawei Mate 20x. While the Pixel 4's timbre performance was good, and just slightly lower than the Mate 20x's, the sound had a tendency to have too many unwanted resonances in the bass region, resulting in a boomy effect.
On the plus side, the Pixel 4 demonstrated good volume performance and recording levels were coherent. The Pixel 4 stood out in loud environments, such as electronic or rock concerts, because the device is capable of recording without distortion. The phone's envelope, or the measure of sound dynamics, was correctly rendered as well. Good spatial performance was evident in our life video use case, but spatial performance could be improved in other use cases. Artifacts were quite noticeable and sometimes distracting. Unnatural-sounding background noises and other artifacts affected a faithful recording.
The Pixel 4's audio recording was tested in five controlled typical use environments: an electronic concert, life video, selfie video, meeting room, and memo taking. Of these five use cases, the Pixel 4's weakest performance was in meeting-room voice recording, but the device excelled in video recording of an electronic concert.
Sub-scores explained
The DXOMARK Audio overall score of 68 for the Google Pixel 4 is derived from its Playback and Recording scores and their respective sub-scores. In this section, we'll take a closer look at these audio quality sub-scores and explain what they mean for the user.
Playback
Timbre
Black Shark 5 Pro
Best: Black Shark 5 Pro (89)
Timbre tests measure how well a phone reproduces sound across the audible tonal range and takes into account bass, midrange, treble, tonal balance, and volume dependency. The Pixel 4's overall performance was good, delivering an impressive bass sound for a device of this size, even though there is room for improvement. Midrange was dominant, whereas treble was slightly missing and only small resonances were detected. Timbre tuning remained coherent, while gradually changing with volume.
The timbre of music playback scored slightly higher in landscape mode than for portrait orientation. Treble performed exceptionally well when watching movies, and tonal balance was noticeably good at maximum volume when playing games.
Music playback frequency response
Dynamics
Black Shark 5 Pro
Best: Black Shark 5 Pro (81)
DXOMark's dynamics tests measure how well a device reproduces the energy level of a sound source, and how precisely it reproduces bass frequencies. With a Dynamics sub-score of 67, the Pixel 4 achieves a good overall result, but falls behind Huawei Mate 20X's 75, which is the highest score we've seen for this category.
The Pixel 4's attack was sharp and maintained percussion fidelity, but became distorted as volume increased to its maximum level. The lack of bass affected the scores for Bass precision, particularly when volume was soft and nominal. Bass tuning contributed to an average punch performance for the Pixel 4, but music mode, particularly when listening to hip-hop, scored higher than movie and game modes.
Spatial
Black Shark 5 Pro
Best: Black Shark 5 Pro (88)
Spatial tests measure how well a device accurately portrays the original location of instruments or other sound sources used in a recording. The Pixel 4's spatial sub-score of 64 reflects a decent performance, but falls behind the 75 achieved by the top performer for this sub-attribute, the iPhone XS Max.
In particular, the movie app's spatial sound did not seem to be well-centered, with balance, distance, and wideness showing mixed results. In music mode, the Pixel 4 had some difficulty in conveying the location of instruments. Wideness scored well in landscape and inverted landscape modes, and distance performance was good.
Volume
Nubia RedMagic 7 Pro
Best: Nubia RedMagic 7 Pro (91)
Volume tests measure both the overall loudness a device is able to reproduce and how smoothly volume increases and decreases based on user input. With a sub-score of 67, the Pixel 4 showed that volume consistency was coherent, but its maximum volume falls behind that of other high-end devices. Minimum volume was low, with some musical content lost at that level, especially when listening to classical music and pop rock.
You can see the effect of the range of volume settings in this chart showing the actual loudness (acoustic power) generated for each of the device's volume steps. While the volume consistency is coherent, the last three steps are nearly level.
We carried out objective measurements in our laboratories using recordings of both hip-hop and classical music played at the maximum user volume step:
| | |
| --- | --- |
| Hip-Hop | Classical |
| 74.2 dBA | 69 dBA |
Artifacts
Xiaomi Redmi K50 Gaming
Best: Xiaomi Redmi K50 Gaming (113)
Artifacts tests measure how much source audio is distorted when played back through a device's speakers. Distortion can occur both because of sound processing in the device and because of the quality of the speakers.
The Pixel 4 scored well in this attribute and came close to the top performer, the Honor 20 Pro. Still, there's room for improvement: on some tracks, background noise was present, but not enough to interfere with normal everyday listening. Our testers detected some pumping of sound, and while on some tracks the volume adjusted after a few seconds, tracks with significant bass content showed some distortion. Reducing these artifacts would improve this device.
The Pixel 4's compact size makes it more easily susceptible to occlusion, but even in those in cases, the phone's sound remained decent in all positions.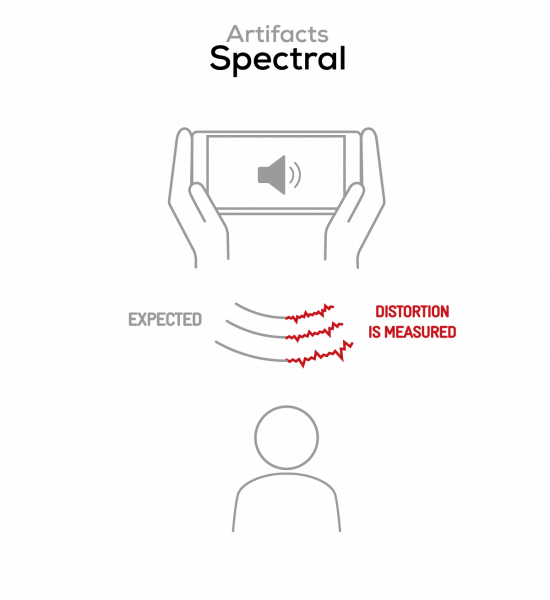 Distortion can occur in audio playback.
Recording
Timbre
Honor Magic3 Pro+
Best: Honor Magic3 Pro+ (91)
With a score of 76, the Pixel 4 showed decent overall tonal balance in timbre, compared with the highest score of 81 achieved by the Samsung Galaxy S10+, but excessive low-end frequency gave the impression of booming voices. Both perceptual and objective tests in the memo app revealed high-frequency resonances and increasing hissing.
Life video frequency response
Dynamics
Black Shark 5 Pro
Best: Black Shark 5 Pro (81)
Dynamics in recording showed average performance compared with the top performer, the Huawei Mate 20x. The sound-to-noise ratio, measured at 50, has room for improvement, especially in urban use cases. When we tested the Pixel 4 on a city street, a loud low-frequency background noise was evident. An indoor meeting use environment did not particularly improve the sound envelope, as the test resulted in the perception of a loud hissing noise.
Overall sound dynamics performed well on the main camera, but performance decreased in selfie camera and memo modes.
Spatial
Black Shark 4S Pro
Best: Black Shark 4S Pro (78)
Spatial results were average compared with the Huawei Mate 20 X. The Pixel 4 performed well in capturing wideness, especially in life-video use, but less so when taking selfie videos and when recording meetings. However, the weak wideness result in selfie mode is pretty much in line with other smartphone results. Directivity is generally good, but memo files, which are recorded in mono, affected the measure of wideness.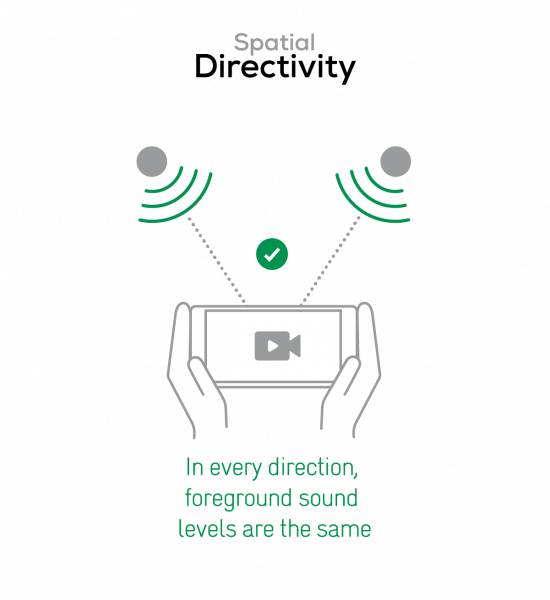 Good spatial directivity in most use cases.
Volume
Black Shark 5 Pro
Best: Black Shark 5 Pro (99)
Volume performance was good, with a score of 76 matching that of the highest performer, the iPhone 11 Pro Max. The Pixel 4 handled the recordings of loud scenes very well, but memo app recording levels were lower than those from camera recordings. This can be seen in our test results, measured in LUFS (Loudness Unit Full Scale):
| | | | |
| --- | --- | --- | --- |
| Meeting | Life Video | Selfie Video | Memo |
| -24.8 LUFS | -17.4 LUFS | -16.4 LUFS | -21.1 LUFS |
Artifacts
Black Shark 5 Pro
Best: Black Shark 5 Pro (97)
The Pixel 4's artifacts score of 59 was significantly below the 82 achieved by the best performer to date, the Asus ROG Phone II. Slight pumping and distortion were audible, especially for shouting voices. Significant distortion was evident in words containing "s" in memo use. Occlusion affected the stereo sound, particularly in portrait mode. Even the movement of a finger at the bottom of the phone created a distracting noise.
You can hear some of the artifacts for yourself in this sample recording:
Background
Black Shark 5 Pro
Best: Black Shark 5 Pro (60)
Smartphones often rely on their small microphones for everything, and suppressing background noise relies on the device's audio processing. In the case of the Pixel 4, background performance was low to average when compared to the Apple iPhone XS Max, which outperformed all the phones we have tested so far for this attribute.
In the Pixel 4's case, excessive low-end frequency affected tonal balance and created booms. As with most devices, directivity remains a weakness. In a meeting use case, background noise included a distracting hiss.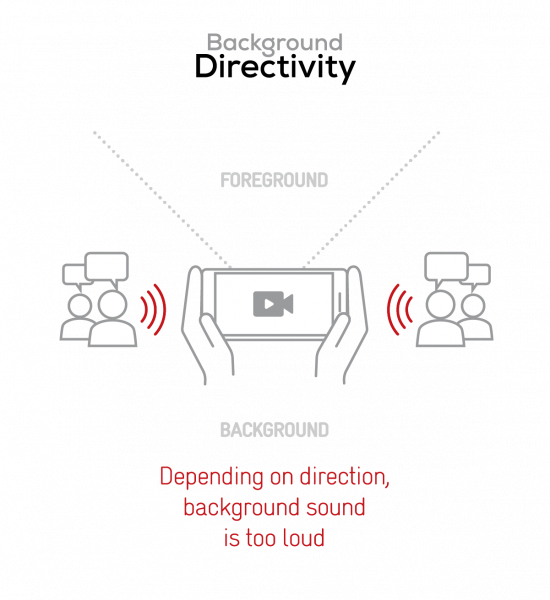 Background directivity is poor.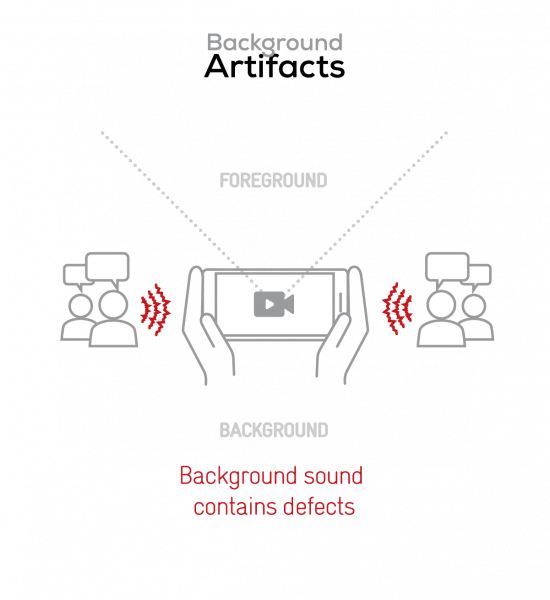 Background sounds are distorted.
Conclusion
While there's still some room for improvement, the Google Pixel 4 delivers a decent performance in our DXOMARK Audio tests, earning itself a place among the three best Android devices and outperforming such heavyweight competitors as the current Samsung flagships and the OnePlus 7 Pro. For music lovers and avid videographers of family and friends, the Pixel 4 should deliver more than satisfying results. For other uses, spatial performance could be improved, especially in movie and memo playback modes, as well as in memo and selfie camera recording modes.
Playback
Pros
Decent overall performance
Quite impressive bass for a small device
Cons
Lack of bass compared to the best in class
Overall results a little canny
Not as loud as other high-end phones
Recording
Pros
Good performance for timbre
Coherent recording levels and no distortion when recording loud sounds
Correctly rendered envelope
Good spatial performance when recording video
Cons
Recorded sound is a bit too boomy
Noticeable artifacts
Unnatural background noise and artifacts