With the Pixel 5, Google has decided to go back to the roots of the Pixel series and offer an Android flagship that does not only come with the latest version of the Android operating system but is also an excellent value for money. To achieve this, the engineers had to swap some of the top-of-the-line components we find in the flagship phones from other brands for more affordable alternatives. For example, the Pixel 5 uses a Snapdragon 765G chipset instead of the top-end 865 variant and the main camera does not feature a dedicated tele-lens.
The 6.0-inch FHD+ display, 128 GB internal storage, and a 4080 mAh battery would not look out of place on any premium phone, though. The front camera retains a similar design to what we saw on its predecessor, the Pixel 4, but does away with the time-of-flight depth sensor. A single 8MP sensor is coupled with a fixed-focus f/2.0 aperture lens. In video mode, the camera is capable of recording 1080p Full-HD footage at 30 frames per second.
Can Google's software expertise help this comparatively simple front camera compete with the bigger sensors and AF systems of the competition? Read our full Selfie review to find out.
Key front camera specifications:
8MP 1/4.0″ sensor
f/2.0-aperture lens with 24 mm-equivalent focal length
Fixed focus
Display-flash
1080p video at 30 fps
About DXOMARK Selfie tests: For scoring and analysis in our smartphone front camera reviews, DXOMARK engineers capture and evaluate over 1500 test images and more than 2 hours of video both in controlled lab environments and in natural indoor and outdoor scenes, using the camera's default settings. This article is designed to highlight the most important results of our testing. For more information about the DXOMARK Selfie test protocol, click here.
Test summary
Scoring
Sub-scores and attributes included in the calculations of the global score.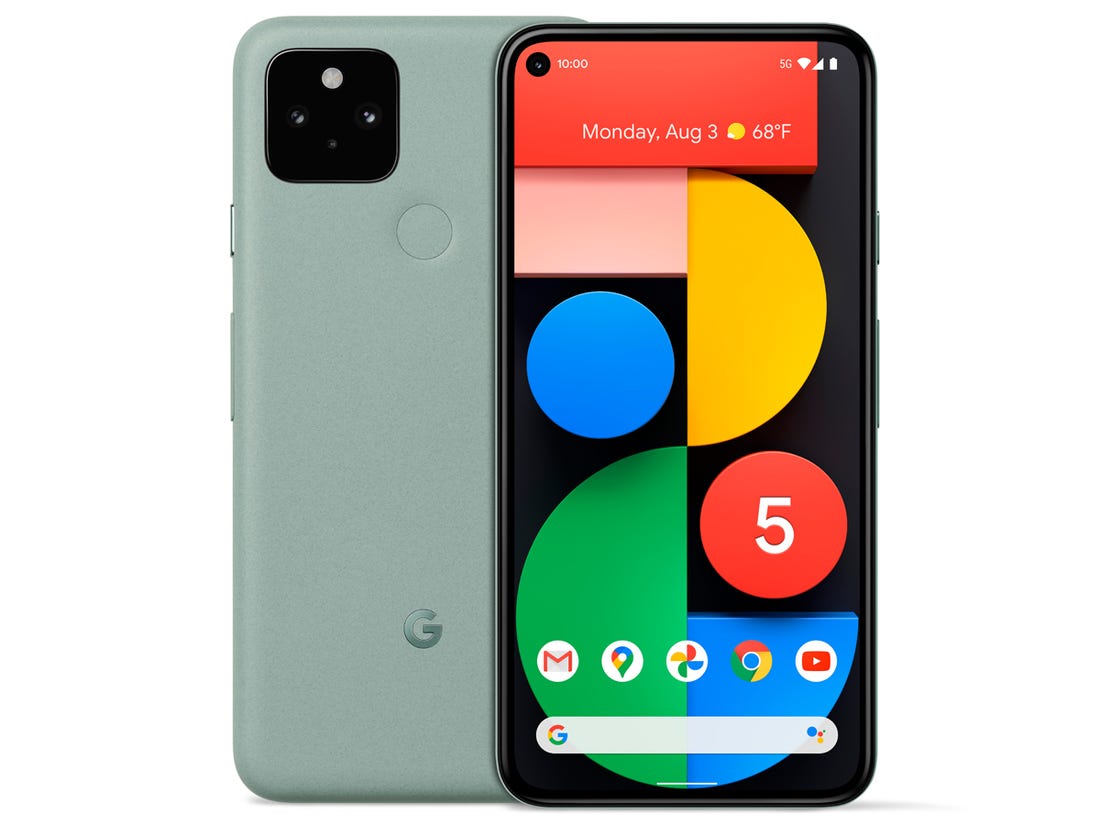 Google Pixel 5
126
selfie
Please be aware that beyond this point, we have not modified the initial test results. While data and products remain fully comparable, you might encounter mentions and references to the previous scores.
The Google Pixel 5 delivers an overall very good front camera performance but is not quite on the same level as some of the better-specced (and more expensive) flagships from some competitors. Still, with a DXOMARK Selfie score of 94, it just manages to squeeze into the top 10 in our front camera ranking.
The Photo score of 95 is based on decent overall still image quality, but some areas for improvement remain. The Pixel 5 front camera is capable of delivering good exposure down to low light, but in our tests we found some outdoor shots slightly underexposed. Exposure can also vary a little across consecutive captures. On the plus side, the camera offers a fairly wide dynamic range, although some minor highlight clipping can still be visible when shooting in more contrasty conditions.
There's not much to complain about in terms of color, either. In bright outdoor light, skin tones are usually rendered quite nicely, with fairly neutral white balance. Only in overcast conditions did we sometimes observe a slightly pink cast.
The Pixel 5 front camera comes with a fixed-focus lens, but thanks to the comparatively small image sensor, depth of field is quite wide. This means tourist attractions in the background of your images, or subjects towards the back in group shots, will still be rendered decently sharp. Main subjects are also sharp when shooting at typical arms-length selfie distances or with an extended selfie-stick. Only at very close distance is the face slightly out of focus.
When the subject is in focus, the Pixel 5 renders fine detail nicely across all light levels. Image noise is generally well under control, too. Some noise can be visible in the shadow areas of the frame and in low-light shots, however.
Like pretty much all its peers, the Pixel 5 front camera comes with a background-blurring portrait mode. The Pixel's bokeh simulation offers good depth estimation, with only minor artifacts around the foreground subject. However, there is no blur gradient and spotlights in the background are rendered with low contrast, resulting in a slightly unnatural effect.
In very low light you have the option to use the phone's display as a kind of flash to help illuminate the subject. This works reasonably well and the subject's face is usually well exposed. Under closer inspection, however, you'll see coarse luminance noise.
The Google Pixel 5 does very well for video, and with a score of 94, is not far from the best in this category. Clips recorded on the latest Google phone show good exposure on faces down to low light. Dynamic range is very limited in dim conditions, though, which means low-light scenes will often be flawed by highlight clipping.
Skin tones and color in general are nice, though, and like for stills, the wide depth of field helps keep background subjects and scenery in focus. The fixed-focus lens means you won't encounter any autofocus instabilities, and video stabilization is very effective, keeping the background steady even while you're walking. On the downside, our testers spotted a couple of video artifacts: in bright light and typical indoor conditions, a difference in sharpness between video frames is often visible and ringing is evident along high-contrast edges. Overall, though, the Google Pixel 5 is a very good device for mobile video capture.
Google Pixel 5, outdoor video
Conclusion
On paper the Google Pixel 5 front camera might have less impressive specs than some of its more expensive rivals in the flagship segment; however, Google's image processing and general software expertise help make the most of the available hardware resources, and the new Pixel is not far off the best front cameras for stills. It's even closer for videos, and overall the Google Pixel 5 is an easy recommendation for selfie shooters who are after value for money.
Pros
Fairly wide dynamic range, especially in low light
Nice skin tones in bright outdoor lighting
Wide depth of field keeps background subjects in focus
Good depth estimation in bokeh mode
Good face exposure with flash
Accurate face exposure in videos
Effective video stabilization
Cons
Face slightly out of focus when shooting at close distance
Occasional slight underexposure and exposure instabilities
Occasional slight color casts
Occasional instabilities in anamorphosis correction
Coarse luminance noise in flash shots
No blur gradient in bokeh shots
Limited dynamic range in low-light videos
Sharpness difference between video frames in outdoor and indoor lighting