Hasselblad — the legendary manufacturer famed for supplying the camera that documented the Apollo moon landing missions — is renowned for high-end, expensive, medium-format cameras. But in a sign of shifting times, the iconic Swedish company has been acquired by the Chinese aerial drone manufacturer DJI, and together they're bringing more competitively-priced digital options to market.
The mirrorless Hasselblad X1D-50c features a "cropped" medium-format 50Mp 43.8 x 32.9mm CMOS sensor. We say "cropped," because the traditional 6 x 4.5 medium-format frame size equaled 56 x 42mm, making the X1D-50c's new digital sensor somewhat smaller. But even cropped, Hasselblad's digital medium format offers a significantly larger surface area compared to full-frame sensors, with the X1D-50c chip offering roughly 70% more surface area compared to 36 x 24mm chips. This ensures a greater pixel pitch of 5.3µm for the 50Mp X1D-50c, compared to 4.35µm for the 45.7Mp Nikon D850, and the Hasselblad's larger surface area should give it an advantage, particularly at mid to high ISO sensitivities.
So while the massive resolution, 16-bit color definition, and relatively slow frame rate means the X1D-50c will primarily appeal to studio, portrait, landscape, or high-end advertising and editorial photographers shooting low ISOs, with a theoretical maximum ISO 25,600 setting (more on this later) the X1D-50c should be a viable proposition for low light photographers.
Key Specifications:
50Mp 43.8 x 32.9mm (8272 x 6200 px) CMOS sensor with 5.3µm pixel pitch
16-bit color definition
Dynamic range up to 14 stops
1.7 – 2.3 fps burst shooting
2.36Mp XGA electronic viewfinder
Leaf shutter lenses for high-speed flash sync
Overall image sensor performance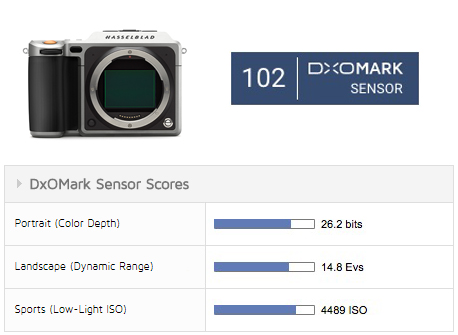 The Hasselblad X1D-50c reaches new heights for image quality, achieving the highest DxOMark score of 102 points for any commercially-available sensor we've tested.
The X1D-50c excels in all three of our measurement categories, achieving either the top-ranked or a podium position result in each. At base ISO, the X1D-50c offers outstanding color depth (Portrait score) of 26.2 bits and a dynamic range (Landscape score) of 14.8 EV. In low light, the X1D-50c achieves the highest-ranked low-light ISO (Sports score) we've tested to date (4489 ISO).
It's worth addressing at this stage what's going on with the Hasselblad X1D-50c at high ISO settings. While the camera offers sensitivity settings as high as ISO 25,600, the top "true" ISO value the sensor offers is ISO 3200. To achieve pictures at higher ISO settings, the camera applies a "digital gain," or amplification of the image signal, during RAW conversion to replicate the effect of shooting at higher ISOs. As such, ISO 6400, 12,800, and 25,600 can be seen as digital sensitivity values, and the measurements are exactly the same as at ISO 3200, and therefore not recorded.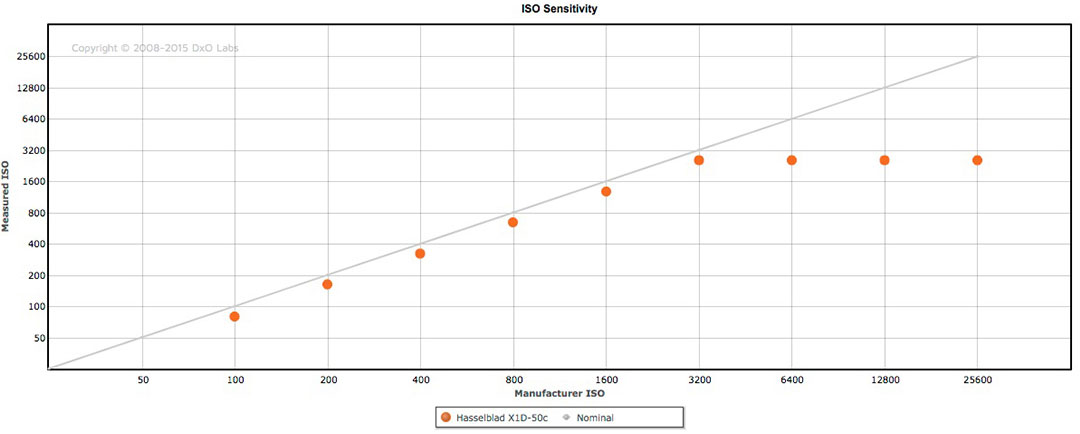 Image quality compared
Its color depth (Portrait score) of 26.2 points technically puts the X1D-50c in third place overall, but only fractionally behind the medium-format 80Mp Phase One IQ180 digital back, and Nikon's latest full-frame sensor (the 45.7Mp Nikon D850) — indeed, we can say they offer effectively the same color at base ISO in terms of real-world results.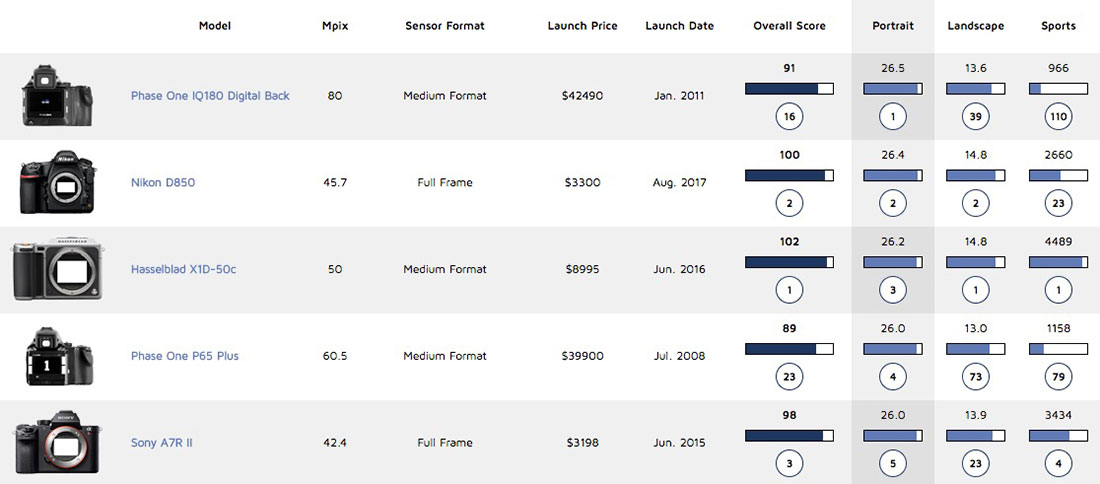 Click here to open our interactive DxOMark image sensor ranking tool
Similarly, the X1D-50c's dynamic range (Landscape score) of 14.8 EV is comparable to the best-performing full-frame sensors we've tested — the Nikon D850 and D810, which achieve the same score at base ISO.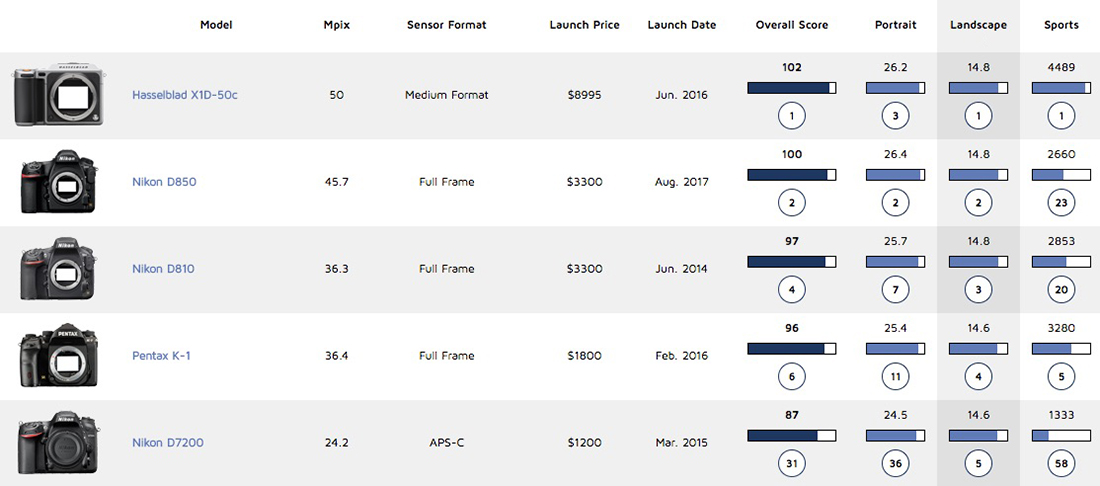 Click here to open our interactive DxOMark image sensor ranking tool
Where the X1D-50c truly excels is for Low-Light ISO (Sports score), however. Achieving a top score of ISO 4489, it's the best-performing sensor in low light that we've tested. This is primarily due to the larger surface area the medium-format sensor offers, so it isn't surprising the X1D-50c outperforms physically-smaller full-frame sensors such as the 42.4Mp Sony A7R II, as well as full frame sensors with a greater pixel pitch, such as the 12.2p Sony A7s.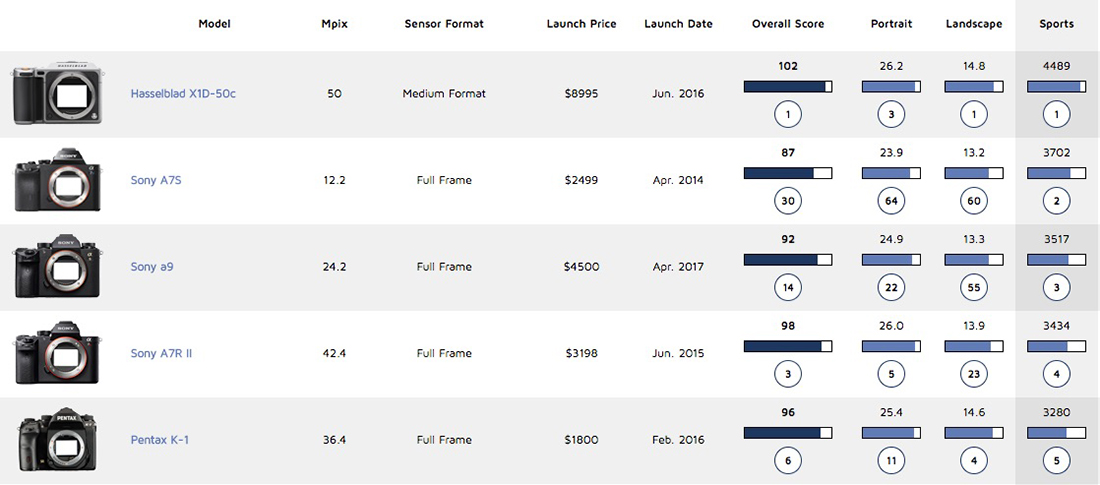 Click here to open our interactive DxOMark image sensor ranking tool
In-depth comparisons
For more detail about sensor performance, our in-depth analysis takes a closer look at the Hasselblad X1D-50c compared to the highest-scoring Nikon D850 and Sony A7R II full-frame sensors.
Portrait (Color Depth)
With such slight differences among them as to be indiscernible in the real world, the Hasselblad X1D-50c, the Nikon D850, and the Sony AR7 II sensors all boast excellent color of around 26 bits at base ISO, and very good color of over 20 bits up to ISO 1600 for normalized print results.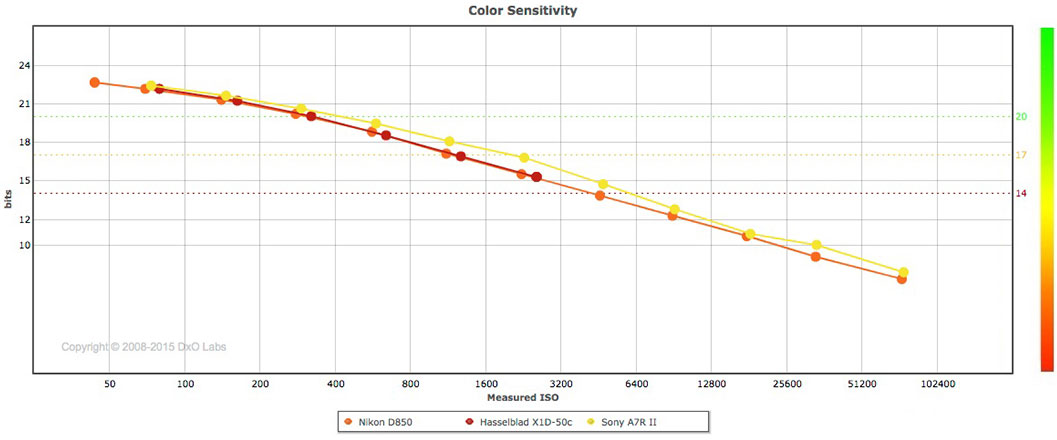 Landscape (Dynamic Range)
The Hasselblad X1D-50c and Nikon D850 offer effectively the same dynamic range at all ISO sensitivities. Both offer around a one-stop advantage over the Sony A7R II at base ISO (14.81 EV compared to 13.89 EV), but the gap narrows as sensitivity is increased, with comparable results between ISO 800 to 3200 for all three sensors.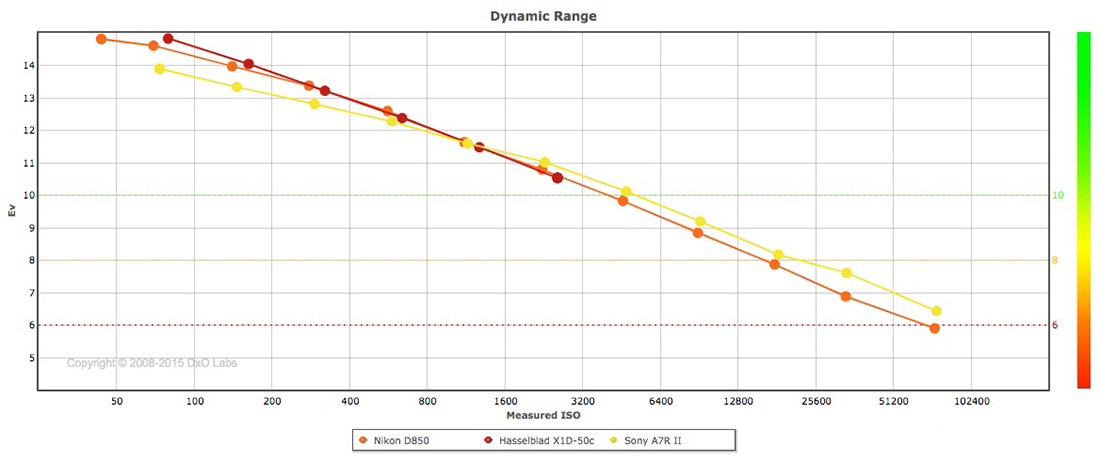 Those scores are for Print results, however, where resolution is "normalized" to an 8Mp 12×8-inch print at 300ppi. The Screen results, which aren't normalized, give us a better indication of the three sensors' true dynamic range potential. We can see that at base ISO, the X1D-50c achieves a score of 13.55 EV, which comes very close to the 14 stops of dynamic range Hasselblad claims for the 16-bit color definition potential of the sensor.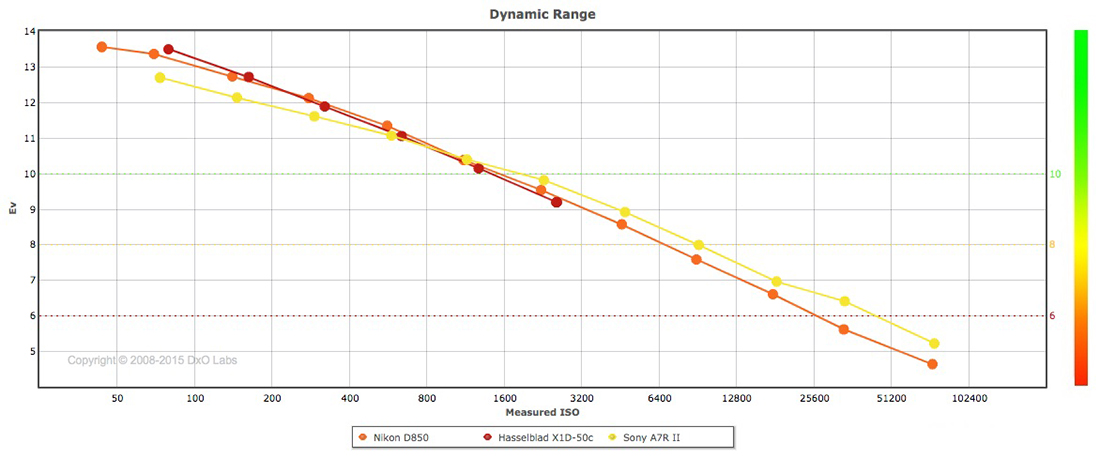 Sports (Low-Light ISO)
The overall Sports (Low-Light ISO) score is rated at the ISO value at which image quality falls within three key thresholds; 18-bit color, 9 EV dynamic range, and an 18% signal-to-noise ratio. In the case of the X1D-50c, these thresholds weren't met on images at the "true" maximum RAW sensitivity of ISO 3200, so the data was extrapolated along a linear curve until we reached each threshold, giving us an overall ISO score of 4489.
As such, it's the highest Low-Light ISO score we've recorded, and for Print results, we can see that the larger sensor surface area on the X1D-50c gives it a slight edge over the full-frame Nikon D850 and Sony A7R II. The advantage is modest, but we commonly see almost identical SNR 18% charts for "normalized" print results for sensors with close overall scores, so it's worth highlighting.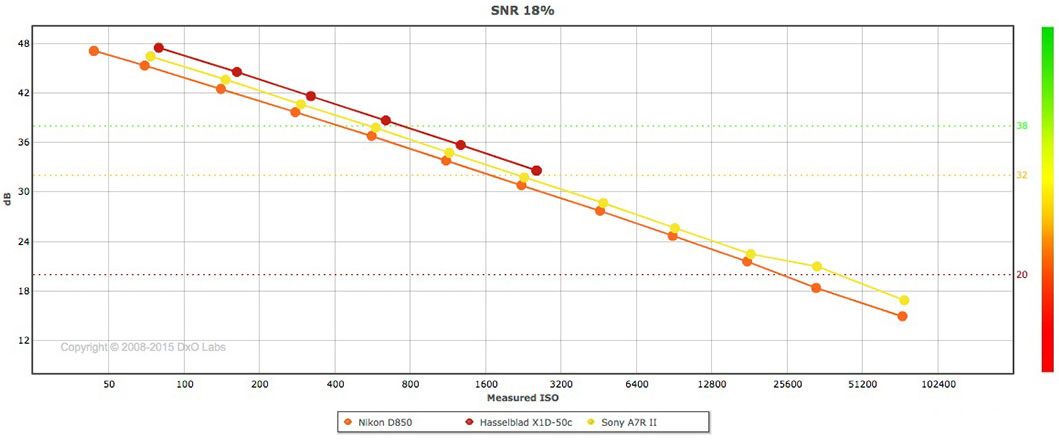 Conclusion
Image quality on the Hasselblad X1D-50c is outstanding, crashing through the 100-point barrier to become the highest-scoring commercially-available sensor we've tested. At 102 points overall, it also achieves either the best, or very close to the best results for both color depth and dynamic range. Combine that with its 50Mp resolution and mirrorless design, all packaged at a more realistic price tag, and the X1D-50c starts to look like a tantalizing prospect.
That said, while its image quality is up there with the best, it's not significantly better than other super high-resolution full-frame sensors, such as the Nikon D850 DSLR or the Sony A7R II, except in low light. So whether the X1D-50c is right for you may depend on your preference for shooting medium format, the flexibility of leaf shutter lenses for high speed flash sync, or other factors such as the range of available lenses and accessories. But for pure sensor performance, the Hasselblad X1D-50c delivers outstanding results and phenomenal image quality.
In this review we have compared the Hasselblad X1D-50c to its most direct rivals that we've tested. As usual, you can create your own comparisons and in-depth analyses using our interactive image sensor ranking tool.
In the Press