Looking at the individual tests in more detail, the HTC performs reasonably well in most areas, though its noise performance for still images is below par, with images showing strong chroma noise and a loss of image detail in low-light conditions. There is also a tendency for images to produce a purple haze when using a direct light source (i.e., when a strong light comes into the camera from a wide angle, although these conditions are usually hard to reproduce). The one area for still images at which it does excel is color rendition, showing very good colors under most lighting conditions. The autofocus could also be better, working well in bright light, but more hit-and-miss in low-light situations.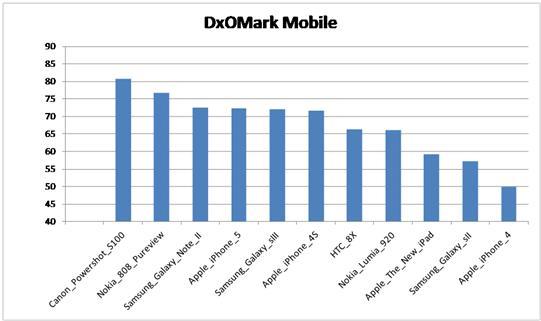 In video, the HTC performs slightly better than in photo tests, scoring 67 compared to 66. Here the exposure and contrast are much better, though the colour rendition is not quite so good. The autofocus is also much improved, reacting quickly and quietly. The textures, noise performance and artefacts are also all better than when using the photo mode. The one area to be aware of with the video mode is that in low light, the frame rate can drop to unacceptably low levels causing some distortion.
Considering these video test results, the fact it only scores 1pt more in the overall video score seems strange. However, a look at the stabilisation score for video is clearly the culprit. Managing a score of only 11, it is ineffective in most situations.
Coming in at sixth in the overall score is a respectable performance. The Nokia 808 Pureview is in a class of it's own at the top, with four mobiles competing equally in tier two and the HTC 8X sitting in the third tier with the Nokia Lumia 920.
Photo Pros
Rich, pleasing colours in most lighting conditions
No colour shading
High levels of detail in outdoor images
 Autofocus produces sharp images in bright light conditions
Video Pros
Autofocus is responsive and quiet
Textures are well produced even in low light conditions
 Low image noise level due to good noise reduction
Photo Cons
White balance is excessively red under tungsten light sources
High dynamic range scenes are not recorded accurately
Strong low-frequency chroma noise in low light
Strong loss of detail in low light
Purple haze with direct light sources
 Autofocus inaccuracies in low light
Video Cons
Video image stabiliser is ineffective
Frame rate drops too far in low light causing frame distortion