Interview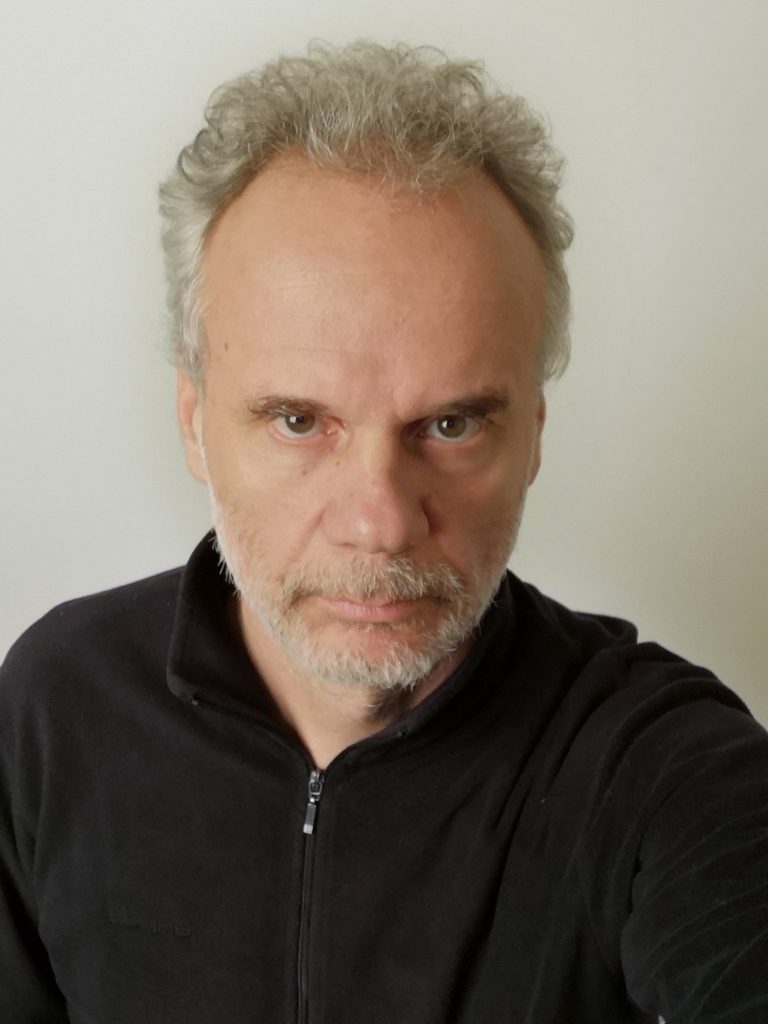 Saverio Lombardi Vallauri
Professor of photography, photographer of architecture
@saverio_lombardi_vallauri on Instagram
Professional photographer Saverio Lombardi Vallauri has been teaching photography at the European Institute of Design in Milan since 1991, and he's mainly known for his architecture and design photography. However, he also has a professional interest in portraits and selfies. In fact, he's conducted research and made presentations on the subject.
With the introduction of our selfie-camera testing in mind, Angela Nicholson caught up with him to discuss the genre a little more.
Angela: Selfies have become a popular phenomenon in smartphone photography. Why do you think that is?
Saverio: We have a worldwide stage and we all want to appear extraordinary. Nobody wants to be seen as average. So we take selfies when we're having fun and doing interesting things in exciting places with interesting people. We do it to show the world how different we are from everyone else.
Angela: How do you think the perception of beauty, as seen in various art forms, has changed over the years?
Saverio: Historically and culturally, there have been variations in the perception of beauty, but it seems like we are becoming more uniform these days—perhaps because of the dominance of US and European fashion images across the globe. It's amazing—these days you can buy the same clothes all around the globe. I travel all over the world, and when I walk into a shopping mall, I see exactly the same shops selling the same clothes as I can buy in Milan.
Inevitably, we compare ourselves to models in fashion images and aim to achieve that look. As a result, people from eastern cultures are beginning to look at the western version of beauty as being attractive.
Angela: Has the concept of enhancing one's appearance in self-portraits always been around?
Saverio: In the past, only very rich people could afford to have portraits painted of themselves. It was a way of showing off their wealth and creating a record of their existence. Artists have always aimed to flatter their subjects. After all, they're clients who are paying for the work, so it's good to make them look their best. Traditionally, painters would select the right location, lighting, and clothes to help make their subject look good. Many people would also want to be painted in the most opulent part of their house to show off their wealth.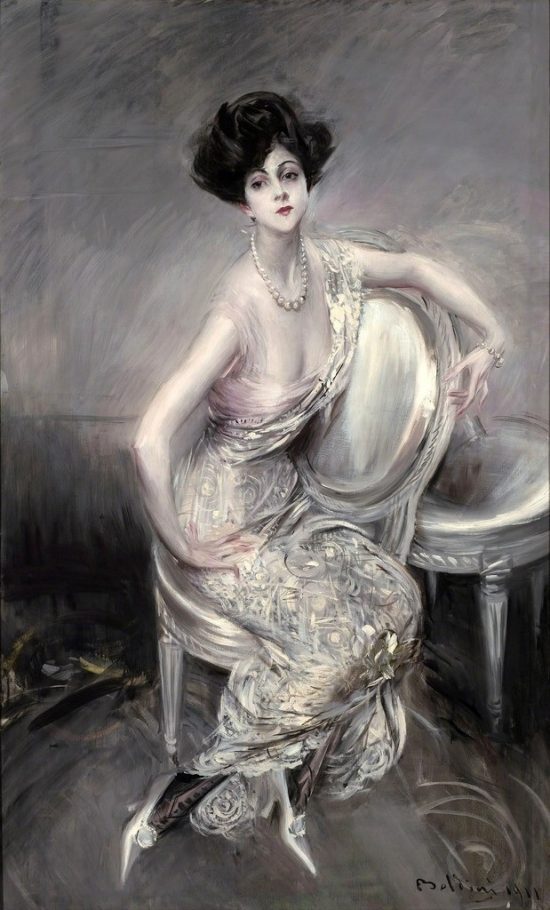 Portrait of Rita de Acosta Lydig, 1911, by Giovanni Boldini (image courtesy commons.wikimedia.org)
It's not so different now, but the tool for creating the image is in our hands and anyone can shoot their own image. But as I said, nobody wants to look just like everyone else. Naturally, we seek the most interesting places for a selfie—we don't just shoot in bad light in an unattractive place. And of course we want to look our best.
One of the changes I have observed is that some people start to develop their own style for selfies. They might always look at the camera from a particular angle and style their hair in a certain way. Most also look for some beautification from their phone or an app.
The most common enhancements that you see now are face-slimming, skin smoothing, light improvement, and eye-enlargement. I've also noticed that non-western selfies are often edited to make the subject look much more western. Our perception of fashion and beauty is definitely converging.
Selfies have even started to have an impact on cosmetic surgery. I've heard of people having surgery to make themselves look more like their selfie images.
Angela: How are selfies different from self-portraits in art? Not just photography portraits, but painting and sculpture?
Saverio: A selfie is a snapshot, something you shoot and post as a check-in to acknowledge you've been somewhere interesting. A self-portrait is more serious.
Many influencers use photographers to shoot their portraits, or they set up a camera or use their phone's main camera. This gives more control with a better perspective. The wide-angle view of a selfie camera isn't so flattering, and they know a photographer will produce a better image.
When an artist paints, draws, or carves a self-portrait, it's often done to express some emotion, usually some pain or anguish. In the past, self-portraits were only made by artists, and artists are not like the rest of the population, so their self-portraits portray their difference.
Today, anyone can shoot a self-portrait or a selfie. Self-portraits are shot for a variety of reasons. A designer friend of mine photographs herself to show her designs in context, for example. It's done for a serious purpose, a business purpose. Selfies are more about sharing a person's experience and demonstrating their uniqueness. The average person is less concerned with emotion than an artist.
Angela: Smartphones have two sets of cameras. How do main-camera portraits differ in quality from front-camera selfies?
Saverio: The selfie camera is very important to many people, but it produces lower-quality results than the main camera. The focusing is less precise, for example; there's also less definition, and they don't usually handle low light as well as the main camera. The combination of the wide angle of view and arm's length shooting also isn't flattering.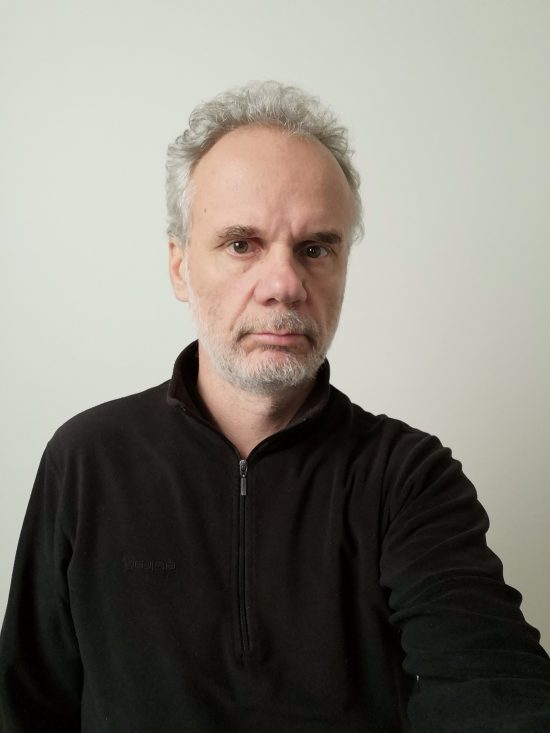 Selfie shot using smartphone front camera. The selfie camera has completely different settings as far as
color temperature
is concerned. The idea is perhaps to clean and neutralize the skin
tone
.
I would always choose the main camera to photograph myself, and I'd be inclined to shoot a self-portrait rather than a selfie. I like the extra control and to be able to use features such as the bokeh/aperture/portrait control that help you get a nicer image.
Angela: What role does beautification or algorithmic enhancement play in smartphone selfies today?
Saverio: I think that beautification has become as important as taking the photograph. It would be good if there could be more correction applied to selfies automatically. Volume anamorphosis correction could help deal with the distortion caused by using a wide-angle lens, for instance. Artificial Intelligence (AI) learning could also add benefit by learning which adjustments you routinely make to selfies so that they are applied at the shooting stage and you get the result you want immediately.
Angela: What are the major differences in the way key smartphone brands treat beautification?
Saverio: I don't know the specific ways that they make the adjustments. They all have their own approach, but I believe that they all aim to enable the same adjustments to be made, the skin smoothing and the like.
Angela: Thank you, Saverio, for your time and insights.
You can find out more about Saverio by visiting his website.
To find out more about the new DxOMark Selfie test protocol for smartphone front cameras read our articles "Introducing the DxOMark Selfie test protocol" and "The evolution of the Selfie".