The Klipsch The Three II is a bit of a throwback in many regards, starting with the old-school RCA inputs on the back. The look is definitely retro: a sturdy rectangular structure, with no fancy lighting or shiny plastic in evidence.  The brand proudly boasts that the Three II is a "magnificent " example of Mid-Century Modern design, and it is handsome, with a fabric wraparound grill, wood veneer at top and bottom, and nifty spun copper switches and knobs.
This being a Klipsch, it also proudly boasts of state-of-the-art sound, with two 2 1/4" full-range drivers and a 5.25" long-throw woofer. As the brand describes it, "Bi-amplified for audio resolution, the Three II offers an unrivaled sound experience to transport you into the recording studio with the musicians."  Let's see how this classically styled, front-firing Klipsch device fares in our rigorous DXOMARK Audio testing protocol.
Key specifications include:
Dimensions: 13.7 x 7 x 8 in. (34.82 x 17.78 x 20.3 cm).
Weight 10.32 lbs (4.7kg)
Speakers: Two 2 1/4" (57.15mm) full range drivers, one 5.25" (133.4mm) long-throw woofer, and two 5.25" (133.4mm) dual opposed passive radiators
Connectivity: Bluetooth, 3.5mm jack, phono pre-amp / RCA analog, USB Type B
Test conditions:
Tested with Motorola G8 for both music and movies
Communication protocol used: Bluetooth for both music and movies
About DXOMARK Wireless Speaker tests: For scoring and analysis in our wireless speaker reviews, DXOMARK engineers perform a variety of objective tests and undertake more than 20 hours of perceptual evaluation under controlled lab conditions. This article highlights the most important results of our testing. Note that we evaluate playback using only the device's built-in hardware. (For more details about our Speaker protocol, click here.) The Klipsch The Three II falls into the Advanced category of devices in the DXOMARK Speaker rankings.
Test summary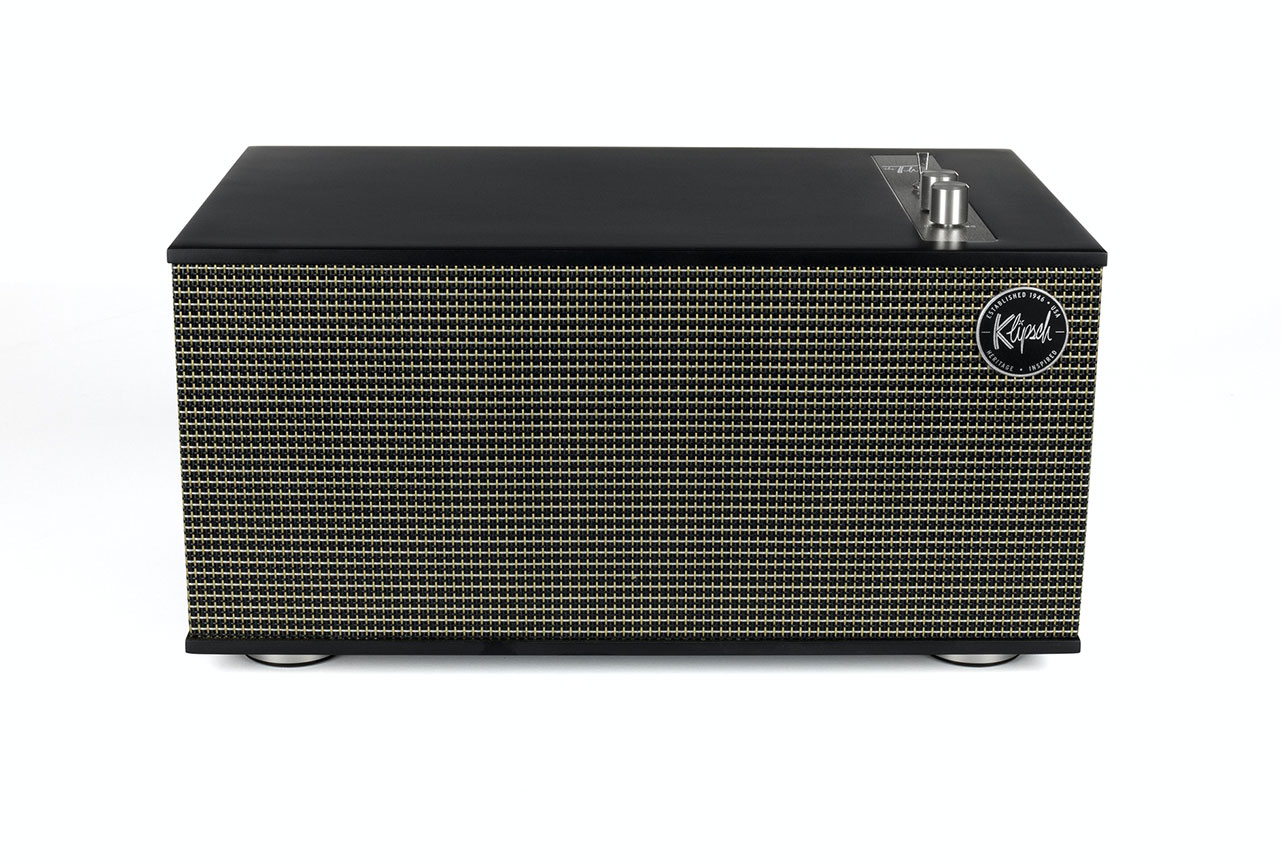 Klipsch The Three II
137
speaker
Pros
Pleasant tonal balance at nominal levels, balanced by generous low end and precise highs.
Good dynamics performance at nominal levels.
Slight amount of wideness when listening near the device.
Distance is always on the mark.
Cons
At soft volumes, tonal balance lacks clarity.
Strong bass distortions and hardware limitations impair both timbre and dynamics at loud volumes.

The tuning of the device is not ideal for TV viewing. Voices aren't well-rendered and high-mids can be harsh.
The Klipsch The Three II has an overall score that puts it among the better home speakers we've tested, especially in our Advanced category. The device scored well in timbre and dynamics, and had decent scores for the spatial and volume attributes. In artifacts, its score was below average.
The Three II is fairly volume dependent in a variety of ways. At nominal volumes, the Klipsch device is a solid performer with a pleasingly rich low end and an accurate and clear high-end, and it's also very strong on dynamics. But the qualities of its timbre and dynamics shift as the volume goes up or down. At high volume, it especially suffers; this isn't a speaker for loud house parties, and it's not ideal for fans of electronic music or hip-hop. This is also where the device produces some unfortunate artifacts.
Sub-scores explained
The DXOMARK Speaker overall score of 137 for the Klipsch The Three II is derived from a range of sub-scores. In this section, we will take a closer look at these audio quality sub-scores and explain what they mean for the user, and we will show some comparison data from two of the device's competitors, the Marshall Stanmore II and the Audio Pro C10 MKII.
Playback attribute comparisons
Timbre
139
Bowers & Wilkins Formation Wedge
DXOMARK timbre tests measure how well a speaker reproduces sound across the audible tonal range and takes into account bass, midrange, treble, tonal balance, and volume dependency.
Playback timbre comparison
Overall, the Three II scores well in timbre, putting it in the upper group of all the devices we've tested, and especially well among other speakers in its price point. That said, the timbre performance has some interesting peculiarities. The Klipsch device has a "hi-fi" type of tonal balance — the low end is generous and the high-end extension is very brilliant and precise, while the midrange sounds slightly hollow. Although this type of tonal balance is not exactly flat, in the sense of having good representation through the range of frequencies, it is not at all unpleasant when listening to music at a nominal level.
Music playback frequency response
There are a few resonances in the low-end extension that are noticeable but not disturbing. However, this means that if you put the device on top of a hollow piece of furniture — say a low cabinet for example — it will create a kind of bass reflex that would inevitably increase bass distortions.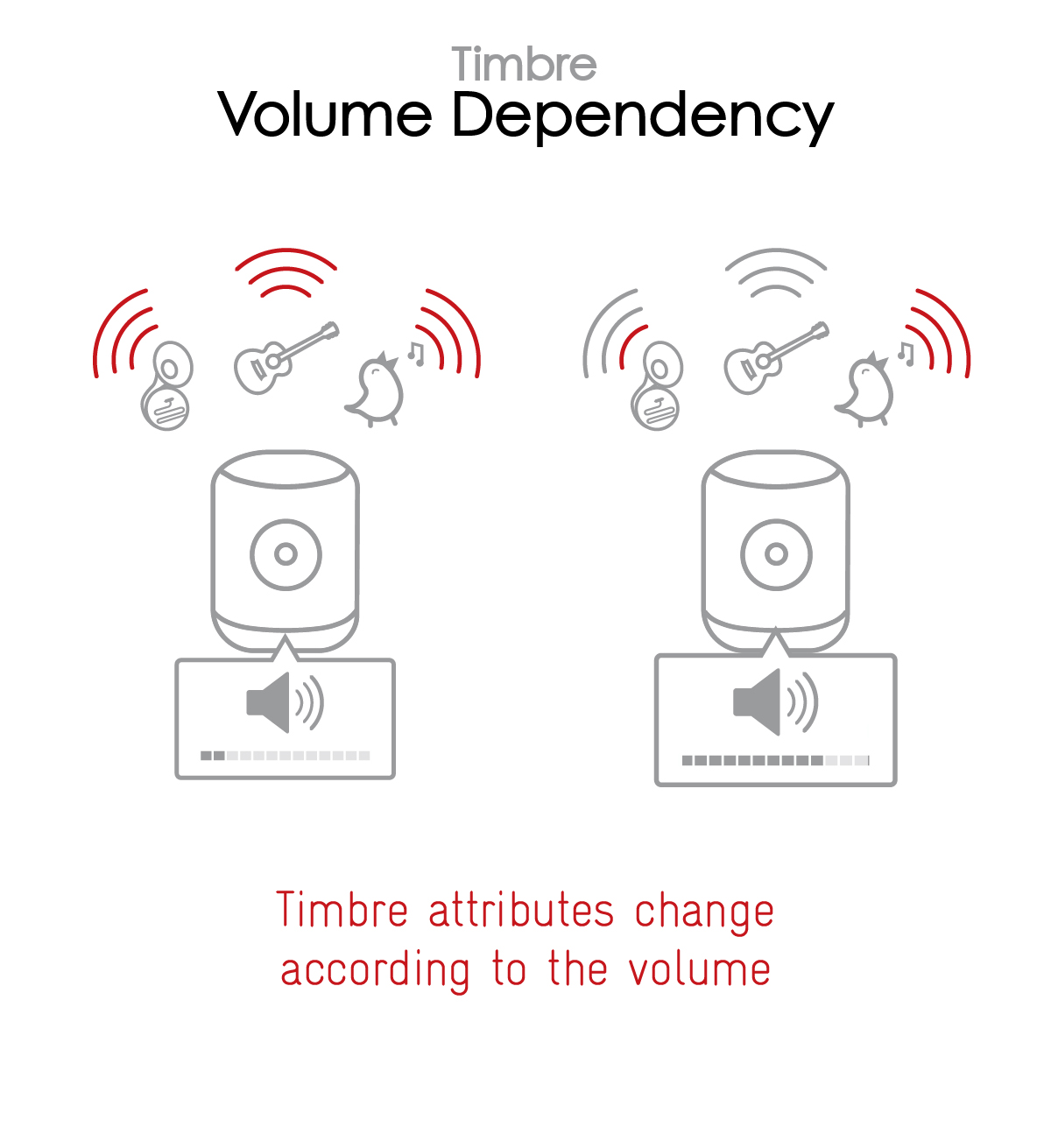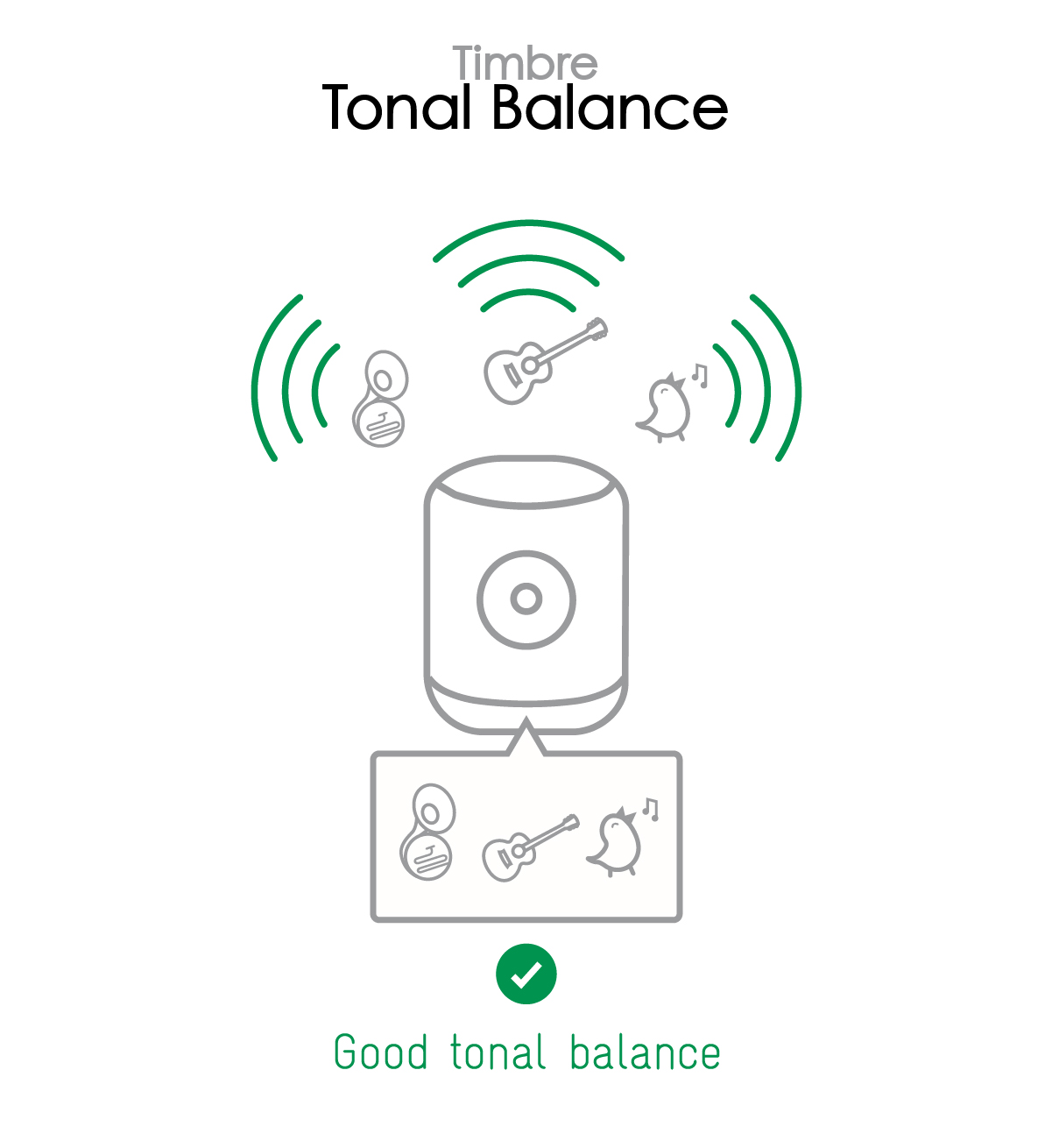 There is a substantial loss of upper content when listening from the sides of the device, but that's not surprising because it's front-firing.
In the TV-viewing use case, the tendencies of the Three II are emphasized, which means that the tonal balance seems hollow, lacking in low-midrange warmth, especially on voice-oriented content, and high-mids tend to be slightly harsh. This does detract from the pleasure of movie viewing.
At low volumes, the Klipsch device sounds slightly muffled and lacks clarity on high-pitched instruments and voices. A lack of low end is also noticeable.
The Klipsch The Three II is out of its depth when playing electronic or hip-hop music and loud volumes. Highs become harsh, and heavy distortions destroy the low end. The limits of the hardware become evident as well as the speaker membrane vibrates in an unusual way.
Klipsch Klipsch the three II
Dynamics
122
Bowers & Wilkins Formation Wedge
Our dynamics tests measure how well a device reproduces the energy level of a sound source, taking into account attack, bass precision, and punch.
Playback dynamics comparison
The Three II scores well in dynamics overall. At nominal volumes, the speaker delivers sharp attack and good bass precision. Punch is also powerful. Surprisingly, the dynamics components hold up well even when listening from behind the device, except for bass precision, which tends to become somewhat blurry.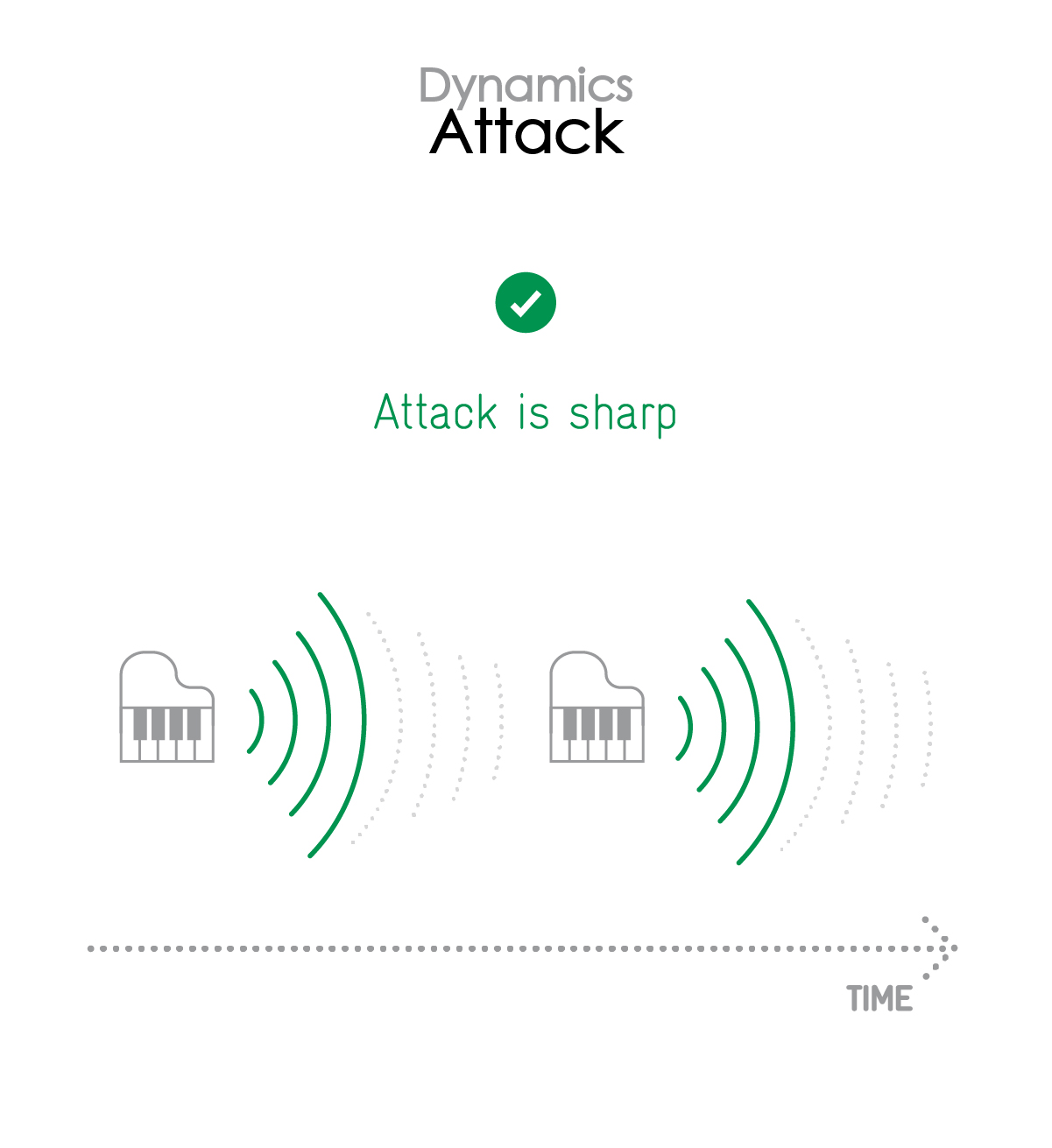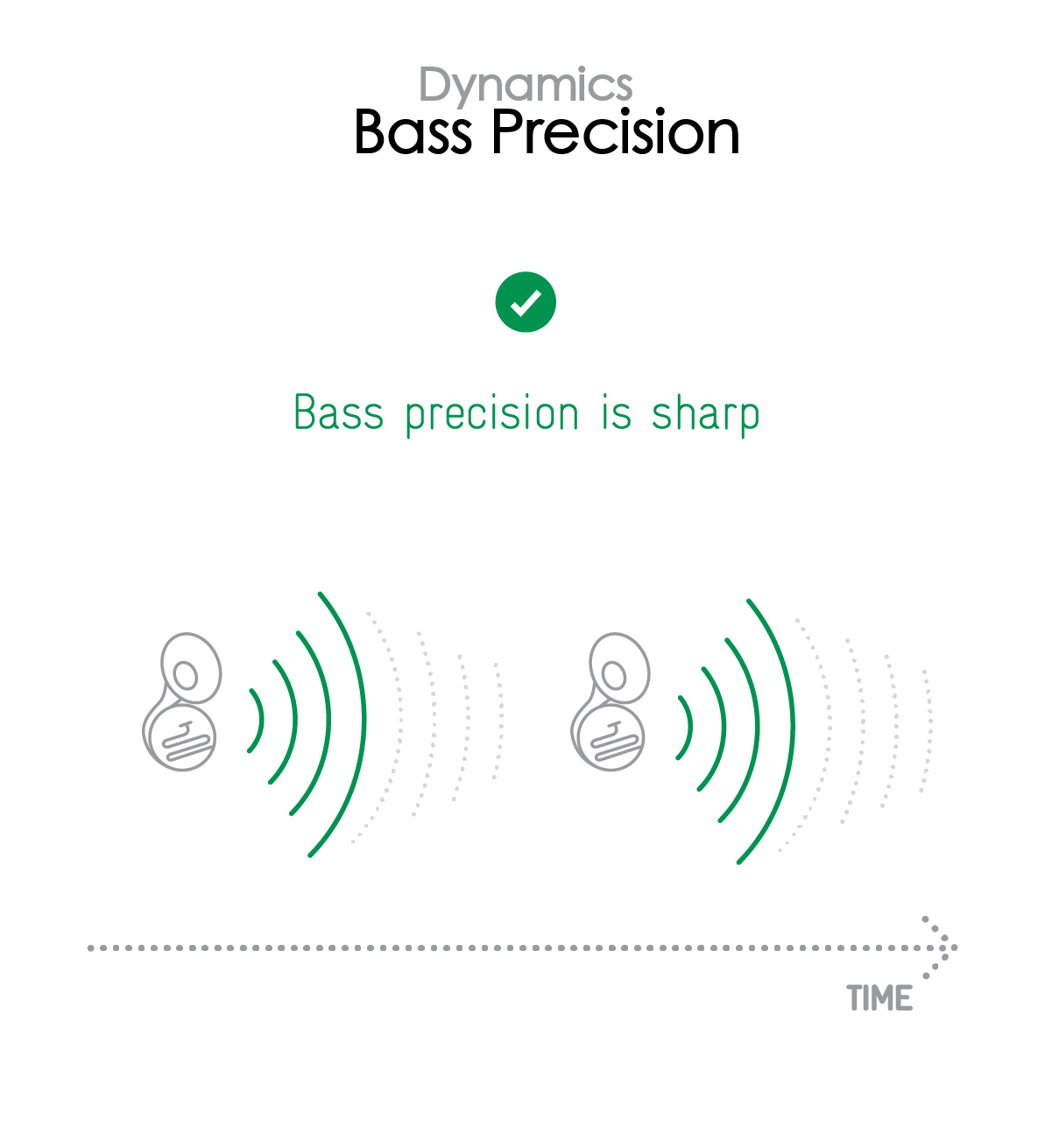 As with timbre, the Klipsch lost some points in the television viewing scenario. Saturation in the highs induces a lack of sharpness in attack, and too much low end impairs the punch, which becomes muddy and weak.
At loud volumes, the attack remains sharp while distortions in the low frequencies impair bass precision, and as with timbre, the problems arise mainly in electronic and hip-hop music.
Spatial
86
Bowers & Wilkins Formation Wedge
Our spatial tests measure a speaker's ability to reproduce stereo sound in all directions, taking into account localizability, balance, wideness, distance, and directivity. Please note that wideness is 0 on mono speakers and on speakers that cannot deliver a significant stereo effect.
Playback spatial comparison
Klipsch The Three II earns some credit here for delivering a bit of stereo sound, even if the listener has to be pretty close to the device to perceive it. This means localizability is also better up close. Voices are perceived right at the device's position, producing a good score for distance. This also holds true for the movie viewing use case; if you're close to the device wideness and localizability will be optimal.
In the kitchen use case, where the clatter of cookery is competing with the Klipsch, the device still turns in a good distance performance; voices cut through the environmental noise to sound close by.
At soft volumes, voices tended to sound veiled; that drew down the distance score.
Volume
108
Bluesound Pulse Mini 2i
Our volume tests measure both the maximum loudness a speaker is able to produce and how smoothly volume increases and decreases based on user input.
Playback volume comparison
The Klipsch device was a mixed bag in the volume attribute. It tended to lack clarity at low volumes and is heavily impaired by distortions and hardware flaws at loud volumes.
Playback volume consistency comparison
The first couple volume steps are minimal, and beyond a certain point, the last ones are as well.
Here are a few sound pressure levels (SPL) we measured when playing our sample recordings of hip-hop and classical music at maximum volume:
| | | | | | | |
| --- | --- | --- | --- | --- | --- | --- |
| | Correlated Pink Noise | Uncorrelated Pink Noise | Hip-Hop | Classical | Latin | Asian Pop |
| Klipsch The Three II | 93.2 dBA | 92.7 dBA | 91.1 dBA | 85 dBA | 92.3 dBA | 86.1 dBA |
| Marshall Stanmore II | 96.9 dBA | 94.2 dBA | 91.8 dBA | 85.3 dBA | 93.1 dBA | 84.3 dBA |
| Audio Pro C10 MKII | 87.5 dBA | 84.6 dBA | 84.7 dBA | 76.3 dBA | 86.3 dBA | 77.1 dBA |
Artifacts
Our artifacts tests measure how much source audio is distorted when played back, along with such other sound artifacts as noise, pumping effects, and clipping. Distortion and other artifacts can occur both because of sound processing and because of the quality of the speakers.
Playback artifacts comparison
The Klipsch The Three II did not score very well in the artifacts attribute for a device at this price point. It doesn't have a lot of artifacts, but the ones it does have are disturbing.
Playback total harmonic distortion
The most evident is bass distortions at loud volume; the Three II is not the best choice for a loud house party.
Saturations in the high-end when watching movies can also become annoying — and more so if you're a "Fast and Furious" fan versus a lover of genteel rom-coms. The Three II doesn't do well with explosions and breaking glass.
Conclusion
As long as you don't push it out of its comfort zone, the Klipsch The Three II produces high quality sound, especially at nominal volumes. For general use, it's going to please its listeners with its rich low end, precise high end, and solid dynamics performance.
For those thinking of buying a home speaker for wild parties at high volumes, or those looking for a companion for movie watching, there are better choices, and you should have a look at our Wireless Speaker Advanced ranking or our Best wireless speakers article to get a broader sense of what's out there.