The Leica Q2 (Type 4889) is the high-resolution update to the Leica Q (Type 116). As such, the Q2 is a full-frame compact camera with a fixed 28mm f/1.7 lens.
While the original Leica Q has a 24.2Mp sensor, the Leica Q2's sensor has an effective pixel count of 47.3 million, and its lens has been tailored to suit this higher resolution. Leica has paired the sensor with an updated Maestro processing engine to enable a sensitivity range of ISO 50–50,000, a maximum continuous shooting rate of up to 20fps with the electronic shutter, and 4K (3840 x2160) video recording at 24/30fps (or C4K 4096 x 2160 at 24p).
In addition, the Leica has a class-leading 3.68M-pixel OLED electronic viewfinder (EVF) built-in, along with a 3-inch, 1.04M-dot TFT touchscreen.
Testing the sensor in a camera with a fixed lens means we have to make a few assumptions about the optics, and this may have an impact upon some of the results.
Key specifications:
47.3Mp full-frame CMOS sensor
Fixed Leica Summilux 28 mm f/1.7 ASPH lens
3,68M-pixel OLED EVF
ISO 50–50,000
C4K 4096 x 2160 at 24p
Single UHS-II compatible SD/SDHC/SDXC slot
Overall performance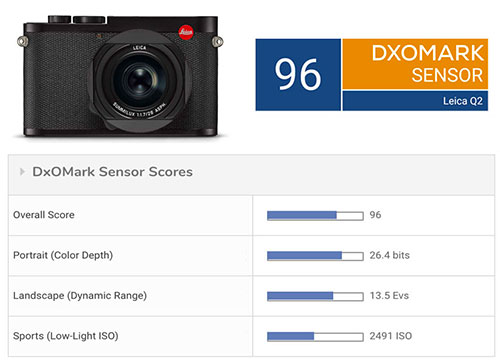 Click on the score chart above to open the Leica Q2 product page
The Leica Q2's sensor achieved an overall score of 96 in our tests, which puts it in 10th position in our sensor ranking, and in second place among compact cameras, sitting just behind the Sony Cyber-shot DSC-RX1R II. It also now assumes the position as the highest-scoring Leica camera sensor, taking over from the Leica SL.
The Q2's is strongest for Portrait (color depth), which hits a peak of 26.4 bits, the 4th-highest value we've measured for any sensor—including medium-format units. In fact, it scores more for this than the Hasselblad X1D-50c's sensor, which scored 26.2 bits.
However, the Q2 doesn't compare quite so well for Landscape (dynamic range) nor for Sports (low-light ISO), achieving scores of 13.5EV and ISO 2491, respectively.
Image quality compared
A maximum dynamic range of 13.5EV is very respectable, but dynamic range is a competitive area, and the Leica score ranks 51st alongside such cameras as the Canon EOS R. Meanwhile, the Q2's ISO 2491 Sports score is our 34th-highest and better than the pro-sports photographer's favorite, the Nikon D5, which scored ISO 2434.
The Leica Q2's nearest direct competitor is the Sony Cyber-shot DSC-RX1R II, which dates from October 2015 and has a 42.4Mp full-frame sensor. As the table below shows, the Sony RX1R II beats the Q2 for Landscape (dynamic range) and Sports (low-light ISO), with scores of 13.9EV and ISO 3204, respectively. In practice, that 0.4EV difference in dynamic range is more likely to be noticed than the difference in the low-light capability, but even then, the former is going to be apparent only in extreme circumstances. Moreover, those differences could easily be attributed to the Q2's 4.9-million higher pixel count.
It's also interesting to compare the Q2 with the Panasonic Lumix DC-S1R, which appears to have a very similar, if not the same, sensor. Like the Q2, the Panasonic S1R scored 26.2 bits for Portrait (color depth); however, with scores of 14.1EV and ISO 3525, it beats the Leica camera's sensor for Landscape (dynamic range) and Sports (low-light ISO).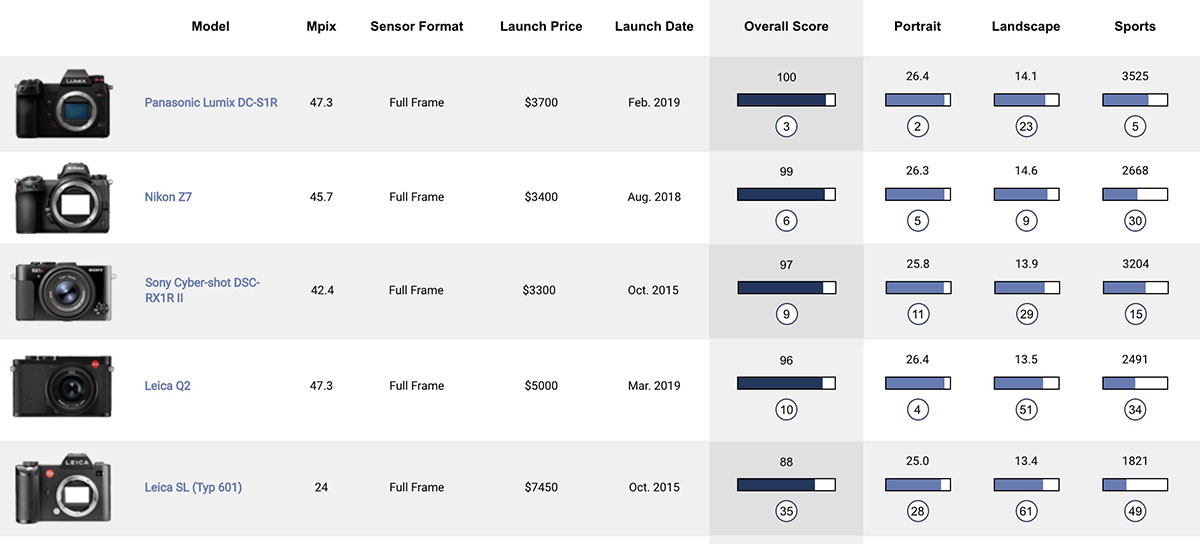 Click here to open our interactive DXOMARK image sensor ranking tool.
In-depth comparisons
As we've already mentioned, the Panasonic Lumix DC-S1R appears to have a very similar sensor to that of the Leica Q2, so it makes a good comparison model for a more detailed look at the Leica Q2's performance. We'll also include the Leica SL in our comparison, as it is the previous highest-scoring Leica camera.
Portrait (color depth)
The Leica Q2 outperforms the Leica SL for color sensitivity except at the highest sensitivity values. However, the Panasonic S1R trumps both of the comparison cameras for the majority of the sensitivity range.
Both the Leica Q2 and the Panasonic S1R have an excellent maximum color depth of 26.4 bits. As usual, they achieve this at their lowest sensitivity values. The two manufacturers claim that this is ISO 50, but in fact, we measured the Q2's lowest sensitivity as ISO 47 and the S1R's as ISO 83.
The measured ISO values get a bit closer at the two camera's ISO 200 settings—ISO 179 for the Leica Q2 and ISO 170 for the Panasonic S1R. Nevertheless, the S1R still has a slight edge with a color sensitivity of 25.5 bits vs 24.6 bits.
The Leica Q2's images stay within our high-quality range when it is set up to ISO 1600 (measured ISO 1,346). They fall just below our 14-bit threshold of acceptable image quality when the camera is set to ISO 25,000 (measured ISO 18,604).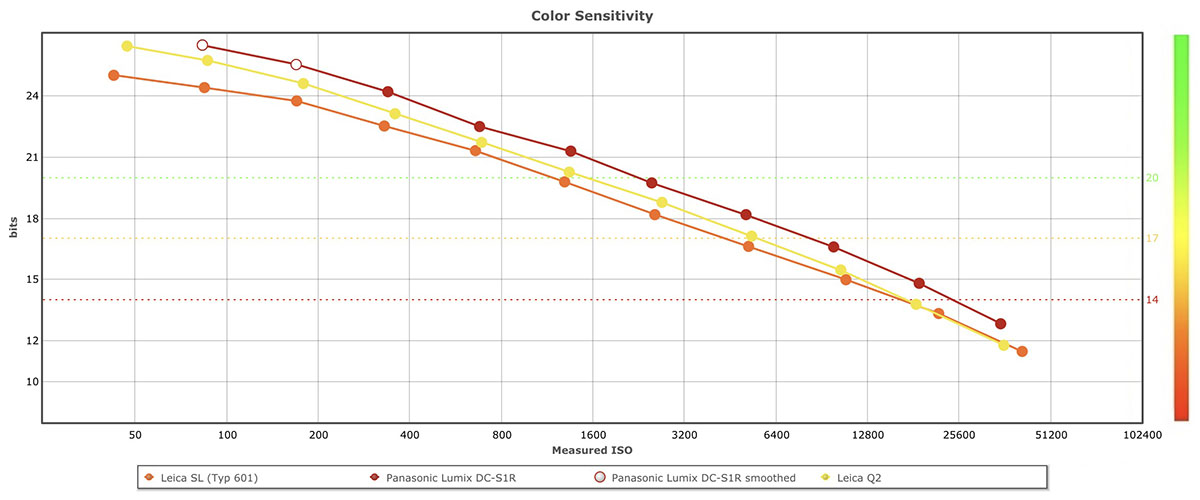 Note: We found some noise reduction in the shadow areas in the Panasonic S1R RAW files. We accounted for this in our measurements (shown as "smoothed" in our graphs).
Landscape (dynamic range)
At its lowest sensitivity setting, the Panasonic S1R captures 0.54EV more dynamic range than the Leica Q2. That's a fairly small difference, but it gives the camera a slight edge when photographing high-contrast scenes such as landscapes with bright clouds and deep shadows beneath foliage.
Although the Q2 captures over 13EV of dynamic range at ISO 50 (measured ISO 47) and 12.92EV at ISO 100 (measured ISO 87), both the Panasonic S1R and Leica SL beat it for the rest of its sensitivity range. The difference is only around 0.5 to 0.3EV from ISO 1600 to ISO 12,800, but as the dynamic range drops steadily as the sensitivity rises, this becomes more significant.
This all said, it's possible that these figures are a little skewed by the assumptions we've had to make about the Leica Q2 lens's light transmission and aperture values. Both of the other cameras accept interchangeable lenses, which makes it possible to measure their sensors' dynamic range directly.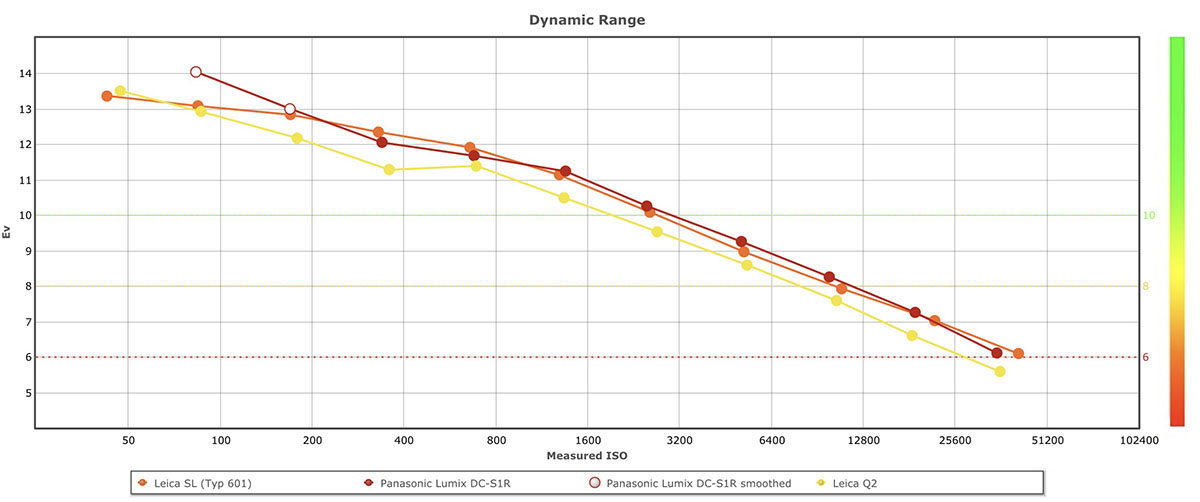 Sports (low-light ISO)
At 30dB (where we compute ISO), the Panasonic S1R produces images that are around 0.5EV better than those from Leica Q2. In its turn, the Leica Q2 images are around 0.5EV cleaner than the Leica SL's. The difference between the results from the three cameras reduces as the sensitivity rises. However, the Leica Q2 dips below our 20dB cutoff for acceptable image quality approximately 0.5EV before the Panasonic S1R. It's only at the upper sensitivity settings that the Q2's performance drops to that of the Leica SL's.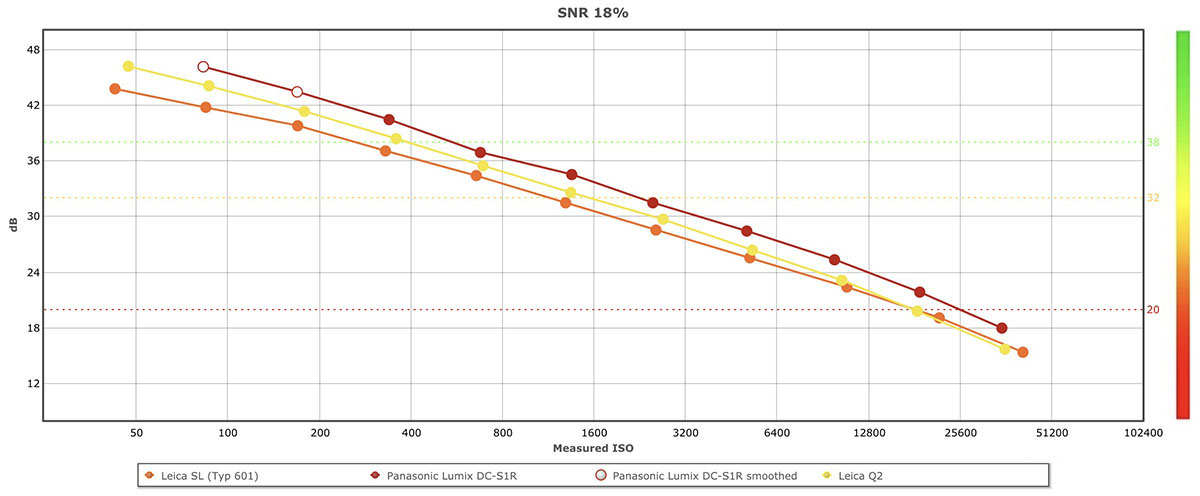 Conclusion
Although at one point compact cameras routinely accepted 35mm film, full-frame compact digital cameras are very rare. The Leica Q2 has a high-resolution sensor that puts it on par with Panasonic's flagship Lumix DC-S1R, and although it doesn't quite match that camera's stellar performance, it's clear that the Q2 is capable of producing superb-quality images—so much so that it ranks in the top 10 of all the cameras we have tested, with its strongest suit being its ability to render color well. This, combined with its extreme portability, makes the Q2 a very attractive option for landscape, street, and travel photographers.
In this review, we have compared the Leica Q2 to its most relevant rivals from other brands. As usual, you can create your own comparisons and in-depth analyses using our interactive image sensor ranking tool.
In the Press