Unveiled at MWC 2019, the LG G8 ThinQ was intended to consolidate LG's position as a leader in smartphone sound through an impressive list of audio technologies. For starters, it features Crystal Sound OLED (CSO), a technology that repurposes the phone's OLED display as a speaker—not unlike Sony's highly praised Acoustic Surface TV. CSO promises not only to improve the overall volume, but also the clarity, "making voices easier to discern and subtle musical notes more noticeable."
Furthermore, a "boombox speaker" utilizes the internal space of the phone as a resonance chamber to generate stronger bass. LG also throws in a DTS:X 3D Surround Sound algorithm that emulates a 7.1-channel reproduction, with or without earphones. Finally, like previous LG smartphones, the G8 ThinQ supports Master Quality Authenticated playback, designed by high-end audio specialist Meridian to deliver master quality sound on a mobile device. In light of all these specifications, let us take an in-depth look at the G8 ThinQ's audio performance via our rigorous audio test protocol.
Audio specifications include:
Crystal Sound OLED speaker
Boombox speaker
32-bit Quad DAC
DTS:X 3D Surround Sound
Meridian Quality Audio (MQA) Decoder
2 analog microphones and RAM (Receiver As Mic)
HD Audio Recorder (app)
Hi-Fi video recorder — two high-AOP (acoustic overload point) mics for recording higher-quality sound
About DXOMARK Audio tests: For scoring and analysis in our smartphone audio reviews, DXOMARK engineers perform a variety of objective tests and undertake more than 20 hours of perceptual evaluation under controlled lab conditions. This article highlights the most important results of our testing. Note that we evaluate both Playback and Recording using only the device's built-in hardware and default apps. (For more details about our Playback protocol, click here; for more details about our Recording protocol, click here.)
Test summary
52
audio
Its overall Audio score of 52 places the LG device just above the Sony Xperia and the Black Shark 2 Pro, the last and second-to-last of all phones we have reviewed so far, respectively. It also reflects how the smartphone performed in each test protocol, as both Playback and Recording received the same rating.
In Playback testing, despite the presence of the "boombox speaker," tone and dynamics suffer from an almost complete lack of bass, canny midrange frequencies ("mids"), and excessive compression. Wideness and maximum volume are both satisfactory, while artifacts spin a little out of control, with notable distortion at maximum volume and confusing sound effects, such as phasing and doubling.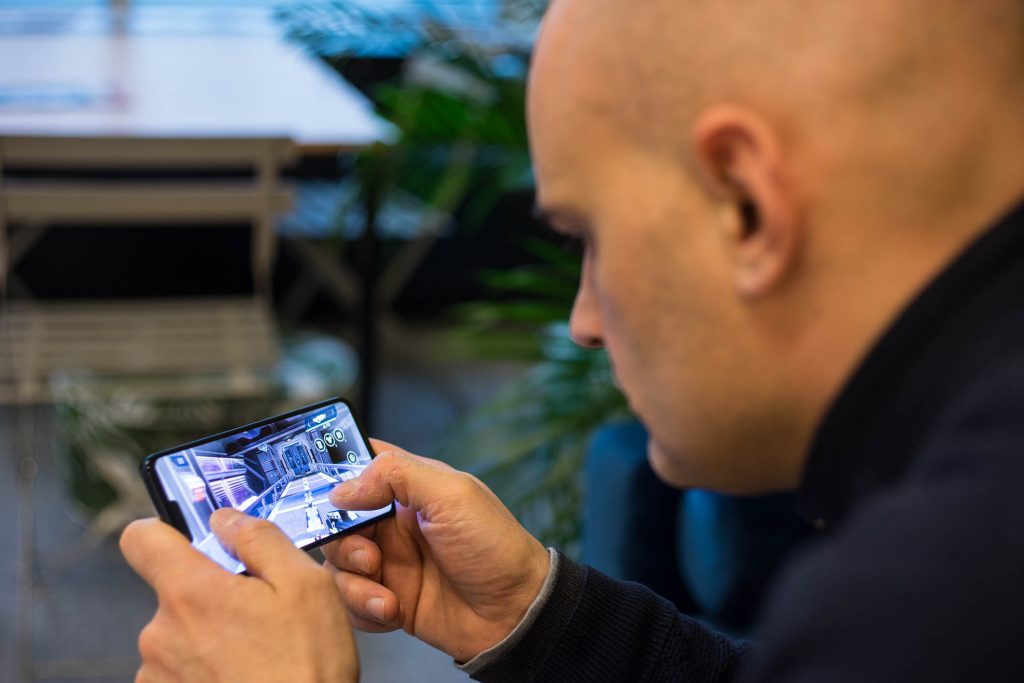 In gaming mode, the LG G8 ThinQ delivers a decent stereo image.
Recording performance is impaired by multiple artifacts (bass distortion, high-frequency resonances, hissing noises, pumping effects) in loud environments, lack of a balanced frequency response, and poor space rendering in selfie video and meeting room use cases. When using the rear camera, though, the sound field achieves good localizability, wideness, and distance. Overall loudness proves to be excellent in our recording tests as well.
Sub-scores explained
The DXOMARK Audio overall score of 52 for the LG G8 ThinQ is derived from its Playback and Recording scores and their respective sub-scores. In this section, we'll take a closer look at these audio quality sub-scores and explain what they mean for the user.
Playback
Timbre
Black Shark 5 Pro
Best: Black Shark 5 Pro (89)
DXOMARK timbre tests measure how well a phone reproduces sound across the audible tonal range, taking into account bass, midrange, treble, tonal balance, and volume dependency.
The LG G8 ThinQ delivers a very canny sound, due to overshadowing mids and an almost complete absence of bass—and naturally, hip hop and electronic mixes suffer most from this absence. As tonal imbalance also strongly affects timbre fidelity, certain instruments sound unnatural. When playing games, high-end frequencies are lacking at soft and nominal volumes, while midrange resonances take over at maximum volume.
Music playback frequency response
Timbre turned out better in landscape mode than in portrait mode across all frequency ranges. Setting the DTS:X 3D Surround balance to Side to Side mode dramatically improves the frequency balance, thanks to a brighter overall sound. Wide and Front modes, on the contrary, amplify the tonal imbalance.
Dynamics
Black Shark 5 Pro
Best: Black Shark 5 Pro (81)
Our dynamics tests measure how well a device reproduces the energy level of a sound source, and how precisely it reproduces bass frequencies.
Predictably, bass precision, also impaired by the meddling of a phasing effect (a very short delay between the two audio channels resulting in an unnatural sound and a blurry spatial position of the different sources), cannot produce a high score. Nor can the attack, which typically arises from high-end sharpness. The punch feeling is acceptable, although a little disappointing compared to higher-end devices. Further, excessive compression reduces the dynamic range. Finally, while bass precision fares best at maximum volume, attack is crisper at nominal volume, and punch is punchier at soft volume.
Spatial
Black Shark 5 Pro
Best: Black Shark 5 Pro (88)
The LG G8 offers a very decent performance in this area, beaming a slightly wider stereo in portrait mode than the usual narrow scene that similar phones provide, and a somewhat better balance, albeit shifted to the right. In gaming mode, the stereo image is acceptable, although fuzzy transients (high-amplitude, short-duration sounds, such as percussions or plosives) impair localizability. The overall result is acceptably wide, but not exceptionally large.
Volume
Nubia RedMagic 7 Pro
Best: Nubia RedMagic 7 Pro (91)
Our Volume tests measure both the overall loudness a device is able to produce and how smoothly volume increases and decreases based on user input.
While the Honor 20 Pro shows a logarithmic curve that is better suited for the human ear, the LG G8's volume steps are more linear.
Maximum volume is loud enough; however, the first volume step is too low, making it hard for dynamic tracks (i.e., mixes that allow a big volume gap between their loudest and their most quiet passages) to remain consistently audible.
| | |
| --- | --- |
| Hip-Hop | Classical |
| 72.3 dBA | 68.6 dBA |
Artifacts
Xiaomi Redmi K50 Gaming
Best: Xiaomi Redmi K50 Gaming (113)
Our Artifacts tests measure how much source audio is distorted when played back through a device's speaker. Distortion can occur both because of sound processing in the device and because of the quality of the speakers.
At nominal levels, noise and temporal and spectral artifacts are well controlled. At maximum volume, the excessive presence of high-end frequencies amplifies noise and leads to notable distortion. Doubling and phasing effects are also noticeable with low-range instruments, such as bass or kick drums, and audio clicks can be present when pausing/resuming the audio track. These issues are seemingly generated by a small speaker placed behind the screen called an exciter—or in other terms, what LG calls the Crystal Sound OLED. Nevertheless, the clear benefit of this technology is that the sound played back through the speakers is hardly muffled by the user's palm or fingertips.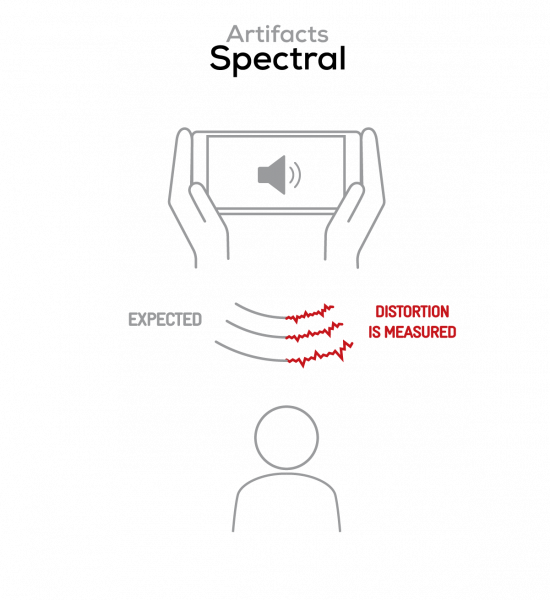 At maximum volume, distortion becomes very noticeable.
Recording
Timbre
Honor Magic3 Pro+
Best: Honor Magic3 Pro+ (91)
The LG G8 ThinQ delivers an honest timbre performance overall in the recording area. However, in keeping with the speaker's performance, the microphone delivers canny mids. Furthermore, in addition to a slight lack of bass (down to -4 dB in life and selfie video, and down to -6 dB in memo use cases), the performances are drastically different depending on if the G8 is recording videos or is recording audio only. In memo and meeting use cases, the frequency response starts dropping down around 2 kHz and plummets after 10 kHz, causing the recordings to sound muffled. By contrast, in life video and selfie video use cases, the bandwidth goes up to 16 kHz—but alas, at the cost of particularly tinny sound and huge resonances.
Life video frequency response
Dynamics
Black Shark 5 Pro
Best: Black Shark 5 Pro (81)
With a Dynamics sub-score of 49, the G8 ThinQ ranks second-to-last in this category, right above the Back Shark 2 Pro. Recording quality is affected by an inherent flaw: the phone achieves its fairly good sound-to-noise ratio because of a powerful but not properly controlled noise-cancelling algorithm. This algorithm introduces numerous artifacts, among which are impairment of the sound envelope and lack of precision with plosives (sounds like "p," "b," and "g").
Spatial
Black Shark 4S Pro
Best: Black Shark 4S Pro (78)
If your recording needs mainly entail filming life videos with the rear camera, then the G8 should work just fine. The phone performs very nicely indeed in this use case with regard to localizability and wideness, as well as to distance.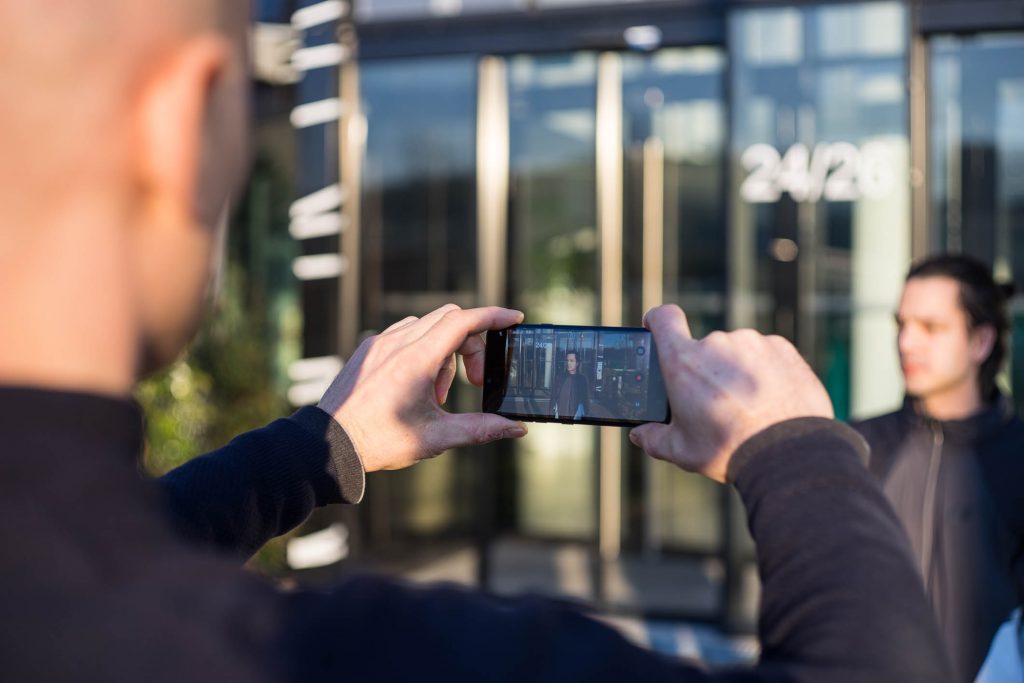 Life video recording with the LG G8 ThinQ
In selfie video and meeting room use cases, however, the results are drastically different, bringing the total sub-score down to the lowest level to date. In both situations, localizability and distance are heavily affected by the previously-mentioned muffled mids, along with numerous artifacts. Furthermore, the HD Audio Recorder records only in mono.
Volume
Black Shark 5 Pro
Best: Black Shark 5 Pro (99)
Except in meeting situations (memo app, phone flat on the table) where the volume is a little too low compared to devices with similar specifications, the G8 delivers an excellent volume performance. Moreover, maximum loudness recording without distortion is good, which means the phone isn't overwhelmed by loud concerts.
| | | | |
| --- | --- | --- | --- |
| Meeting | Life Video | Selfie Video | Memo |
| -28.4 LUFS | -14.4 LUFS | -13.4 LUFS | -23.5 LUFS |
Artifacts
Black Shark 5 Pro
Best: Black Shark 5 Pro (97)
Speaking of loud gigs, when using the default settings in video recording, the electronic concert use case generates multiple artifacts, such as bass distortion, high-frequency resonances, hissing noises, and pumping effects. However, Concert mode in the HD Audio Recording app offers a much cleaner recording.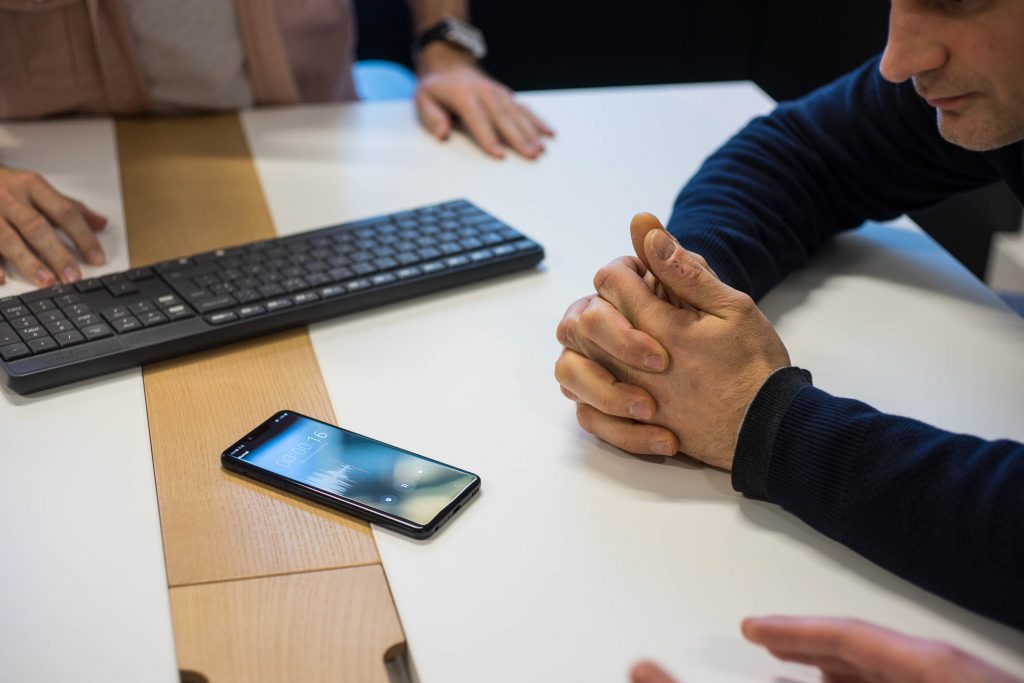 When recording in a meeting room situation, no artifacts are noticeable.
Hissing is also noticeable in life video and selfie video use cases. Also, in Landscape mode as well as in selfie and memo use cases, the user's palm or fingers unfortunately obstruct the microphones. On the other hand, the meeting room use case, which cannot be affected by any sort of occlusion, suffers from no audible artifacts whatsoever.
Background
Black Shark 5 Pro
Best: Black Shark 5 Pro (60)
The noise-cancelling algorithm considerably impairs the background tonal balance. The overall rendering, also affected by heavy compression, gating, resonances and distortion, results in an unnatural sound field.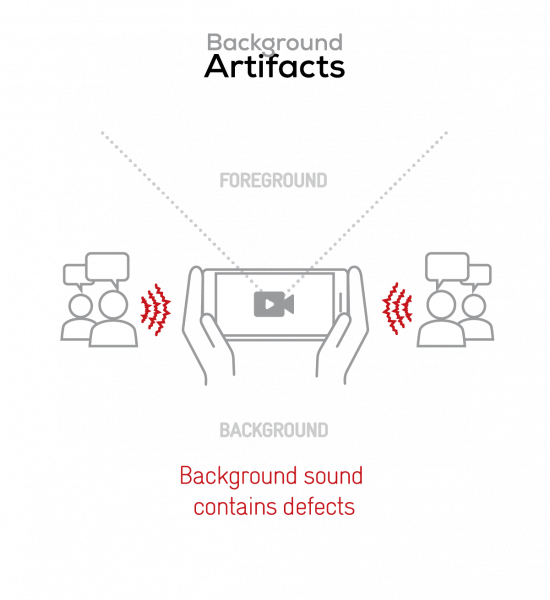 Background rendering is heavily affected by various sound artifacts, such as excessive compression,
gating, resonances, and distortion.
Conclusion
Despite all its promises, the LG G8 ThinkQ's audio performance leaves much to be desired. The Crystal Sound OLED technology, while certainly making it very hard for the speakers to be occluded by the user's hand, produces a canny overall timbre with almost absent bass, lack of impact, and numerous artifacts. The noise-cancelling algorithm, albeit extremely efficient, also comes with its share of unfortunate consequences. To top it all, the HD Audio app records only mono files.
In view of all these shortcomings, we can only recommend the LG G8 ThinQ in two cases: (1) filming low-volume situations through the rear camera, in which case it's able to provide a decent timbre performance, a good rendering of space, and a great loudness level; and (2) using its recording app's Concert Mode, which considerably reduces artifacts when recording in loud environments.
Playback
Pros
Spatial performance is slightly better than other similarly-built smartphones
Speakers are not easily occluded by the user's hand
Cons
Small exciter (speaker placed behind the screen) induces phasing effects
Canny timbre, significant lack of bass
Overall volume performance is below average
Recording
Pros
Decent performance for microphone recording
Good high-end extension in life and selfie video use cases
Great audio file loudness for most use cases
Concert mode in the HD Recording Audio app reduces artifacts when recording in loud environments
Cons
Overall performance impaired by a lot of artifacts generated by an aggressive noise-cancelling algorithm
Timbre is unnatural and suffers from resonances in most use cases
Audio file volume is too low in meeting use case
HD Recording Audio (memo app) records only in mono