The LG XBoom RP4, which also goes by LG XBoom 360 in some markets, is an omnidirectional home speaker that comes with an ambiance-creating light show as well as a "DJ Effect" setting on its app, which allows you to mix samples as well as adding scratching and other sound effects. The brand says that the battery offers 10 hours of listening enjoyment on a single charge, and it comes in several colors.
We put the LG XBoom RP4 through our rigorous DXOMARK Audio test suite to measure its performance at playing back audio. In this review, we will break down how it fared in a variety of tests and several common use cases.

Key specifications include:
Wireless protocols: Bluetooth
Wired connectivity: Jack
Height: 51.4 cm;  width: 24.7 cm; depth: 24.7 cm (9.8 in. x 20.2 in. x 9.8 in.)
Weight: 5.8 kilos (12.8 pounds)
Speakers: Two — one upward-facing tweeter and one upward-facing woofer
Test conditions:
Tested with Android smartphone
Communication protocol used: Bluetooth

About DXOMARK Wireless Speaker tests: For scoring and analysis in our wireless speaker reviews, DXOMARK engineers perform a variety of objective tests and undertake more than 20 hours of perceptual evaluation under controlled lab conditions. This article highlights the most important results of our testing. Note that we evaluate playback using only the device's built-in hardware. (For more details about our Speaker protocol, click here.)
The LG XBOOM RP4 falls into the Advanced category of devices in the DXOMARK Speaker rankings.



Pros
Reasonably good tonal balance at low volume
Good omnidirectional capabilities; consistent overall tonal balance around the device
Cons
Slightly muffled sounds overall; a bit too midrange-focused and lacking low-end extension
Distorted bass content  distorted at loud volume
Test summary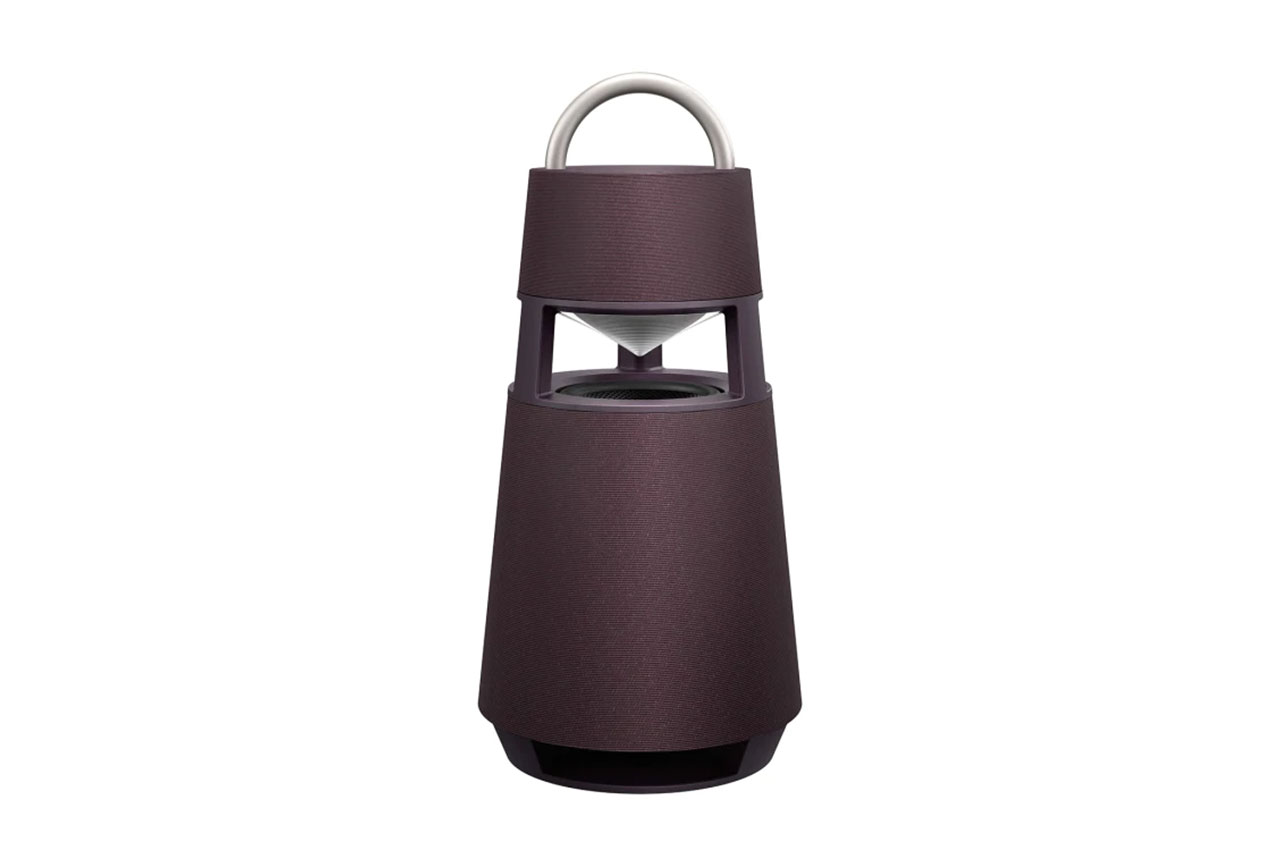 LG XBoom RP4
135
speaker
The LG XBoom RP4's overall score of 135 puts in decent territory among the other Advanced segment home speakers we've tested. It lands right behind three devices in the top 10 that scored 136 points — the Audio Pro C10 MKII, the JBL Xtreme, and the Yamaha MusicCast 50. But the LG XBoom RP4 also ranks in the top 10 among all tested devices, regardless of price.
The RP4 was especially strong in creating consistent sound in 360 degrees, earning an excellent score in our gathering use case. It did not score as well as a device for movie viewing, in part because it is a mono speaker. Let's take a look at the specifics.
Sub-scores explained
The DXOMARK Speaker overall score of 135 for the LG XBoom 360 is derived from a range of sub-scores. In this section, we will take a closer look at these audio quality sub-scores and explain what they mean for the user, and we will show some comparison data from two of the device's competitors, the Klipsch The Three II and the Bose Home Speaker 500.

Timbre
132
Bowers & Wilkins Formation Wedge
DXOMARK timbre tests measure how well a speaker reproduces sound across the audible tonal range and takes into account bass, midrange, treble, tonal balance, and volume dependency.

Playback timbre comparison
In general, the LG XBoom RP4 performed well in this attribute compared with other similarly priced devices. But its results revealed some interesting quirks of character.
The timbre performance of the RP4 put a line under the boom in its name. With a lack of treble and high-end extension, the device can sound "boomy" and muffled. By putting the device on the floor, you can actually improve the situation somewhat because the treble seems to travel upward.
The midrange is unclear and dark — there's too much emphasis on the low midrange. Despite the presence of bass, the tonal balance lacks low end and extension. This is somewhat disappointing considering the dimensions and heft of the device: it weighs nearly six kilos.
In the podcast use case, female voices sound unnatural because the device makes them boomy and muffled. It suits male voices better, matching low midrange presence with enough clarity.
In a reverberant environment, like a kitchen or bathroom, the RP4 is even more boomy and muffled. While this is also true in acoustically neutral environments at high volume, tonal balance switches to a canny sonority with resonant midrange.
Music playback frequency response
Dynamics
119
Bowers & Wilkins Formation Wedge
Our dynamics tests measure how well a device reproduces the energy level of a sound source, taking into account attack, bass precision, and punch.

Playback dynamics comparison
At low volume, the LG device produces an overall pleasing dynamics performance. Attack sounds slightly rounded and soft, and this weakness is accentuated by the lack of high-end extension and precision. Sustain and release of bass is non-existent, due to the lack of low-end extension. Even bass attack is inconsistent. Punch, on the other hand, is quite good, thanks to the presence of energy in the low midrange.
Spatial
100
Bowers & Wilkins Formation Wedge
Our spatial tests measure a speaker's ability to reproduce stereo sound in all directions, taking into account localizability, balance, wideness, distance, and directivity. Please note that wideness is 0 on mono speakers and on speakers that cannot deliver a significant stereo effect.
Playback spatial comparison
The marketing material for the XBoom RP4 touts the completeness of its 360° sound, and that omnidirectional capability is easy to verify. But it is nonetheless a mono device, and thus unable to hit the higher scores in the wideness and localizability aspects of the spatial attribute.
And while the consistency of the device was pretty good in all directions, treble really varied depending on the angle of listening.
That said, distance rendering was on point.
Volume
89
Bluesound Pulse Mini 2i
Our volume tests measure both the maximum loudness a speaker is able to produce and how smoothly volume increases and decreases based on user input.

Playback volume comparison
Playback volume consistency comparison
Volume is one area where the XBoom RP4 did not excel. It is quite loud at maximum volume, but the management of the volume steps is not great. The last few volume steps don't really change the volume, and the first one is essentially a flat line.
Here are a few sound pressure levels (SPL) we measured when playing our sample recordings of hip-hop and classical music at maximum volume:

| | | | | | | |
| --- | --- | --- | --- | --- | --- | --- |
| | Correlated Pink Noise | Uncorrelated Pink Noise | Hip-Hop | Classical | Latin | Asian Pop |
| LG XBoom RP4 | 87.3 dBA | 84.4 dBA | 82.3 dBA | 77.7 dBA | 83 dBA | 75.9 dBA |
| Klipsch The Three II | 93.2 dBA | 92.7 dBA | 91.1 dBA | 85 dBA | 92.3 dBA | 86.1 dBA |
| Bose Home Speaker 500 | 84 dBA | 81.9 dBA | 82.3 dBA | 78.2 dBA | 83.2 dBA | 75.4 dBA |
Artifacts
Our artifacts tests measure how much source audio is distorted when played back, along with such other sound artifacts as noise, pumping effects, and clipping. Distortion and other artifacts can occur both because of sound processing and because of the quality of the speakers.

Playback artifacts comparison
Overall the device scored well in the artifacts attribute, although there is a tendency to produce distortion, especially at the low end.
Playback total harmonic distortion
Conclusion
The LG XBoom RP4 performs best in settings where it is at lower volume and in an acoustically neutral space. That's perfect for a dinner party, a quiet gathering with friends, or listening to music in a relaxing setting.