The V6 is a luxury device from selfie-focused Chinese manufacturer Meitu and comes with dual-camera setups in the front as well as in the back. The 1/2.55-inch Sony IMX362 image sensor at the front is quite large by front-camera standards, and is combined with a fast f/1.8-aperture lens. There's also a 5MP secondary sensor for depth sensing and for creating a simulated bokeh effect.
Users can frame and view images on a 5.5-inch Full HD display, and the Android OS is powered by a MediaTek chipset with a 10-core processor and 4GB of RAM. Buyers can choose between versions with 64 or 128GB of internal storage.
Key front camera specifications:
Sony IMX362 1/2.55-inch, 12MP primary sensor
5MP secondary sensor for depth sensing
f/1.8-aperture lens
1080p video at 30fps
About DxOMark Selfie tests: For scoring and analysis in our smartphone front camera reviews, DxOMark engineers capture and evaluate over 1500 test images and more than 2 hours of video both in controlled lab environments and in natural indoor and outdoor scenes, using the camera's default settings. This article is designed to highlight the most important results of our testing. For more information about the DxOMark Selfie test protocol, click here.
Test summary
59
selfie
With an overall DxOMark Selfie score of 59 points and a Photo score of 58 points, the Meitu V6 isn't a class-leading device for front camera performance, but at short subject distances it is capable of capturing good detail in textured areas of the face, such as eyebrows, eyelashes, and beard, even in low light. Skin tones are pretty much noise-free, and in Bokeh mode, the camera produces a fairly-natural looking blurred background effect. Scores for exposure, color, and focus are all quite low, however, and the skin-smoothing effects can be so strong as to look very unnatural.
In the examples below, you can see that the camera has a tendency to brighten the face, but face exposure is still within acceptable limits. Dynamic range is pretty limited, though, resulting in a lot of highlight clipping in bright backgrounds or in high-contrast scenes. On the plus side, the Meitu does well in low light, achieving better exposures in our 10 lux test scene than many other high-end devices.
The Meitu's color rendering is generally good, but a slight blue white balance cast is visible in pretty much all shots in real-life test conditions, which we confirmed through our lab testing with the Gretag ColorChecker chart. We also observed some barely noticeable color shading when shooting in indoor conditions.

Meitu V6, lab ColorChecker test results
While textures on faces are smoothed to a quite unnatural degree, one can usually see quite strong luminance noise in other parts of the images, such as in the blue sky in the example below.
We do not take into consideration skin detail in our texture score, however, as we believe skin smoothing in selfie images is mostly a matter of personal taste. It's also worth noting that the Meitu uses pretty low shutter speeds in low light, so any subject motion will almost inevitably result in motion blur.
Per above, skin detail is a matter of taste within a specific range of acceptable rendering. Some devices smooth skin only slightly and provide a very acceptable rendering. Some others, such as the Meitu v6, provide a strong smoothing on the skin which leads to a visibly unnatural rendering. These image quality attributes impact the Artifacts score.
The Meitu achieves a good score for texture, as it preserves detail well down into low light levels, as you can see in the comparison with the iPhone X below (both photos captured at 20 lux). Again, there's a lot of noise in the background, but the face is completely clean.
The Meitu V6 front camera comes with an autofocus system in its front camera, which is still a fairly uncommon feature—most smartphones use a fixed-focus lens in the front. The AF is capable of producing pretty good results at shorter shooting distances of 30cm and 55cm, but struggles to capture sharp results at longer distances—for example, when shooting with a selfie-stick. There are also repeatability issues, with quite noticeable differences between shots in a series. In the graph below, the dotted lines show the standard deviation for focus.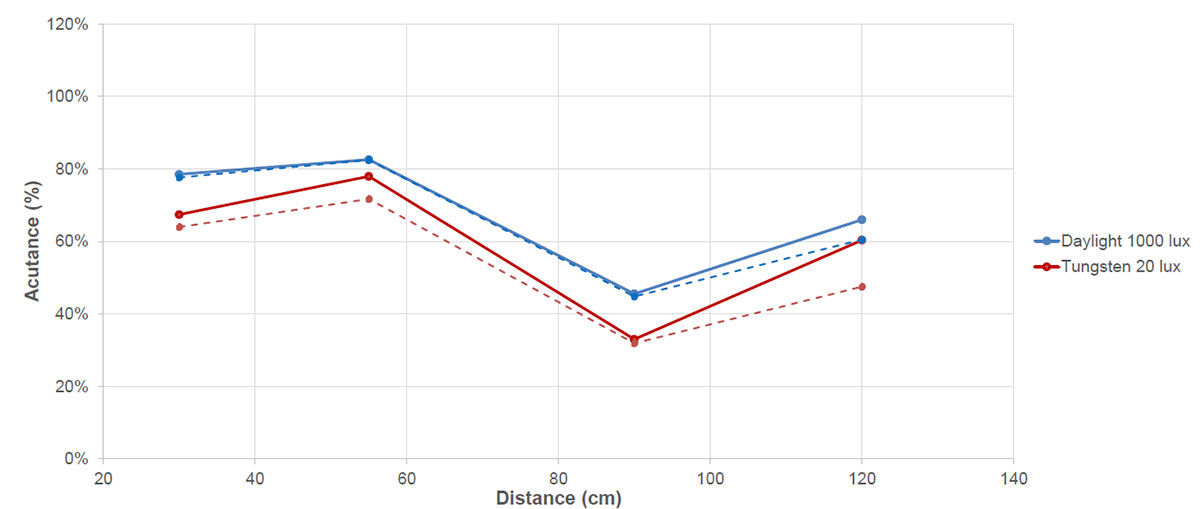 Meitu V6, focus performance at 1000 and 20 lux
The AF issues at longer subject distances, in combination with a relatively shallow depth of field, mean that the Meitu V6 should not be your first choice for shooting with a selfie-stick or for capturing group selfies. In the latter case, the rendering is quite soft of subjects not in the focal plane.
Flash shooting also isn't a strong point of the Meitu, either, with strong underexposure and noise visible in images captured in total darkness. The flash works better when mixed with some ambient light, and our flash shot under 5 lux of tungsten illumination shows good exposure on the face and decent texture. There is some fine luminance noise, though, and the white balance is quite yellow.
Our V6 images are riddled with some pretty noticeable artifacts. We've already seen in some of the examples above that the V6 can render blue skies in a quite unnatural way. The same is true for some faces: skin smoothing is so strong that the image manipulation is immediately obvious to the observer, even if they've never seen the image subject in person.
We have also observed some pretty strong anamorphosis (distortion) in group images on faces that are close to the edge of the frame. And with light sources close to or inside the frame, images can also show flare.
In Video mode, the Meitu V6 shows average performance, scoring 61 points overall in our video tests. Noise levels are pretty low and exposure is good down to low light levels of only 5 lux. As in still mode, facial exposure is a touch on the bright side, but within acceptable limits. Exposure convergence in changing light conditions is pretty smooth as well, with no overshoot.
The downside to the bright skin tones is that prime colors are usually rendered brighter than they should be, too. You can see this in the sample above and on the color patches below.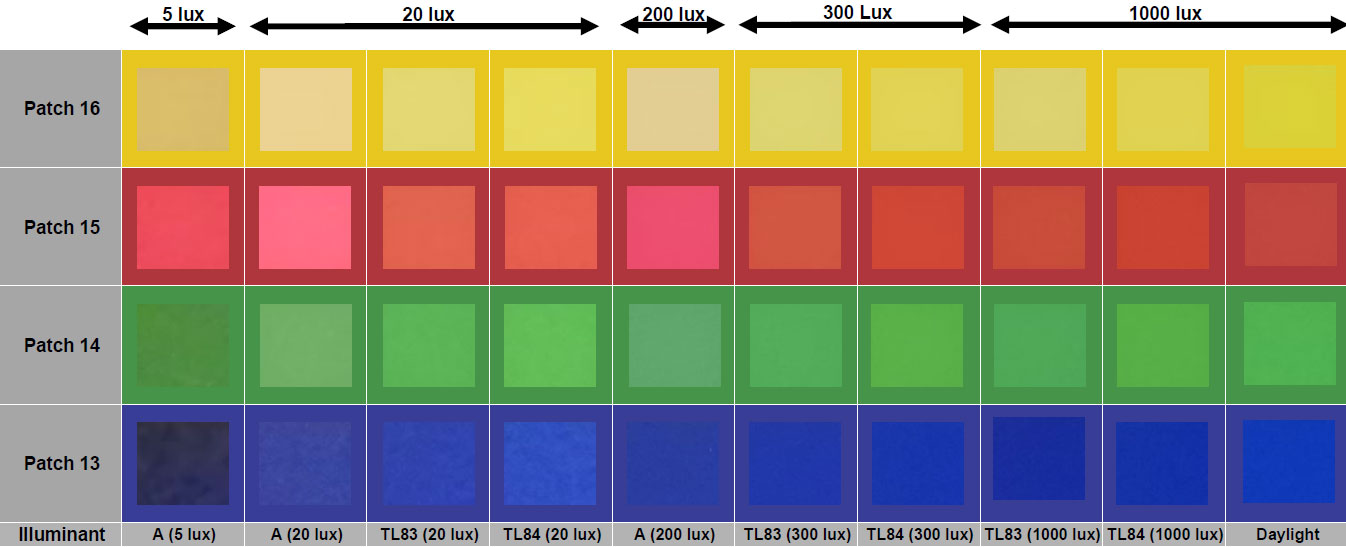 Meitu V6, ColorChecker results for video
Conclusion
Given its front camera specifications—specs that would not look out of place for the main camera of a mid-range smartphone—the Meitu V6's performance is not as good we were hoping. The camera is capable of capturing good detail across all light levels, but still images also show noise, white balance casts, and a range of artifacts, including a very unnatural rendering of skin on faces and quite noticeable distortion in group shots. The autofocus system is in theory an advantage over fixed-focus models, but is quite unreliable in practice, meaning that the Meitu isn't the phone of choice for selfie-stick or group shots. Video performance is not too bad, though, and if you can live with the Meitu's unnaturally smooth skin rendering, the V6 is worth consideration.
Photo Pros
Good target exposure on faces in all conditions
No image noise on faces
Pleasant simulated bokeh effect
Video Pros
Efficient stabilization
Good target exposure on face
Noise on faces very well under control
Photo Cons
Unnatural skin rendering on faces
Loss of detail in the background
Focus not always reliable when shooting outdoors
Blue color cast in outdoor conditions
Video Cons
Loss of focus when moving the camera while shooting
Unnatural skin rendering
Loss of detail, especially in low light
White balance casts in most conditions