Announced at the CES event in Las Vegas in January, the Nikkor Z 14-30mm F4 S is a constant-aperture, moderate-speed, ultra-wide zoom that will appeal to a wide range of users.
As the second F4 zoom in the S series, it also has a retractable design like the Nikkor Z 24-70mm F4 S (announced along with the Nikon Z 7 and Z 6). It features 14 elements in 12 groups, four of which are extra-low dispersion (ED) glass and four have aspherical surfaces. Unlike the wildly convex front elements that are typical of ultra-wides, the Nikkor Z 14-30mm F4 S has a relatively flat front and is the first 14mm to accept standard screw-in filters (82mm). It also has Nano Crystal and Nikon Integrated coatings to help reduce flare and ghosting, while the front element has a fluorine coating to aid cleaning.
Like others in the S series, it has rounded aperture blades to improve the circular rendering of out-of-focus highlights. The new lens also features an internal focusing system that uses a quiet stepping motor, and has a minimum focusing distance of 28cm (11.02"). It includes a mechanism to reduce the effects of focus breathing, and is sealed against dust and moisture. Externally, there's a wide rubber-like zoom ring and a customizable control collar used for manual focus, aperture selection, or exposure compensation.
Measuring 77.5 mm x 88.5 mm (3.07" x 3.5") when retracted and weighing 485 grams (1.07 lbs), the new Nikkor Z 14-30mm F4 S is a highly compact and portable model.
Key specifications:
Full-frame format
Available in Z-mount only
Aperture range F4–F22
82mm filter thread
Minimum focus distance: 28cm (11.02")
Weight: 485 grams (1.07 lbs)
Overall lens image quality
Given its compact size and ultra-wide focal length, the Nikon Nikkor Z 14-30mm F4 S achieves a good balance in optical quality, with high and consistent sharpness across the image field except when wide-open at F4.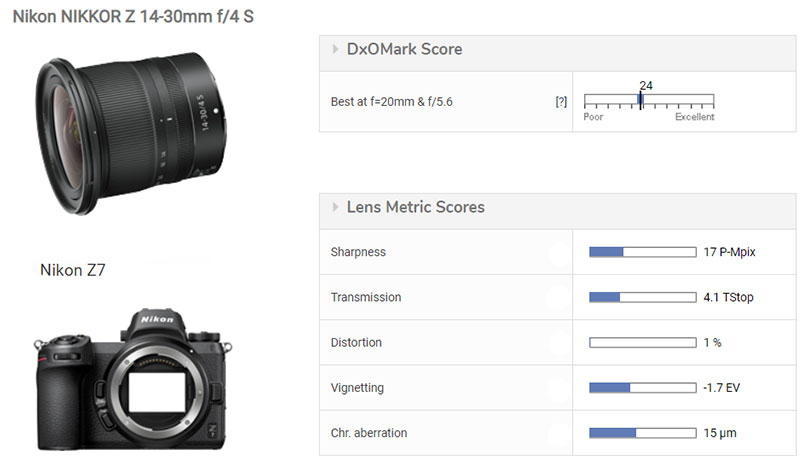 When fitted to the high-resolution 45.7MP Nikon Z 7 body, it scores 24 Overall in our image quality rankings, putting the lens-camera combination on par optically with the larger, made-for-DSLR Nikon AF-S Nikkor 16-35mm F4G ED VR mounted on the Nikon D800E. (Although no longer made, the D800E is the best-performing Nikon reflex camera in our database.)
While the Nikkor Z 14-30mm F4 S has uniform sharpness in horizontal and vertical planes, differences in sharpness levels between the initial aperture and one stop down are significant at all focal lengths. At the initial aperture of F4, the lens has high central sharpness at all focal lengths, but it doesn't maintain the levels across the frame, leading to a slightly lower-than-expected Sharpness score of 17 PMpix. Despite that, sharpness levels at F5.6 and smaller are excellent and levels are fairly consistent between focal lengths, though it performs best overall at 20mm F5.6.
Its optical quality remains good in other areas, but considering the extreme 14mm focal length and compact design, it's hardly surprising to see its performance pulled down a little overall. It has high levels of lateral chromatic aberration at the wider focal lengths, particularly at 14mm (as you might expect).
Distortion is also high when uncorrected, but that may not be so noticeable with its built-in profiles. Our measurements on uncorrected RAW files range from a high (2.5%) barrel distortion at 14mm to a still relatively noticeable (–1.1%) pincushion at 30mm.
Vignetting in uncorrected RAW files—that is, without applying the lens's built-in profiles, is high wide-open at all focal lengths, but again unlikely to be an issue when using correction software.
One metric for which this lens excelled is light transmission, measuring an average of 4.1TStop, which is an outstanding result for a lens like this, as well as a good indicator of its potential for well-controlled flare and ghosting.
Image quality compared to its competitors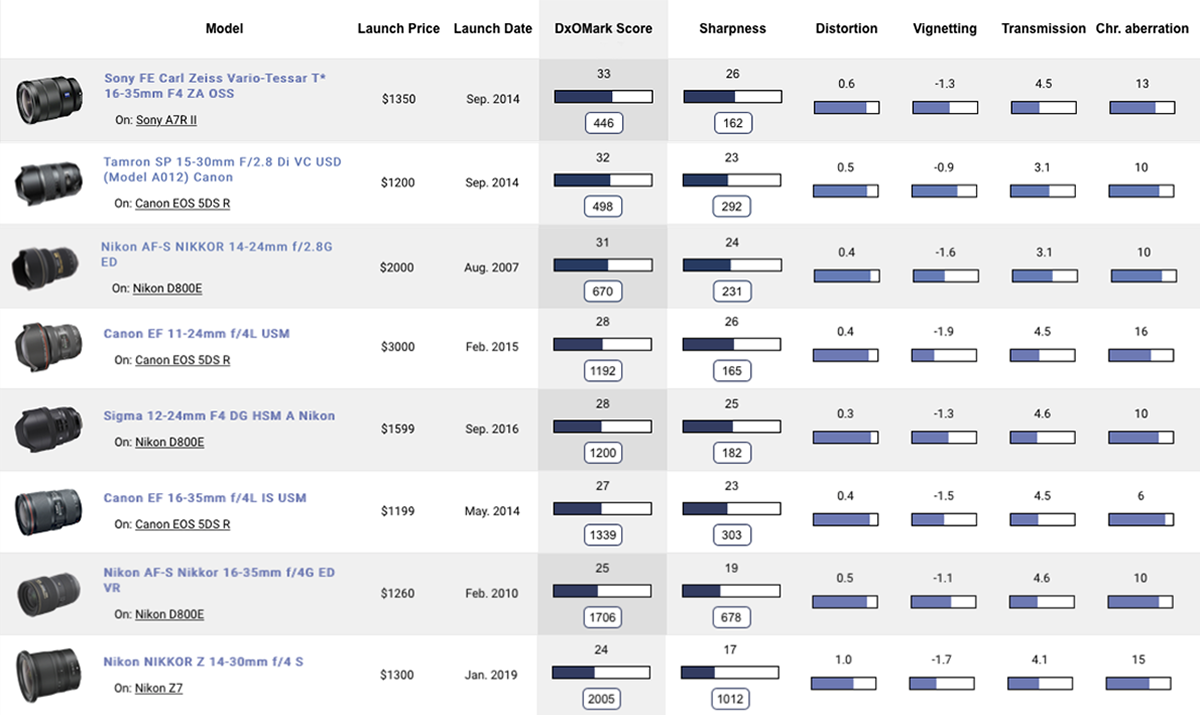 Click here to open our interactive DxOMark lens comparison tool.
With its expansive angle of view from 14mm to a moderately wide 30mm, this new model has wide-ranging appeal. It overlaps with a number of existing models, including some ultra-wide, high-speed lenses, as well as moderate-speed zooms with more conservative focal length ranges.
Although its overall score is the lowest of all the lenses in the table above, it is very close to the AF-S Nikkor 16-35mm F4G ED, a lens that's highly regarded for landscapes. However, given the 14mm focal length, it is most likely to be judged against the Nikon AF-S Nikkor 14-24mm F2.8G, an ultra-wide zoom with an enviable reputation. The Tamron SP 15-30mm F2.8 Di VC USD is another well-thought-of lens with a very similar focal length range. Both are rated higher optically, but being both smallest and lightest of all of those listed, the Nikkor Z 14-30mm F4 S is by far the most portable.
In-depth comparisons
The appeal of this new lens crosses the two types of ultra-wide zoom lenses currently available. Nikon's roadmap for the Nikkor Z doesn't include a new 16-35mm F4 model at this time, so this is likely a replacement for that lens type.
For a detailed examination of the optical quality, then, we'll compare the new Nikkor Z zoom with the more compact 16-35mm F4 models from Nikon's main competitors, Sony and Canon. Both lenses were introduced in the same year (2014) and were designed with high-resolution sensors in mind. The Sony is a Zeiss-branded, made-for-mirrorless model, while the Canon is the closest comparable made-for-DSLR model from the maker's formidable EF range.
Note that while the Sony A7R II isn't the latest high-resolution mirrorless model available from Sony, it has a 42-MP sensor similar to that in the current A7R III. (We hope to add that model as soon as we can; please check back later when we've added data from it.)
Sharpness
Designing a compact zoom lens with a 14mm focal length is pushing the technical boundaries to the limit, so the new Nikon is at a disadvantage when comparing its optical quality with that of the 16-35mm F4 models. Nevertheless, the benefits derived from such a wide angle of view from this new lens is likely to appeal to the same group that would otherwise purchase a 16-35mm zoom.
While it's fair to say that sharpness when wide-open is restricted to a small central core at all focal lengths, levels improve slightly across the field (image frame) towards the longest focal lengths. At 30mm, the new Nikkor is closer in overall sharpness at F4 to the Canon, though still some way behind both the Canon and the Sony, especially the latter with respect to the outer field (edges and corners). When stopped down by one stop to F5.6, sharpness levels improve significantly, especially in the outer zones, where the results are close—though never quite to the point of exceeding the Sony or the Canon.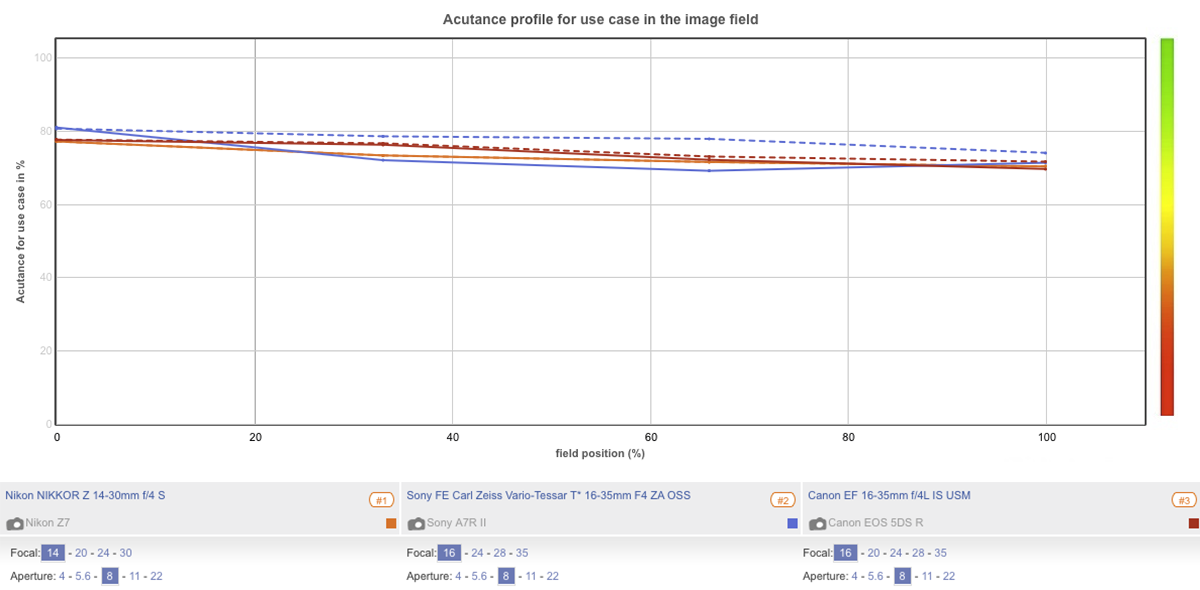 Sharpness at smaller apertures also remains at similar levels to both the Sony and Canon at comparable focal lengths, so it's not as though the Nikon can't compete. Besides, neither competitor lens can reach the ultra-wide 14mm focal length—and even then, when stopped down to F8, the new Nikkor performs at nearly the same level as those at 16mm, which is an impressive result.
It's also worth noting that like the earlier Nikkor Z 24-70mm F4s, the new Nikkor has excellent uniformity in sharpness when measured horizontally and vertically at all apertures and focal lengths; it's just a shame that levels at F4 are low.
Chromatic aberration
In lenses like this, lateral chromatic aberration is typically at its most noticeable at the widest focal lengths. Although it appears as colored fringing at either side of high-contrast edges, it's usually low to nonexistent at the center of the field (frame), but increases in severity moving out towards the corners.
Like the earlier Nikkor Z 24-70mm F4 S, this new lens uses a built-in correction profile to reduce the effect; unlike some models, this profile can't be turned off in-camera. However, our tests show the uncorrected result, so the fringing may not be visible at all in out-of-camera JPEGs or in RAW files processed using certain post-capture software.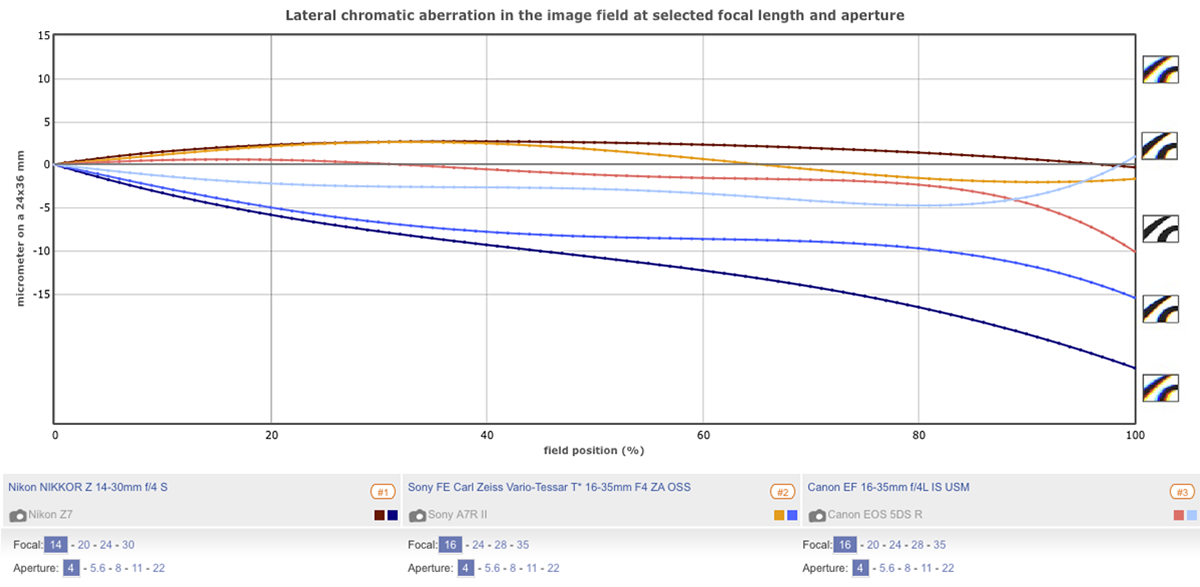 Left uncorrected, the fringing is very high when set wide-open at 14mm, even for this focal length. It measured just over 23 micrometers wide, and it remains high at this focal length regardless of the selected aperture. Even when averaged at 15 micrometers for our results, it's still higher than the Sony or the Canon, but again, the result at 14mm is not unexpected.
Fringing drops throughout the focal length range to 30mm, where levels are no worse than the Nikon's rivals in this comparison. So in that regard, then, it's perhaps not quite as bad as the overall result suggests.
Geometric distortion
Nikon's built-in lens correction profile includes geometric distortion correction; again, however, just as with the lateral chromatic aberration result, we've overridden it so that you see the maximum variation for yourself. It isn't really surprising that at 14mm, the new Nikkor has very high barrel distortion, measuring 2.5% at that focal length, and falling to 0.5% at 18mm.
Some slight pincushion (–0.3%) can be seen at 20mm, which is slightly higher than the Sony, while the Canon displays a similar level (albeit still barrel distortion at that focal length). Nevertheless, the new Nikkor Z continues to display higher levels of pincushion (-1.1%) out to 30mm than either rival.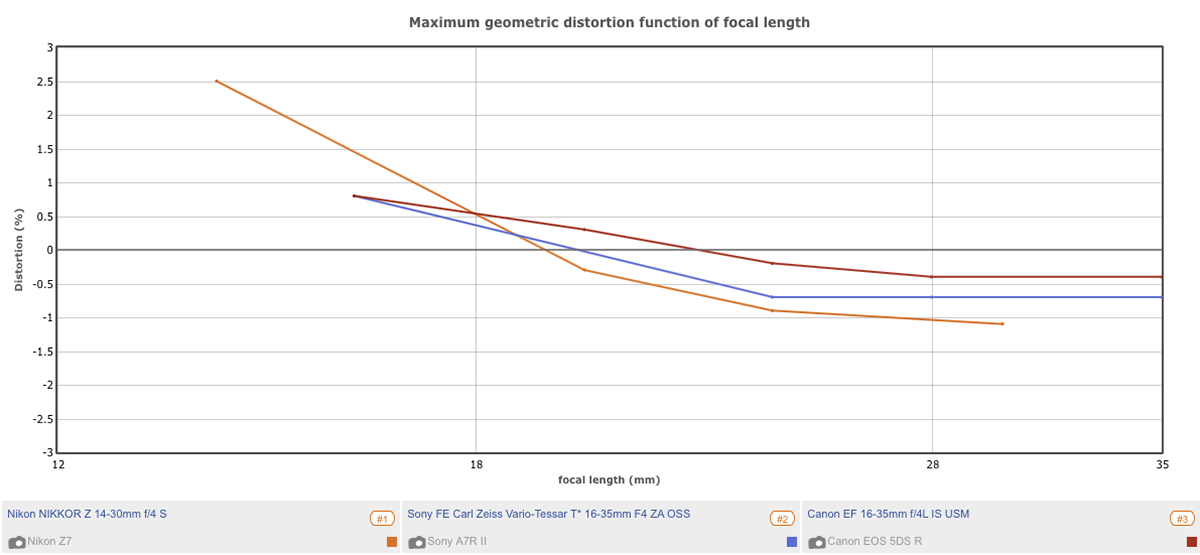 It's clear from this result that the lens was designed to be ultra-compact from the outset, using the built-in profile to correct this and other aberrations. In practice, images captured with the profile enabled will display much lower levels of distortion, even when using popular post-capture software to work with RAW files.
Vignetting (corner shading)
Vignetting or corner shading is another area in which Nikon relies on a built-in profile to reduce the effect. The illumination fall-off is of course more noticeable towards the corners. and although you might expect it be lower with the new wider mount, that's not the case—in fact, it's quite high even for a 14mm. At equivalent focal lengths, this new Nikkor is not really any worse than the Canon, though the mirrorless Sony lens has lower levels.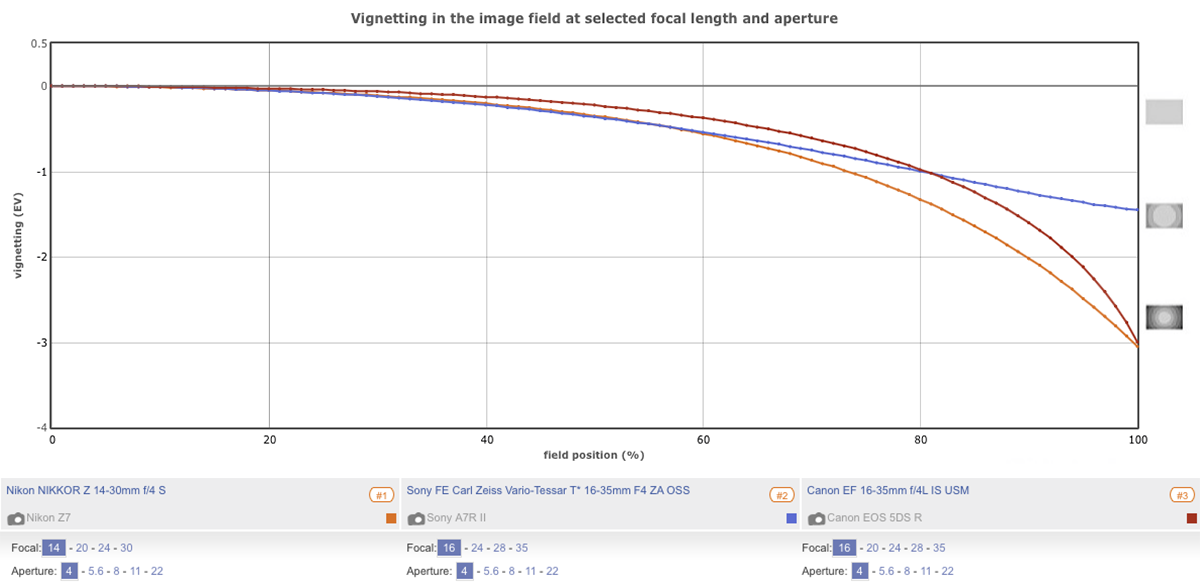 Transmission
One area that isn't affected by the correction profile is transmission, and this zoom is notable for its close to F-stop brightness levels at all focal lengths. Although it's undoubtedly a plus for stills, it's more highly valued by filmmakers and videographers, when fluctuating exposure levels during zooming are unwelcome. This is a truly excellent result and the best by far of the lenses in this comparison. Nikon's anti-reflective coatings have been at the forefront of the Japanese optical industry for decades, and high close to F-stop transmission values denote low reflectance, which typically results in low ghosting and flare.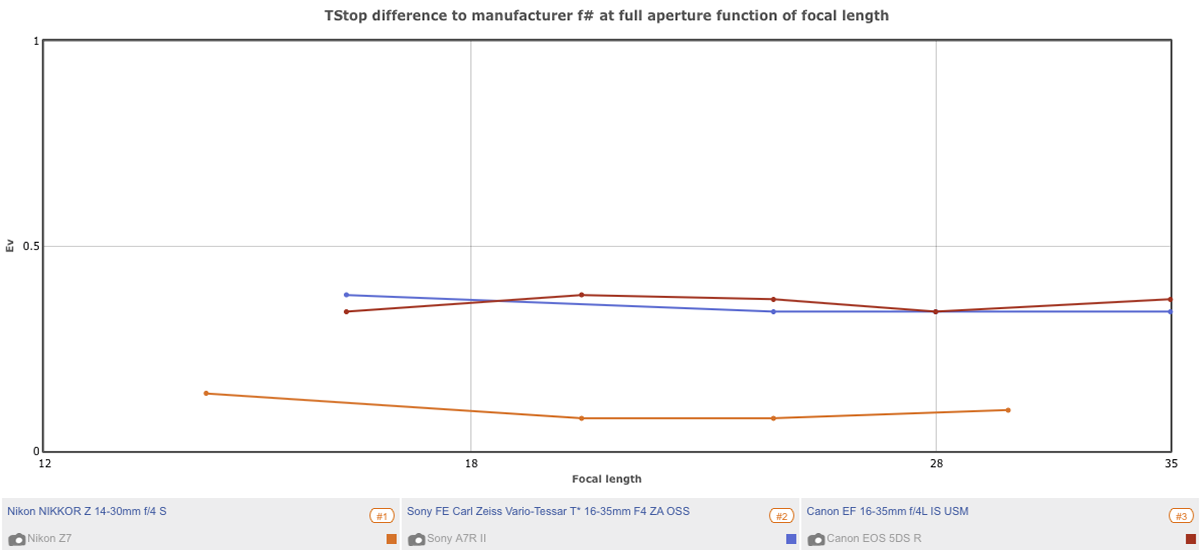 Conclusion: Great all-rounder for Nikon Z users
With its ultra-wide angle of view and truly compact dimensions, the Nikkor Z 14-30mm F4 S is without doubt a highly appealing solution. Couple that with a flat front and the ability to add 82mm screw-in filters, and the new Nikkor seems ideally suited to landscape and travel photography. While open -perture performance is a bit lacking, the lens performs pretty well only one stop down at all focal lengths, including at the vaunted 14mm focal length.
With the mirrorless Z cameras' in-body stabilization, using F5.6 with a low ISO might not be that challenging, and it is of course of little or no consequence when used on a tripod. Given the choice between it and a lens with more limited coverage or a much heavier and larger lens with better open-aperture performance, the Nikkor Z 14-30mm F4 S seems to strike a happy medium. And with a price of around $1300, it shouldn't be overlooked.
In this review, we have compared the Nikkor Z 14-30mm F4S to its closest rivals from other brands. Remember that the lenses are intended to be used on different camera systems and mounts, so the comparisons are not strictly applicable.
As usual, you can create your own comparisons and in-depth analyses using our interactive image lens comparison tool.
In the Press