The Nikon Z9 is the first pro-oriented mirrorless model in the maker's range of Z-series cameras, and it is arguably the most important camera since the release of Nikon's first full-frame pro-oriented DSLR, the Nikon D3, and maybe even the Nikon D1 from 1999. As such, the Nikon Z9 showcases several firsts, for Nikon anyway.
The sensor is a "stacked" 45.7 MP CMOS type and various functions are handled by a super-fast EXPEED 7 processor, a native sensitivity of ISO 64-25,600, with expansion to ISO 32-102,400 and a maximum of up to 20 fps in RAW and up to 30 fps in JPEG. While not the first camera to use a totally electronic shutter, the Z9 is the first pro-grade full-frame camera to eschew a mechanical one. Shutter speeds max at 1/30,000 sec and run all the down to 30 secs, extendable to 900 secs (15 mins) in manual mode.
The Nikon Z9 features a 'black-out free' 3.69 m-dot OLED electronic viewfinder (EVF) built-in, along with a 3.2-inch quad-axis vertical and horizontal tilting LCD touchscreen. There's also in-body stabilization with up to 6 stops compensation, working in combination with supported lenses. Autofocus is another highlight. The Nikon Z 9 is the first in the mirrorless series to add 3D subject tracking in stills and video.
Further advances include new High-Efficiency RAW file compression options, plus dual CFexpress Type B card slots with compatibility with older XQD cards. In addition, the Nikon Z9 has some pretty impressive video capabilities such as full-width 8K/60p and oversampled 4K up to 30p, plus 12-bit N-RAW and 4K ProRes RAW are promised in a future firmware option.
Connectivity options include full-size HDMI, Bluetooth LE, and USB-C (3.2) with charging and ethernet (1000BASE-T). The Nikon Z9 is available now when stocks can be found for $5496/€5999.
Key specifications
45.7 MP full-frame stacked CMOS sensor
Native ISO 64-25,600, with expansion to ISO 32-102,400
20 fps (RAW), up to 30 fps (JPEG)
493-point phase-detection AF system
3.69 m-dot OLED electronic viewfinder (EVF)
3.2-in 2.1 m-dot quad-tilt TFT-LCD
8K/60p, 12-bit N-RAW, 4K (oversampled)
Sensor shift, up to 6 stops compensation
Twin card slots (CFexpress Type B)
Ethernet (1000BASE-T), WiFi (2.4/5GHz) Bluetooth LE connection, USB-C (3.2), HDMI (Type A) connectivity
Overall performance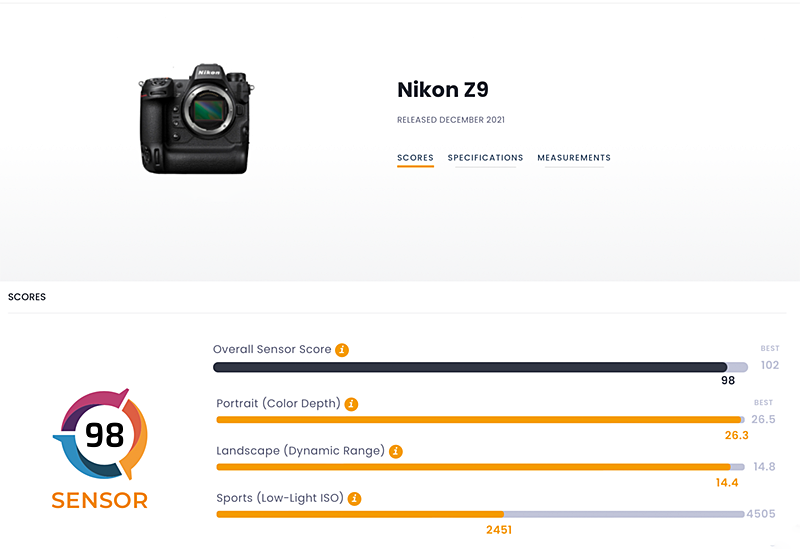 Click on the score chart above to open the Nikon Z9 product page.
The Nikon Z9 sensor achieved an excellent high score of 98 in our benchmarks. In our rankings, this places the new Nikon flagship in joint 9th position for all sensor sizes, including medium format. In terms of sensitivity, peers of the Nikon Z9 include the 50 MP Sony A1, which ranks directly alongside, and the 60 MP Sony A7R IV at 99 points, which is only just fractionally above in sensitivity.
As for the individual scores the Nikon Z9 sensor retains a very high color depth at the base setting (ISO 64) of 26.3 bits and has a wide dynamic range, peaking at 14.4 EV at the same ISO sensitivity. In the Sports (low-light ISO) category, which is calculated and based on minimum values for SNR, color depth, and DR, the Z9 didn't fare quite so well at ISO 2451.
In-depth comparisons
While the Nikon Z9's blazing speed will appeal to sports, and wildlife photographers, the 45.7 MP sensor and competitive price will also attract photographers working in other genres. We've also lined up the Nikon Z9 against the $6,499 Sony A1, which has a similar stacked CMOS sensor and a 50 MP tailored for speed, albeit without the double-gripped body.
And, we've also pitted the Nikon Z9 against the similarly priced ($5,999) Canon EOS R3. With its lower 24 MP resolution, the EOS R3 is touted as a sports-oriented camera and like the Nikon Z9 and Sony A1, it features a stacked CMOS sensor and fast maximum continuous frame rate.
Portrait (color depth)
The Nikon Z9 has a particularly strong result for maximum color depth at 26.3 bits due to the sensor's lower native base of ISO 64 over rivals. This contrasts with the Sony A1 at 25.7 bits at ISO 100 (and practically identical to the Nikon Z9 at ISO 100) and 25 bits for the Canon EOS R3 at the same setting. Note all three have lower extended settings but they all share a similar result with their respective native bases.
While the Nikon and Sony share a similar curve, both seeing a similar bump in color, with the Nikon Z9 maintaining over 22 bits at ISO 800, the Sony has a slight (0.4 bit) advantage. Above that all three cameras share a similar At ISO 25,600, however, the Nikon Z9 reports some 15 bits but loses out to both the Sony A1 and the Canon EOS R3 by a difference of 1.7 and 1.2 bits, respectively.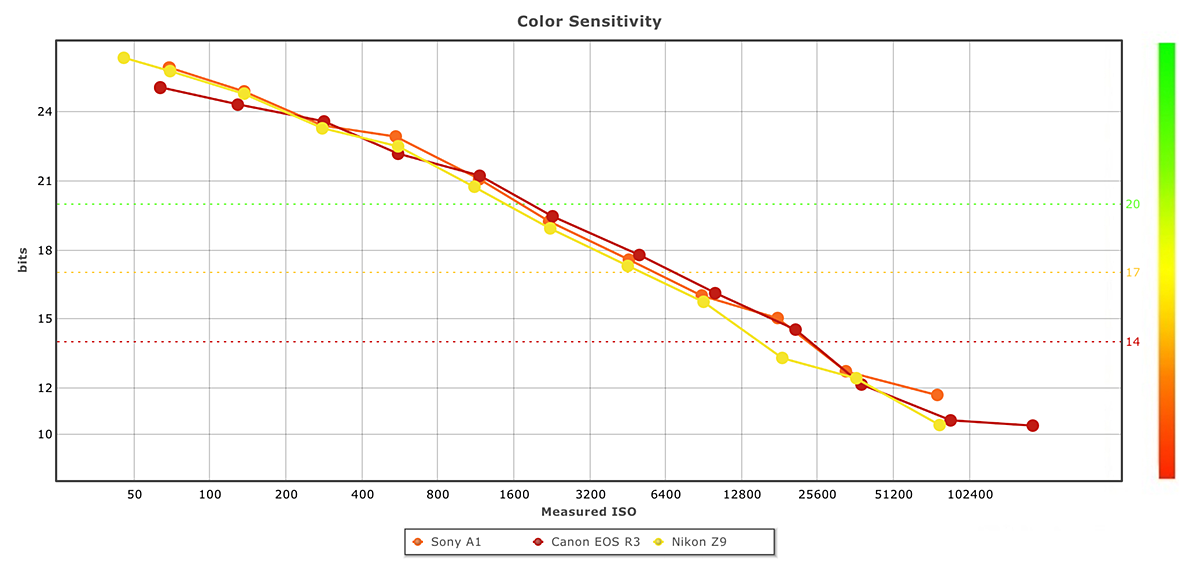 Landscape (dynamic range)
In the landscape category, the Nikon Z9 is slightly below (within 0.3 EV) of the Sony A1 and Canon EOS R3 in the maximum dynamic range at the base ISO setting, but that gap widens over ISO 100-400. Interestingly, both the Nikon and Sony share another similar curve to that seen with color depth. The Canon clearly has a very different response, though. It displays a second gain at ISO 400 (manufacturer setting) as opposed to the Nikon and Sony's at ISO 800. This results in quite a sizable difference between the Canon EOS R3 at 13.3 EV and Nikon Z9 at just 12 EV. Still, the Nikon Z9 and Sony A1 recover somewhat at ISO 800 putting the Canon EOS R3 in third place, albeit by just 0.39 EV against the Z9. From ISO 1,600 upwards the Canon EOS R3 has the widest DR of the three with around +0.7 EV advantage over the Nikon Z9 and the Sony A1 sitting in between.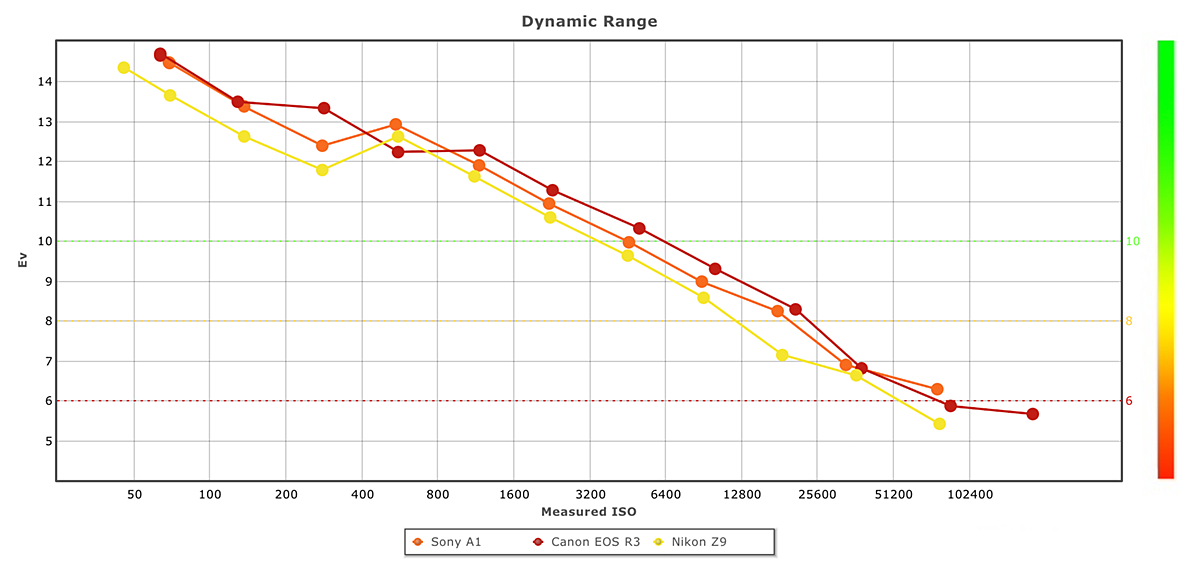 Sports (low-light ISO)
In this category, both the Canon EOS R3 and Sony A1 have the edge over the Nikon Z9 with slightly noisier results. Compared to the best of the three, the Canon EOS R3, the calculated low-light ISO of 2,451 for the Nikon Z9 vs 4086 ISO corresponds to a difference of 0.73 EV. Against the Sony A1, the Nikon fares a bit better but even then there's around 0.36 EV advantage over its rival.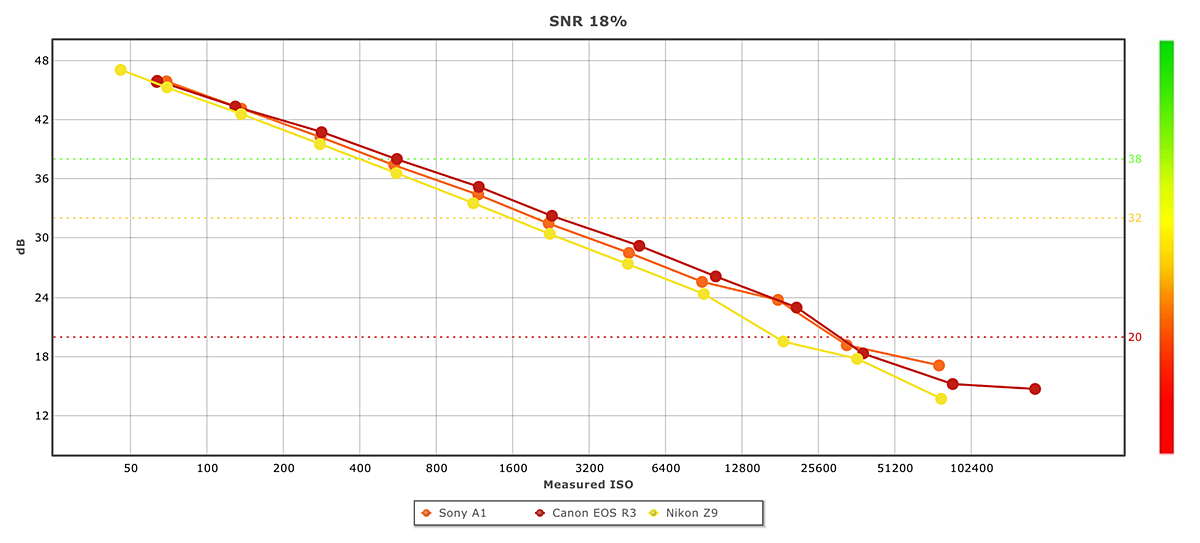 Conclusion
Given the balance between quality and high frame rates, the Nikon Z9 is a phenomenal performer. Strong results at base ISO with maximum dynamic range, and excellent color depth at most ISOs are highly attractive, even if both the Sony A1 and Canon EOS R3 have a slight edge in dynamic range at just about every other ISO setting. Nevertheless, the Nikon Z9 is a formidable rival to both, especially the latter, given that camera's lower pixel count. With such an incredibly aspiring specification along with the sensor performance to match, the Nikon Z9 is a pioneering product for the Z series and is easy to recommend.
In this review, we have mentioned the Nikon Z9's most relevant rivals from other brands. As usual, you can compare it with these and with other models and create your own comparisons and in-depth analyses using our interactive image sensor ranking tool.