While the relatively new Nokia 7.2 has some interesting features for a mid-range phone, such as a triple-camera design typical of higher-end phones, it doesn't offer much in the way of sound reproduction. Its single-speaker design hurts its playback performance, although it does include a headphone jack, and does a somewhat better job of recording audio.
We put the Nokia 7.2 through our rigorous DXOMARK Audio test suite to measure its performance both at recording sound using its built-in microphones and at playing audio back through its built-in speaker. In this review, we'll break down how it fared in a variety of tests and in several common use cases.
Audio specifications include:
Single speaker located in the bottom right of the phone
3.5mm headphone jack
FM radio
Qualcomm aptX audio
Two microphones with spatial surround sound capture
About DXOMARK Audio tests: For scoring and analysis in our smartphone audio reviews, DXOMARK engineers perform a variety of objective tests and undertake more than 20 hours of perceptual evaluation under controlled lab conditions. This article highlights the most important results of our testing. Note that we evaluate both Playback and Recording using only the device's built-in hardware and default apps. (For more details about our Playback protocol, click here; for more details about our Recording protocol, click here.)
Test summary
41
audio
With an overall Audio score of 41, the Nokia 7.2 is the lowest-scoring phone we have tested so far, coming in below our previous low scorers, the Sony Xperia 1, the Black Shark 2 Pro, and the LG G8 ThinQ. Its weakness is particularly pronounced in its playback performance, with a multimedia Playback score of 33.
Playback performance is hampered by its single-speaker design, which contributes heavily to its low playback Spatial sub-score of 26. However, it also winds up with a lower score than other single-speaker phones we've tested, in large part due to poor bass and treble reproduction that resulted in a playback Timbre sub-score of 44.
On the plus side, the Nokia 7.2's speaker produces fairly clean sound, giving it a reasonably good playback Artifacts sub-score of 82. However, it doesn't reach the same high volume levels as most of the other phones we've tested. At the low-level end of the volume continuum, quiet sounds become nearly inaudible.
The Nokia 7.2 didn't perform particularly well in any of our tested use cases, although it generally scored somewhat higher for music and games than for movie watching.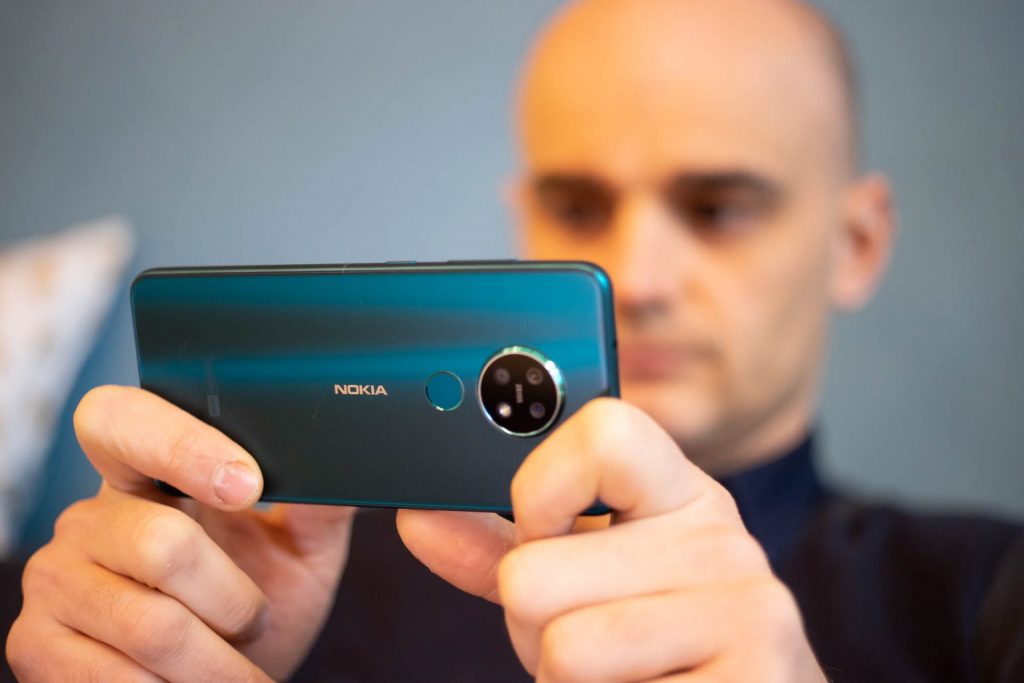 Recording video with the Nokia 7.2
The phone does a more respectable job recording audio than it does playing it back. Tonal balance is well preserved, and voices typically sound natural. Unlike with playback, its Recording score of 66 puts the Nokia 7.2 ahead of both the Xperia 1 and the G8 ThinQ.
Sound envelopes are in general well preserved. However, there are issues with resonances detracting from the quality of videos shot with the front camera, and with tonal reproduction when recording memos. Background sounds are also muffled when recording videos. Spatial orientation of sound sources is well maintained when recording video with the main camera, but not when using the front camera, which records only in mono.
Sub-scores explained
The DXOMARK Audio overall score of 41 for the Nokia 7.2 is derived from its Playback and Recording scores and their respective sub-scores. In this section, we'll take a closer look at these audio quality sub-scores and explain what they mean for the user.
Playback
Timbre
Black Shark 5 Pro
Best: Black Shark 5 Pro (89)
Our Timbre tests measure how well a phone reproduces sound across the audible tonal range and takes into account bass, mid-range, treble, tonal balance, and volume dependency.
The Nokia 7.2 does a poor job with overall tonal range. Bass and treble response are both quite weak. Aside from how these weak responses create an inaccurate reproduction of the audio source, the phone also artificially elevates the mid-tones, giving the resulting audio a muffled sound. Listeners likened the effect of this reduced tonal range to hearing music played in a can or tube.
Compared to two of our weaker performers in Audio, the LG G8 ThinQ and the Sony Xperia 1, the Nokia 7.2 comes in the middle, with stronger bass than the other two, but less consistency in the mid-range:
Music playback frequency response
Dynamics
Black Shark 5 Pro
Best: Black Shark 5 Pro (81)
Our Dynamics tests measure how well a device reproduces the energy level of a sound source.
The dynamics of audio played back on the Nokia 7.2 are also quite poor compared to most other phones we've tested. Its Attack sub-score is lowered by an inconsistent high-end and by a strong volume-pumping effect when set to maximum volume. Bass precision is also quite poor, especially at soft volumes, and its very poor bass reproduction also leads to a lack of punch.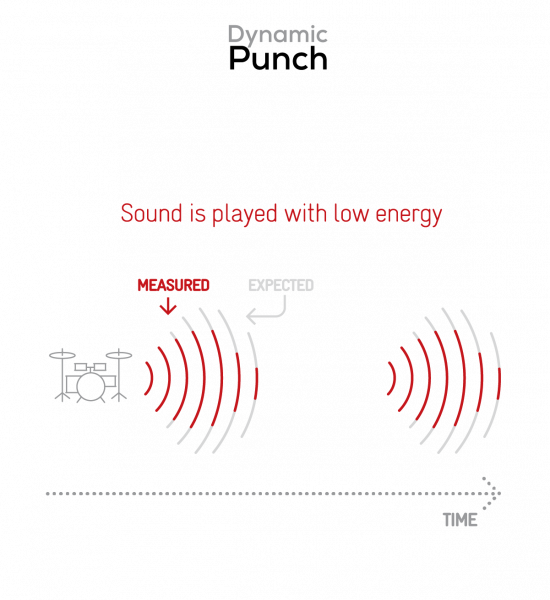 Poor bass reproduction with the Nokia 7.2 contributes to a lack of punch from its speaker.
The overall effect of these shortcomings is a low playback Dynamics sub-score of 49—below the LG G8 ThinQ, although it does beat out the Sony Xperia 1 by a few points.
Spatial
Black Shark 5 Pro
Best: Black Shark 5 Pro (88)
The Nokia 7.2's single-speaker design basically condemns it to poor spatial performance right from the start, as it can't reproduce the width of a sound stage, for example. Also, when held in landscape mode, the use of a single bottom-firing speaker means that the balance will be off in one direction or the other. Inaccuracies in mid-range and treble reproduction also make it hard to pinpoint the location and distance of sound sources.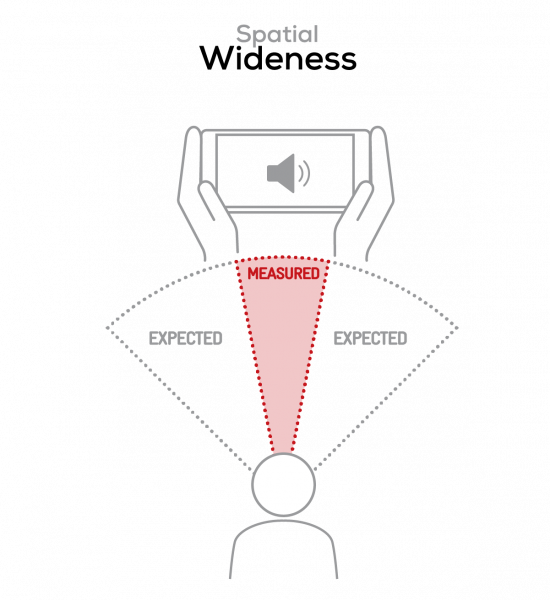 Very poor spatial wideness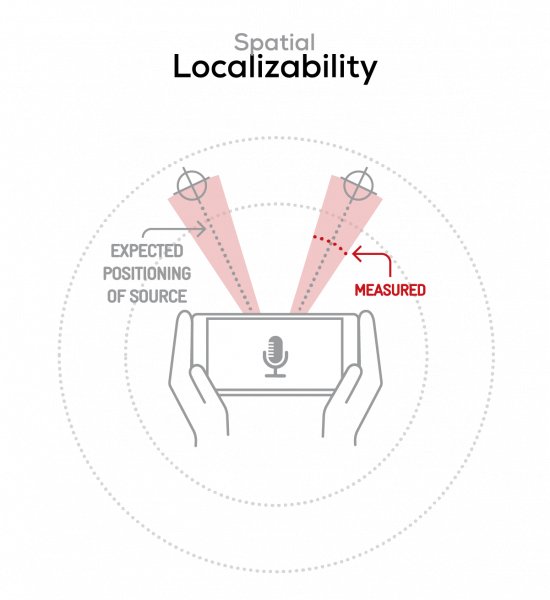 Volume
Nubia RedMagic 7 Pro
Best: Nubia RedMagic 7 Pro (91)
Our Volume tests measure both the overall loudness a device is able to produce and how smoothly volume increases and decreases based on user input.
The Nokia 7.2 doesn't deliver much in the way of volume through its speaker. Its maximum is quite low compared to other phones we've tested, and its minimum volume is barely audible. Its playback Volume sub-score of 41 also suffers because its volume settings aren't even close to linear—the top five settings are very close to one another, for example. You can see from this comparison chart that even when pitted against some other relatively low-scoring phones, the Nokia 7.2 performs worse in terms of volume step linearity:
Below is the maximum loudness the Nokia 7.2 can produce for specific types of audio. The numbers are in decibels, and are some of the lowest of any of the phones we've tested:
| | |
| --- | --- |
| Hip-Hop | Classical |
| 70.3 dBA | 71.2 dBA |
Artifacts
Xiaomi Redmi K50 Gaming
Best: Xiaomi Redmi K50 Gaming (113)
Our Artifacts tests measure how much source audio is distorted when played back through a device's speaker. Distortion can occur both because of sound processing in the device and because of the quality of the speaker.
While not close to the top scorers in this category, such as the Honor 20 Pro, a lack of playback artifacts is a relative strength of the Nokia 7.2, giving it a playback Artifacts sub-score of 82. Surprisingly, it outperforms the otherwise high-scoring Huawei Mate 20 X in this category. The most pronounced artifact is a gating effect, where quiet sounds are further reduced at soft volumes, resulting in muted sound. There is also some distortion and volume pumping at maximum volume.
Recording
Timbre
Honor Magic3 Pro+
Best: Honor Magic3 Pro+ (91)
The Nokia's relatively strong recording performance is anchored by solid tonal reproduction. Recorded voices are natural and clean in most of our recording scenarios, although they are somewhat muffled in our simulation of an urban environment. Memo recordings can suffer from the same perceived "recorded in a can" tinny sound that was an issue for playback. Videos recorded with the front camera also suffered from excessive resonances.
Life video frequency response
You can see from the comparison chart that the Nokia 7.2 provides recording tonal reproduction similar to that of the Xperia 1, with both phones' audio response tracking close to the desired goal of 0. Both are much more consistent than the G8 ThinQ, which records excessive levels for upper-midrange frequencies.
Dynamics
Black Shark 5 Pro
Best: Black Shark 5 Pro (81)
The Nokia 7.2 does a reasonable job of capturing the dynamics of recorded audio. Sound envelopes are good in general, although plosives in voices are muted in videos taken with the front-facing camera. As a result, it achieves a recording Dynamics sub-score of 63, above both the Xperia 1 and G8 ThinQ.
Spatial
Black Shark 4S Pro
Best: Black Shark 4S Pro (78)
The Nokia 7.2 also does a good job of maintaining the spatial orientation of sound sources. In most of our use cases, the sound stage had good wideness, and it was possible to detect the location of sound sources. However, the phone records front-camera video in mono, making it difficult to localize audio sources. The lack of bass in Memo recordings makes it difficult to accurately estimate the distance of audio sources.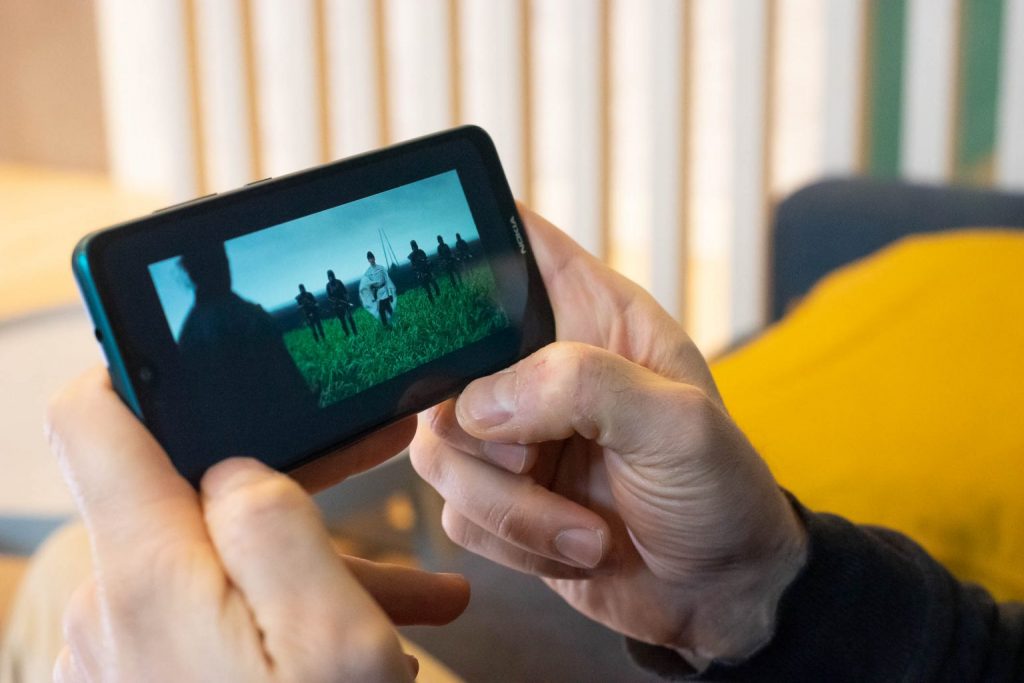 Playing back a video clip on the Nokia 7.2
Volume
Black Shark 5 Pro
Best: Black Shark 5 Pro (99)
While the Nokia 7.2 did only an average job of preserving the volume of recordings, it is capable of recording very high volume sources and is among the best phones we've tested for that. However, our expert listeners did hear some slight temporal artifacts when recording loud sounds, such as in our electronic concert use case, because the gain control takes time to adapt to changes in volume.
From the recording level table below, you can see that while the levels are good overall, recordings of meetings aren't as loud as other sources. Memo recordings are also somewhat quiet:
| | | | |
| --- | --- | --- | --- |
| Meeting | Life Video | Selfie Video | Memo |
| -24.9 LUFS | -20.4 LUFS | -19.6 LUFS | -18.3 LUFS |
Artifacts
Black Shark 5 Pro
Best: Black Shark 5 Pro (97)
The Nokia 7.2 creates fairly clean recordings as long as it doesn't have much background noise to contend with. In loud situations like concerts or people shouting, there is audible distortion. It is also very easy to accidentally occlude the microphone, which can result in volume pumping or muffled audio.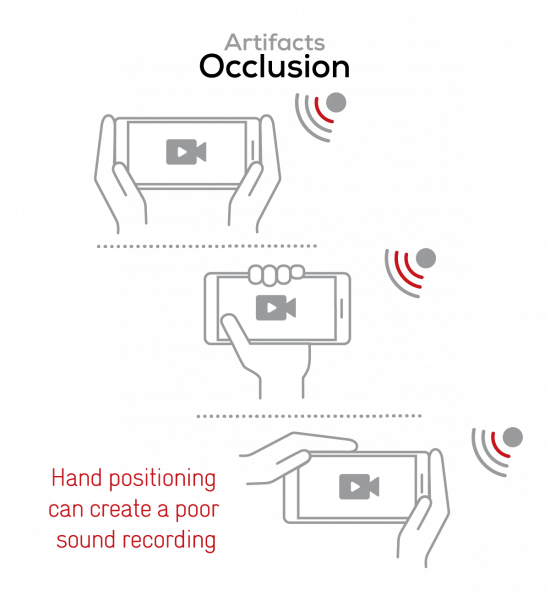 It is easy to occlude the microphones on the Nokia 7.2 and reduce the quality of audio recorded.
Recordings suffer from some high-frequency and mid-tone resonances that can become audible as a sort of echoing. You can listen for yourself in this sample clip recorded with the Nokia 7.2:
Background
Black Shark 5 Pro
Best: Black Shark 5 Pro (60)
The Nokia 7.2 does a good job of preserving balance in background sounds when recording; however, the background is often muffled, especially when recording video. When recording meetings, there are resonances in the mid-range that reduce clarity. And unfortunately, the phone's noise-cancelling algorithms generate some granular noise when recording memos and meetings.
Conclusion
The Nokia 7.2 isn't a great choice for anyone hoping for quality audio using their phone's speaker. The lack of stereo speakers is an immediate handicap in playing back most music sources and movie soundtracks, and detracts from immersive gaming experiences as well. In addition, the speaker doesn't produce much volume, and tones are unevenly reproduced.
The phone does do a reasonably good job of recording audio, especially for a value-priced offering. However, you won't be able to rely on using the phone's speaker to evaluate and monitor your recordings, as it isn't up to the challenge.
Playback
Pros
Few artifacts at nominal and maximum volume
Good high-end extension in Movie use case
Cons
Poor overall performance
Tonal balance is impaired by a lack of bass and treble
Spatial performance is very limited because of its single speaker
Strong gating effect on low-volume content
Recording
Pros
Few artifacts in scenarios with low-to-medium background noise
Great maximum recording volume
Sound envelope is preserved in most scenarios
Good spatial performance
Good tonal balance
Cons
Resonances on high-end frequencies in Selfie Video affect the overall quality
Slightly metallic mid-tones in the Memo app
Easy to occlude the microphones with your hands
Mono recording when using the front camera for video reduces localizability
Muffled background in videos shot with both the main and front cameras