Launched in June 2018, the Nokia 8 Sirocco is a new upper mid-range offering from the Finnish manufacturer, and features a curved 5.5-inch display and a Snapdragon 835 chipset. For photography enthusiasts, it offers a dual-camera setup, with a 12Mp sensor and f/1.7 Zeiss lens for the primary camera, and a 13Mp sensor and telephoto f/2.6 lens for the secondary module. Let's take a look how it performed in our industry-standard tests.
Key camera specifications
Dual camera
12Mp main camera with 1.4µm pixels, f/1.7-aperture lens
13Mp 2x tele-camera with 1.0µm pixels and f/2.6 aperture lens
PDAF + dual-pixel autofocus
Dual-tone LED flash
4K video at 30fps (1080p/30fps at default settings)
Qualcomm Snapdragon 835 chipset
Test summary
Achieving an overall DxOMark Mobile score of 84 points, the Nokia 8 Sirocco is a competent, if not outstanding smartphone for photography. Performance is well-balanced between its stills and video, with the device achieving a Photo score of 85 points compared to 82 points for Video.
The Nokia 8 Sirocco's key strengths for stills are its fast and accurate autofocus system, and its generally accurate target exposures and white balance, ensuring pleasant images in several lighting conditions. Exposure and color are most successful in well-balanced outdoor light, although contrast is on the low side.
HDR processing kicks in automatically when required, which is a bonus, and the Nokia 8 Sirocco's dynamic range is pretty good, recording good detail in the darker shadow areas, while not totally blowing out the highlights in our high-contrast test shots. Shooting backlit portraits indoors against a window, details are also preserved in both the face and the highlights outside. In both cases, however, contrast is again low, so HDR shots lack the punch of some mid-range competitors, but overall it's a reasonable result.
Under indoor lighting conditions, exposures remain acceptable and white balance is mainly accurate under a range of artificial and mixed lighting conditions. In very low light, the device tends to underexpose a little, but results are good down to 20 lux and just about usable at 5 and even 1 lux (although noticeably darker).
In outdoor and indoor lighting conditions, color rendering is good, with the Nokia 8 Sirocco capturing bold and nicely-saturated color with accurate white balance. In low light, however, there's a noticeable dip in color saturation. We've also observed some color shading in pretty much all conditions, with pink centers and green corners particularly noticeable under tungsten light.
The Nokia 8 Sirocco's standout attribute is its PDAF + dual-pixel autofocus system, which is fast and accurate in most lighting conditions. In both outdoor and indoor lighting it performs very well, with fast focus acquisition of only about a 100ms delay, meaning that you can be confident of capturing a decisive moment. In low light (20 lux), autofocus performance remains good and very accurate, with all our test shots in sharp focus, but speeds start to get a little inconsistent, taking up to 500ms to find focus in some cases.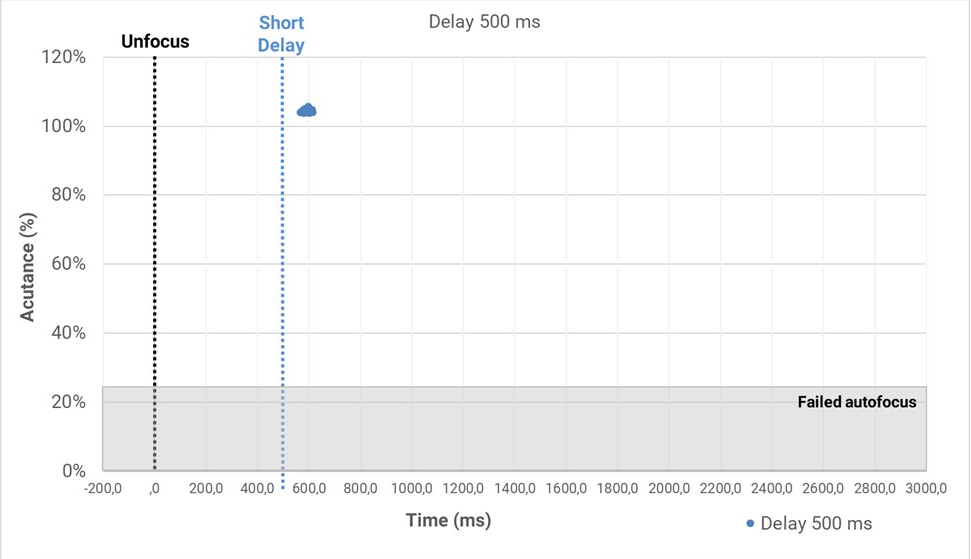 The Nokia 8 Sirocco's PDAF + Dual Pixel autofocus system offers fast focus acquisition and consistently found sharp focus with only around a 100ms delay.
Texture rendering is good in outdoor images with well-preserved details, particularly in the brighter regions, and edges are well-defined. Detail preservation is also good in static indoor scenes, although it gets harder to capture clearly-defined moving subjects as the light levels drop. In very low light, the level of detail preservation is a significant step up from its predecessor, the Nokia 8 (which really struggled), and although the evident loss of detail keeps it from the level of some flagship devices, it generally does a pretty good job.
Noise is visible in indoor and low-light images, with some chromatic noise appearing in the shadow regions of outdoor and HDR images. Although there's noticeably more image deterioration compared to the best mid-range devices we've tested, the Nokia 8 Sirocco does an OK job overall for detail.
Results using the second camera's tele-lens for zoom shots are a definite improvement over a digital zoom, but lack good fine detail preservation. It achieves best results at short range, using the optical zoom up to 2x magnification, with good detail and well-controlled noise. Medium-range zoom images are still usable, but long-zoom is best avoided. There's also a noticeable drop in detail indoors and in low light.
In Portrait mode, the device's simulated bokeh or background blur effect is consistent over repeated shots and achieved a similar score in both indoor and outdoor lighting conditions. However, depth estimation is not very accurate, resulting in very noticeable artifacts around foreground subjects; moreover, the blur isn't very strong.
For smartphone video enthusiasts, the Nokia 8 Sirocco features a maximum resolution of 4K 2160p@30fps, but as usual, we test at the 1080p@30fps default settings. Video autofocus is again accurate and responsive, with fast acquisition and reasonable tracking. Exposure is good across all light levels, down to low light, but dynamic range is more limited compared to stills, with a loss of highlight detail evident in high-contrast scenes. Color rendering is also pleasing in many videos, although slightly under-saturated compared to still photos; and again, color shading is present. The Nokia 8 Sirocco's video stabilization system is capable achieving a natural look, although some residual motion is evident. In very bright light, fine detail preservation is acceptable, but resolution drops quickly in both indoor and low light videos, which are some ways off what we've come to expect from the best mid-range devices.
Conclusion
The Nokia 8 Sirocco improves upon the manufacturer's smartphone camera hardware, packing in a dual camera with tele-lens for optical zoom shots and a good PDAF autofocus system. Overall image quality is a step up from the predecessor Nokia 8, offering slightly more consistent results for exposure and color. Its performance and image quality is competent, if not exceptional, with the best photos captured in bright light, producing images with good exposure, color, and texture. Results in lower light are acceptable, but it's not an ideal low-light shooter, with losses of texture and color saturation evident, especially in very low light. Overall, for a mid-range device, the Nokia 8 Sirocco does an OK job with both photos and video, but devices with better results are available at this price point.
84
mobile
Pros
Fast and accurate autofocus
Accurate exposure in most conditions
Pleasant white balance
Pros
Accurate and responsive autofocus
Good exposure, particularly in low light
Pleasant color rendering
Cons
Low detail and high noise in low light
Pink color cast using flash with mixed lighting
Inaccurate depth estimation in bokeh mode
Cons
Limited dynamic range
Loss of texture in all conditions
Chromatic noise visible both indoors and in low light
In the Press