Today Oppo launched its latest flagship phone, the Oppo Find X3 Pro. The new model features premium specs all around, including a 6.7-inch AMOLED display with QHD+ (3216 x 1440) resolution, a 120 Hz refresh rate, and Display P3 color space support. It also comes with stereo speakers and a 4500 mAh battery with SuperVOOC fast-charging technology.
The Android operating system is powered by Qualcomm's top-end chipset, the Snapdragon 888, and comes with 12 GB of RAM. In the camera department, the Find X3 Pro offers ultra-wide, tele, and microscope cameras alongside the primary wide module. Here's a first look at Oppo's camera setup to shorten your wait for our full review.
New chipset adds triple ISP, 10-bit color and DCI-P3 wide gamut
In the Find X3 Pro, Oppo uses Qualcomm's new Snapdragon 888 chipset, which comes with a triple ISP (image signal processor) and NPU (neural processing unit). This means it can process up to three image signal streams simultaneously. For example, it can achieve smoother zooming and better results when fusing image data from two or more cameras than would have been possible with the dual-ISP configuration of previous Snapdragon chipsets.
The 888 chipset also allows for faster processing of captured frames, enabling better results for multi-frame noise reduction algorithms, HDR rendering, and similar applications. In addition, the 888 is the first Qualcomm chipset to supports a full 10-bit workflow. Like on more recent iPhones and some of the latest top-end Android devices, images on the Find X3 Pro can be saved in 10-bit HEIF format to include approximately one billion colors.
Also similar to recent iPhones, the Oppo device uses the Display P3 color space when saving 10-bit images. This color space covers the DCI-P3 gamut, which is also supported by the display, and allows for higher saturation than would be possible with the sRGB color space. For video, the Oppo Find X3 Pro supports Rec.2020 with its even larger color space.
Primary camera: Updated sensor
The Find X3 Pro's primary camera comes with a Sony IMX766 50MP Quad Bayer sensor that is slightly smaller than on the predecessor Find X2 Pro and some direct rivals, such as the Samsung Galaxy S21 Ultra and the Xiaomi Mi 10 Ultra. Effective pixel size is also slightly smaller, which in theory could mean higher noise levels. Texture should be good, though.
The sensor also features DOL HDR (Digital Overlap HDR), which synthesizes different exposures into one single frame, capturing image information in the brightest and darkest parts of the scene while avoiding image artifacts. The technology can also be used for HDR video and to improve HDR rendering in the preview image.
All of the sensor's pixels allow for phase detection, which should help achieve a fast and accurate autofocus even on small objects in the frame.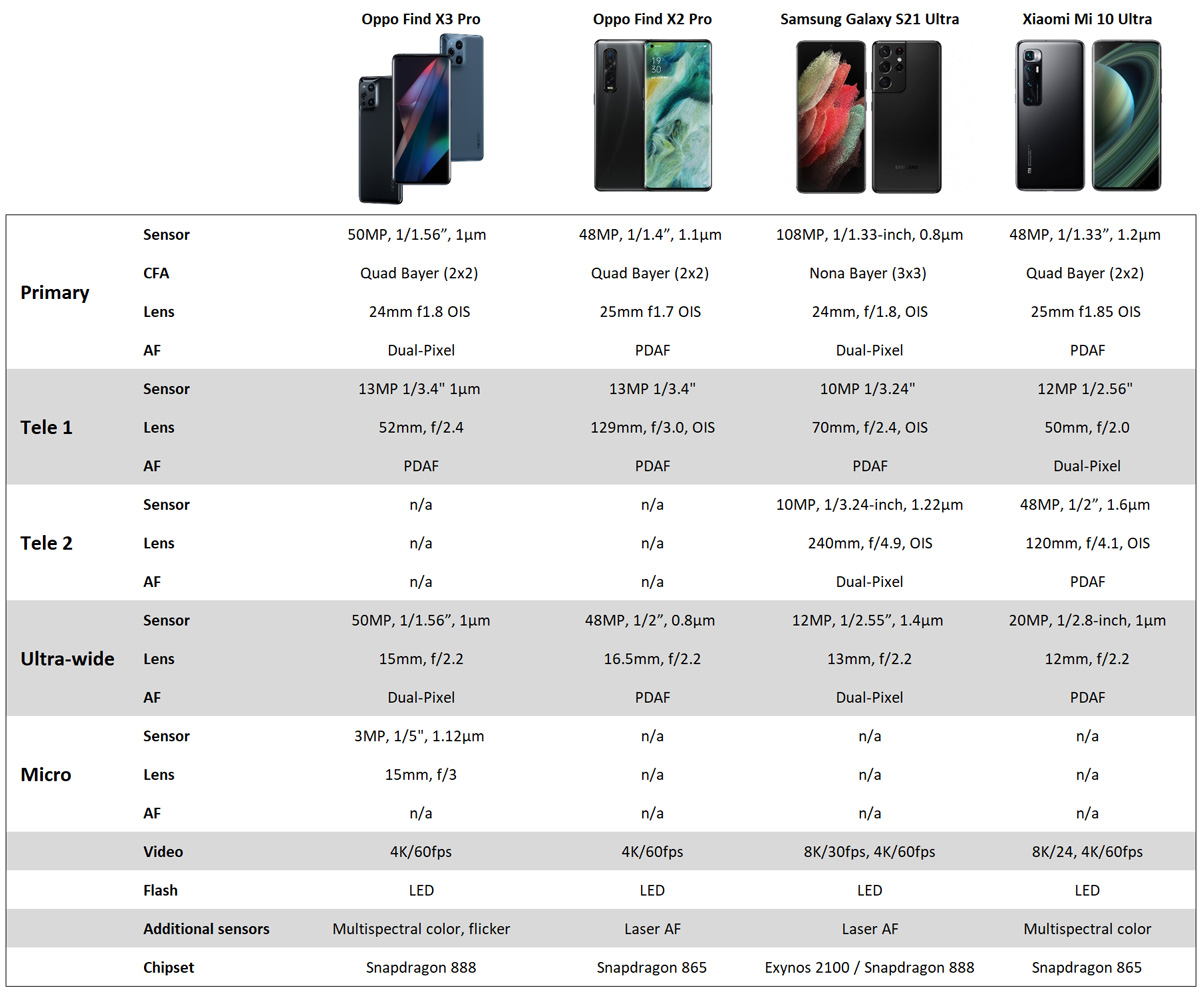 Ultra-wide: Same sensor as in the primary camera
The image sensor in the ultra-wide camera comes in the same 1/1.56″ format as the primary sensor. This is fairly large for an ultra-wide and should allow for a similar texture/noise tradeoff as on the primary camera. It also uses the same DOL HDR and on-pixel phase-detection technologies.
On the downside, the field of view is not terribly wide. Xiaomi, Samsung, and Apple all offer wider lenses in their latest high-end models. With the fairly large image sensor, corner sharpness could be a challenge, too.
Tele-cameras: Short single telephoto
The Oppo's tele specifications lag slightly behind the best in class. With an equivalent focal length of 52 mm, the single tele camera should provide good results around 2x magnification, which is good for close-range zoom shots and portraits. However, the lack of a longer secondary tele means that a significant loss of detail is to be expected at 5x and higher magnifications, even with super-resolution algorithms.
On the plus side, we expect to see fewer fusion problems than on the predecessor Find X2 Pro, as the focal length gap between primary camera and tele is much smaller.
Microscope camera
The Oppo also features a 3 MP microscope camera with a fixed-focus lens that works like a scanner. You have to hold the camera above the object you want to capture. A ring light helps to illuminate the subject, which is likely obscured by the device itself. The microscope camera looks a little bit like a gimmick, but could be a fun tool for enlarging near-invisible textures and structures.
10-bit color but no long tele
Overall, the Oppo Find X3 Pro looks like an interesting addition to the 2021 flagship bracket. Ten-bit color and HEIF image format allow for ultra-realistic color rendering, and with its large sensor, the ultra-wide camera should be capable of capturing images with good detail and low noise.
However, many competitors offer a wider field of view on their ultra-wides, and the lack of a longer tele lens likely means that the Oppo won't be able to keep up with the best at the longest zoom settings either. This said, it should be a good option for shooting around the 2x mark, which is arguably one of the most used settings.