Introduction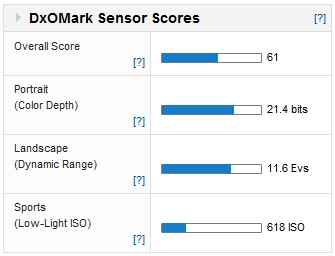 Panasonic made some refreshing changes – new creative features, improved ergonomics, and more filming options – in its latest addition to its highly esteemed Lumix G-series. The G5 also helps Panasonic inch forward in its quest for better and better image quality. Its DxOMark Overall Score of 61 makes it the second highest rated Panasonic sensor, behind the Lumix DMC GH1, in DxOMark's database.
The G5 performed well during DxOMark sensor testing for color depth – capturing a variety of colors and reproducing them richly, with it peaking at 21.4 bits at around 200 ISO – making it an ideal camera for photographers attracted to portraits and colorful outdoor nature photography.
The camera also had applaudable results for dynamic range. The G5 would make many landscape and architecture photographers happy with its ability to capture details in high contrast images that include bright highlights and dark shadows.
But Panasonic's newest Lumix camera was dragged down by a mediocre low light score, which should give pause to sports, entertainment, and other photographers who heavily depend on a camera that excels in poor lighting. The camera's threshold for producing quality images in low light was around ISO 700, pretty disappointing in a camera era that includes some true low light stalkers.
Lumix DMC G5 vs. Lumix DMC GX1 vs. DMC G3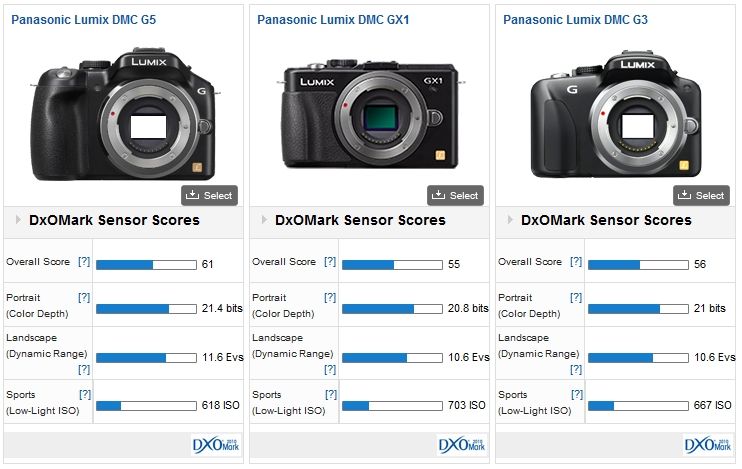 Each new generation of camera aims to be better than the last, at least in the rapidly evolving technology world. For its part, Panasonic newest generation of its esteemed mirrorless Lumix G-line bested its predecessor, the G3, by a praise-worthy five points. It also topped another popular Panasonic hybrid, the Lumix DMC GX1, by six points.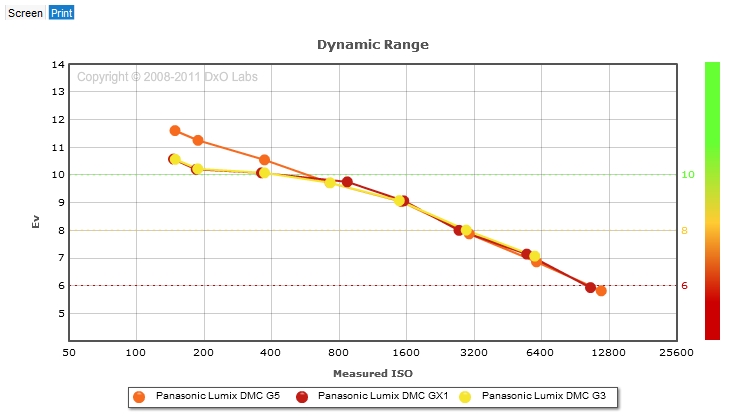 The G5 performed particularly well against its family members in dynamic range, proving it to be the best of the bunch for landscape and architecture photographers. Its documented score of 11.6 Evs make it a full stop better in dynamic range than both the GX1 and G3. This means the G5, at least compared to the GX1 and G3, can capture more details in an even wider swath of contrasting shadows and highlights.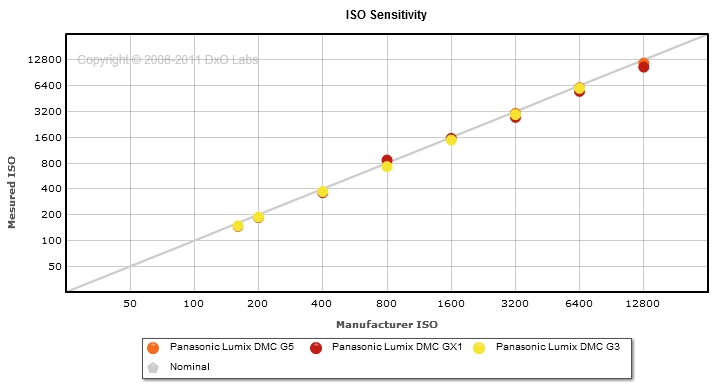 However, the G5 delivered a lackluster low light performance. Its score lagged behind the already poor low light performance of the G3, contradicting Panasonic's claims that the G5's digital' Live MOS sensor would improve upon its older brethren. All three cameras struggled to produce good image quality at about 700 ISO, making them subpar tools for sports and entertainment photographers.
Lumix DMC G5 vs. Sony NEX-F3 vs. Olympus OM-D E-M5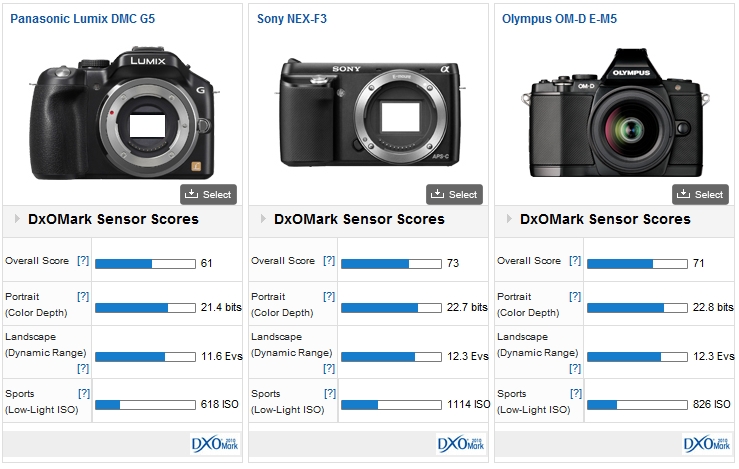 The G5 made gains on most Panasonic Lumix cameras. But how did it fair against rivals with similar hybrid technology? The short answer is not well, especially when going head-to-head against Sony's NEX-F3 and its DxOMark score of 73 or Olympus' OM-D E-M5 and its rating of 71. Both swept Panasonic's latest Lumix G camera in every category.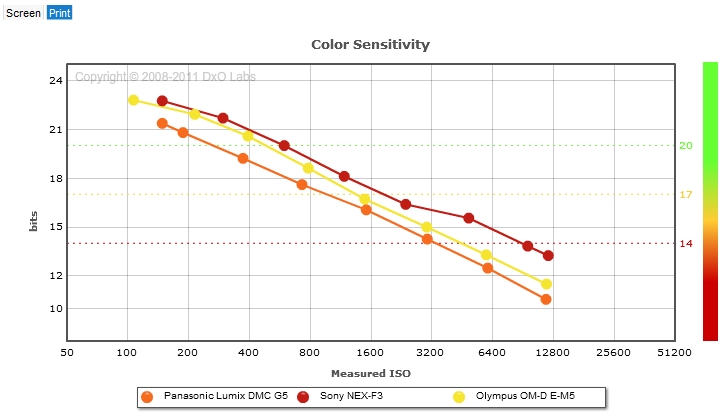 The G5, while having good color depth, still trailed the 16-megapixel NEX-F3 and E-M5. Both competing cameras were more than 1-bit better than the G5; giving them more than twice the number of color hues and saturations they can capture compared to the G5.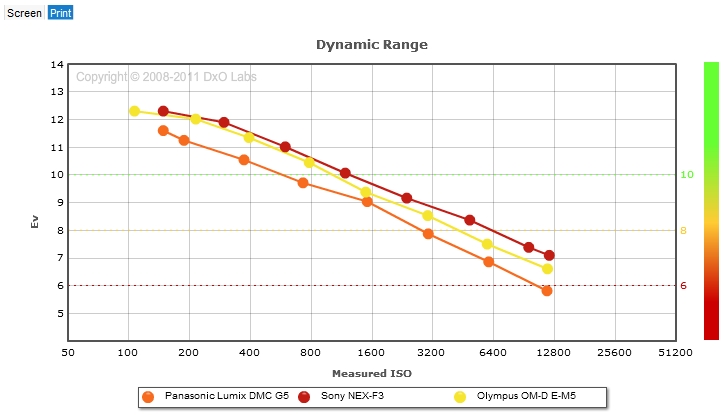 Both mirrorless models from Sony and Olympus trumped the G5 in dynamic range quality. Their half-stop gain over the G5 gives the duo that much more leverage in snagging details in difficult high contrast environments.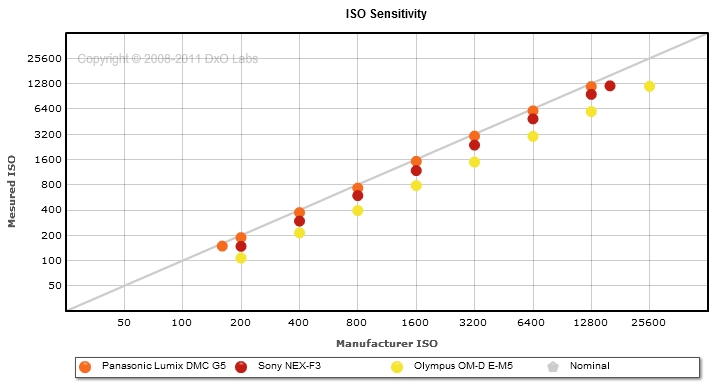 The G5's weak low light performance contrasts sharply with the NEX-F3. The Sony camera nabbed a low light score of 1114 ISO, giving it a nearly one-stop advantage over the G5. The NEX-F3's low light operations make it an enviable top pick for sports photographers and adds to its distinct all-around advantage over the G5. The E-M5 sat between the G5 and NEX-F3 in this category.
The Panasonic Lumix DMC G5 progresses rather than regresses in image quality. Its dynamic range took a one-stop leap over its predecessor. It also has a better knack for taking in a broader swath of colors over its older sibling, the G3. Yet, it takes a slight step back for low-light.
This small disappointment was exacerbated when the G5 was compared to Sony's NEX-F3 and Olympus' OM-D E-M5. The two rivals showed Panasonic has work to do on the image quality front, especially for low-light shooting.