Announced alongside the full-frame Panasonic Lumix S1 and S1R L-mount cameras back in 2019, the Lumix S 24-105mm F4 Macro OIS is a medium-speed zoom lens that appeals to both stills photographers and videographers alike.
While not one of Panasonic's high-end S-PRO series lenses, the Lumix S 24-105mm F4 Macro OIS lens nonetheless has a number of advanced features. These include a 6-stop optical stabilizer in conjunction with the aforementioned cameras, and a rugged design with dust- and moisture-resistant sealing.
It has 16 elements, including one ultra ED (extra-low dispersion) element, two ED elements, two aspherical and two aspherical ED elements, all arranged in 10 groups. The S-series zoom adopts a linear motor for autofocus, and has a 0.3-meter (11.81-inch) minimum focusing distance and a useful magnification of 0.5x.
You can view the results for all tested lenses and create your own comparisons and in-depth analyses using our interactive image lens comparison tool.
Key specifications:
16 elements in 10 groups

Aspherical and ED elements

5-axis OIS up to 6 stops with Lumix S body

Linear focus motor

Dust- and moisture-resistant

Weight: 680 grams (1.5 lb)
Test results
We tested the Panasonic 24-105mm F4 on the 47MP Panasonic Lumix S1R, the highest-resolution body in Panasonic's lineup. Together they achieved a DXOMARK score of 26, which puts the combination on similar standing with rivals with high spatial resolution sensors, such as the EF 24-105mm F4L USM II on the 50 MP Canon EOS 5DS R. As it's a system rating that takes the sensor resolution into account, the combined DXOMARK score would be a little lower on the 24 MP Panasonic Lumix DC-S1.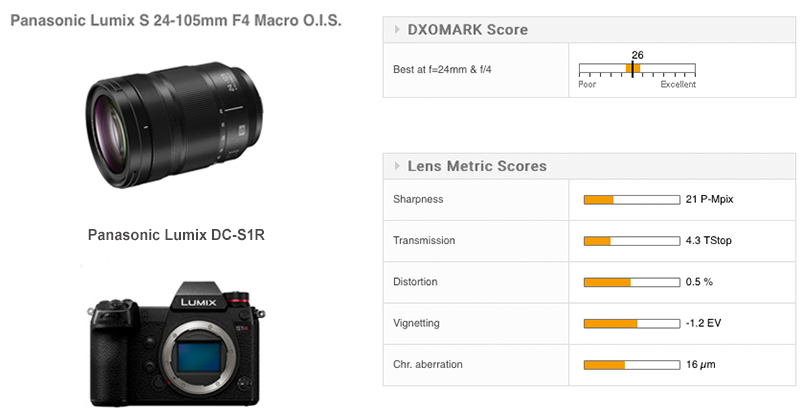 Sharpness levels are good given the (4.4x) zoom range, and the lens controls both distortion and vignetting very well. Transmission measured at T4.3, a loss of just 0.3 EV on average, which is also very good. However, given the optical construction and rather generous use of ED glass, chromatic aberration is rather high at 40 mm and below and at over 100 mm, but levels are quite well controlled between those focal lengths. Overall, the lens is one of the better-performing models of its type.
In-depth comparisons
We've compared the Panasonic lens with similarly stabilized 24-105 mm F4 models, albeit made for DSLRs. While Nikon doesn't make a zoom with that range, preferring 24-120 mm instead, independent lens maker Sigma offers a high-end 19-element Art series model, the Sigma 24-105mm F4 DG OS HSM A, announced in 2017. We've also compared the Panasonic with perhaps the best-known 24-105 mm model, the Canon EF 24-105mm F4 L II USM, announced in 2016, and one of the last EF-mount lenses before the switch to RF.
You can see an overview of this comparison in our database.
Sharpness
All three lenses perform very well when stopped down, for the most part on equal terms, but there's some noticeable differences between them at f/4. While the Panasonic is relatively sharp and consistent across the field, there is some noticeable decline in sharpness at 50 mm and again at 85 mm when set to f/4. For all that, it's no worse than the Canon — and indeed you would have trouble telling them apart — but it is the Sigma that's the sharpest of the three at those particular focal lengths.
Where the Panasonic stands out is at either end of the zoom range. At 24 mm it easily outperforms the Canon while being more or less on par with the Sigma from the center right out to the corners, and all without the rather excessive astigmatism seen in the independent lens. And at 105 mm, the Panasonic regains some of what it loses over the Sigma, at least centrally anyway.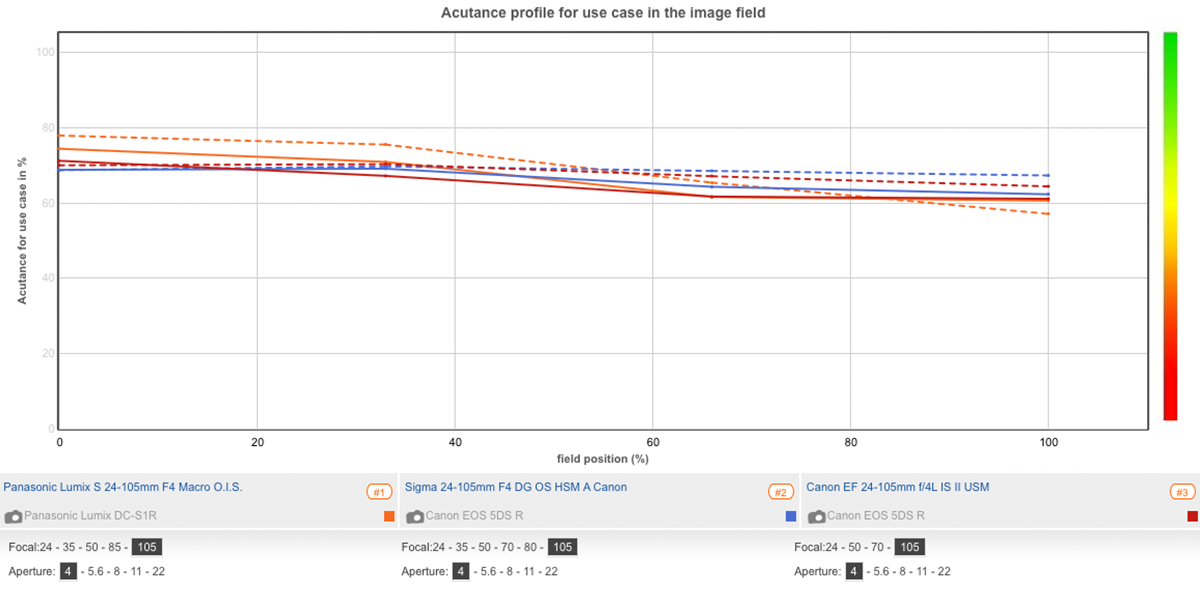 Chromatic aberration
Panasonic was one of the companies that pioneered automatic lateral chromatic aberration correction on the fly, which reduces the distracting colored fringes during what used to be called "live view." So it's somewhat surprising to see how much fringing a lens has when the profiles are disabled. This lens's fringing is at its highest wide open at 24 mm, but it's still high at 35 mm and somewhat troublesome throughout to 105 mm. In contrast, both the Sigma and Canon are relatively well corrected, especially the latter at 24 mm.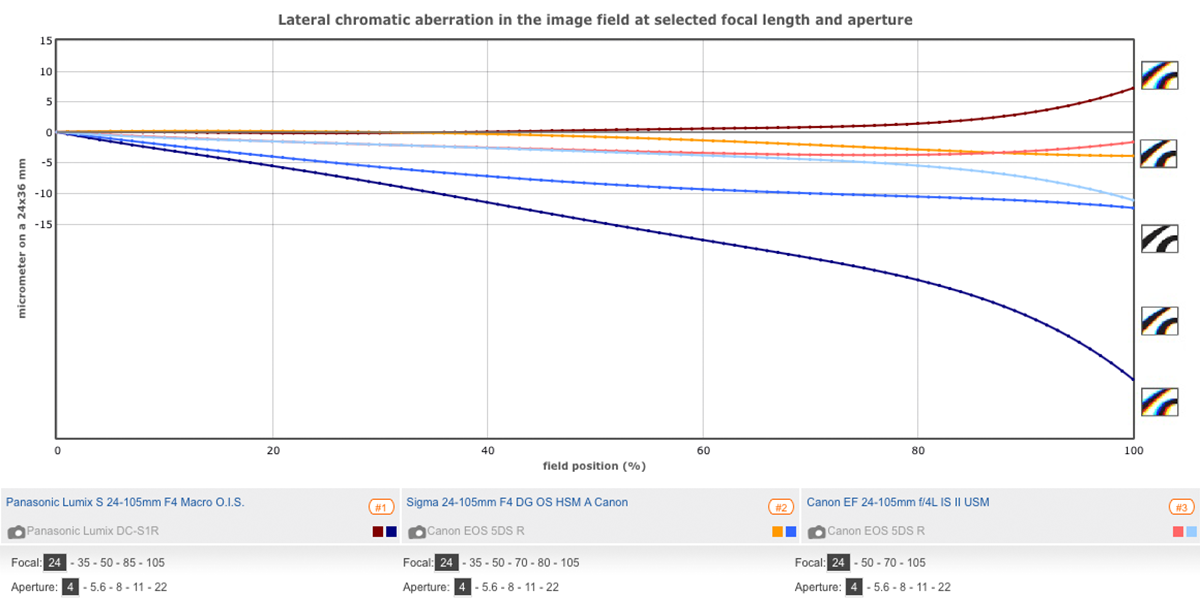 Geometric distortion
Distortion is another area that's corrected using in-camera profiles, and it is by now not surprising to learn that the Panasonic has rather high levels of barrel distortion, measuring 2.1% at 24 mm compared with 0.8 and 0.9% for the Canon and Sigma, respectively. Still, both those lenses have slightly higher pincushion type distortion overall than the Panasonic, which is very well controlled from 50 to 105 mm.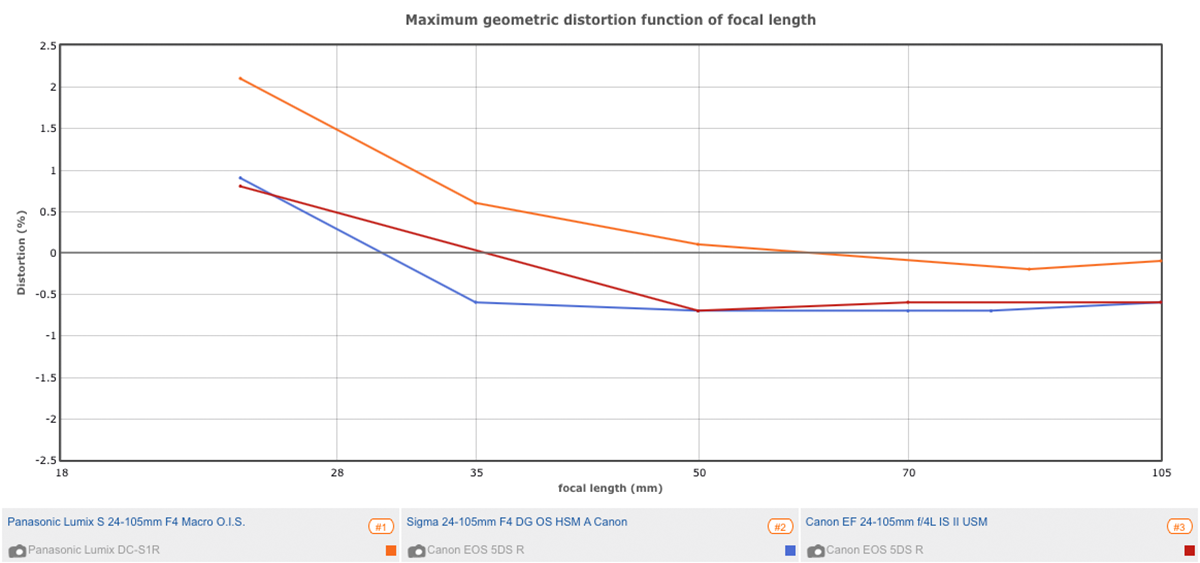 Vignetting (corner shading)
Vignetting is low in the mid-focal length range from 35 mm to 85 mm, but it's relatively high at 24 mm, though only really noticeable in the extreme corners. The lens has similar behavior at the other end of the zoom range as well, but the Sigma and Canon have higher levels overall. It's worth looking at the shape of the slope of the fall-off in exposure in our vignetting profiles (per below), where a gradual curve is usually preferred to a steep one.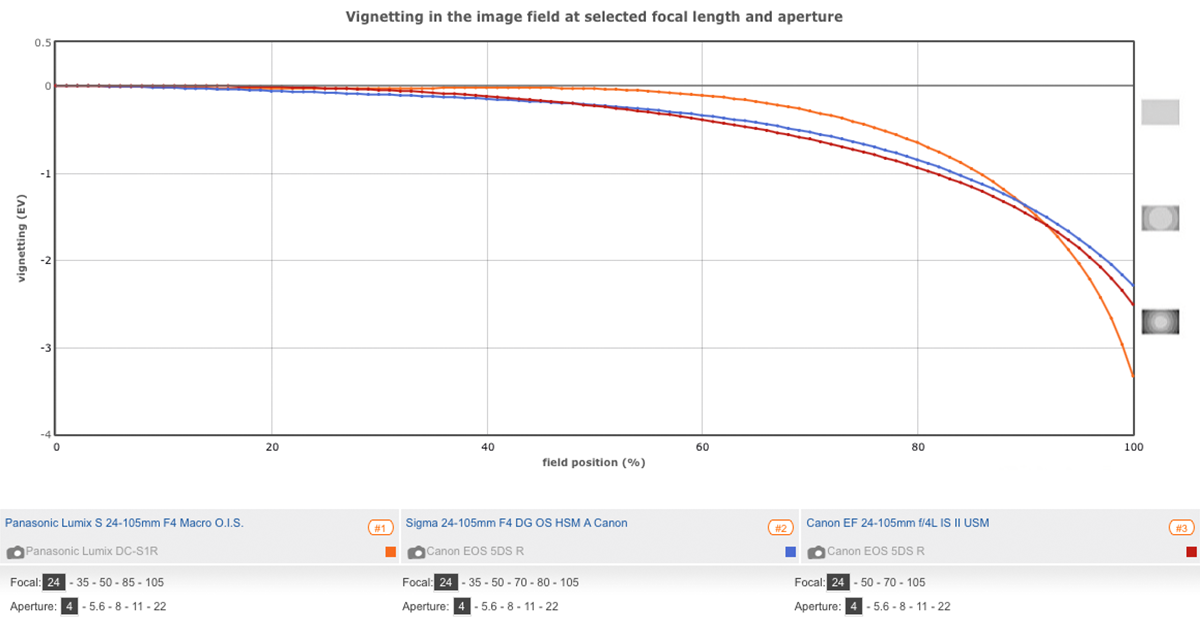 Transmission
Transmission is arguably more important for video and the Panasonic performs well here. Not only does it show only a slight loss, but it's pretty consistent throughout the zoom range, varying from -0.2 EV to -0.3EV. It's bettered only slightly by the Sigma, but it's slightly ahead of the highly-regarded Canon model.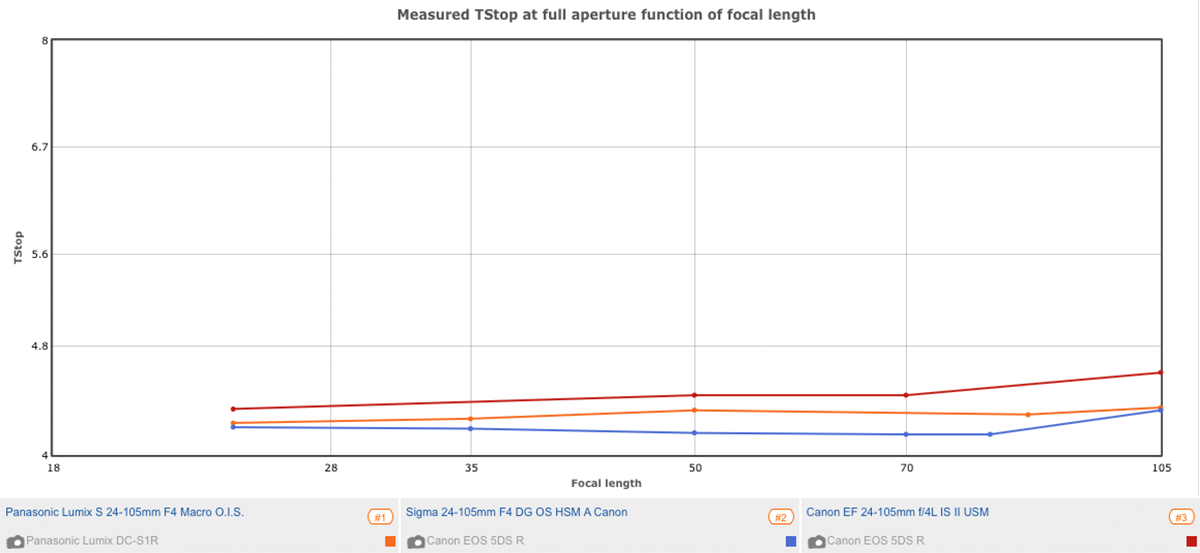 Conclusion
Panasonic's entry into the full-frame market wasn't a complete surprise, especially given that electronics rival Sony was leveraging that space to complement its strong presence in the professional video segment. And so the early introduction of a 24-105 mm lens, which is a popular choice with both stills photographers and videographers, makes a lot of sense. Although not a top-of-the-line S PRO model, the Panasonic Lumix S 24-105mm F4 Macro OIS is stronger optically than the highly-regarded L-series Canon EF-mount equivalent, and comes very close to the best-in-class Sigma Art-series. Still, at a retail price of $1,299 in the US and 1499€ in Europe, it's a somewhat pricey option, all things considered.
In this review, we have compared the Lumix S 24-105mm F4 Macro OIS mounted on a Panasonic Lumix DC-S1R to its closest rivals from other brands. Remember that those lenses may be used on different cameras or, in some cases, on different camera systems using different mounts, so those comparisons are not strictly applicable.
As usual, you can create your own comparisons and in-depth analyses using our interactive image lens comparison tool.