In September 2021 the French start-up Pixii updated its camera, named the Pixii: its A1571 version is a rangefinder camera with a Leica M compatible lens mount. Housed in a machined aluminum body, the Pixii in its A1571 version features an APS-C size (15.7 x 23.5 mm) 26 MP BSI CMOS sensor with a 1.5 crop factor. The sensor has a native sensitivity range from ISO 160-12,800, with an extension to ISO 80-51,200.
As a BSI type sensor, the electronics are located behind the light-gathering pixels instead of being placed in front, which improves sensitivity. The sensor eschews an AA filter and features micro-lenses and an IR filter that's less than 1 mm in thickness, and so promises to be well-suited to the characteristics of M-mount lenses.
As a camera targeting rangefinder enthusiasts the Pixii has an optical viewfinder, with an x 0.67 magnification, and a coincident rangefinder patch for focusing. There are also backlit LED frames for focal lengths from 28 mm to 50 mm.
Interestingly for a small independent company, the Pixii features an electronic-only shutter with a range from 2 seconds to 1/32,000. And, the camera forgoes a rear display, instead you can view captured images directly on your mobile via Bluetooth or direct USB-C connection.
The camera also shuns the usual removable memory cards for hard-wired internal memory, ranging from 8 GB up to 128 GB depending on the model. If the internal memory isn't enough, images can be saved to a thumb drive via the USB-C connection. The same USB-C connection also allows in-camera charging, though the battery — a Sony NP-FW50 type — can be removed and charged separately.
Files can be saved using a choice of two Raw file formats; DNG and compressed General Purpose Raw (GPR) plus there are the usual in-camera JPEG options. There's also a dedicated monochrome DNG option for black and white, giving you the option use your favourite converter on mono Raw files.
The Pixii is available now in Matte Black or Space Gray finish from €2499, plus VAT for the 8 GB model rising to €2950, plus VAT for the 128 GB version.
Key specifications
26 MP APS-C BSI CMOS sensor
Native ISO 160-12,800, with expansion to ISO 80-51,200
Optical viewfinder with coincident rangefinder
LED backlit frame lines for 28/35/40/50 mm
Leica M-mount compatibility
Manual focus only
Electronic shutter 2 seconds to 1/32,000.
DNG (color and mono), GPR (compressed) RAW, plus JPEG options
Bluetooth, plus USB-C for charging, display and transfer
Built-in memory, 8-128 GB depending on model.
Overall performance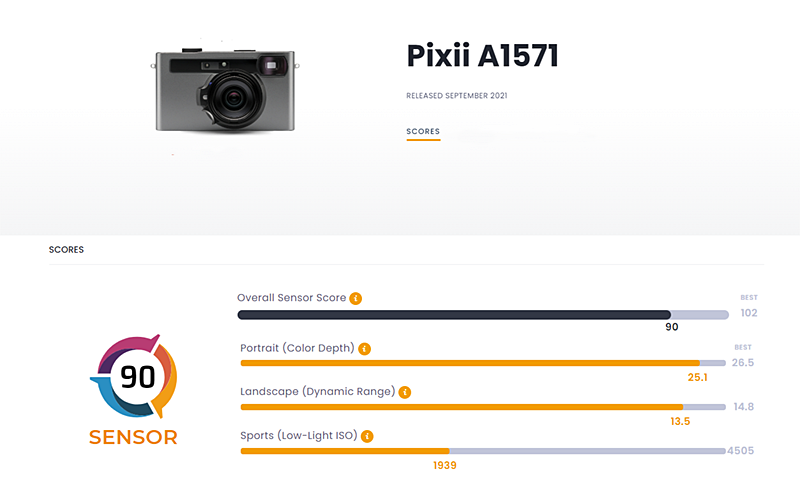 Click on the score chart above to open the Pixii (A1571) product page.
The Pixii (A1571) achieved an overall sensor sensitivity score of 90 in our tests, which puts it in 28th position in our ranking for all sensor sizes, including medium format. That places the Pixii sensor performance on the same level as some of the more recent full-frame sensors in cameras, such as the Canon EOS R6. It also now takes first place for sensor performance in an APS-C format camera, replacing the former best model, the Nikon D7200 and the newer D7500.
It's interesting to note that from our tests the Pixii has noticeably lower measured ISO values than those set on-camera (manufacturer settings) when compared to rivals. Many manufacturers implement this as a strategy to protect highlights, but the measured values are significantly lower. Our measurements reveal the measured values are 1 to 1.5 stops lower over the range of ISO 200 to 25600. At ISO 80 and ISO 100, however, the measured values are very close to the manufacturer's settings.
At ISO 80, the Pixii has a strong result for both color depth and dynamic range, peaking at 25.1 bits and 13.5 EV respectively. However, the smaller APS-C sensor doesn't compare as well overall to larger sensors in our low-light ISO (Sports) category, where it achieved a value of ISO 1939.
In-depth comparisons
As the Pixii camera is aimed at the high-end, we've compared it with the 24 MP Leica M10 rangefinder and the 47 MP Leica Q2 compact camera with a fixed 28mm F1.7 Leica Summilux lens. Both Leica cameras are full-frame models, with sensor scores of 86 and 96 respectively, however the Pixii is currently one of the only independent interchangeable lens rangefinder cameras with an M-mount outside of Leica's offerings.
Portrait (color depth)
The Pixii outperforms the ageing Leica M10 full-frame sensor (we are still to test the new Leica M11) in all but the highest sensitivities. However, it is the newer Leica Q2 sensor that outdoes both, except at the mid-ISOs, where a gain in the Pixii brings some parity in sensitivity.
At its lowest manufacturer setting of ISO 80 (ISO 63 measured), the Pixii has a very strong response for color sensitivity, where it peaks at 25.1 bits. It outperforms the Leica M10, which maxes at 24.4 bits at base ISO 100 (ISO 89 measured). The Leica Q2 sensor is better still at a very high 26.4 bits at its lowest true base sensitivity setting of ISO 50 (ISO 47 measured).
The second gain at ISO 1600 (ISO 613 measured) in the Pixii sensor boosts the color sensitivity above the Leica Q2 at ISO 800 (ISO 693 measured) at 22.4 bits vs 21.7 bits, respectively. Color sensitivity of the Leica M10 at that point (ISO 1600, or ISO 787 measured) is just 20.5 bits. At ISO 6400 and above the color sensitivity results for the A1571 are comparable to the Leica M10, while the newer Leica Q2 sensor retains its lead in performance up to ISO 5000.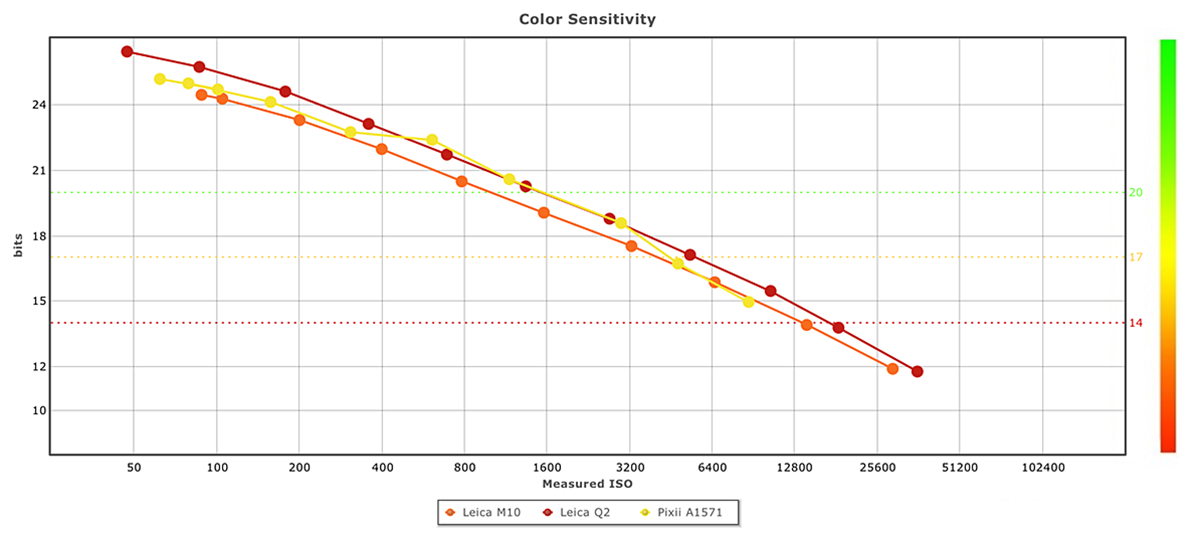 Landscape (dynamic range)
At base ISO, the smaller APS-C sensor in the Pixii has around the same peak 13.5 stops of dynamic range as the full-frame Leica Q2 at its base when normalized to the equivalent of a 12 x 8 print, which is impressive. However, as ISO settings increase, the Pixii has the better, wider dynamic range than the Q2 at every ISO setting up to ISO 25600, even when accounting for the one-stop disparity in manufacturer ISOs.
A second gain is noticeable at ISO 1600 on the Pixii, which corresponds to a similar boost in sensitivity on the Leica Q2 at ISO 800, but the former has around a +0.5 EV advantage and maintains that throughout the ISO range up to its maximum ISO 25600 setting anyway.
The Leica M10 on the other hand has slightly lower maximum DR at base than either the Q2 or the Pixii, but then has a similar response up to ISO 800. After that point though, without a second gain, the sensor shows its age and drops behind both.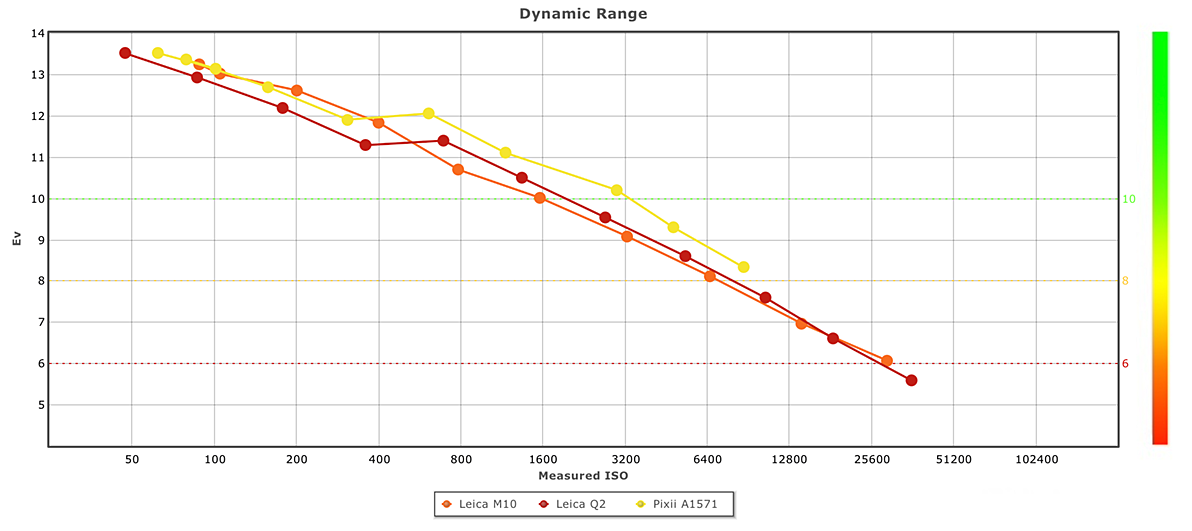 Sports (low-light ISO)
It's at this point that the smaller APS-C size BSI CMOS sensor in the Pixii concedes any advantage in overall sensitivity to the larger surface area of the full-frame sensors in the Leica M10 and Leica Q2.
With this metric, we calculate the ISO value which satisfies certain KPIs: minimum 30 dB SNR, 18-bit color and 9 EV dynamic range, all three when normalized to the equivalent of a 12×8 inch print at 300 dpi). The Leica M10 and the Leica Q2 sensors maintain acceptable quality at slightly higher ISO, corresponding to a difference of just 0.14 EV and 0.36 EV, respectively, which remains a small difference given the relative difference in sensor sizes.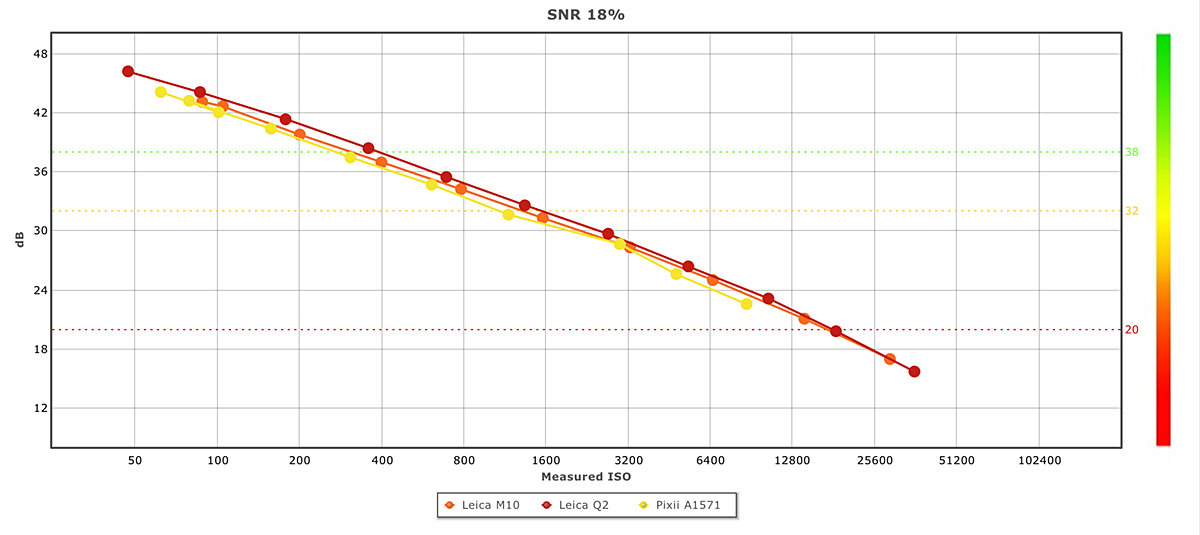 Conclusion
Announced a few years ago, the Pixii rangefinder, in its latest iteration as the A1571, is certainly an intriguing proposition. Although not full-frame, at least it has a state-of-the-art APS-C size BSI CMOS sensor, while the absence of a rear screen and a dedicated monochrome DNG option lends a more analog-like user experience that enthusiasts will find attractive. It's still not exactly cheap either, but rangefinder alternatives such as Leica M10 and the latest M11 model are much more expensive. Even the Leica Q2 fixed-lens compact isn't low priced either. Pre-owned Leica rangefinders tend to hold their value as well, with the 12 1/2-year-old Leica M9 and its highly prized full-frame 18 MP CCD available at around the same price as the Pixii. Some may argue about the inconvenience of the 1.5x crop, especially when pre-visualizing the use of full-frame lenses, but as a rangefinder camera with a Leica M mount, there's still a lot to like about the Pixii.
In this review, we have mentioned the Pixii A1571's most relevant rivals from other brands. As usual, you can compare it with these and with other models and create your own comparisons and in-depth analyses using our interactive image sensor ranking tool.