DxOMark tests
When we put the FZ150's DxOMark results under the microscope, we see that in good lighting conditions (low ISO) the FZ150 provides good-quality images in terms of color and dynamic range.
The dynamic range (10.9 ev) will allow you to shoot high-contrast photos that keep the details in highlights and shadows (such as in landscape photos, for example).
Color depth is also satisfactory (19.4).
(Note that these results are inferior to scores obtained by larger sensors, of course.)
But the FZ150 shows its limitations in low light, or when shooting sports or other action photos: the image quality diminishes as you are forced to increase the sensitivity to gain speed. Shoot at high ISO (e.g., 1600) with moderation.
Pros and cons
The DMC-FZ150 is seductive because of its –
Responsiveness to low ISO
Intuitive handling
Very nice 3-inch adjustable screen.
However, users may be less enchanted by the FZ150's –
Significant loss of quality at high ISO
Plastic design
Relatively large footprint
Digital viewfinder
Comparisons
Let's take a glance at the evolution of the Panasonic line over time: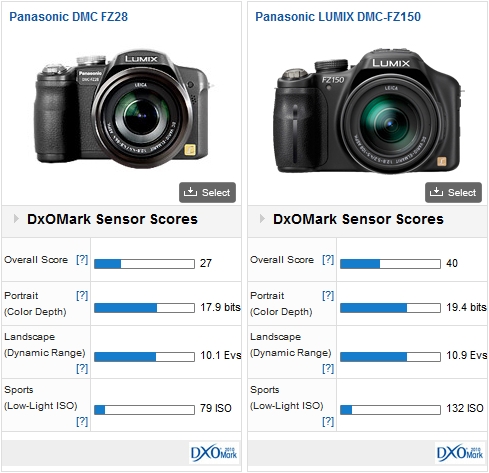 While this is nothing new, once again we can see significant progress in Panasonic's product line, in that this latest camera has gained nearly 1 stop across all categories in fewer than three years.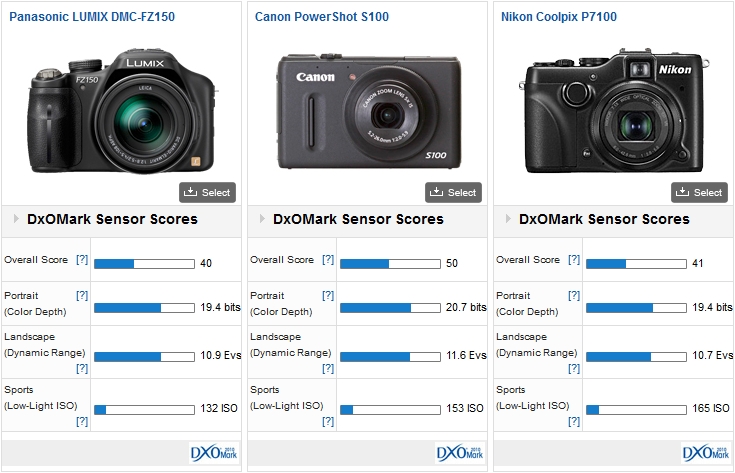 While the Canon S100 offers fewer possibilities in terms of zoom and manual adjustments than the Panasonic, it scores higher than its competitors (DxOMark = 50 vs 40 for the FZ150 and 41 for the Nikon P7100). Its overall score is due to its superior low ISO (color depth and dynamic range) scores, given that the S100 offers ISO 80, unlike the other two cameras.

Studying the curves more closely, however, we see that the Panasonic manages to keep up with the results of the S100 despite a slightly smaller sensor size.

These competitors target different use cases, of course (particularly given the differences in zoom range and available manual mode), but strictly with respect to their sensor image quality, the bottom line is that their results are very close.
Conclusion
In conclusion, the Panasonic FZ150 is a quality camera, and versatile thanks to its large zoom range, its manual mode, and its quick and intuitive handling. This said, at a time when other manufacturers are opting for EVIL solutions, we again wonder why there is still interest in producing a camera body that is not as good overall, more cumbersome, and especially more expensive!

A last bit of advice: watch out for high sensitivities – the only real problem with this Panasonic bridge.
(Please also note that we have not evaluated the lens quality for this camera.)