This lens was specially designed for APS-C-format cameras. Three of its four aspherical lenses are made of low-dispersion glass elements — specifically, 2 ELD (extraordinary low dispersion) lenses and 1 SLD (special low dispersion) lens.
Its minimum focus distance is 24cm, regardless of focal length, and the maximum reproduction ratio is 1: 6.5.
Tests and reviews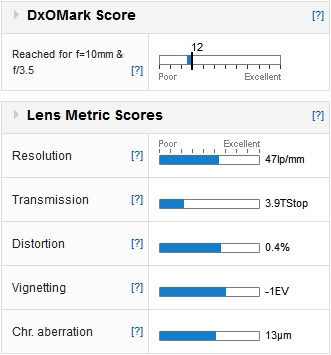 What we liked:
What we didn't like:
Significant chromatic aberrations.
The weight.
Comparison
For this selection, Sigma ends up in second place behind the Nikon with a DxOMark score of 12 points vs 13 points, respectively. (Keep in mind that the Nikon was announced one month after the Sigma.)
As for the Canon, it takes third place on the podium with a DxOMark score of only 9 points. (In fairness, the Canon is more than five years old.)
The Sigma's strong points compared to its competitors:
Excellent transmission that does not vary with changes in focal length.
Weak vignetting at maximum aperture and across all focal lengths.
The Sigma's weak points compared to its competitors:
More chromatic aberrations than the Canon.
More distortion than the Canon.
Full measurements for the Canon EF-S 10-22mm f/3.5-4.5 USM
Full measurements for the Nikon AF-S DX Nikkor 10-24mm f/3.5-4.5G ED