Released earlier this summer, the Galaxy Note 10+ is Samsung's latest high-end device. Samsung Note devices have always been favored by multimedia enthusiasts because of their large displays (the original Note was the first proper "phablet" on the market), making them the perfect choice for watching videos, but now big-screen phones are everywhere. Our tests on a range of larger smartphones suggest that the Note 10+ may not be quite as enticing when pitted against the array of competitors producing good sound.
Although Samsung has discarded the headphone jack this time around, the hardware is still top-notch. It features an Exynos 9825 chipset; four rear-facing cameras; a 10 MP selfie cam with fingerprint sensor; and an S Pen stylus, along with Bluetooth connectivity and a 6-axis sensor.
Read on to see how the Note 10+ performed in our new DXOMARK Audio test protocol.
Key audio specifications:
Stereo speakers with sound by AKG
Surround sound with Dolby Atmos technology (Dolby Digital, Dolby Digital Plus included)
High AOP (acoustic overload point) microphone designed to minimize distortion in noisy environments
Active noise cancellation with dedicated microphone
About DXOMARK Audio tests: For scoring and analysis in our smartphone audio reviews, DXOMARK engineers perform a variety of objective tests and undertake more than 20 hours of perceptual evaluation under controlled lab conditions. This article highlights the most important results of our testing. Note that we evaluate both Playback and Recording using only the device's built-in hardware and default apps. (For more details about our Playback protocol, click here; for more details about our Recording protocol, click here.)
Test summary
66
audio
With a score of 66, the Samsung Note 10+ occupies a mid-table position in our new DXOMARK Audio ranking, beating its sister device, the S10+, by one point. With a Playback sub-score of 68 and a Recording sub-score of 61, the Note 10+'s performance is pretty balanced overall, delivering a decent performance in both categories; this said, the Samsung is not quite up with the very best in terms of audio performance.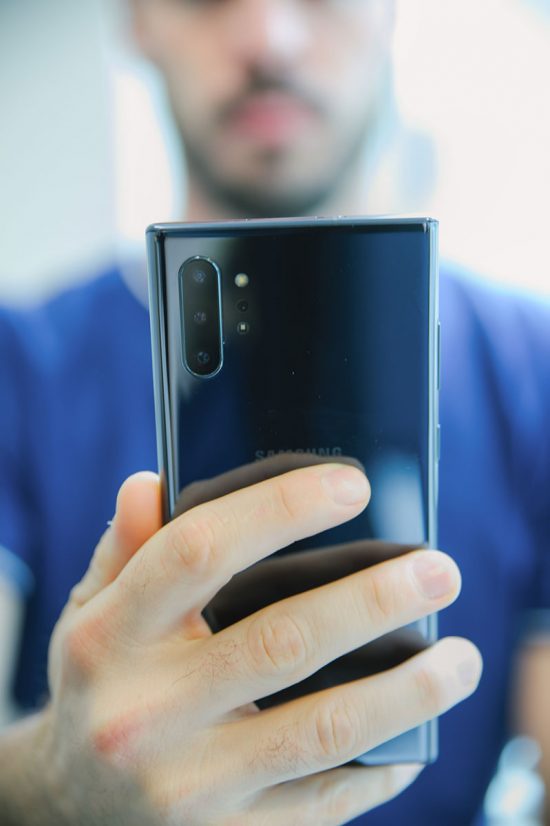 The Samsung Galaxy Note 10+ in the DXOMARK Audio lab.
Across all playback audio attributes, the device performed robustly, if not exceptionally. Timbre and dynamics were quite decent, but not on the same level as the iPhones XS Max and 11 Max Pro, nor the Huawei Mate 20 X. Volume and Spatial scores were pretty good, but again, not best in class. Even so, the Note 10+ sound clips had good wideness.
Overall, the recording output is adequate, but if Samsung is to improve on its flagship rankings, it will have to boost its devices' recording capabilities. The Note 10+'s background recording was particularly poor and scored significantly worse than its sister model Galaxy S10+. For most other recording attributes, the Note 10+ scores put it somewhere in the middle of the pack.
Sub-scores explained
The DXOMARK Audio overall score of 66 for the Samsung Galaxy Note 10+ is derived from the Playback and Recording scores and their respective sub-scores. In this section, we'll take a closer look at these audio quality sub-scores and explain what they mean for the user.
Playback
Timbre
Samsung Galaxy Note 10+ (Exynos)
60
89
Black Shark 5 Pro
Best: Black Shark 5 Pro (89)
Music playback frequency response
The DXOMARK audio team tests for timbre across the frequency ranges of bass, midrange, and treble. The Note 10+'s speaker frequency response is consistent among soft, nominal, and maximum volumes. However, amplitude appears to be low at the bass frequencies (see illustration above); it is more flat at midrange and treble frequencies, which is what we want to see.
Listeners will experience very crisp results through the treble and midrange frequencies on this device. Bass frequencies were pretty good, but not quite as effective. Even so, the Note 10+ put in an outstanding performance across the frequency range. When Compared to the leading smartphone device for audio in our current ranking (the Huawei Mate 20 X), the overall Tonal Balance was significantly poorer, but still better than some competitors.
The use cases with the best timbre were movie playback and music in landscape mode, with both treble and midrange performing best. Gaming could be improved significantly, however, and the volume dependency was poor, with inconsistent attack, punch, and bass precision.
In sum, the Note 10+ performed decently for timbre, but its bass performance pushed down the overall result.
Dynamics
Samsung Galaxy Note 10+ (Exynos)
64
81
Black Shark 5 Pro
Best: Black Shark 5 Pro (81)
Dynamics on playback were generally pretty sharp on the Note 10+. The attack is correct, albeit nothing special. Our testers found that it still lacks a bit for bass and punch; even so, the device precisely renders higher spectral sounds, which is good news for snare drums and claps—these are well-defined.
However, the Note 10+'s dynamics are still not at the level of the better devices in our ranking due to a lack of power and energy. Most use cases we tested showed good dynamics across the board, with the exception of gaming use cases; further, attack was also poor when playing games. (Interestingly, our engineers found the exact same issues on the Galaxy S10+.)
Spatial
Samsung Galaxy Note 10+ (Exynos)
68
88
Black Shark 5 Pro
Best: Black Shark 5 Pro (88)
One speaker is located at the halfway point at the top of the device in portrait mode and the bottom speaker is on the right of the charging point and can be identified by the metallic grille. Despite using very different types of speakers in slightly different positions, the device produces a decent balance between left and right when in landscape mode. Distance (perceived distance when listening to the recorded sound) seems well-calibrated, and the various sound elements in recordings are rendered quite accurately.
Playback produces good wideness in landscape mode for both music and video playback. However, the localizability of various sound elements could benefit from better tuning.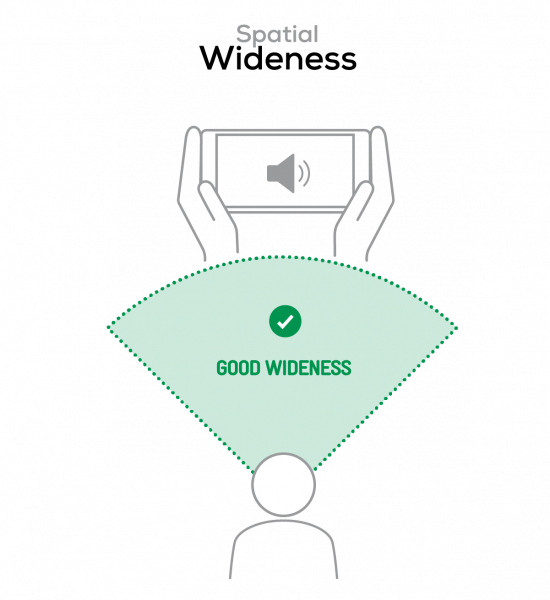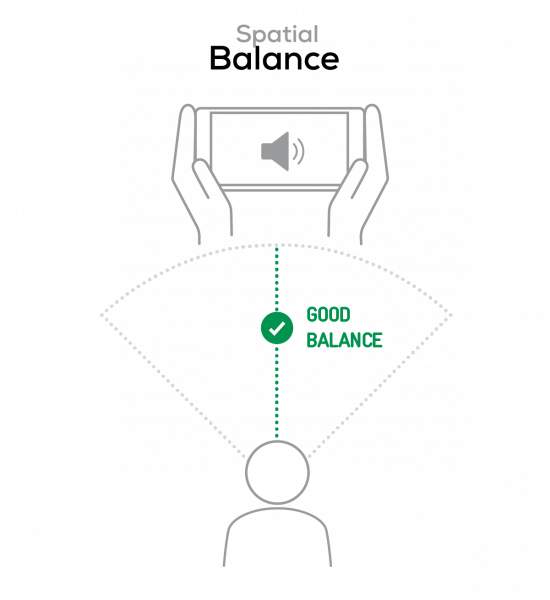 Volume
Samsung Galaxy Note 10+ (Exynos)
70
91
Nubia RedMagic 7 Pro
Best: Nubia RedMagic 7 Pro (91)
Maximum volume is not as loud as one would expect for a phone of this class. It is even quieter than that of Samsung's other flagship device, the Galaxy S10+.
The Note 10+ has solidly consistent volume steps that produce an almost linear progression (see above illustration), with few inconsistencies. This means that listeners will not experience any volume spikes as the amplitude increases and slowly tapers off at the loudest volume steps.
We carried out objective measurements in our laboratories on recordings of both hip-hop and classical music played at the maximum user volume step.
| | |
| --- | --- |
| Hip-Hop | Classical |
| 74.9 dBA | 70.5 dBA |
This said, the volume settings are very soft overall. With such fragile amplitudes, classical tracks, for example, do not fare well because the individual sound elements tend to be set at a low volume at the mixing console.
Artifacts
Samsung Galaxy Note 10+ (Exynos)
83
113
Xiaomi Redmi K50 Gaming
Best: Xiaomi Redmi K50 Gaming (113)
The only real artifacts our engineers noticed was in gaming use cases: there is a good chance that users will experience high spectral distortion in gaming, especially at higher volumes. There is a particular problem with pumping effects. In other use cases, such as music and movies, artifacts seem well-controlled—there are some distortions, but they are are generally not intrusive. This all said, there is just a hair's-breadth difference in the playback artifacts scores among the first devices we have run through our testing protocol, and the gaming use case appears to be a main stumbling point for artifacts for most.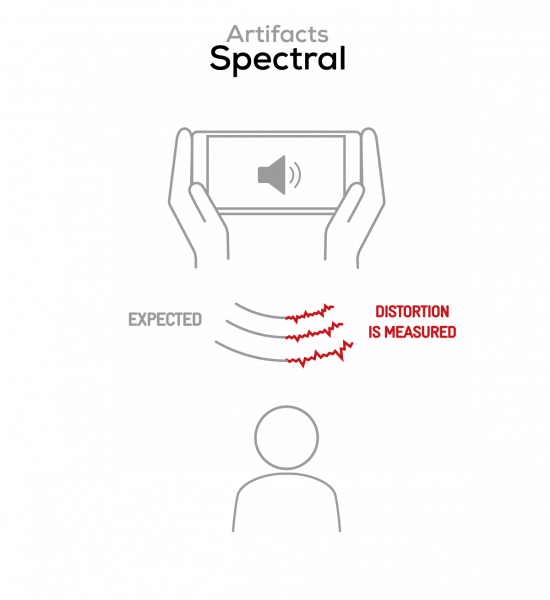 Spectral distortion is high for gamign use cases.
Recording
Timbre
Samsung Galaxy Note 10+ (Exynos)
68
91
Honor Magic3 Pro+
Best: Honor Magic3 Pro+ (91)
When recording, the Note 10+ appears to reproduce the bass well. However, higher frequencies do not perform as satisfactorily—indeed, the sound of the midrange and treble frequencies is dampened and therefore all sounds at these frequencies seem muffled. This potentially impacts virtually all voices and many higher-frequency sounds.
Selfie video frequency response
As you can see in the illustration of the selfie video use case, for this use case the curve shows quite a few hills and valleys. For other use cases, for example life video, the frequency response is flat, though, which means that the device is accurately reproducing the original volume—in other words, "what comes in also goes out."
As shown in the illustrations above, the amplitude remains more or less flat from the bass to the treble attributes. The most volatile use case in terms of frequency response appears to be selfie videos.
Dynamics
Samsung Galaxy Note 10+ (Exynos)
63
81
Black Shark 5 Pro
Best: Black Shark 5 Pro (81)
DXOMARK tests for two fundamental sub-attributes of recording dynamics, the shape of the envelope and the signal-to-noise ratio (SNR). It is the envelope of a wave that helps establish a sound's unique individual quality, and the envelope particularly affects the quality of recorded voices. The Note 10+ had good results for both SNR and envelope, and we noticed that the dynamics were well-preserved for speech, with good recordings of the life video use case. Overall, the Samsung is on the same level as many competitors, but cannot keep up with the very best, such as its sister S10+ device and the Huawei Mate 20 X.
Spatial
Samsung Galaxy Note 10+ (Exynos)
50
78
Black Shark 4S Pro
Best: Black Shark 4S Pro (78)
The spatial attributes in recordings from a source on the Note 10+ appear to be quite poor. Having said that, directivity and wideness have been consistently sub-par across all the devices we have tested so far. The Note 10+'s localizability appears to be particularly substandard in this instance when compared to many of the other devices under test.
Additionally, there appears to be no desired reduction in volume when someone talks out-of-field in the selfie video and life video use cases, which are often shot in portrait mode. It is an issue that Samsung needs to address, as a cacophony of strangers' voices is something that users will want to capture for posterity.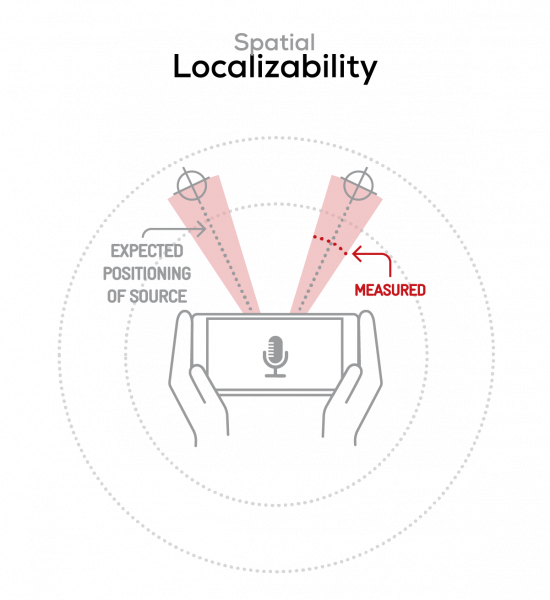 Poor spatial localizability
Volume
Samsung Galaxy Note 10+ (Exynos)
61
99
Black Shark 5 Pro
Best: Black Shark 5 Pro (99)
The Note 10+'s recorded volume from source quality was fairly pedestrian. Of the seven devices we have tested so far, this was second from the bottom; however, its memo and meeting room volume sub-scores were quite high. Life and selfie videos have much poorer volume levels. However, we believe that if the device better mixed the audio from the source recordings, that could significantly improve the volume recording score across the various use cases.
Here are our test results, measured in LUFS (loudness unit full scale); note that results lower than –24 are unacceptable.
| | | | |
| --- | --- | --- | --- |
| Meeting | Life Video | Selfie Video | Memo |
| -23.5 LUFS | -18.1 LUFS | -17.9 LUFS | -20.3 LUFS |
Artifacts
Samsung Galaxy Note 10+ (Exynos)
65
97
Black Shark 5 Pro
Best: Black Shark 5 Pro (97)
Only one use case produced significant artifacts—recording an electronic concert. The microphones had significant difficulty in dealing with temporal artifacts (sudden increases in recorded volume over time) and spectral artifacts (unwanted frequencies). These typically manifest at higher volumes, particularly for bass frequencies, so it is unsurprising that these occurred in this situation.
There were also significant unwanted pumping sounds after volume increases. This is in contrast to (for example) the iPhone XS Max, which our engineers found to be much better for recording electronic concerts. The Note 10+ rendered the sound for all other recording use cases with hardly any artifacts. You can hear for yourself in this sample recording:
When volume was high, the recording often made voices sound robotic. Additionally, placing one of the microphones at the bottom right on a smartphone makes it very easy for the user to accidentally block it. Although there is a total of three microphones, there doesn't appear to be much compensation for such occlusion, and users might end up with a huge noises on the recorded audio due to poor hand position and movement.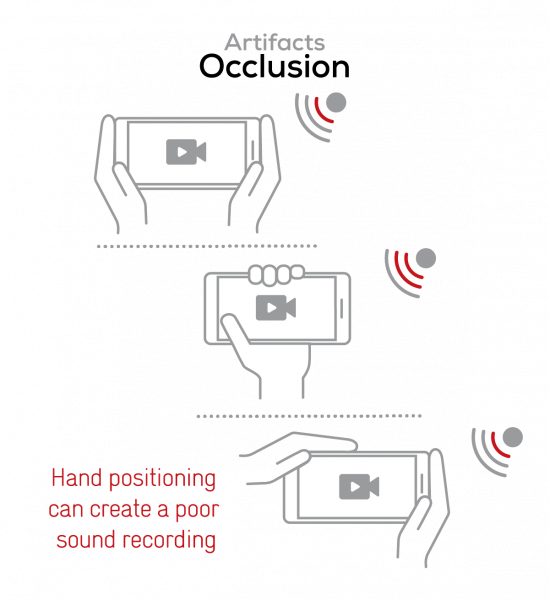 The Note 10+ is prone to occlusion artifacts.
Background
Samsung Galaxy Note 10+ (Exynos)
40
60
Black Shark 5 Pro
Best: Black Shark 5 Pro (60)
This is the real low point of the device. Background recording was so poor at times that it significantly affected the overall timbre of the recording, often making the recordings sound unnatural. Directivity is simply non-existent, with many out-of-field sounds present.
Of the seven devices we have tested so far for background recording, this was the second-worst (the worst was the Honor 20 Pro). But what is surprising is that the Galaxy S10+ is performing much better. Given that Samsung got it right on the S10+, one would think that they could have done the same on the Note 10+.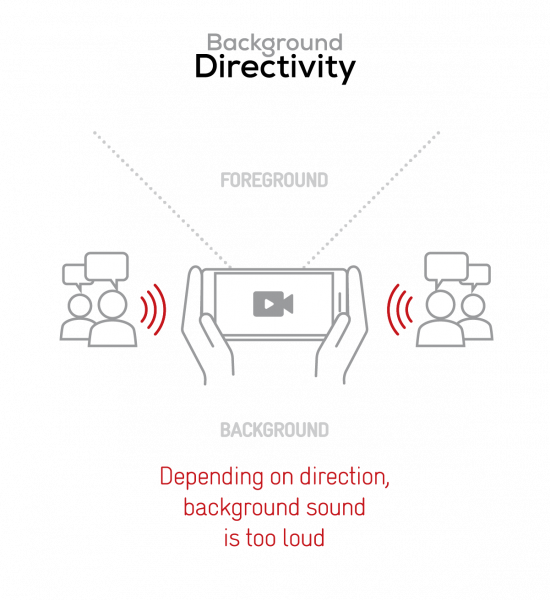 Poor background directivity
Conclusion: Decent playback, but poor recording
The Samsung Galaxy Note 10+ has a large high-definition display which simply invites the user to play movies—and its multiple cameras invite users to create video content of their own. It could be argued that Samsung has just about accomplished this for playback. The Note 10+'s playback of the files we use to test all our devices were, on the whole, rendered well by the smartphone speakers. Even so, at this price point, we would expect the device to do better for bass and volume.
However, the device performed much more poorly for recording than for playback. Audio recording was by no means terrible, but for a device that carries the "high-end" label, it should have better overall audio qualities. If Samsung is to close the gap between the Note line and the best devices, it will have to improve the audio performance across the board.
Playback
Pros
Good overall performance
Decent spatialization
Recording
Pros
SNR and envelope are above average
Good overall spatial performance
Recorded audio sounds natural with few disturbances
Cons
Poor tonal balance, muffled midrange and treble sounds
Many pumping, noise reduction, and distortion artifacts