The Galaxy Note20 Ultra 5G is Samsung's top-end model in the stylus-equipped Note line of large-format smartphones. It features a sizable 6.9-inch dynamic AMOLED display with a 1440 x 3088-pixel resolution and 120 Hz refresh rate, and is powered by an octa-core CPU and 12 GB of RAM internal memory. The main camera's triple-lens setup, which we tested some time ago, comes with a 108 MP sensor in the primary module and a whopping 120 mm-equivalent tele-lens.
The subject of this review, the Note20 Ultra's front camera, comes with a 10 MP sensor that is combined with a 26 mm lens and a dual-pixel autofocus system. In video mode, footage can be recorded at 4K resolution and 60 frames per second— impressive stuff for a front camera. Let's have a closer look and see if performance can keep up with the specs in our DXOMARK Selfie review.
Key front camera specifications:
10 MP 1/3.2″ sensor with 1.22µm pixels
f/2.2-aperture lens with 26 mm-equivalent focal length
Dual-Pixel PDAF
4K video at 30/60 fps, 1080p/30fps (tested at 4K/30fps)
About DXOMARK Selfie tests: For scoring and analysis in our smartphone front camera reviews, DXOMARK engineers capture and evaluate over 1500 test images and more than 2 hours of video both in controlled lab environments and in natural indoor and outdoor scenes, using the camera's default settings. This article is designed to highlight the most important results of our testing. For more information about the DXOMARK Selfie test protocol, click here.
Test summary
Scoring
Sub-scores and attributes included in the calculations of the global score.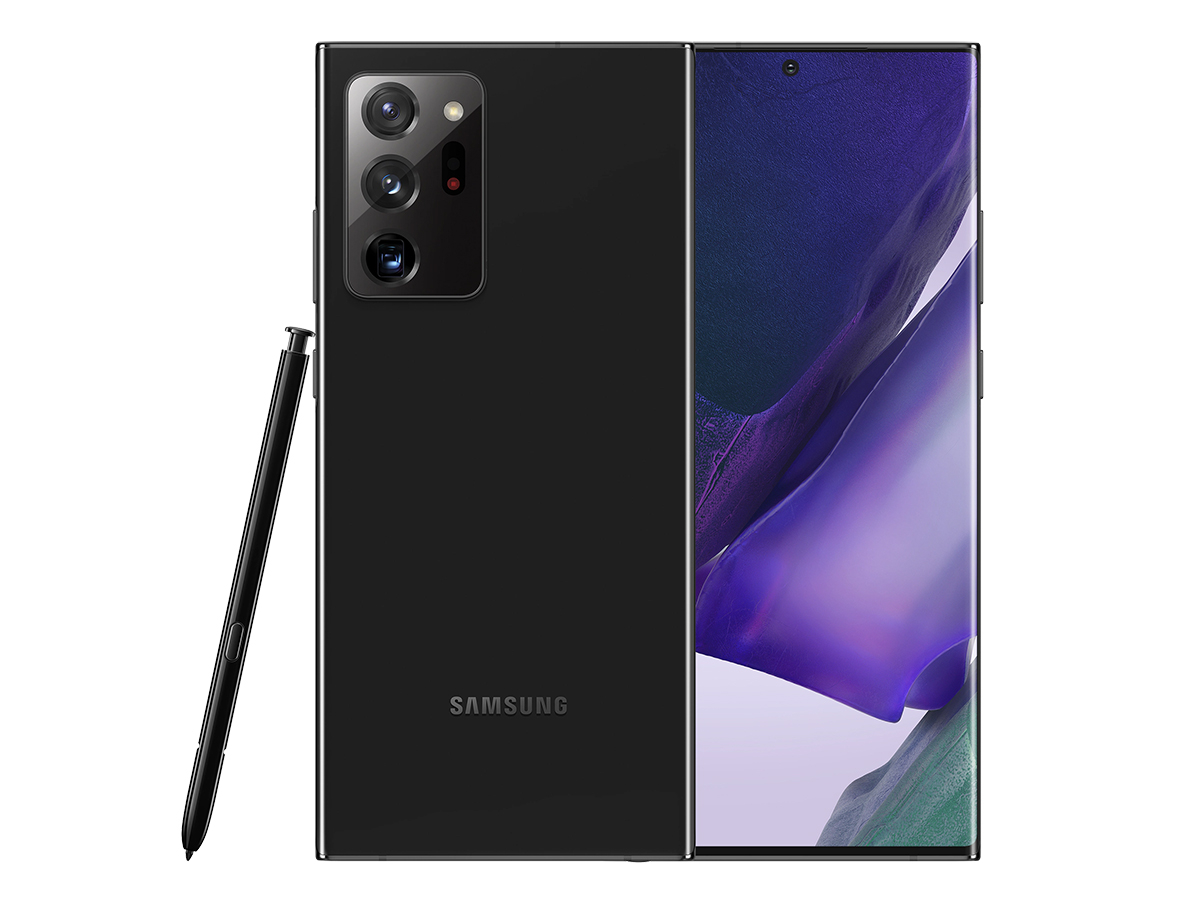 Samsung Galaxy Note20 Ultra 5G (Exynos)
136
selfie
Please be aware that beyond this point, we have not modified the initial test results. While data and products remain fully comparable, you might encounter mentions and references to the previous scores.
With a DXOMARK overall score of 100, the Exynos variant of the Samsung Galaxy Note20 Ultra 5G makes it into the top five in our Selfie rankings and achieves the same score as its cousin S20 Ultra 5G. The excellent Photo score of 104 is based on above-average performance across all image quality attributes.
The Samsung's front camera generally does well for exposure. Target exposure tends to be accurate and consistent across a series of shots. Dynamic range could be wider, but the camera is often able to avoid highlight clipping on the subject in difficult scenes by very slightly underexposing. The Note20 Ultra also captures overall nice colors, but our testers observed fairly frequent slight green or orange white balance casts when shooting in bright light outdoors or under typical indoor lighting. Skin tones can occasionally look a little unnatural, too.
Like all recent high-end Samsung devices, the Note20 Ultra comes with an autofocus system in its front camera. It's both accurate and consistent and helps get your face in focus whether capturing a close-up or shooting with an extended selfie-stick. The lens also offers a very wide depth-of-field. This means in group selfies subject at both front and back are rendered sharp and in travel selfies the background will be rendered with good detail.
While the autofocus is the camera's strongest point, texture and noise leave some room for improvement. A loss of detail and image noise can often be seen on faces, especially in sub-par light conditions. Noise is also visible in brighter light, albeit at reduced intensity. On the plus side, image artifacts are overall very well under control and won't have a negative impact on the quality of your selfie shots. Only some color quantization and a hue shift towards cyan in the sky can sometimes be visible.
Our testers also liked the Note20 Ultra's portrait mode that produces a nice-looking simulated bokeh effect with good separation of the subject from the background. The background blur looks nicely natural, too.
On the video side of things, the Samsung achieves a score of 95, which is only one point shy of the best score we have seen to date, making it one of the currently best smartphone options for vloggers and other selfie video shooters. Target exposure tends to be spot-on when recording in bright light or in interiors, but can drop a little in low-light conditions. Our testers liked the Samsung's colors in video. White balance has a pleasantly warm touch and skin tones are rendered naturally. Like for still images, the autofocus is a real plus in video mode, keeping faces in focus at any shooting distance and without pumping. In addition, the 4K footage offers plenty of detail; this said, however, noise is also visible in pretty much all conditions, even bright outdoor light. The Samsung's stabilization system does a good job at keeping steady in bright light but leaves some room for improvement when shooting video in indoor conditions or in low light, where your footage is likely going to be a little shaky.
Conclusion
The Samsung Galaxy Note20 Ultra has earned its position among the best in our Selfie ranking. Image quality is good across the board, with Samsung's autofocus system being a particular highlight. It keeps both still and video subjects safely in focus, and at the same time, the lens's wide depth of field ensures good sharpness on subjects and objects further back in the scene. Image noise in pretty much all conditions is the only real downside of the camera's still image mode. This is also an issue when shooting video, but you are more than compensated by the 4K footage's excellent detail and the stable focus, which make the Samsung one of the currently best devices for front camera video.
Pros
Accurate and repeatable exposure in most situations
Mostly accurate white balance
Accurate autofocus with wide depth of field
Pleasant bokeh effect with pretty accurate depth estimation
Good focus on face in videos
Good texture rendering in outdoor and indoor videos
Cons
Noise is visible in both stills and video
Occasionally unnatural skin tones
Lack of detail in indoor and low lighting
Slight underexposure in some low-light videos
Ineffective video stabilization indoors and in low light