The Galaxy S21 Ultra 5G is Samsung's top-of-the-line model, leading the S21 trio of phones. It has a 120 Hz AMOLED 6.8-inch quad-HD+ (3200 x 1440) screen that supports HDR10+ video. Here we're reviewing the global version of the phone, based on Samsung's homegrown Exynos 2100 chipset; there's also a Qualcomm 888-powered version sold in the US and China. Both versions come in three memory/storage configurations ranging from 12 GB RAM/128 GB storage to 16 GB/512 GB storage.
There are four cameras on the back, but selfie duties are handled by a single camera with an f/2.2 autofocus lens and a 40 MP sensor that bins down to 6.5 MP output at default settings. (If more than one face is detected in the scene, the field of view is automatically expanded, resulting in a 10 MP output file for group selfies.) Compared to the standard S21 5G, the Ultra comes with a larger sensor and therefore narrower depth of field. Read on to find out how it compares to the competition.
Key front camera specifications:
Primary 40 MP sensor, 0.7µm pixels
F/2.2-aperture lens with 80° field of view
Phase detection autofocus
Display flash
About DXOMARK Selfie tests: For scoring and analysis in our smartphone front camera reviews, DXOMARK engineers capture and evaluate over 1500 test images and more than 2 hours of video both in controlled lab environments and in natural indoor and outdoor scenes, using the camera's default settings. This article is designed to highlight the most important results of our testing. For more information about the DXOMARK Selfie test protocol, click here.
Test summary
Scoring
Sub-scores and attributes included in the calculations of the global score.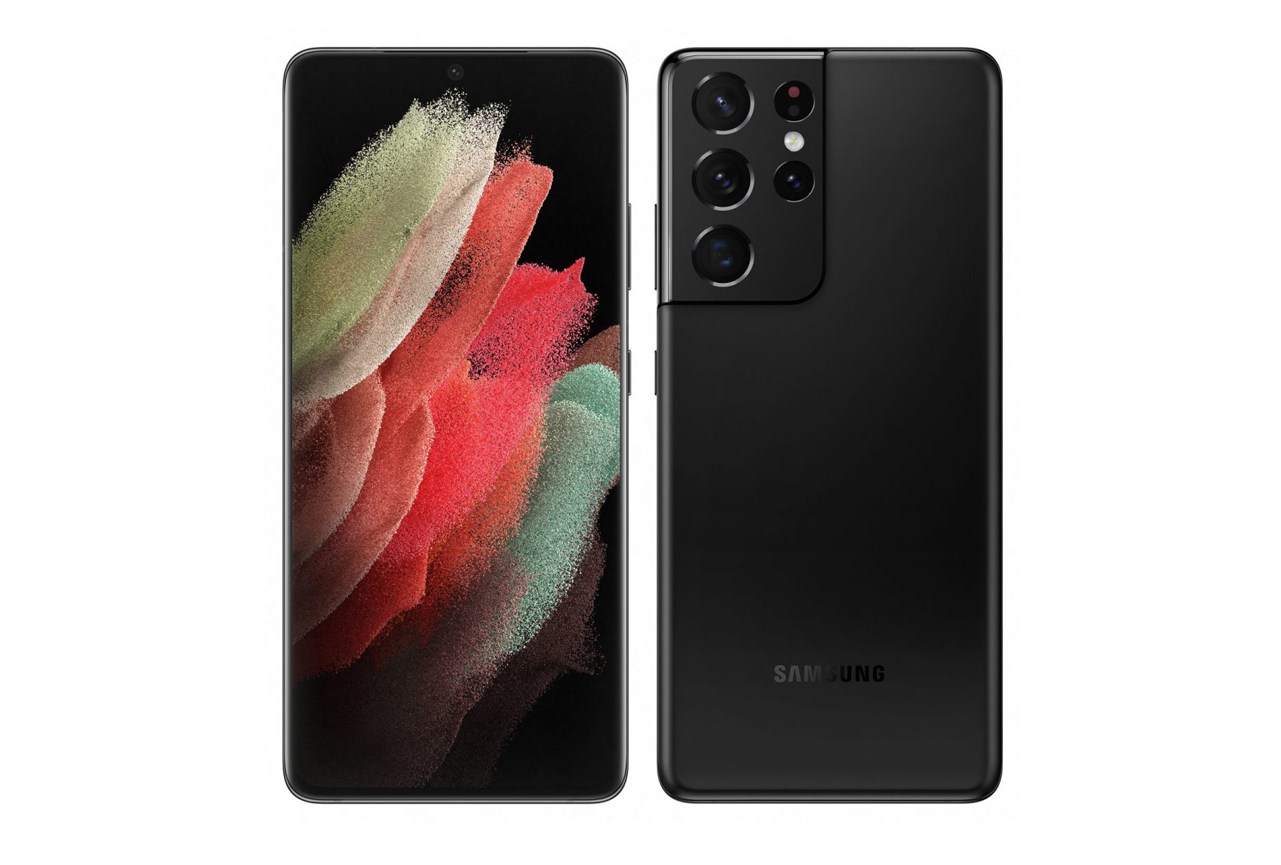 Samsung Galaxy S21 Ultra 5G (Exynos)
135
selfie
Please be aware that beyond this point, we have not modified the initial test results. While data and products remain fully comparable, you might encounter mentions and references to the previous scores.
With a DXOMARK Selfie score of 100, the Galaxy S21 Ultra 5G (Exynos) lands just a few slots below our top-scoring phone. It's a strong performance compared to the overall market but not a big improvement over last year's top-end Samsung phones. The Photo score of 105 is excellent and is based on high detail, wide dynamic range, and generally strong performance offset by few weaknesses (most notably high noise).
The Samsung Galaxy S21 Ultra 5G (Exynos) generally captures properly exposed selfies, even in low-light situations. Exposure is consistent, though our testers noted occasional underexposure at the 120 cm (selfie-stick) subject test distance. Dynamic range is quite wide, with the phone holding onto details in skies that some other phones blow out. Color is generally quite accurate, though sometimes in test scenes with a uniform colored background, the white balance runs too cold.
The S21 Ultra's front camera has accurate and consistent autofocus so there's no need to compromise between optimal focus for close-up shots and selfie-stick use, as in fixed-focus designs. The downside is that since depth of field is fairly narrow, faces farther behind the closest subject to the camera may be out of focus.
Detail levels are impressive, with the S21 Ultra (Exynos) earning a top-five score in this category as of this writing. Noise, on the other hand, can be visible in all conditions, even bright light. Like the non-Ultra S21, this phone's front camera prioritizes detail preservation over noise reduction.
Artifacts in selfies are very well controlled, with the S21 Ultra (Exynos) tying the non-Ultra S21 (Exynos) for a category high score, with our testers observing mostly negligible levels of flare and haloing. Testers also noted that in very low light, a chroma noise artifact can cause reddish areas to appear in the shadows on faces.
The S21 Ultra's display doubles as a flash in low light, but the results are not up to the output of most high-end phones we've tested, with haloing around the face, heavy vignetting, and high noise in the background.
The phone's portrait mode for simulating shallow depth of field is competitive with the better offerings currently available. Subject separation is reasonably accurate (no current solution is perfect in this regard, especially on the selfie side). Faces are nicely detailed but noise is not evenly distributed as you'd expect it to be in an image with organic background blur.
Tested at 4K and 30 fps, the S21 Ultra (Exynos) earns a Video score of 93, a bit lower than most current flagships — it ties with the Google Pixel 4, and comes in two points below the S21 (Exynos). That noted, performance is generally good.
Exposure is accurate, though in scenes with a wide range of brightness, it's a little slow to adapt to changes in light levels. Dynamic range is quite wide, though not quite up to a class leader like the iPhone 12 Pro. White balance is generally accurate, with a tendency towards the cool side. Skin tones are not very vivid but are tonally acceptable, though they can look unnatural in low tungsten light.
Detail is quite high, but noise is pronounced: the low noise score is the main reason the overall Video score isn't higher. Autofocus is fast and reliable, though as with stills, shallow depth of field can be an issue for group compositions. Artifacts are well controlled. Stabilization is generally acceptable, but our testers noted some occasional jerkiness during long pans.
Samsung Galaxy S21 Ultra 5G (Exynos), front camera video
Conclusion
Samsung's Galaxy S21 Ultra 5G (Exynos) is a capable selfie shooter. Stills and video quality is high overall, with the caveat that there's quite a bit more noise than we like to see, even in good light. While selfie performance is competitive with the market at large, it's worth noting that the new Samsung flagship is not an obvious upgrade over the top-end last-generation Samsung phones we've tested. Video performance in particular takes a small step backwards compared to the best 20-series phones we've measured, and even comes in below the standard S21 (Exynos). That said, few mobile photographers would be disappointed by this phone's selfies.
Pros
Lots of fine detail in stills and videos in bright to moderate light
Wide dynamic range in stills
Pleasant skin tones in stills
Accurate and consistent focus in stills and videos
Accurate video white balance outdoors
Cons
High noise in stills and video
Stills exposure sometimes low at 120 cm test distance
Rare white balance casts in stills with uniform backgrounds
Video exposure slow to adapt in HDR scenes
Skin tones in videos can be slightly unnatural in low tungsten light