Samsung today announced its latest top-of-the-line smartphone, the Galaxy S21 Ultra. The new flagship comes with an updated design and a whole bunch of improvements under the hood. The S21 Ultra is powered by Samsung's brand-new Exynos 2100 top-end chipset and is the company's first non-Note device to offer S-Pen stylus support.
The 6.8-inch WQHD+ display with a 20:9 aspect ratio should be great for composing, viewing, and editing images and videos, thanks to a high 3200 x 1440 pixel resolution and flexible frame rates up to 120 Hz. In addition, the panel offers a brightness of 1600 cd/m2.
In the camera department, the Galaxy S21 Ultra comes with a major improvement over its predecessor S20 Ultra—replacing the latter's 103 mm-equivalent periscope tele-lens with a dual-tele setup. A 70 mm lens takes care of medium-range tele shots, while a 240 mm juggernaut allows for extremely long tele zooming. Both the primary wide and ultra-wide cameras look more similar to last year's model but come with more subtle improvements. Let's have a closer look at the Samsung Galaxy S21 Ultra camera.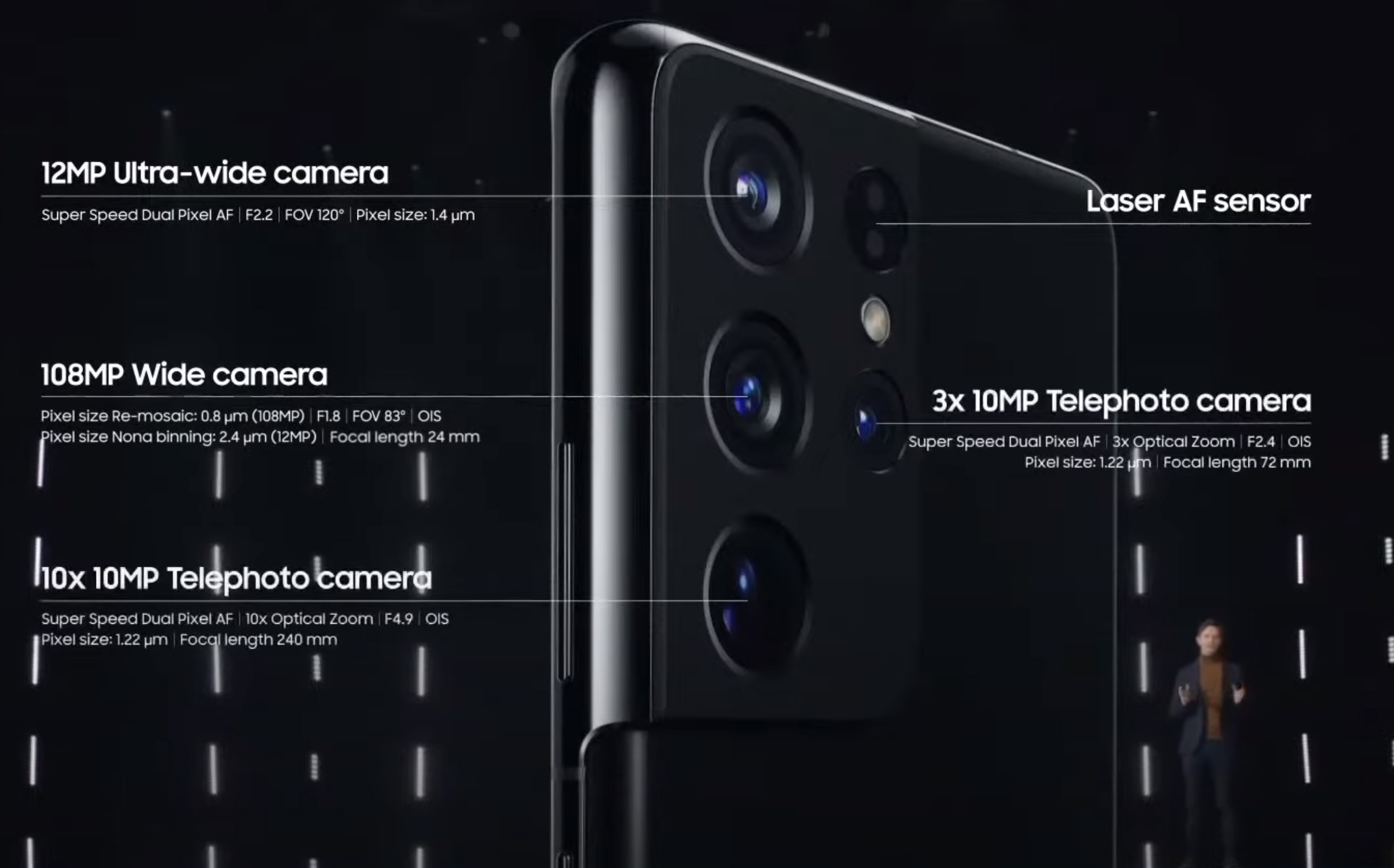 The new flagship features a dual-tele setup.
Improvements over the predecessor
While the S21 Ultra's predecessor, the S20 Ultra, definitely wasn't a slouch in terms of imaging, it did not quite reach the lofty heights in the DXOMARK Camera ranking that most of us expected, given Samsung's track record and the device's impressive-looking spec sheet. This meant there was room for improvement in a number of test categories, which all impacted the final score.
Compared to the best in class, the S20 Ultra's primary camera lacked dynamic range and was not quite at the top level for texture rendering or in terms of texture/noise tradeoff. Our testers also found that the autofocus slowed down in high-contrast conditions, with a noticeable delay in locking focus compared to some competitors.
The phone offered an excellent ultra-wide camera, but the combination of the primary wide camera with its 26 mm lens and a fairly long 125 mm tele-lens caused image fusion issues at intermediate zoom settings around 85 to 100 mm. For close-range tele zooming, the camera used only digital zoom, with results that did not compare favorably to some direct competitors.
Will the new dual-tele solution and other improvements be enough to lift Samsung back up to image quality leadership? Our experts have had a close look at the new device's camera specifications and offer their opinion here.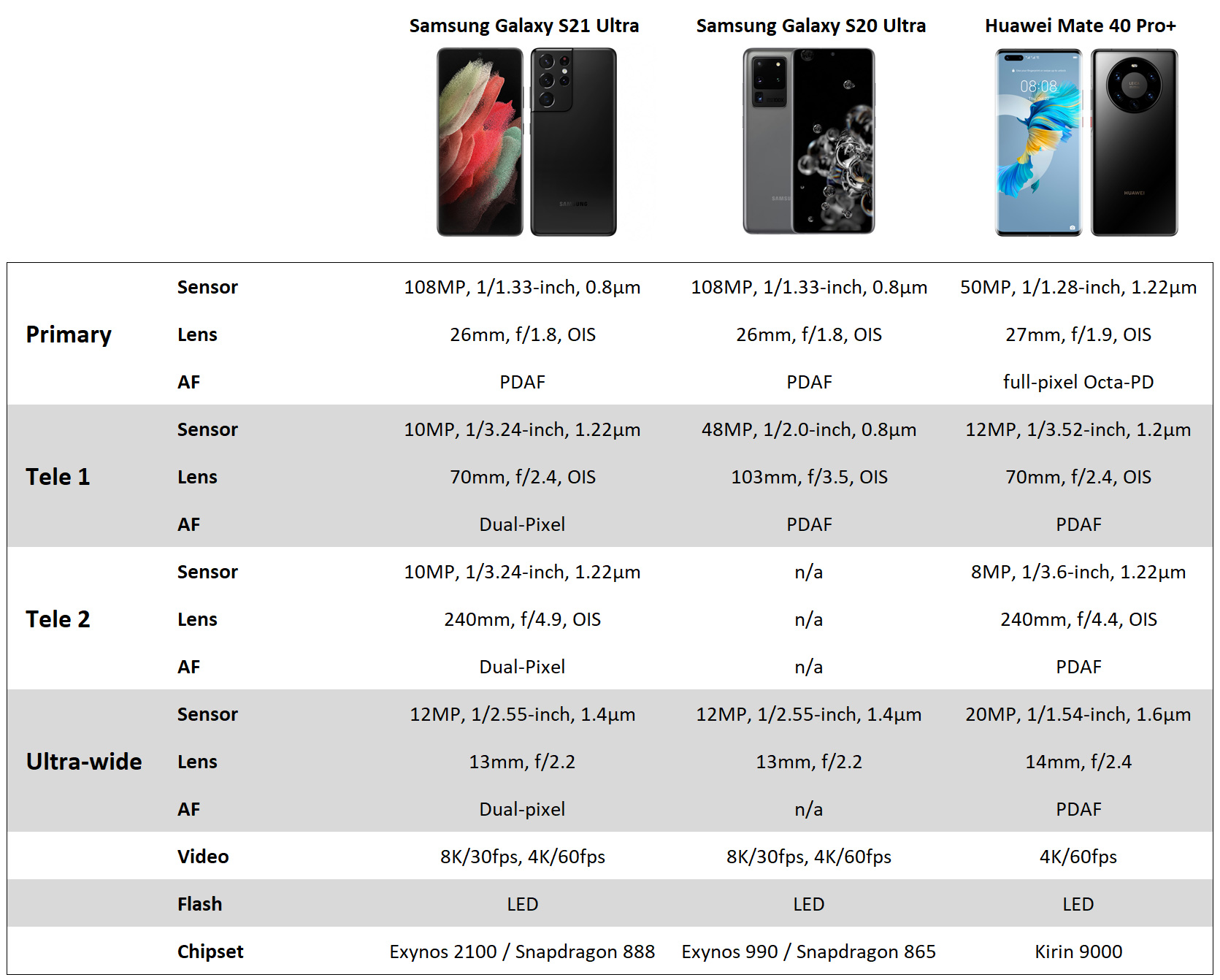 Camera: New chipset adds processing power and four ISPs
The chipset is likely not the first component that springs to mind when talking about potential camera performance. However, given that it supplies all image processing power and features, it is an essential component in the imaging pipeline. The Galaxy S21 Ultra uses the brand-new Exynos 2100 chipset in its international version and Qualcomm's Snapdragon 888 for the USA, China, and Korea.
On paper, the two chipsets look pretty close in terms of imaging features and should deliver a comparable performance. Both variants are capable of managing multiple ISPs (image signal processors) (4 for the Exynos, 3 for the Snapdragon) in parallel now, which is an improvement over previous versions. The ability to capture three or four image streams in parallel offers the potential for smoother zooming and more powerful image fusion algorithms. In theory, the S21 Ultra Exynos version could combine image data from all four cameras to create the final output image file, allowing for higher dynamic range, lower noise, and better detail (among other things).
Primary camera: Updated sensor
Samsung says the S21 Ultra comes with an updated sensor in its primary wide-angle camera. With a 108 MP pixel count and 1/1.33-inch size the main specs are the same as on the S20 Ultra but Samsung says it is using an updated remosaicing algorithm to compute RGB values for all pixels.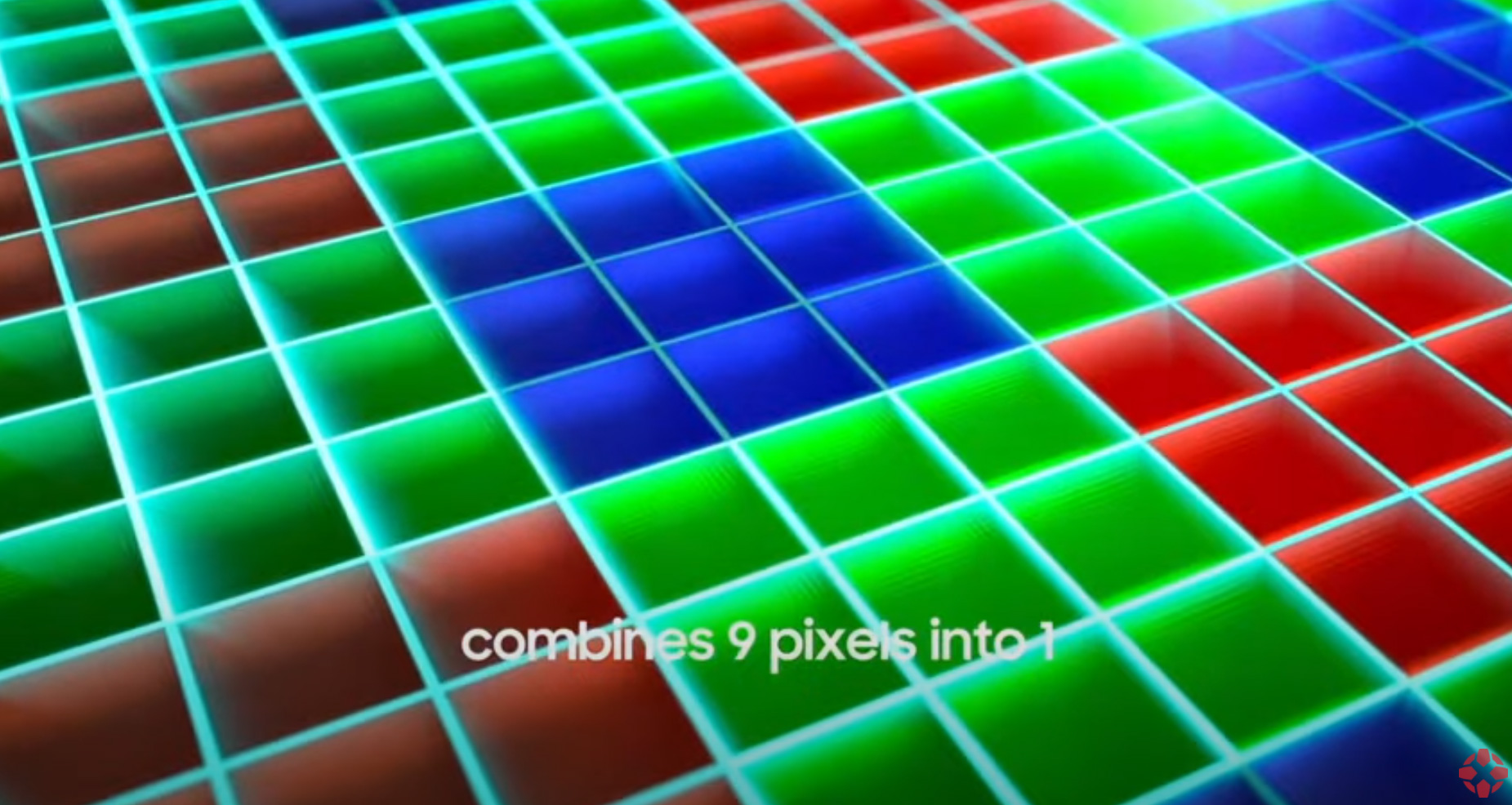 The sensor's nona-binning uses an updated remosaicing algorithm.
The sensor is similar in size to some direct rivals, such as the Huawei Mate 40 Pro+ and the Xiaomi Mi 10 Ultra, meaning that its light-gathering capabilities will be comparable.
Like on the S20 Ultra, the new model's nona-binning technology of the sensor produces 12 MP output images (by binning 9 pixels into 1) versus 27 MP with a more conventional Quad-Bayer sensor, and given the updated remosaicing algorithm we would expect to see improvements in several areas, including texture, noise and dynamic range, while providing more than enough resolution for photo capture and video.
This said, the 12 MP output could become a limitation when digitally zooming at close distances. For this kind of application, quad-binning would be the better choice, as it offers more image detail to zoom into. It doesn't provide enough resolution for stabilized 4K video footage, however, which makes some sort of upscaling method and the associated loss of image detail a necessity. This is because it is necessary to crop between 15 and 30 percent of the original frame for effective electronic video stabilization. It's worth mentioning that Samsung isn't the only manufacturer facing this dilemma; for example, the Huawei Mate 40 Pro+ and the Apple iPhone 12 Pro Max both offer 12 MP final output as well.
On the other hand, nona-binning makes a better combination with the new dual-tele setup than with the S20 Ultra's single tele module. With the S20 Ultra's fairly long 125 mm tele-lens, a lot of the image data at medium zoom ranges had to be provided by the primary camera through digital zooming. This requires image resolution. With the S21 Ultra's new 3x tele lens, the resolution requirements on the primary camera are now lower.
There are no obvious improvements in terms of autofocus hardware on the Galaxy S21 Ultra. The specifications are already among the best, though, and hopefully the autofocus issues we observed on the S20 Ultra have been solved through improved software tuning. Software tuning and the integration of the new ISP on the S21 Ultra could also help improve dynamic range and noise management over its predecessor.
Ultra-wide camera: Now with autofocus
The ultra-wide camera now comes with a Dual-Pixel autofocus system which should have a positive impact on sharpness and help achieve a shorter minimal focus distance. Other than that, with a 12 MP 1/2.55-inch sensor and f/2.2-aperture lens with 13 mm field of view, the specifications of the ultra-wide camera on paper have not changed compared to the S20 Ultra. The latter already provided excellent ultra-wide camera performance, combining a wide field of view with good overall image quality, especially in bright light conditions.
However, some limitations were noticeable in indoor conditions and in low light, where the Samsung wasn't quite on the same level as the very best. It will be interesting to see if the new ISP and improved processing software will give the S21 Ultra a boost in these areas and help it jump to the top of the Wide ranking.
Tele-cameras: Dual modules for better quality across the zoom range
The tele category is where the improvements on the Galaxy S21 look most promising, mainly due to the addition of a secondary tele-lens. This means the camera has more image data to work with (and to use for image fusion) across the zoom range. This should specifically make a difference at the most used zoom ratios between 1 and 10x.
The long tele lens features a periscope design.
For close-range (2x) tele, which uses digital zoom only, image quality will depend mostly on the performance of the primary camera (although fusion technology could be used to combine image data from two more more sensors), but from a 3x zoom factor onwards, we would expect an improvement over the S20 Ultra and an overall performance on levels similar to the best in class, thanks to the addition of the new short tele with its 70 mm-equivalent focal length.
At medium range (80–135 mm), the short tele should also help deliver very good results, but performance at these zoom settings will also depend on the effectiveness of the short tele-camera's optical image stabilization system.
For long-range tele zooming (140 mm and longer) it remains to be seen how the new model can handle zoom ratios between 7 and 10x. At these ratios, image data from both tele cameras has to be fused for optimal results, with data from the long tele used at the center of the frame and the edges filled with image information captured on the short tele. If not done well, this fusion can result in visible artifacts, some of which we saw on the S20 Ultra when it fused image data from its primary and tele cameras for intermediate zoom settings.
Once you go higher than 10x, the long periscope-style tele camera looks promising, and we expect it to deliver high levels of detail in bright light. A small sensor and aperture likely mean a drop of image quality in indoor conditions and in low light, though. This said, such long tele ratios are unlikely to be used much indoors.
With two dedicated tele-lenses, the zoom smoothness of the preview image can also be a challenge, but we expect the new chipsets' ability to capture four image streams simultaneously will deliver good results in this regard.
Two tele modules and new software should make a difference
The Samsung Galaxy S21's headline improvement in terms of camera is the dual-tele setup, which should improve image quality and produce fewer fusion artifacts across the entire tele zoom range. We'd also expect that some of the shortcomings we saw on the S20 Ultra's primary camera, such as a lack of dynamic range and a sub-optimal texture/noise tradeoff, to be improved by the updated remosaicing of the sensor and new and more powerful chipsets with integrated ISPs. Improvements on the ultra-wide camera should be fairly minor and mainly down to the new autofocus, though.
We will test both the Exynos and Snapdragon versions of the S21 Ultra as soon as we can get our hands on test units, so be sure to check back soon.