The Smartisan Pro 2S is the Chinese manufacturer's latest model and the first Smartisan device to feature Qualcomm's brand-new Snapdragon 710 upper mid-range chipset. The smartphone also comes with a 5.99-inch notch-less display, 6GB of RAM, and 64GB of internal storage, and in the rear you'll find a 12MP+5MP dual-camera setup with dual-pixel autofocus. We've put the Smartisan Pro 2S camera through our comprehensive DxOMark Mobile testing process; read the full report to find out how it performed.
Key specifications
Dual camera
Primary camera: 12Mp 1/2.55″ Sony IMX363 sensor; f/1.8 aperture, 27mm-equivalent focal length
Secondary camera: 5MP sensor
Dual pixel and phase detection autofocusing (PDAF)
LED flash
Test summary
With a DxOMark Mobile score of 91 points, the Smartisan Pro 2S does well in our ranking, placing just below the Apple iPhone 8 and scoring one point better than the original Google Pixel. The device also achieves a very good Photo score of 95 points, and there is a lot to like about its still image output. In our laboratory and real-life tests, samples generally showed good exposure as well as vibrant and fairly neutral colors. The camera engineers also found a good compromise between detail and noise reduction, with images showing nice textures and only small amounts of luminance noise when shooting in bright light and in typical indoor shooting conditions.
Our testers also liked the Smartisan's flash images, which are usually well-exposed, with very little light fall-off towards the edges of the frame; and they also liked the performance of the dual-pixel autofocus system, which is capable of capturing well-focused images in all light conditions.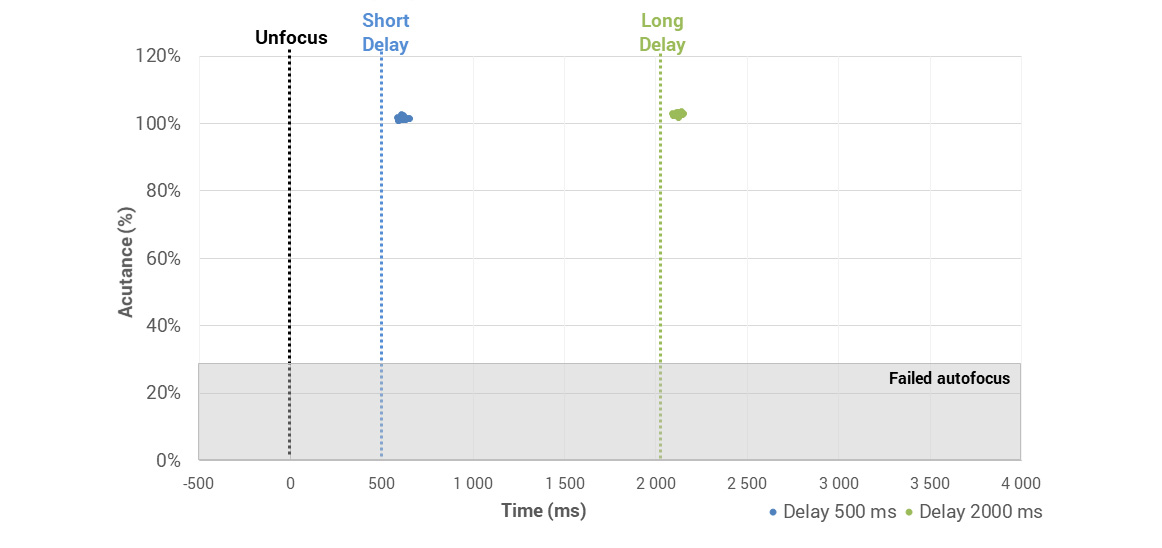 Smartisan Pro 2S autofocus performance at 20 lux
Despite the overall good still image performance, there is some room for improvement — most noticeably, the Pro 2S lacks dynamic range, which can mean blown-out highlight areas and a lack of detail in the shadows when capturing high-contrast scenes. The Smartisan also struggles with exposure In very low light. For example, our 5 lux studio shot was slightly underexposed, which isn't the case for most of the Smartisan's direct competitors.
Although the Smartisan's color response is generally good, we frequently saw a quite noticeable pinkish color cast in blue skies, which can be a little problematic if you shoot a lot of landscape images.
We also found a few image artifacts in our sample images, the most noticeable being a loss of sharpness in some areas of the frame. Under close inspection, textures looks noticeably softer in some areas than in others. This won't be a problem if you use these images for social media or at web-resolution, but it's worth keeping in mind if you are planning to make larger prints. With a strong light source inside the frame, the Smartisan camera also has a tendency to produce a pretty intrusive flare effect, and color fringing can be found along some high-contrast edges.
More artifacts become visible when using the digital zoom function. In many zoom images we observed "splits" across the frame, something we have not seen before on any other device. The levels of detail in zoom mode are quite low as well, as you can see in the sample below, taken at a medium range zoom factor. In essence, zooming is arguably best avoided whenever possible.
The Smartisan uses its secondary lens for depth-sensing and creating an artificial bokeh mode. The results are quite good, with decent separation of foreground subject and background — so long as the scene is static. The mode has some problem with moving objects, however, which are often blurred even when located in the same focal plane as the main subject. In practice, this means your portrait subjects should try to remain still for best results in bokeh mode.
The Smartisan Pro 2S doesn't quite do as well In video mode as for photos, but 85 points is nonetheless a solid result. Our testers especially liked the good stabilization that allowed for steady and smooth footage when panning, walking or holding the camera still. The camera is also capable of adapting exposure quickly to changing light levels during recording.
As with stills mode, the Pro 2S maintains a good compromise between texture rendition and noise reduction in most situations, and color rendering is pleasant, with mostly neutral white balance. The autofocus is fast and repeatable, but focus is sometimes lost during tracking, making the video mode more useful for static scenes and slow-paced motion.

Average L* on 18% gray evolution for a transition from 350 to 250 lux: Exposure transition in changing light conditions is very fast.
A major problem in video mode is an artifact that our engineers are calling "scene integrity," which is when the motion in certain areas of the frame are not synchronized with the motion in neighboring patches. The effect is quite intrusive In certain scenes, meaning that the Smartisan would not be our first choice for panning shots. In addition, white balance and exposure can be a little unstable when panning or walking, and we see the same dynamic range issues as in still image mode.
Conclusion
In most Western markets you'll probably struggle to get your hands on the Smartisan Pro 2S, but if the device is available in your region, it offers solid imaging performance at a price point that is well below comparable models from more established manufacturers. Images and video footage mostly show good exposure and color as well as a decent detail/noise trade-off. If you can live with the camera's shortcomings, such as the under-par zoom performance and the artifacts that appear when panning in video mode, the Pro 2S is well worth a closer look if you are a mobile photographer in the market for a new handset.
91
mobile
Pros
Photos are generally well-exposed
Accurate and fast autofocus
Mostly neutral colors
Image noise is well-controlled
Pros
Good color
Fast exposure transitions in changing light conditions
Efficient image stabilization
Good color rendering and fairly neutral white balance
Cons
Limited dynamic range leads to highlight and shadow clipping
Blue skies tend to show a pinkish cast
Low levels of detail and artifacts when zooming
Cons
Highlight and shadow clipping
Quite intrusive "scene integrity" artifact
Autofocus struggles with tracking
Some white balance and exposure instabilities when walking/panning