Qualcomm's latest-generation top-end smartphone chipset, the Snapdragon 888 was launched back in December. It's Qualcomm's first chipset produced using a 5nm lithography process that offers higher transistor density and therefore more computing power than its 7nm predecessor, the Snapdragon 865.
It also means Qualcomm is catching up with Apple and Huawei who have already been using 5nm technology in their A14 Bionic and Kirin 9000 chipsets, respectively. The Apple chipset has been used in the iPhone 12 series and Huawei has implemented the Kirin 9000 in the Mate 40 Pro, among other devices. The first Snapdragon 888 devices have already been announced, among them the Xiaomi Mi 11 and the Samsung Galaxy S21 Ultra (Snapdragon version).
We're planning to publish a review of both the Xiaomi and Samsung phones, along with other Snapdragon 888 powered devices, in the near future; in the meantime, let's have a closer look at what Qualcomm claims the new chipset brings to the table in different areas of smartphone performance.
Display
Qualcomm claims the new Snapdragon 888 chipset will offer quicker response times when gaming. The company says the 888 offers a 10% improvement when playing games at 120 fps and up to 20% at 60 fps compared to the Snapdragon 865. As touch response is something DXOMARK evaluates in its Display protocol, it will be interesting to see how 888-powered devices measure up in this regard.
Audio
The Snapdragon 888 platform comes with AI accelerated voice functions such as voice activation, voice call, and conversational AI. These AI features are used to handle the audio feed from the microphones (up to 4 supported) to improve voice quality, and for use with smart assistant apps and voice calls.
These new AI audio features are also offloaded to the always-on 2nd generation Sensing HUB, which provides ambient services when the smartphone is idle and the application processor is asleep — for example, keyword voice activation, pick-up, and fall detection. This offloading reduces the load on the main Hexagon DSP and improves battery life while while hot word detection ("OK, Google" or "Alexa") is still active.
The 888 platform interacts with the latest Qualcomm Aqstic speaker amp and audio codec chips, WSA883X and WCD938X, respectively. The Aqstic smart speaker amp is capable of delivering 4W of power to the speakers while protecting them from damage due to high volume.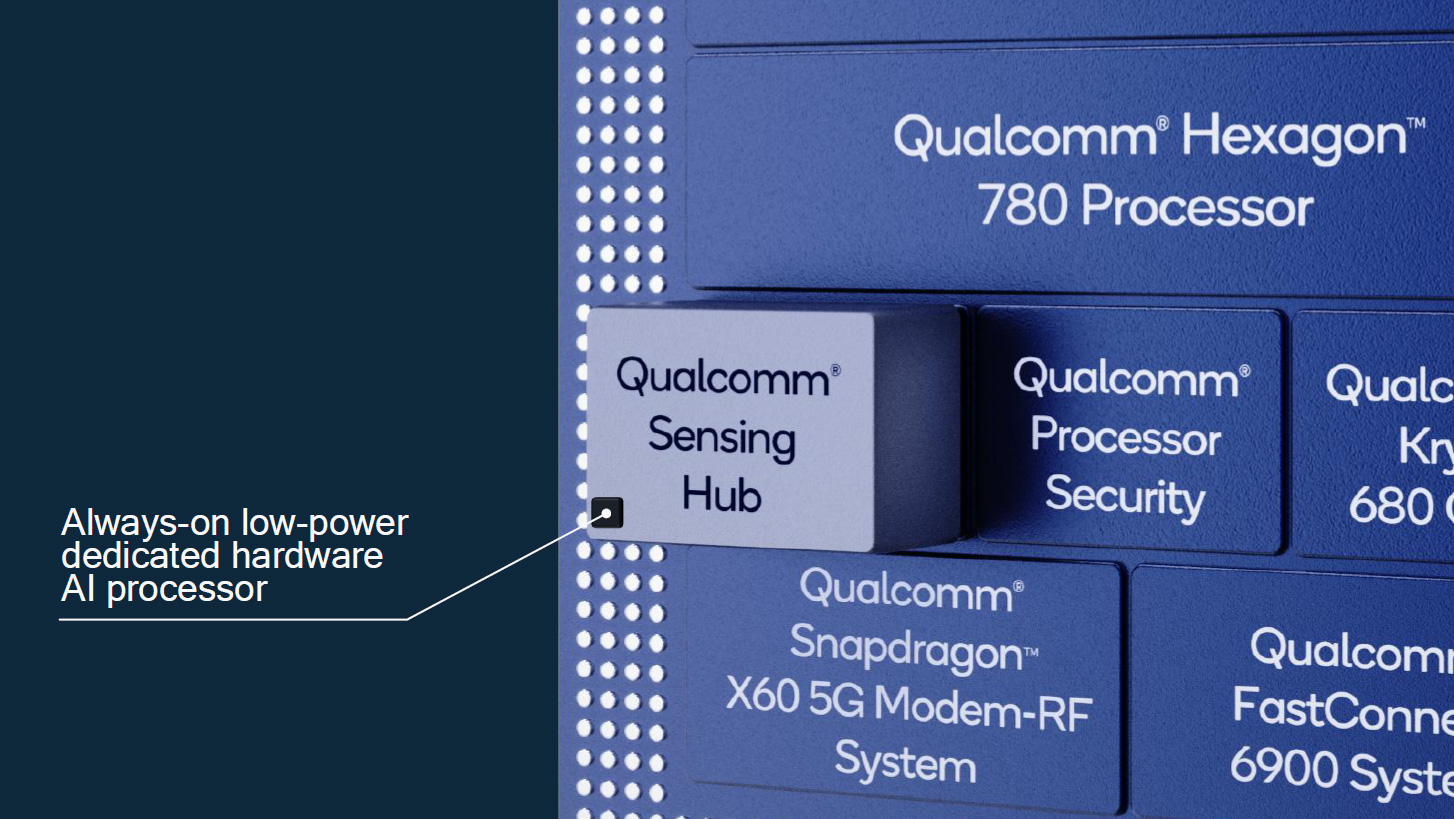 Thanks to the Qualcomm Sensing Hub, 888-powered devices can listen for voice commands while the main processor is asleep.
On the audio codec side, the Aqstic Audio Codec is capable of delivering 384 kHz / 32 bit Hi-Fi audio with extremely low distortion to a jack output. The codec is also capable of capturing what Qualcomm call HDR Recording, aiming to record all the dynamic range of the audio signal in most difficult situations like live concerts.
While not all updates directly improve the user experience when playing music and video content on 888-powered devices, being able to record clear audio signal in difficult sound environments, in addition to the improved hot word detection and reduced battery consumption, should improve the overall user experience.
The new HDR audio recording mode(s) will certainly be a focus in our future reviews on smartphones using the updated Aqstic Qualcomm audio codec.
Camera
Let's now dive into the area where the new chipset appears to offer the highest level of innovation: the new ISP (image signal processor) configuration.
The integrated Spectra 580 CV-ISP features a triple-ISP configuration, one more than the previous-generation chipset. This not only allows for processing a lot more image data but also for processing it in different ways.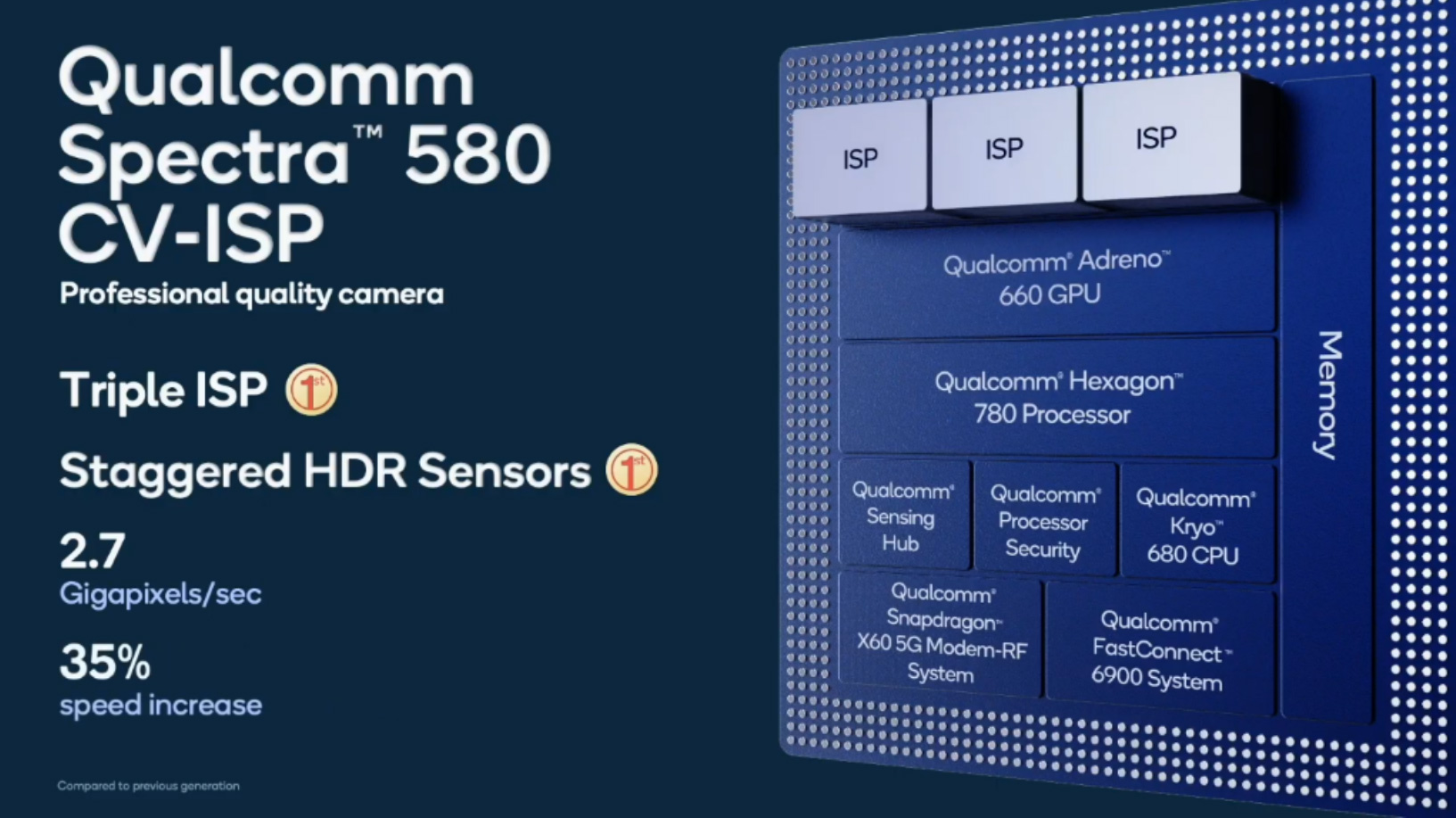 Spectra 580 CV-ISP features
Now along with the additional image processing pipeline comes off-the-shelf support for staggered HDR sensors that can record several exposures at the same time. Qualcomm claims to use the latest technology in color, computer vision, and artificial intelligence. Combined with the 2.7 Gigapixels/sec processing power and a 35% speed increase over the Snapdragon 865, we are expecting to see excellent imaging from Snapdragon 888-powered devices.
Qualcomm is not without competition, though. Like the Snapdragon 888, Huawei's Kirin 9000 chipset also supports multi-exposure HDR video, object segmentation, and enhanced noise reduction technologies. Dolby Vision, which has been available on Qualcomm chipsets since the Snapdragon 865, is also available on Apple's A4 Bionic at 60 fps alongside ProRAW video editing.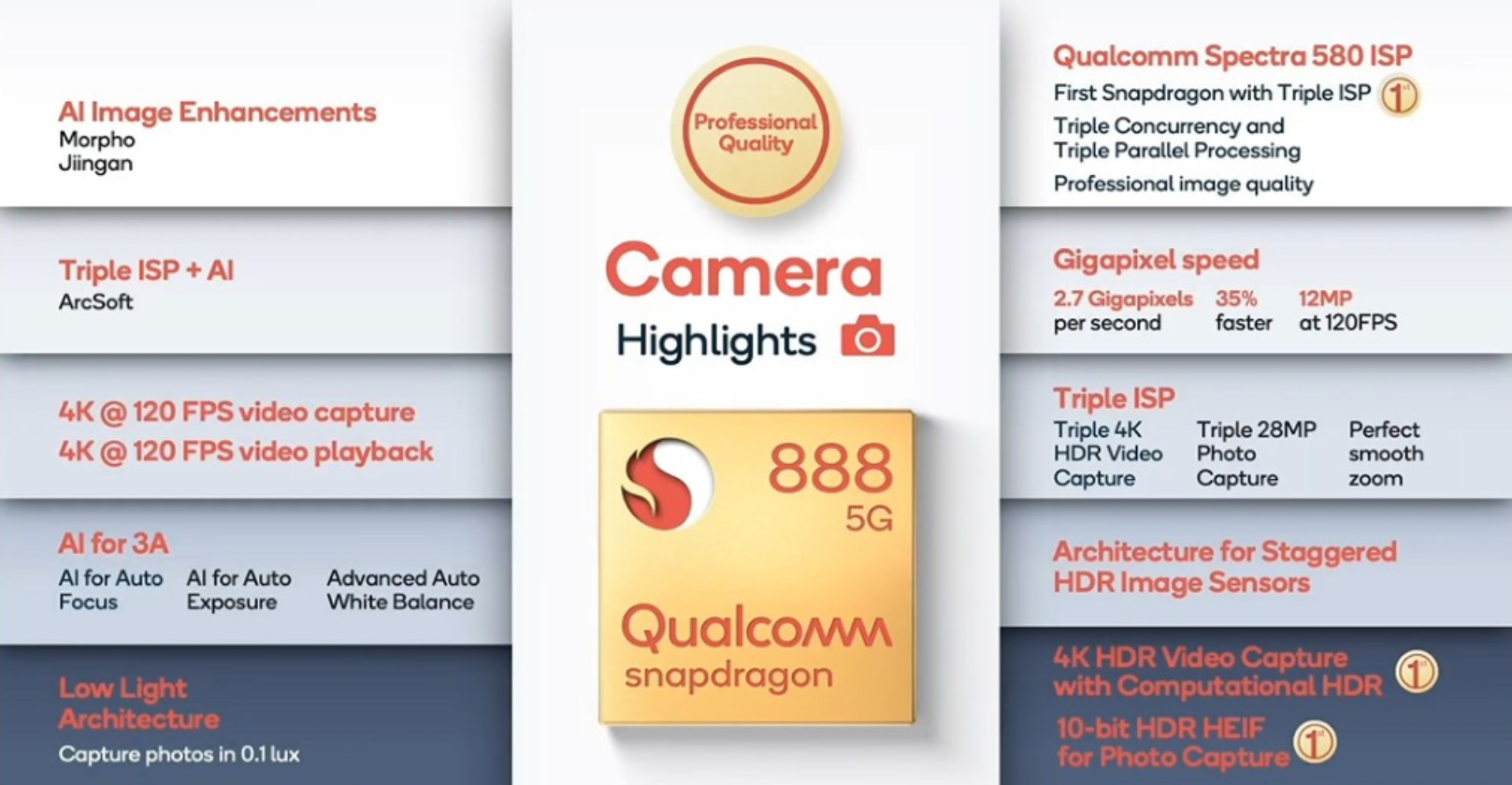 Overview of Snapdragon 888 camera features
Let's have a closer look at the Snapdragon 888's most important new imaging features.
Triple ISP and more processing power
The new chipset comes with one more ISP than its predecessor, which means it can manage more concurrency and parallel processing. For example, this can result in smoother zooming and better results when fusing image data from two or more cameras than would have been possible with the dual-ISP configuration of previous Snapdragon chipsets.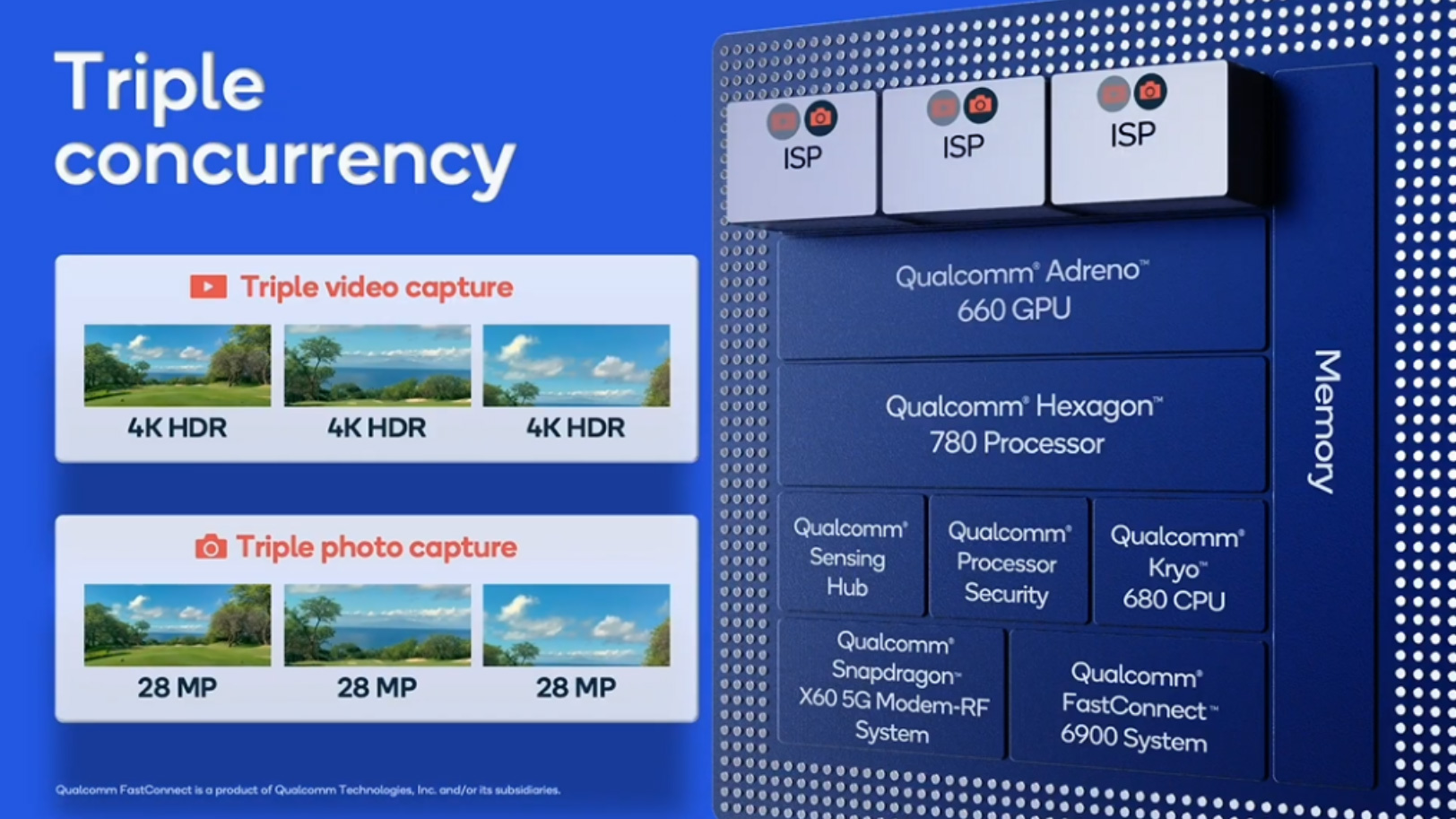 Snapdragon 888 triple ISP features
The new chipset's increased processing power can be used to process captured frames faster, allowing for more image data to be processed in a given amount of time. This should allow for better results of multi-frame algorithms for noise reduction, HDR rendering, and similar applications.
Qualcomm promises capture of up to 120 12 MP photos in one second. There is also the option of recording three HDR video streams at 4K resolution or 28 MP still images at the same time.
ISP "Smooth Zoom" and preview
One of the triple ISP's highlights is what Qualcomm calls ISP Smooth Zoom. The availability of a dedicated ISP for each camera (ultra-wide, wide, and tele) allows for smooth transitions between those cameras and across the zoom range.
With the previous dual-ISP configuration, the system had to guess which camera to keep active in the background, which sometimes produced a noticeable lag when zooming in or out.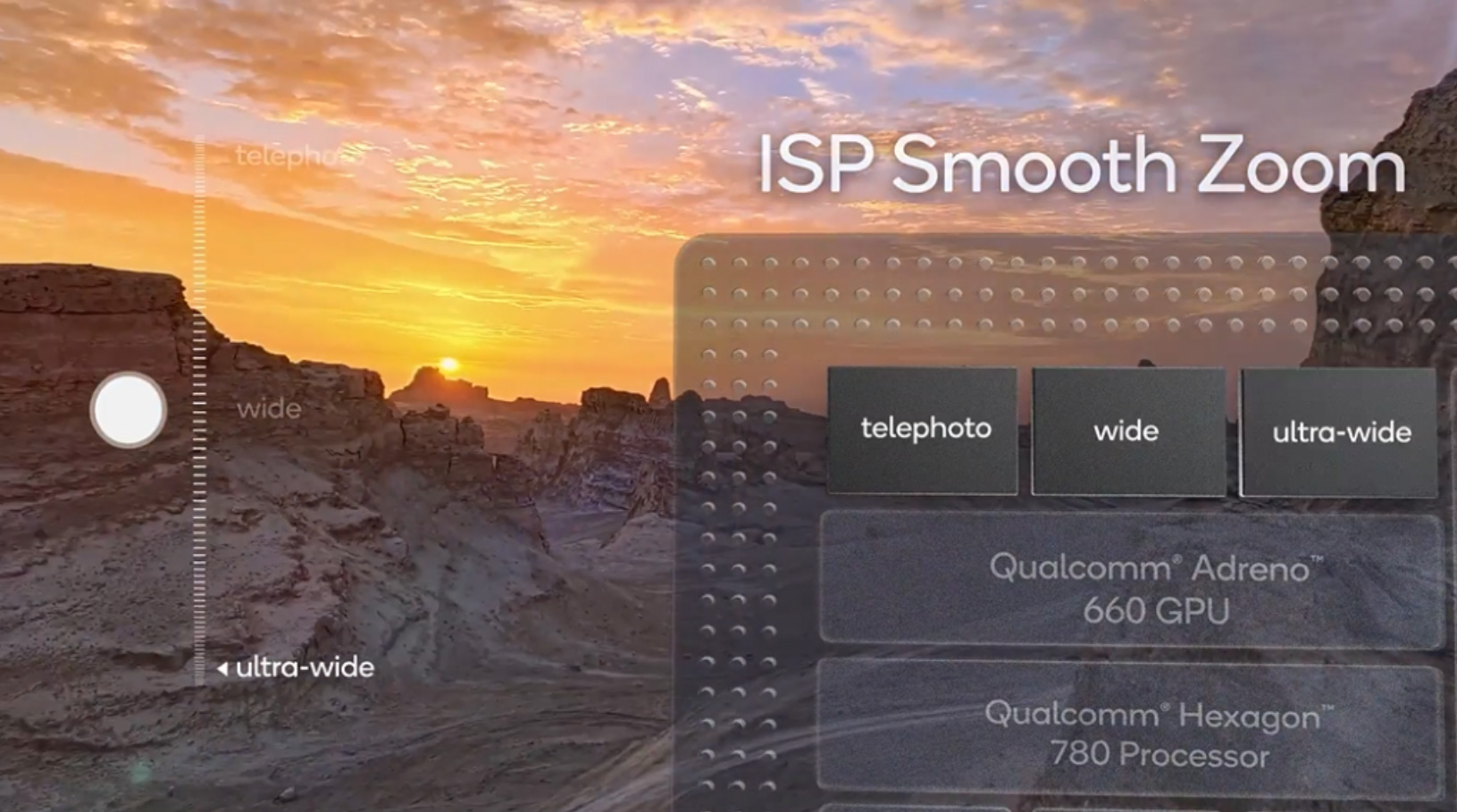 ISP Smooth Zoom allows for smooth transitions between cameras when zooming in or out.
ISP Smooth Zoom works by connecting each of the cameras (ultra-wide, wide, and tele) to one of the available ISP pipelines. Only one camera stream is visible on-screen at any given time, but when zooming in or out, the processors switch cameras seamlessly, without any noticeable lag.
To achieve this requires syncing the auto exposure, white balance, and focus of all cameras. In addition, there must be perfect alignment of the field of view of all the lenses the camera is transitioning to and from.
Among current devices, Apple's iPhones arguably provide the best user experience in terms of zoom smoothness from ultra-wide to tele. Devices equipped with the "old" Snapdragon 865 chipset that comes with only two ISPs noticeably struggle more with this task.
Apple iPhone 12, good zoom smoothness
Oppo Find X2 Pro (Snapdragon 865), zoom smoothness
Huawei on the other hand has multiple ISPs available on its latest chipset but does not manage to provide the same level of zoom smoothness. So while additional ISPs can potentially improve zoom smoothness, this is by no means guaranteed.
In addition to smoother zooming, the new chipset may also provide improvements to image data fusion between cameras when zooming and therefore better texture rendering at all zoom settings.
WYSIWYG on the preview image is another challenge on current devices, especially for HDR scenes. This is because many devices use HDR software that is not available in the live view image — for example, Google HDR+. The new chipset might use a parallel imaging pipeline to simulate the final capture and provide a more accurate live preview on the phone's display while the user is framing the shot.
Currently Apple's iPhones provide the best preview capabilities. On the other hand, they come with slightly less effective HDR processing than the best in class. Overall this means that the difference in terms of HDR processing between preview and capture is a lot less visible than on devices that provide higher dynamic range in capture and lower dynamic range in the preview image.
Low-light architecture capture
Another feature that Qualcomm mentioned at the Snapdragon 888 launch event is its "Low Light Architecture" mode that makes image capture possible at the extreme low light level of 0.1 lux. We assume that noise reduction and detail enhancement algorithms can take advantage of the triple ISP's increased processing power in this mode and process a larger number of frames than before.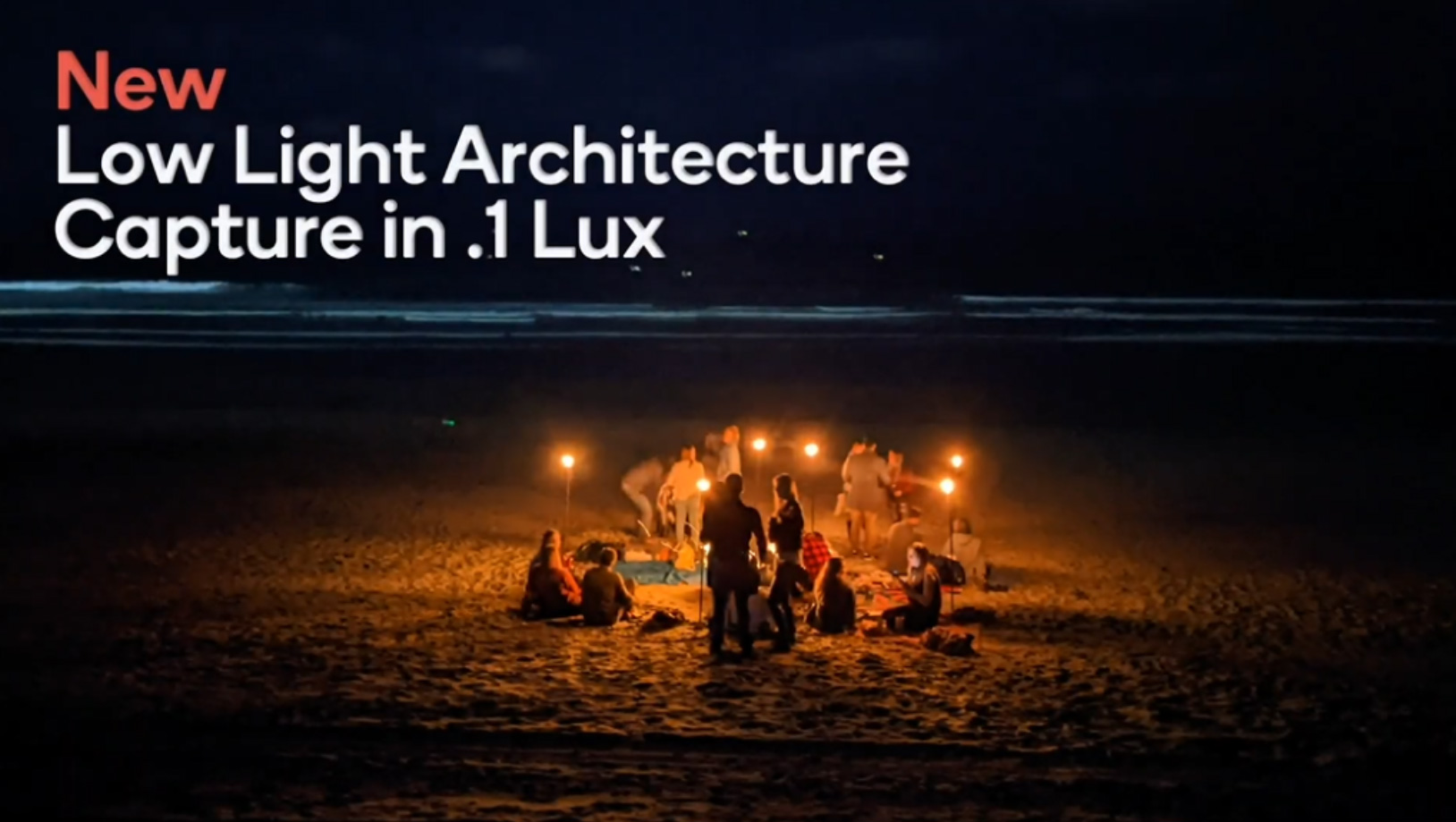 Snapdragon 888-powered phones can record images in extreme low light.
Stacking multiple frames of the same scene allows for noise removal and rendering of detail that would otherwise be lost.
Huawei has been the long-time champion in the DXOMARK ranking in terms of low-light image quality. Apple iPhones are good at low-light photography as well, but can't quite keep up with the very best in our Night category.
It will be interesting to see results from Snapdragon 888 devices, but low-light image quality does not only depend on the chipset. Third-party providers such as ArcSoft, Morpho, and Visidon work closely with Qualcomm in order to provide additional imaging features, especially for night and low-light capture. The image results of a specific device therefore often depend on a combination of Qualcomm technology and third-party solutions.
Computational HDR
Until now, 10-bit HDR video has been captured directly from the sensor, and HDR techniques of using exposure bracketing or single exposure time frame fusion (as with HDR+) are used to deliver a tone-mapped 8 bit file for still images.
Thanks to the new chipset's support of staggered HDR sensors, Snapdragon 888 devices will have the ability to capture computational HDR data for both video and photo. Staggered sensors capture three different exposures for each frame and process them in order to produce a higher depth information stream in real time. The fusion of the three frames can either be performed directly in the sensor or in the ISP, depending on sensor specifications and software tuning requirements.
Videoconferencing is among the use cases in which the new video HDR technology should make a real difference in providing expanded dynamic range.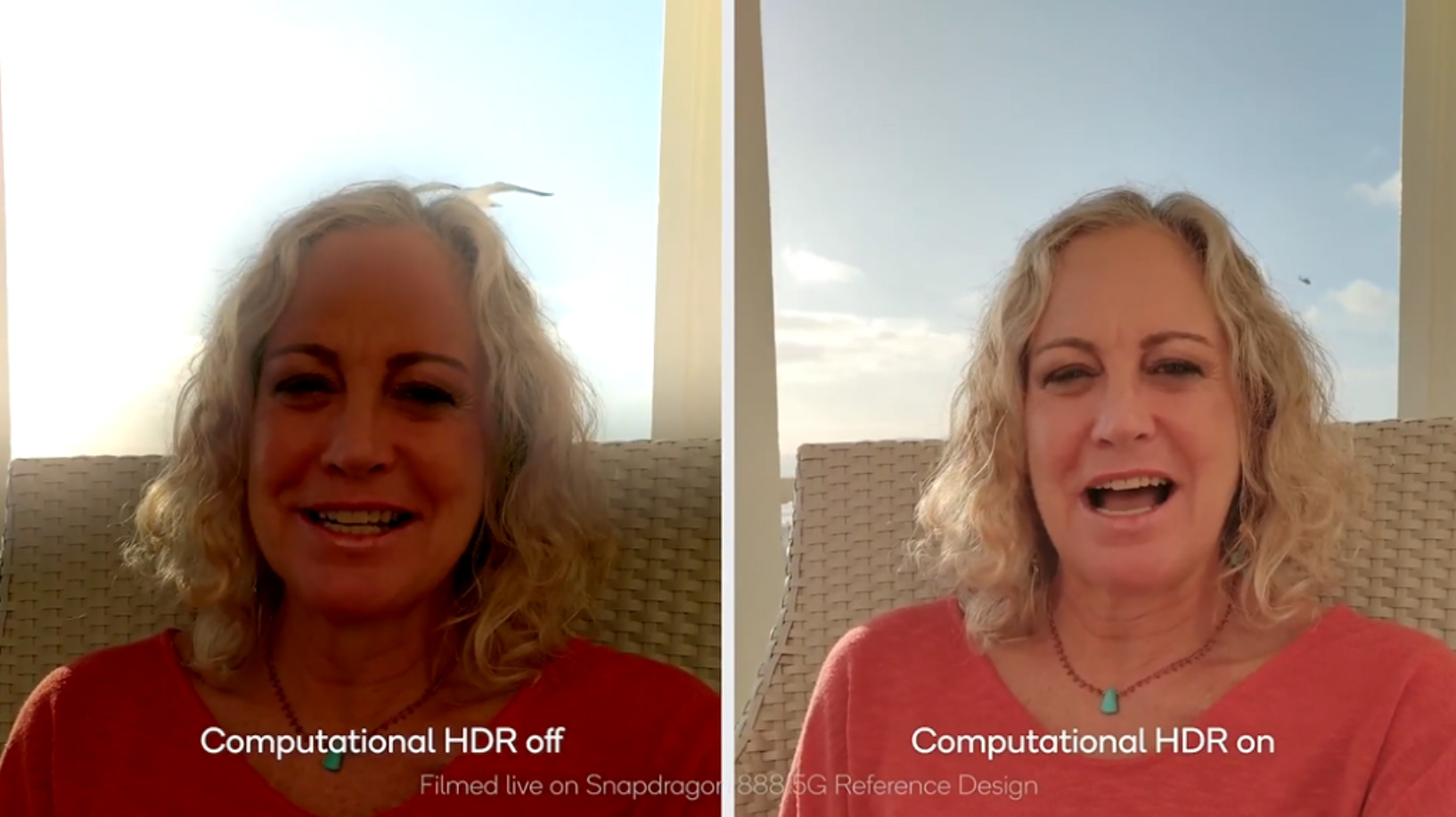 Computational HDR should help improve video performance in challenging situations, such as backlighting during video calls.
Still image dynamic range in our camera ranking is currently dominated by the Mate 40 Pro series from Huawei, thanks to the the company's AIRAW processing. For video, the Apple iPhone 12 Pro Max provides very good HDR capabilities in outdoor and indoor scenes. However, local tone mapping instabilities can sometimes be visible.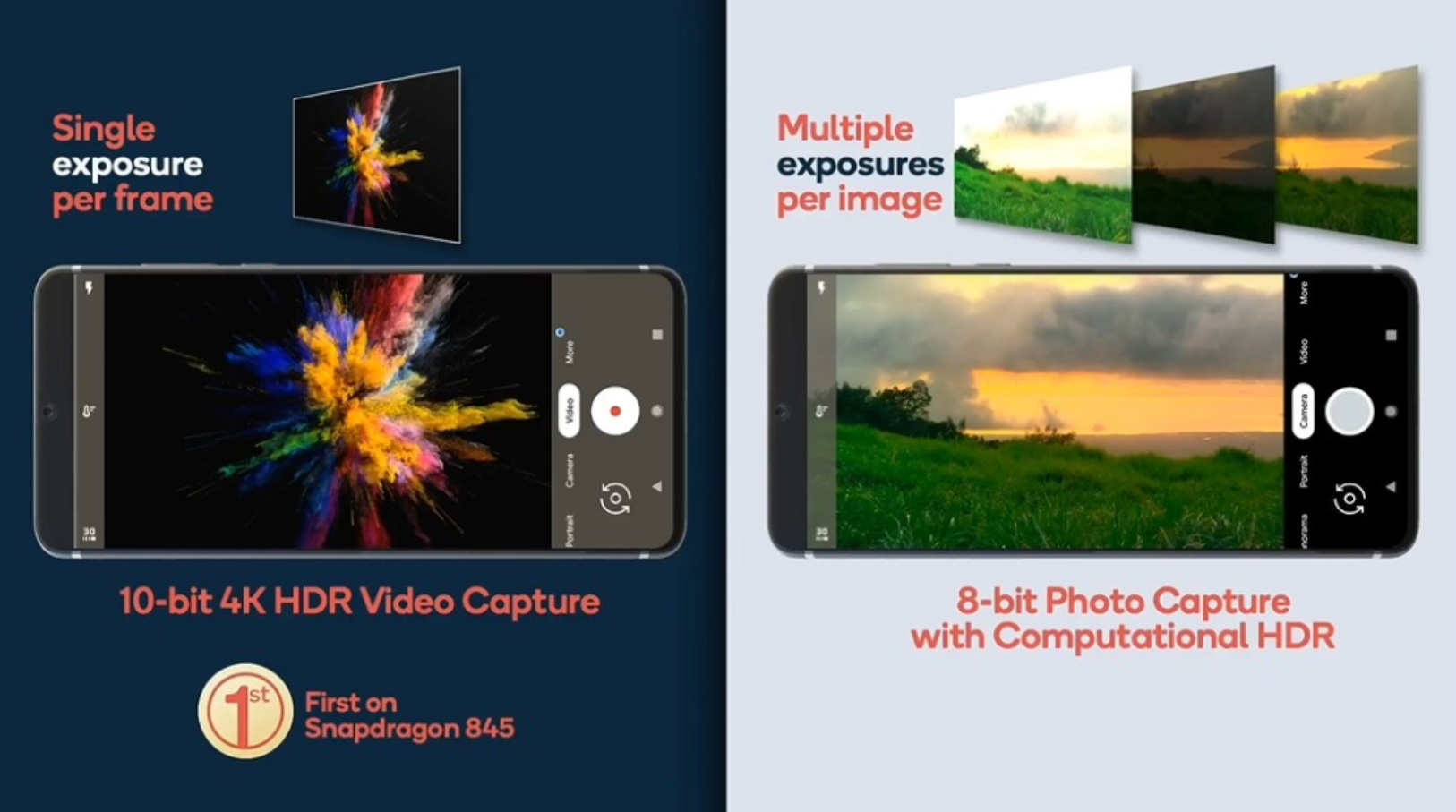 HDR photo and video capture on previous Snapdragon generations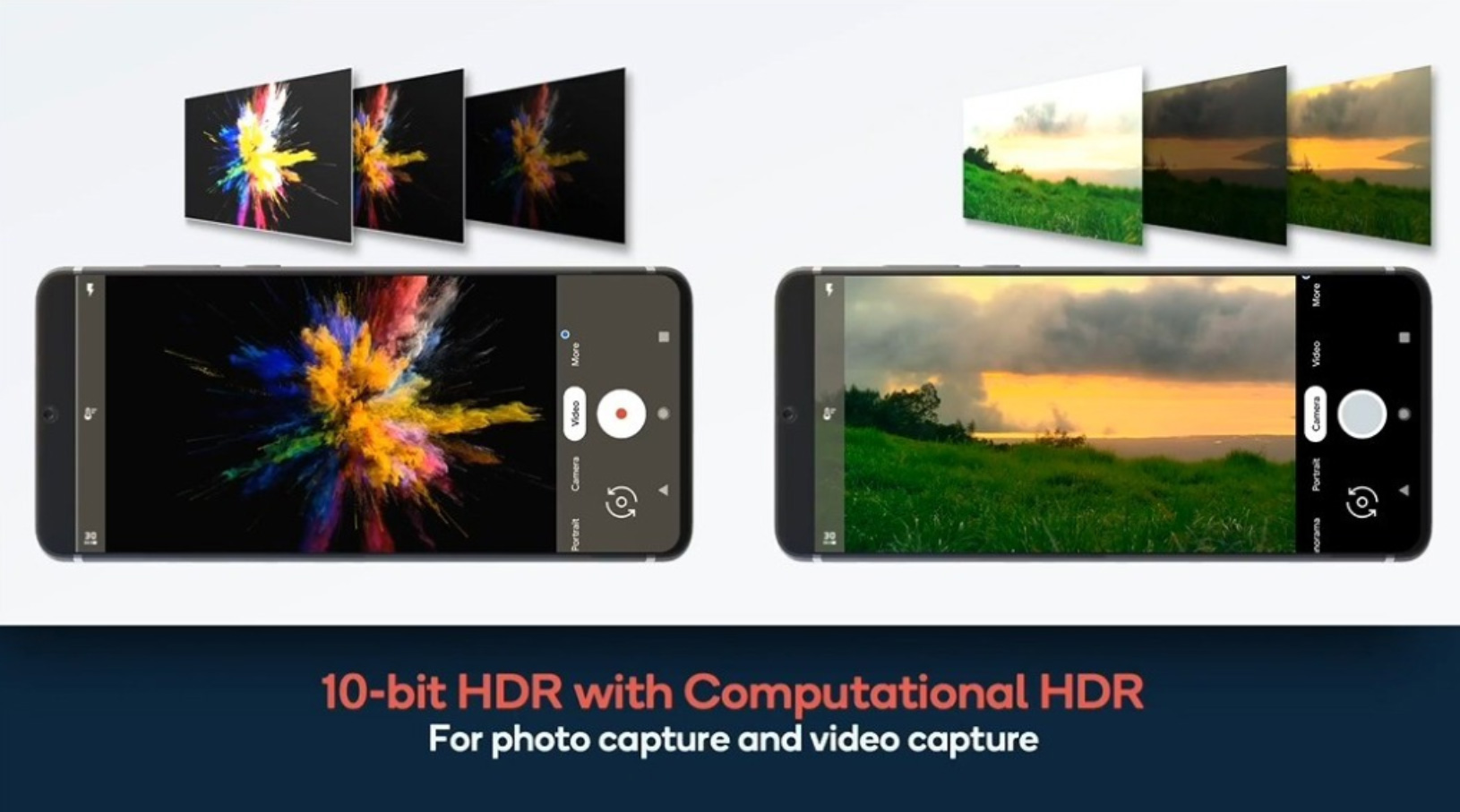 The Snapdragon 888 is the first Qualcomm chipset to offer computational HDR.
It will be an interesting challenge for Qualcomm-powered devices to try and overtake the Kirin-based Huawei models in the Photo dynamic range ranking and the latest Apple models in the Video category.
One way to achieve this goal could be to use a new file format such as HEIF, which can store 10-bit data for computational HDR photo capture. Tone-mapped JPGs could be another option, but it will be up to manufacturers to pick the most appropriate format for each device. With the 888 manufacturers will also have the option to deliver video in real 10-bit HDR+ format that was first introduced on the Snapdragon 855, HDR10 or Dolby Vision.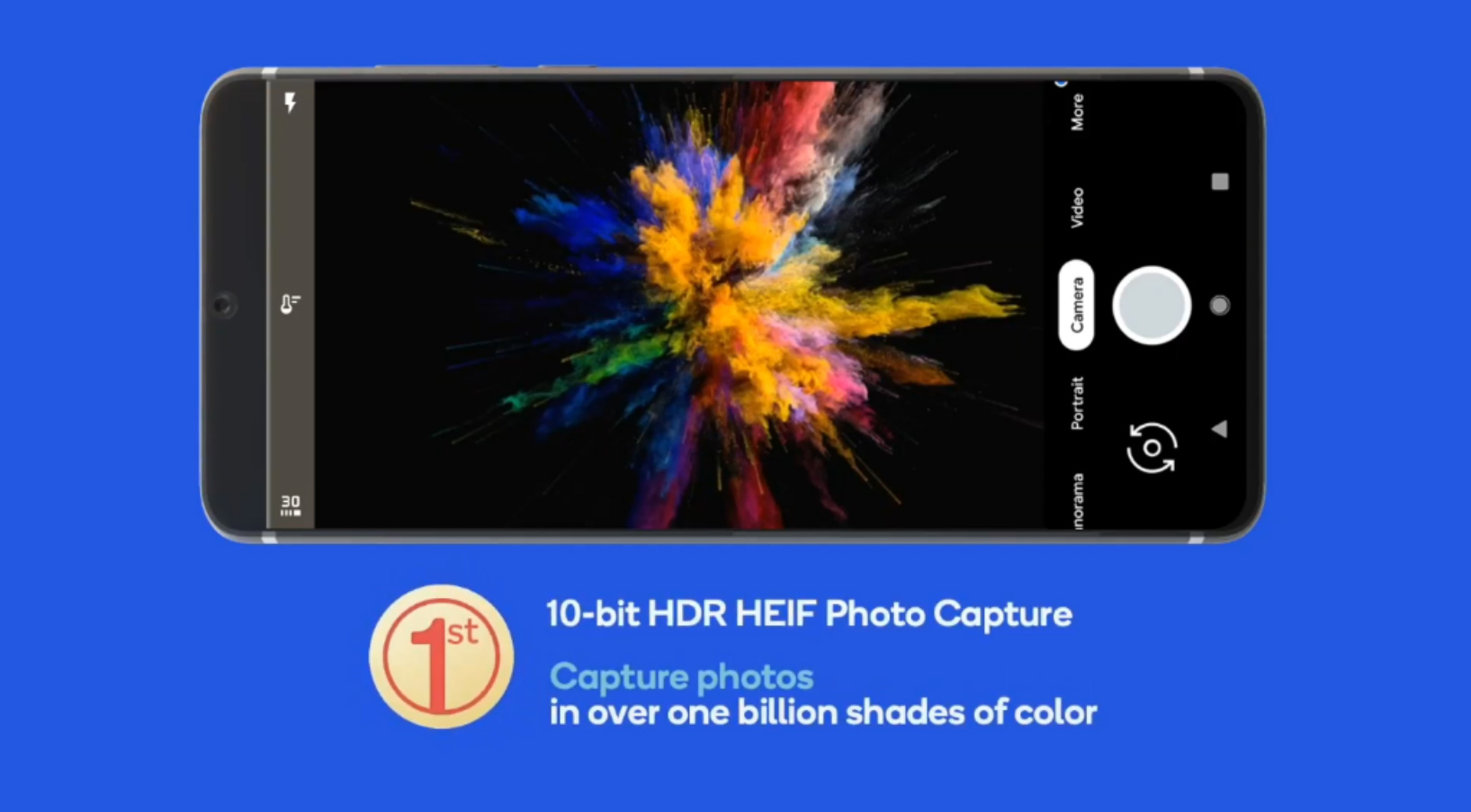 The HEIF image format could be used for 10-bit HDR images.
The increased bit depth offers a larger variety of tones, better gradients, and a wider dynamic range. The wider gamut of the HEIF format also provides slightly wider primary colors, resulting in more vivid color at higher saturation.
AI-powered autofocus, exposure, and white balance
Another new feature is what Qualcomm calls "3A powered by AI." The company is using artificial intelligence methods to improve the performance of the autofocus, auto white balance, and auto exposure systems.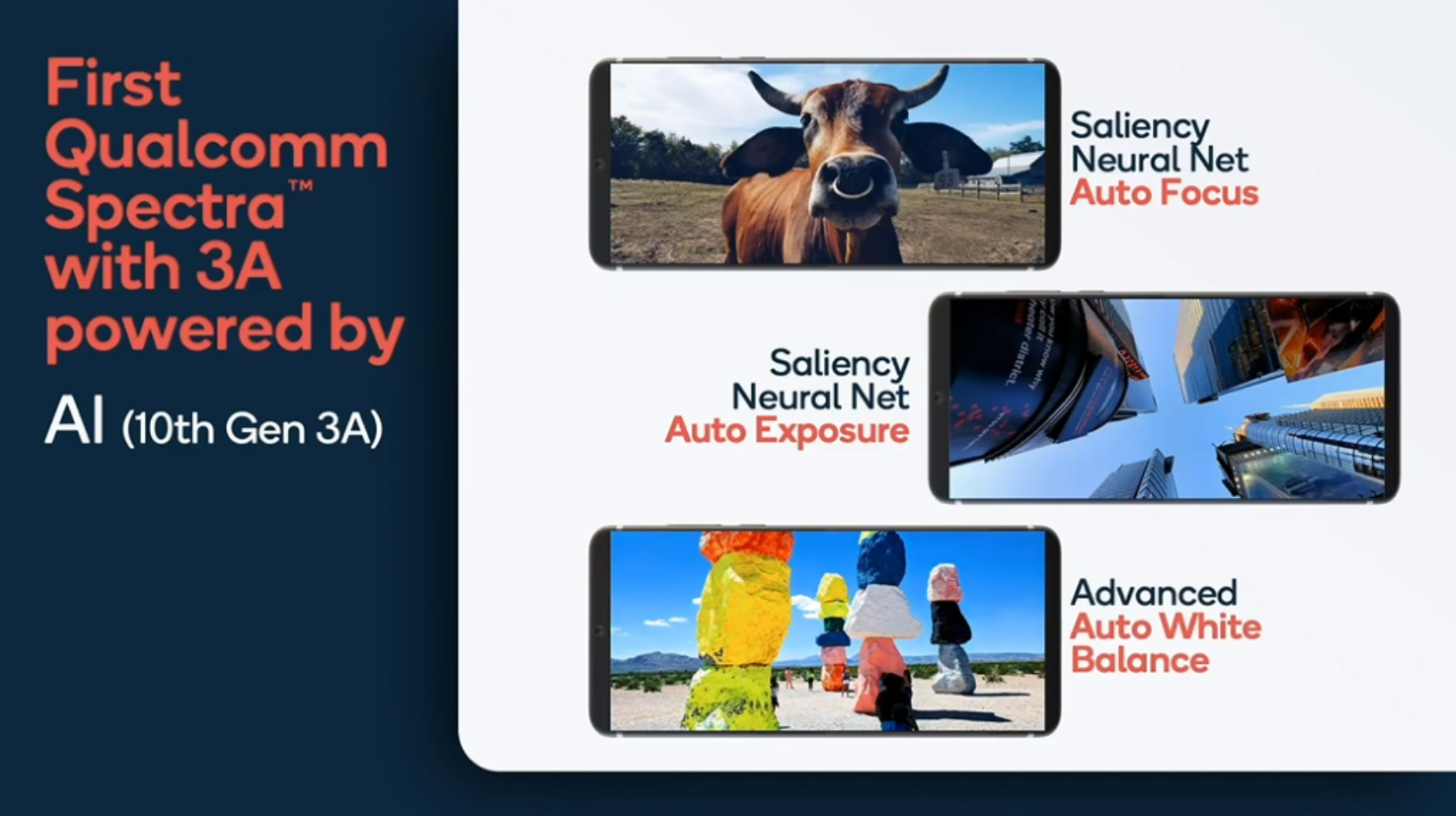 The Snapdragon 888 uses artificial intelligence to improve autofocus, exposure, and white balance performance.
The highlight of the 3A is the AI-trained autofocus algorithm. People wore smart glasses with integrated cameras that recorded their eye movements to analyze where they focused, and Qualcomm used this data to train its AI algorithm.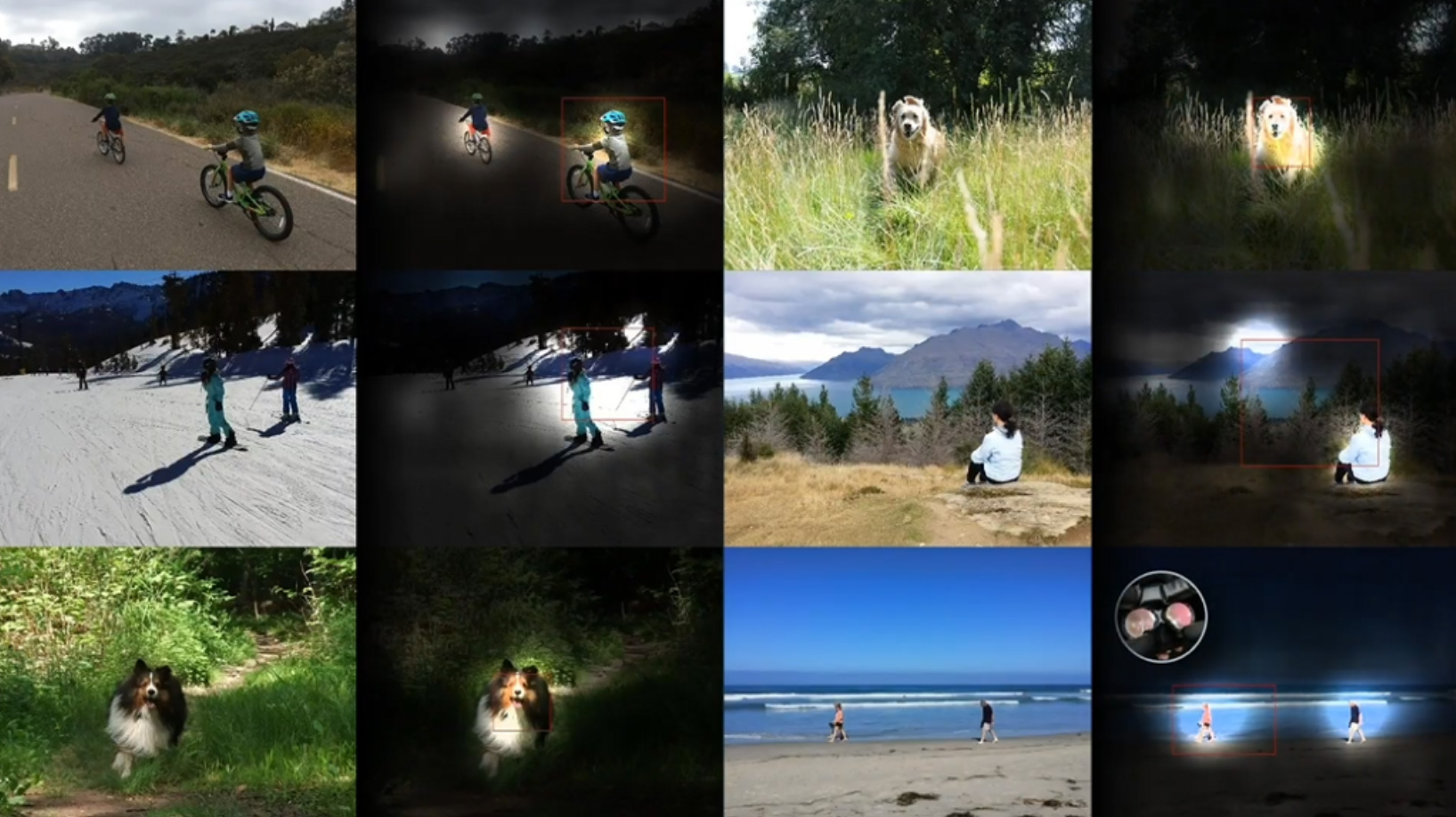 An AI algorithm detects where the camera should set the focus point in a scene.
The new autofocus convergence algorithm should prevent misfocused still images, but it's likely to be even more important for autofocus tracking while recording video.
Third-party providers
Qualcomm also grants third-party developers such as ArcSoft or Morpho access to its improved AI Engine, allowing these companies to develop new features that manufacturers can integrate into Snapdragon 888-powered devices to help improve image quality and the user experience even further.
ArcSoft has developed two features, AI Image Enhancements and AutoZoom. The latter tracks the subject and automatically zooms in or out based on the content of the scene. In the example below, we can see how the algorithm detects the subject and zooms in on her without any user intervention.

AutoZoom feature by ArcSoft
Morpho uses the Qualcomm AI Engine to segment a scene and then apply different enhancement filters to each segment based on their content.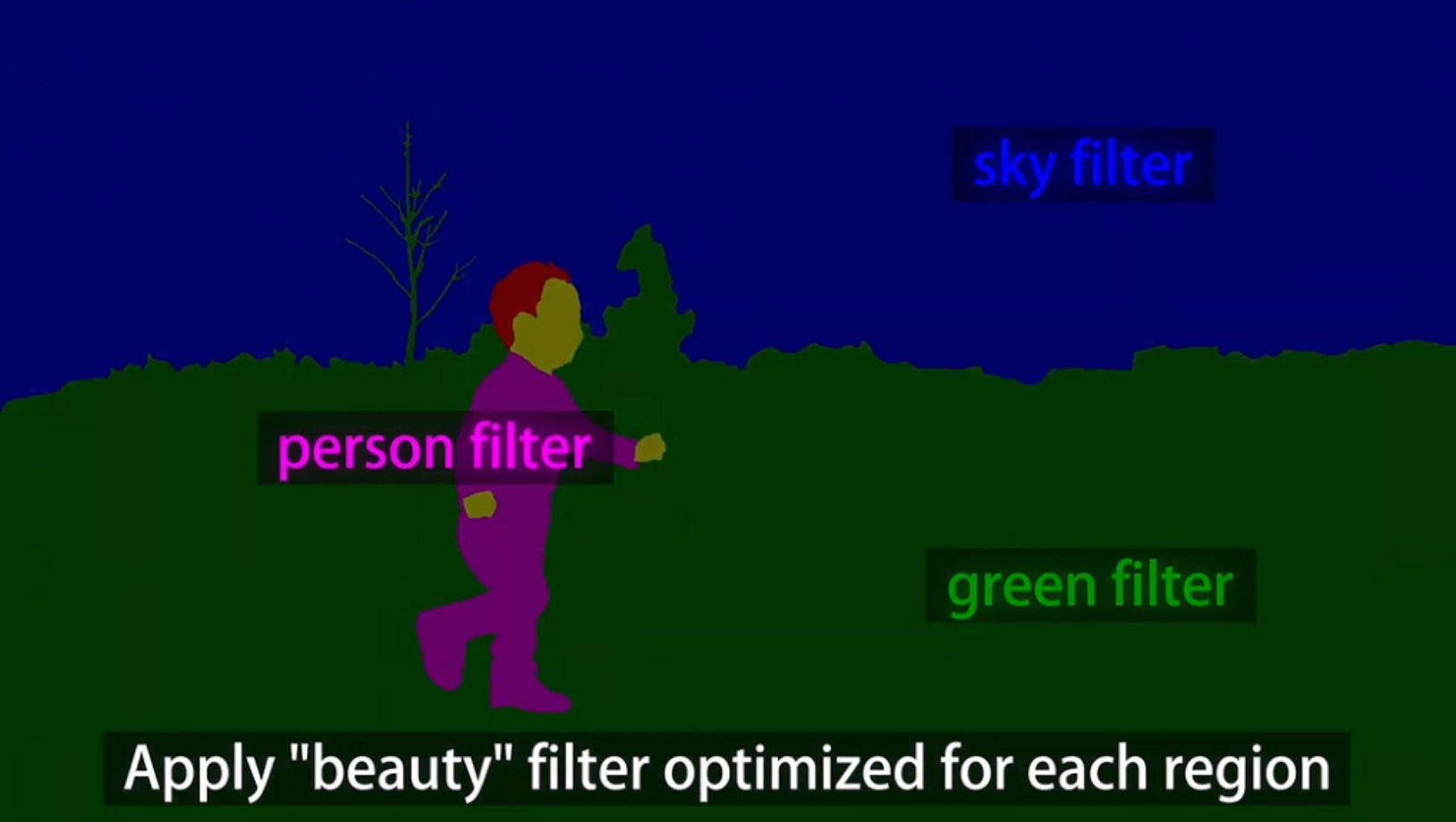 A feature developed by Morpho segments the scene to apply localized filters.
CAI-compliant smartphone camera
There is also a new camera feature that is not directly related to image quality or camera performance but can still provide valuable service to mobile photographers. The Snapdragon 888's camera system will be able to interact with the chipset's security processor to guarantee the authenticity of the captured material, thereby preventing its manipulation. Device makers can include cryptographically secure metadata in image and video files to verify their origin. Thus the 888 is the first CAI (Content Authenticity Initiative)-compliant smartphone camera platform.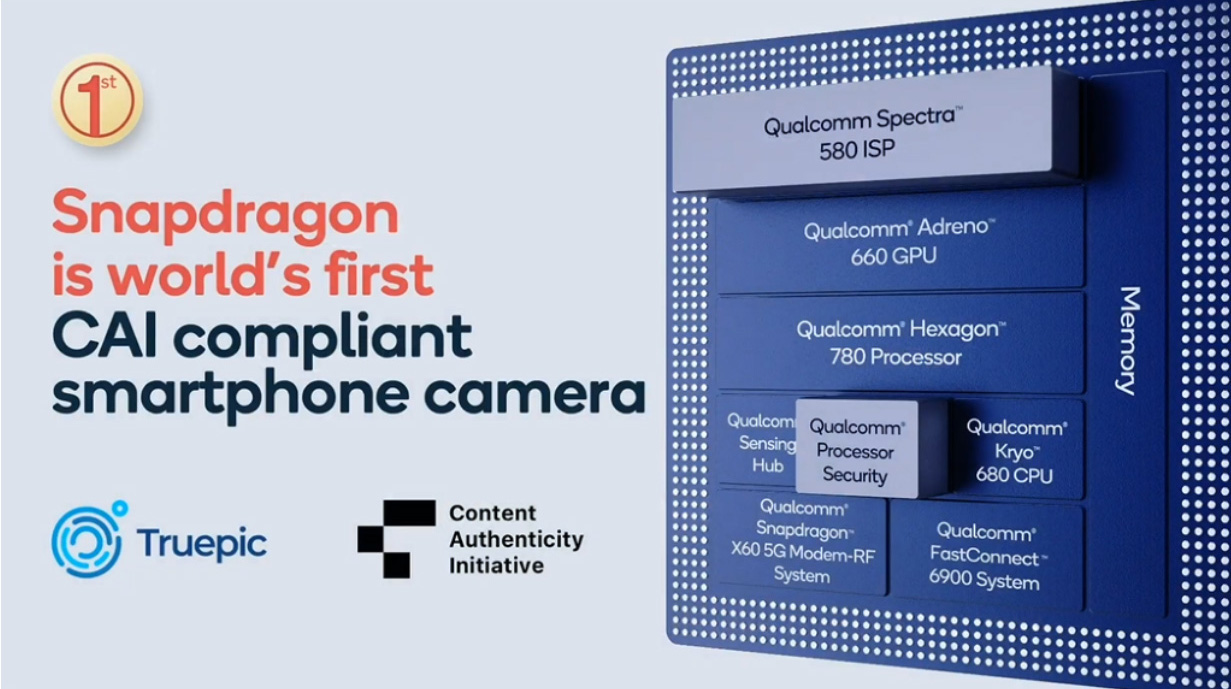 The Snapdragon 888 is the first CAI-compliant smartphone chipset.
Conclusion
Qualcomm has added improvements to its new chipset in all areas. Users will benefit from quicker touch response times when interacting with the display and AI-powered audio features help improve voice quality when voice-controlling the device; further, the 5nm process increases efficiency and battery life.
On the camera side of things, the 5nm process promises more processing power for multi-frame processing and AI-powered imaging features. We'll have to wait for the first test results to see if all this is enough to outperform the Kirin- and A14 Bionic-powered competition, but on paper at least, the Qualcomm Snapdragon 888 chipset looks impressive.