The Sony FE 24-105mm F4 G OSS is a compact and a practical zoom for a wide range of subjects and situations faced by both photographers and videographers.
The stabilized zoom lens has 17 elements arranged in 14 groups and has a number of exotic glass types to enhance performance. These include three ED (extra-low dispersion) elements to reduce chromatic aberration, two aspherical elements, and two AA (advanced aspherical) elements that use advanced molding techniques to achieve their highly aspherical shape.
It also has Sony's Nano AR coating to suppress flare and ghosting, a fluorine coating on the front to reduce marking and improve cleaning, and features a dust- and moisture-resistant design.
The lens uses a direct drive SSM (linear-type) focus motor and has a 0.38m minimum focusing distance. It's one of the lighter of its type at 663 grams (23.4 oz) and is available now for around $1,200/1,350€.
You can view the results for all tested lenses and create your own comparisons and in-depth analyses using our interactive image lens comparison tool.
Key specifications:
17 elements in 14 groups
4 aspherical and 3 ED elements
Optical stabilizer
Linear focus motor
Dust- and moisture-resistant
77 mm filter thread
Minimum focus distance: 0.38m (1.25 ft)
Weight: 663 grams (23.4 oz)
Test results
We tested the Sony FE 24-105mm F4 G OSS on the 61 MP Sony A7R IV, the highest-resolution camera in Sony's Alpha full-frame mirrorless lineup. Together, the optical system of lens and sensor achieved a DXOMARK score of 30, which is highly competitive with rival lenses of this type mounted on similarly high spatial resolution sensors, such as the Canon EF 24-105mm F4L USM II and the Sigma 24-105mm F4 DG OS HSM A on the 50 MP Canon EOS 5DS R. As it's a system rating of lens and sensor, the DXOMARK score would in theory be a little lower on the 47 MP Sony A7R III and then lower still on the 24 MP Sony A7 III, but it's always worth looking through the more detailed data to see how the performance differs.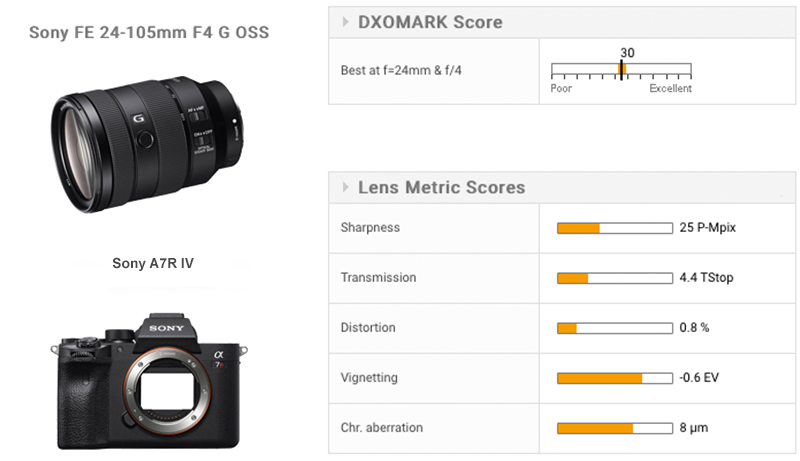 Sharpness levels are good for this type of zoom, especially at 105 mm, which is unusual. In addition, the lens controls LaCA (lateral chromatic aberration) relatively well at that length as well. However, at shorter focal lengths, particularly at 24 mm, there's noticeable fringing at the edges and in the corners in particular. Vignetting is extremely well controlled; and the lens has good control of distortion along with good transmission, measured at T4.4, which is a loss of just -0.4 EV on average. Overall, the lens is one of the best-performing models covering this range.
In-depth comparisons
We've compared the made-for-mirrorless Sony G-series lens with similarly stabilized 24-105mm F4 models, though in fairness they're made for DSLRs. Sigma's 24-105mm F4 DG OS HSM is a high-grade Art series lesn with a reputation as being one of the best of its type. It was announced in late 2017 and is available for around $899, or 1,000€. We've also compared the Sony with the highly regarded Canon EF 24-105mm F4 L II USM. This Mark II version received an upgrade from the original model during the summer of 2016, and is available now for around $1,100 or 1,070€.
You can see an overview of this comparison in our database.
Sharpness
The Sony FE 24-105mm F4 G OSS has good sharpness; indeed, it is among the best we've tested and rivals the Sigma overall. However, while most zooms are sharper at the shorter end, the Sony is unusual in that it's also sharp at 105 mm as well. Sharpness at that focal length is consistent across the field as well and that puts it ahead of both the Canon and the Sigma.
Still, there are some downsides. Wide open, the Sony has some noticeable loss of sharpness at the intermediate focal lengths of 35 mm and 50 mm, at least when compared to the Sigma; the highly respected Canon is weaker still. Once stopped down a stop, all three perform similarly at 24 mm, but it is the Sony and Sigma that continue to impress at the other focal lengths. Even then it's not a clear win for the Sony, as it shows higher levels of astigmatism in the outer field at 50 mm and 70 mm.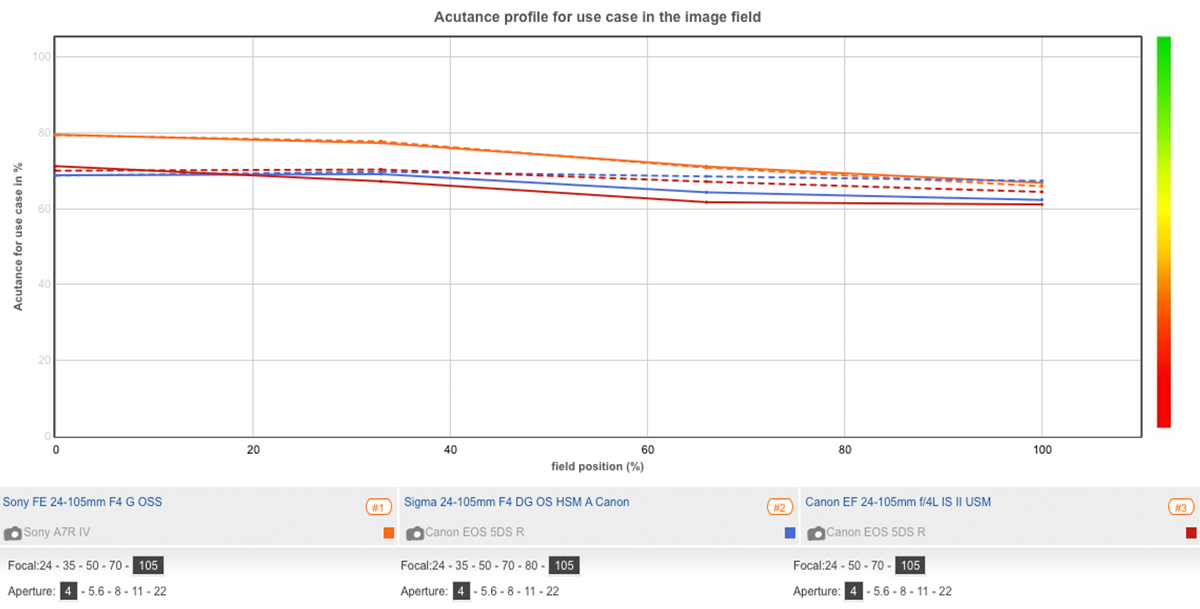 Chromatic aberration
Despite this being a high-end G-series lens with a number of ED glass elements, there's some noticeable lateral color at the wider end — below 50 mm, anyway. While it's most noticeable in the corners at 24 mm, it doesn't get any better after stopping down. Of the three in this comparison, the Canon is the best corrected, and even the highly regarded Sigma isn't a match, with that model having quite high levels across the field, not just at the edges or in corners. All three are relatively well controlled at longer focal lengths, though interestingly, it is the Sony that has the lowest levels at 105 mm.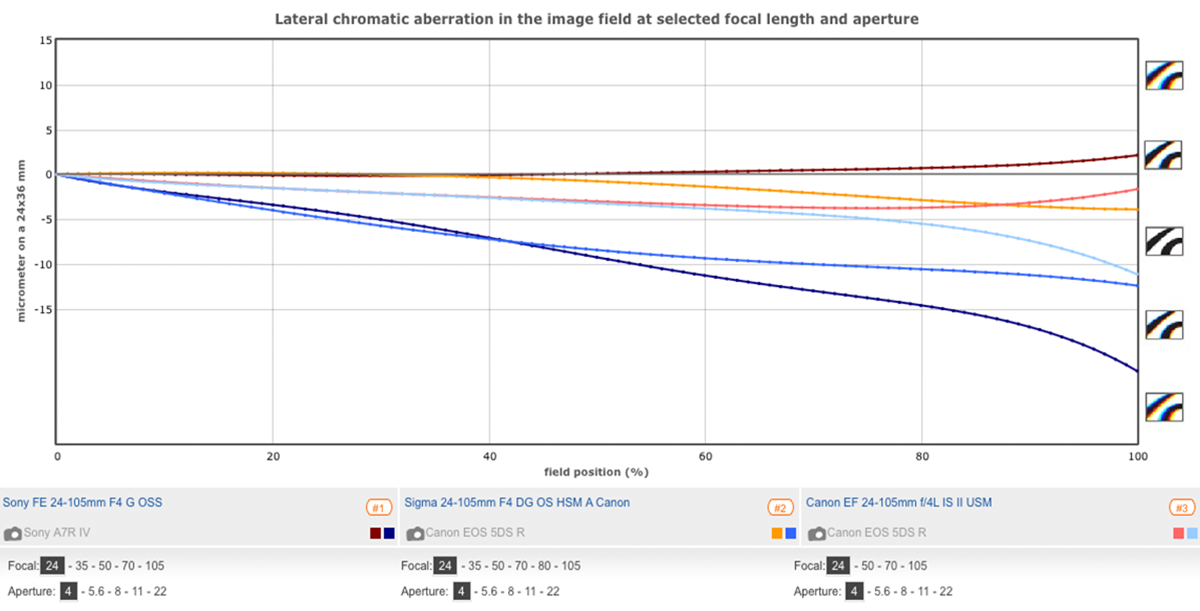 Geometric distortion
Both the Sigma and Canon are better corrected for distortion. The Sony has slightly more barrel distortion at 24 mm, measured at +1.5% against the + 0.8-.9% of the two rivals, and it has slightly more pincushion-type distortion at the other end. Even so, it's relatively low even at its most pronounced, measuring -0.9% from 50 mm through 105 mm. And it's important to remember that distortion like this is easy to adjust in post-production.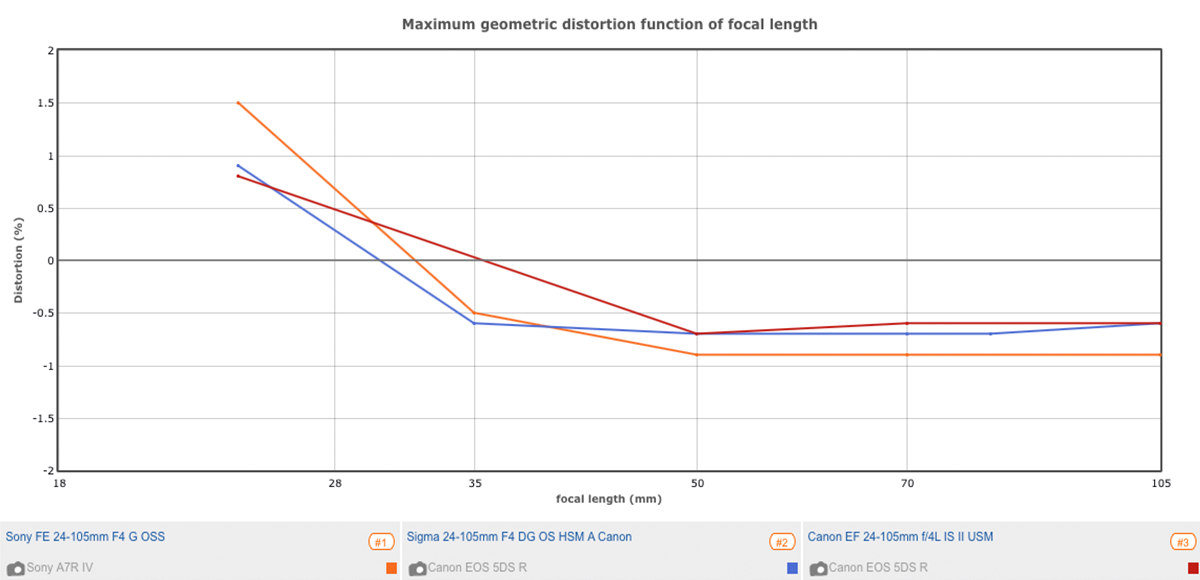 Vignetting (corner shading)
Vignetting is very well controlled at every focal length in the Sony, much better than either the Sigma or Canon. With the maximum less than -1 EV at 24 mm, there's none of the dark corners seen in the other two when wide open, and there's none to speak of after closing down a stop.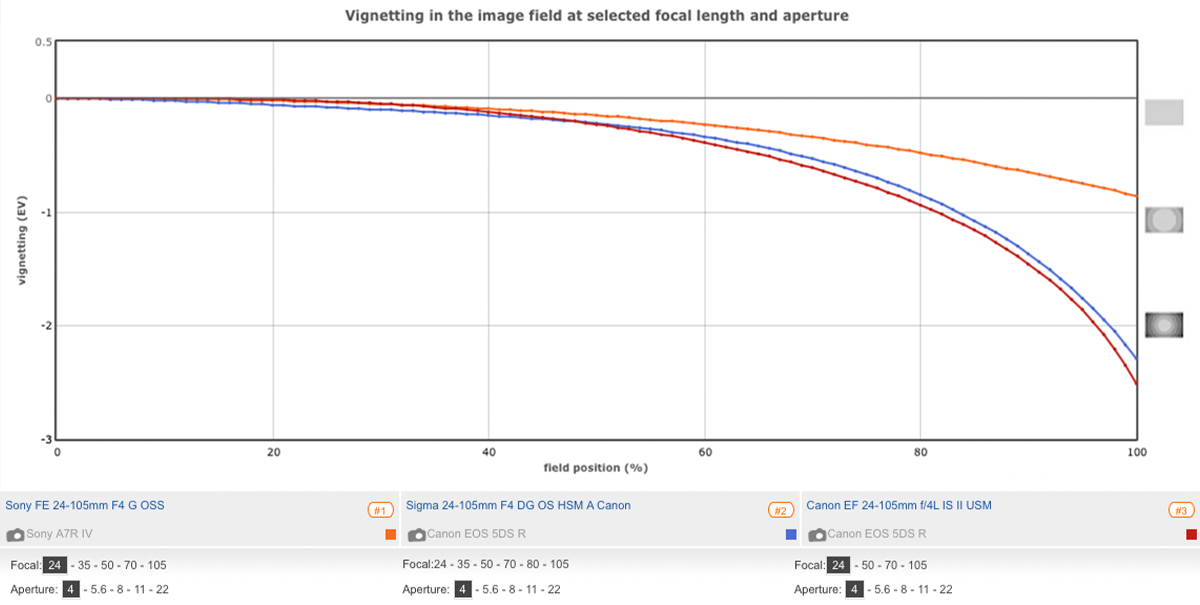 Transmission
This is one area that arguably doesn't really concern stills photographers that much, but the practical nature of the 24-105mm zoom, with its fixed F4 maximum aperture, makes it an important model for videographers. Fortunately, transmission doesn't vary much throughout the zoom range, with it differing from -0.3 EV at 24mm to -0.4EV at 105 mm. In terms of light loss it's bettered only slightly by the Sigma, but none of them are exactly bad.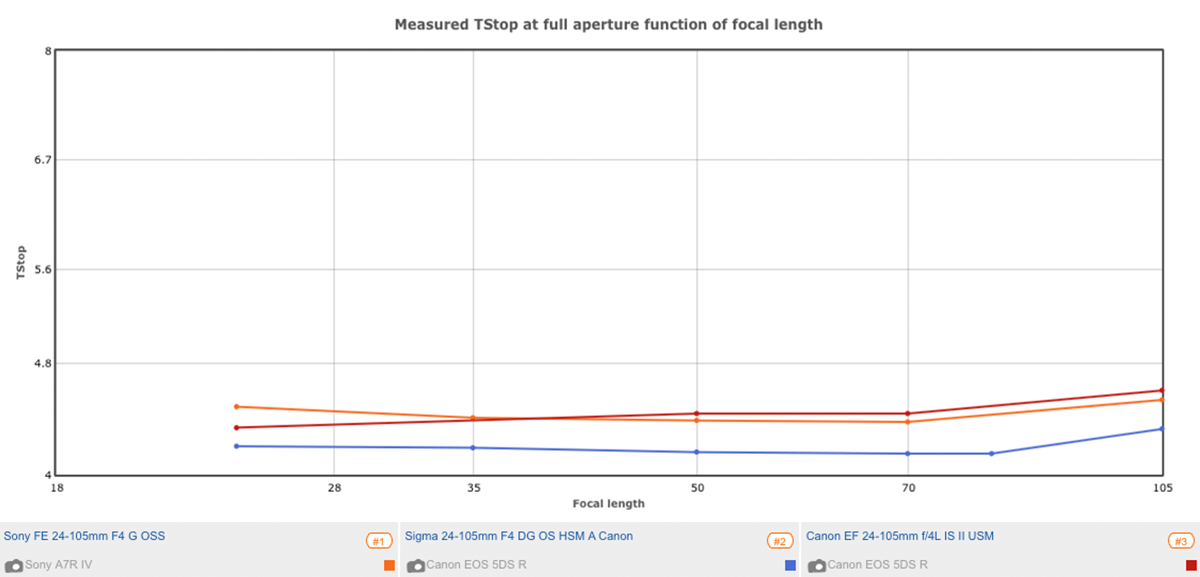 Conclusion
For all this lens's appeal to the stills and video communities, Sony added its 24-105mm F4 to the range relatively late, but the upside is that it is the most modern of the three— at least in this comparison. Not only that, it's a G-series model as well, so it gives you an indication of the performance to expect. While stronger than the Canon EF mount equivalent, there isn't that much between it and the Sigma. Whether that's enough to make it a compelling choice for Sony users is debatable: it's good, but it's not exactly inexpensive.
In this review, we have compared the Sony FE 24-105mm F4 G OSS mounted on a Sony A7R IV to its closest rivals from other brands. Remember that those lenses may be used on different cameras or, in some cases, on different camera systems using different mounts, so those comparisons are not strictly applicable.
As usual, you can create your own comparisons and in-depth analyses using our interactive image lens comparison tool.