After the update to the FE 70-200mm F2.8, Sony has turned its attention to the FE 24-70mm F2.8 GM. This second-generation lens sees several significant updates as well as a host of additional refinements to the original from six years ago.
With a new optical layout, Sony has completely revised the optical construction, increasing the number of overall elements from 18 to 20. In addition to two Super ED elements, there are two further ED elements to control fringing and five aspherical elements, two being high precision XA (extreme aspherical) types to mitigate spherical aberrations. The lens features 11 aperture blades for improved circular highlights when stopped down, and it adopts Nano AR Coating II to reduce flare and ghosting. The lens design also minimizes focus "breathing" and focus shift, according to Sony.
The Sony FE 24-70mm F2.8 GM II zoom has four linear AF motors offering "advanced lens control" with quiet, smooth yet high-speed focusing even when tracking. A floating focus mechanism promises improved sharpness at all distances, and inner focusing offers a closer-than-expected minimum focus distance of just 0.21-0.3m (8.25-12") with a maximum magnification of 0.32x.
Externally, the new lens features soft rubberized zoom and manual focus rings and a dedicated aperture collar with "de-clicking" and locking options for video use. It also features two (programable) focus hold buttons and controls AF.
Although the new lens has an 82 mm filter thread, it is claimed by Sony to be the smallest and lightest in its class at just 695 grams (24.6 oz.) and some 20% lighter than the original model. It is available now for around $2,300/€2,400.
You can view the results for all tested lenses and create your own comparisons and in-depth analyses using our interactive image lens comparison tool.
Key specifications:
20 elements in 15 groups
2 Super ED, and 2 ED elements
5 aspherical, and 2 extreme aspherical (XA)
11 blade, circular aperture
4 linear AF motors
82 mm filter thread
Minimum focus distance: 0.21-0.3m (8.25-12")
Weight: 695 grams (24.6 oz.)
Test results
We tested the Sony FE 24-70mm F2.8 GM II on the 61 MP Sony A7R IV where the lens and sensor achieved an excellent overall DXOMARK score of 39 points. This rating places it at the top of recent test results for this focal range ahead of the original Sony GM lens and even slightly in front of the previous best models; the Nikon Nikkor Z 24-70mm F2.8 S and earlier, made for DSLR, Canon EF 24-70mm F2.8L IS USM.
Strong points include exceptional sharpness as well as improved astigmatic behavior and lower distortion than its predecessor and, it should be noted, Sony has achieved this in a smaller and nearly 200g lighter package.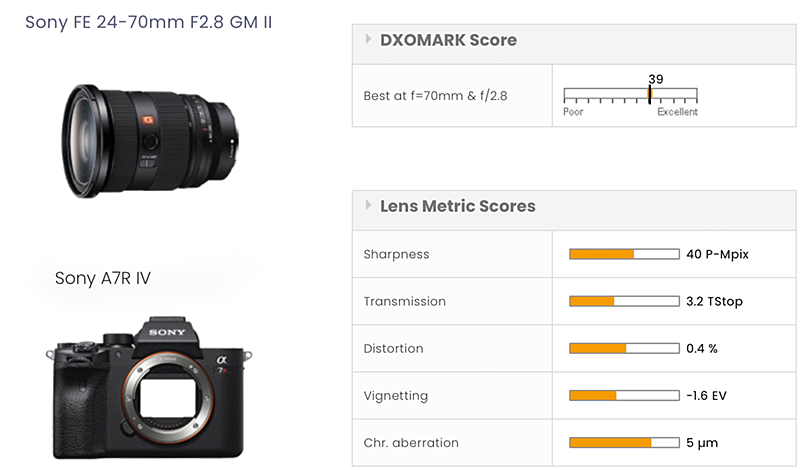 It's always worth looking through the data to see how the lens performs at individual aperture settings and focal lengths. Note the results don't include any lens profile corrections, so what you see presented here may differ in use with the profiles applied.
In-depth comparisons
Like the recently updated FE 70-200mm F2.8, the Sony FE 24-70mm F2.8 GM II is used to showcase the company's most advanced lens technology and this focal ratio will appeal to a wide range of photographers. We've paired it here with the 61MP Sony A7R IV, Sony's highest-resolution body.
We've also compared the new lens with its predecessor introduced in 2016, the similarly priced ($2,200, at launch) Sony FE 24-70mm F2.8 GM, also on the Sony A7R IV. In our tests, there isn't much difference between the original lens on the older 47.5 MP Sony A7R II and 61 MP A7R IV and likely the reason for the introduction of the new GM II model.
For an idea of how it might compare against a rival system, we've selected the $2,300 (again, at launch in 2019) Nikon Nikkor Z 24-70mm S F2.8 mounted on the 47.5 MP Nikon Z7. Although the Z7 has been replaced by the Z7 II, the sensor is understood to be the same and would give a similar if not identical result. The Nikkor Z 24-70mm S F2.8 and Nikon Z7 combination is a formidable pairing and highly relevant as a benchmarking exercise.

You can see an overview of this comparison in our database.
Sharpness
High-speed wide-angle zooms like this adopt complex designs and can vary quite a bit in performance across the zoom range, especially at their initial aperture. The new Sony GM II challenges that and has only a marginal difference from the wide to the tele end. Sharpness is also very high throughout the zoom range and it has very good to excellent uniformity, with greatly reduced astigmatic-like behavior over its predecessor. The improvement is particularly noticeable over the widest and longest focal lengths where the original GM model exhibited quite high levels. By contrast, the new lens shows some astigmatic behavior over the 35-50mm range but in general, it is very well controlled and almost on par with the Nikkor. Despite that, the Nikkor not to mention the original GM loses out in sharpness towards the longer end. It is particularly noticeable wide open at the longer focal lengths and both have to be well-stopped down before they approach the sharpness of the new GM II.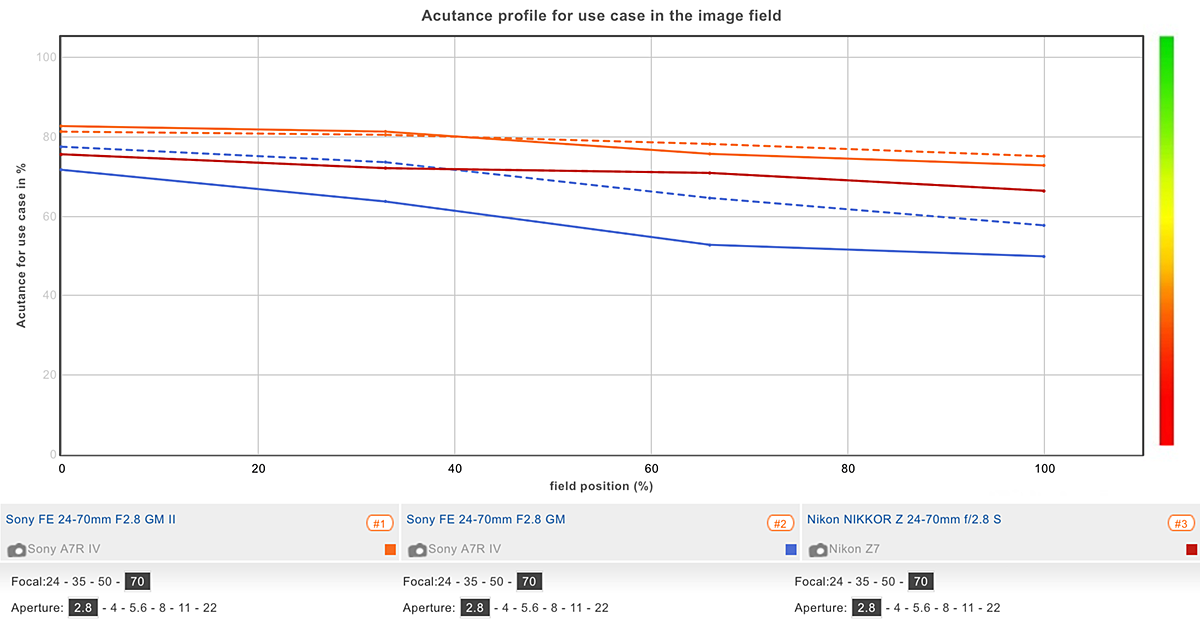 Chromatic aberration
Overall, the new Sony FE 24-70mm F2.8 GM II is exceptionally well controlled in respect of lateral chromatic aberration. Some fringing may be noticeable at the periphery on high contrast edges at the shorter focal lengths (peak levels of around 11µm at 24mm), but given that the results are without profile correction this is very impressive for a zoom. Levels are very low and well-controlled across the image field even in the extreme corners through the zoom range out to 70mm, though that can also be said for the other two even if they're not quite at the same low level as the GM II.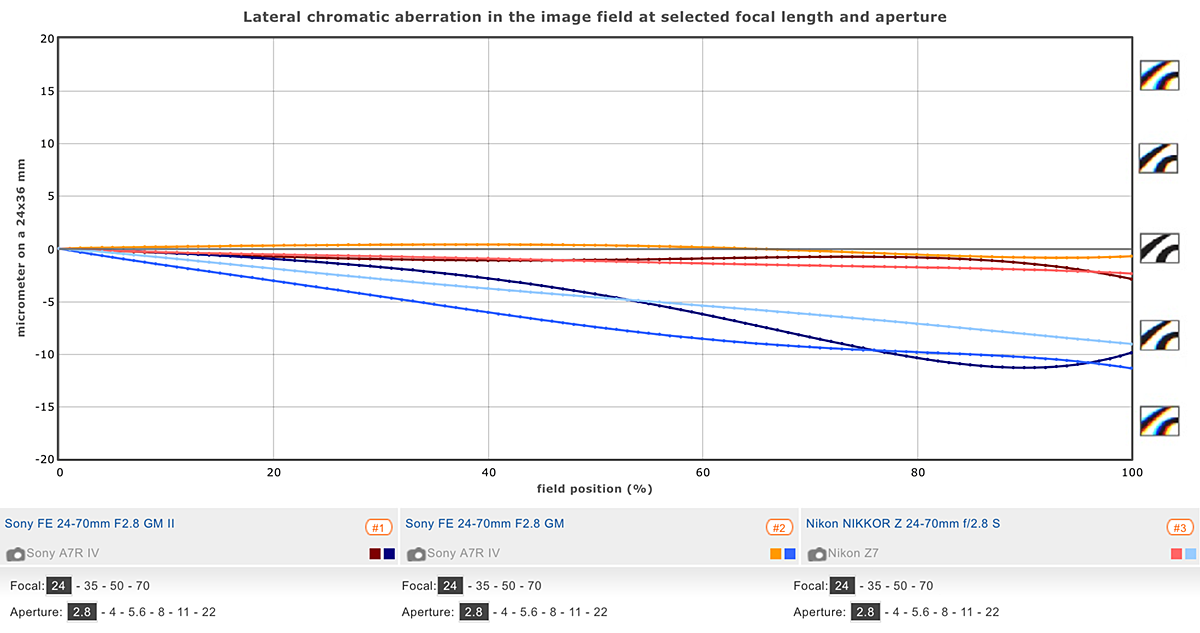 Geometric distortion
Distortion characteristics of the new Sony have also been improved. At its widest 24mm, the GM II has the equivalent 0.8 % barrel as its predecessor, but it's lower than the Nikkor, which is approaching a rather high 1.0 % (before profile correction), and the GM II is better controlled than both throughout the range. At 28mm, barrel distortion is just 0.3 % changing to -0.3 % pincushion at 35mm. After that, pincushion increases slightly to -0.5% at 50mm through to 70mm. That's all rather remarkable given the reduced size and weight over the original.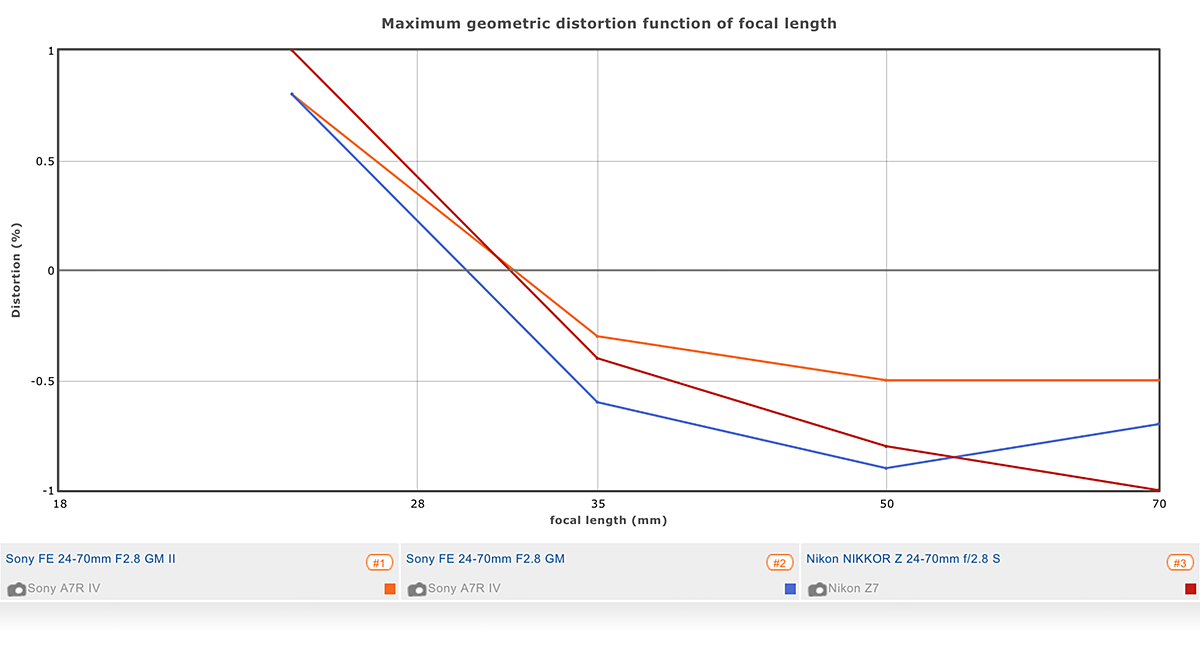 Vignetting (corner shading)
With the GM II's smaller size, you might also expect higher vignetting but that's not the case here. Overall, the new lens has about the same levels when averaged, however, the characteristics vary between the two models. The new GM II has about the same peak values and a slighter smaller central core free of vignetting than its predecessor wide open at 24-28mm, but then that position reverses over the 35-70mm range. The new lens also mitigates the effects sooner than the original on stopping down over the same 35-70mm range, though it's about the same over the more noticeable 24-28mm range. Against the Nikkor, the GM II is slightly better controlled at every focal length.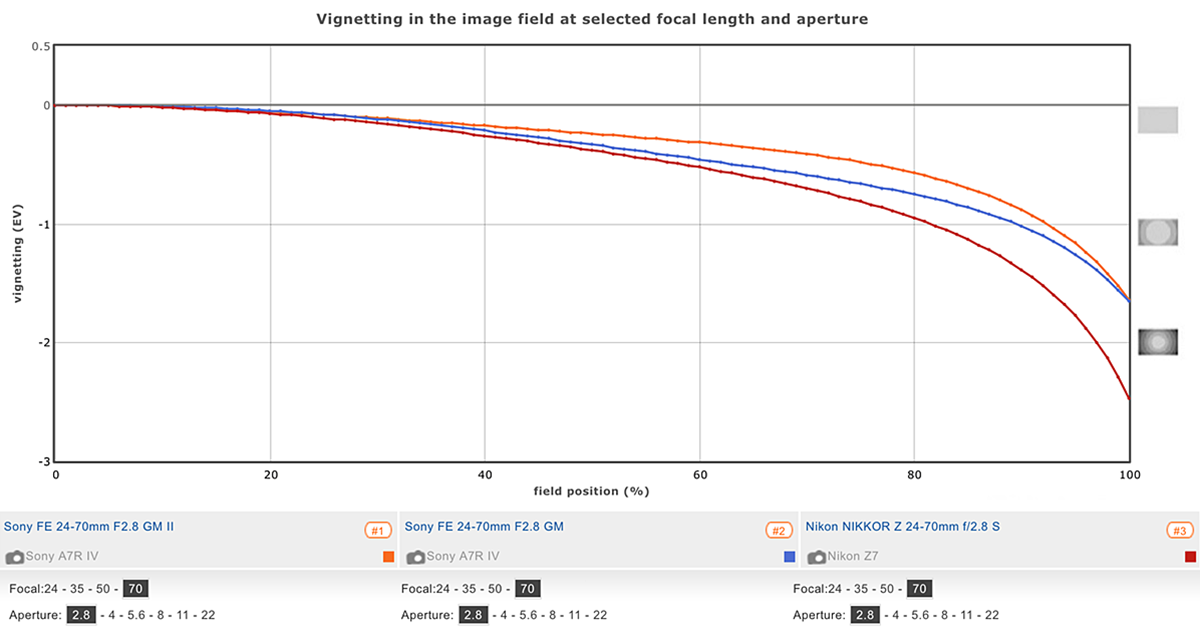 Transmission
Given this is likely to be a popular choice for video, it's interesting to see how Sony has tackled the transmission values of the new lens. While the T3.2 is slightly higher than the original as well as the rival Nikkor, the consistent T3.2 value at every focal means there's no unsightly density (exposure) change during zooming. It's likely one concession to the smaller size, but exposure consistency in a zoom aimed at video and filmmaking is highly valued.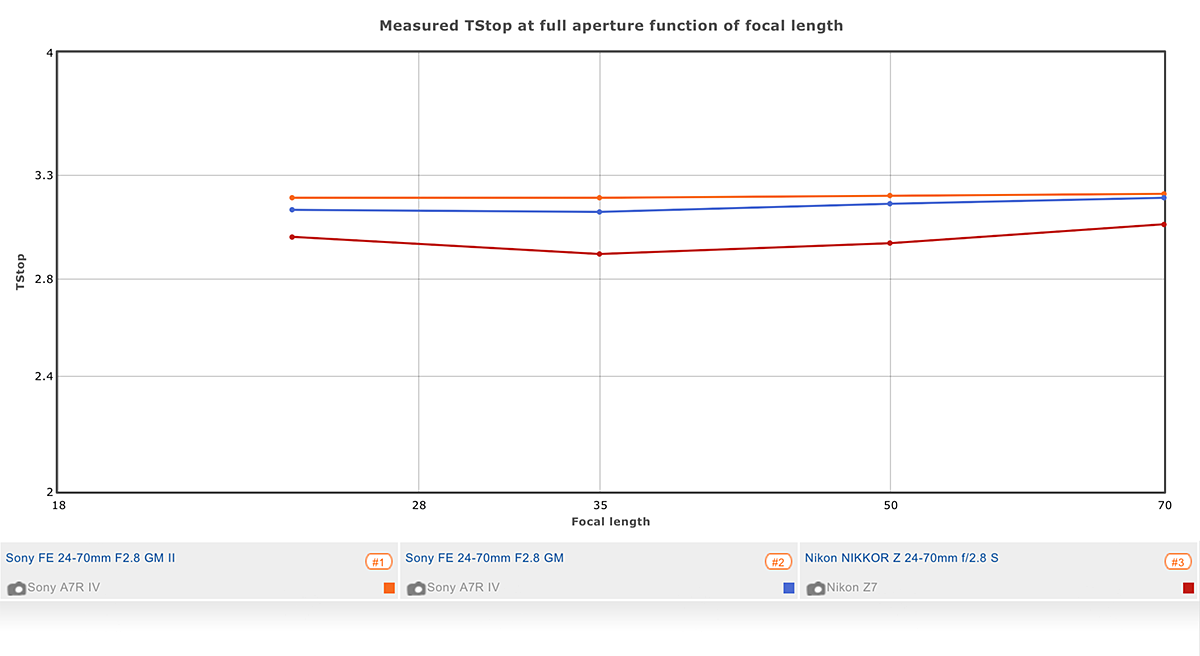 Conclusion
High-speed F2.8 zooms like this have been used to showcase the best in technology since the type was introduced, but rarely do we see such a considered and thorough overhaul between versions. With this update, Sony has revamped just about everything they could. With all of the enhancements, many would have been satisfied with it equaling its predecessor in optical performance; however, the result is not only the smallest and lightest of its type, but Sony has also raised the bar optically. Given the similar price range (at launch) and the overall improvements, the Sony FE 24-70mm F2.8 GM II is a solid choice over the original and highly attractive option for Sony users or indeed anyone considering the Sony system.
In this review, we have compared the Sony FE 24-70mm F2.8 GM II mounted on a Sony A7R IV to its closest rivals from other brands. Remember that the lenses may be used on various cameras with different sensors, or in some cases on different camera systems using different mounts, so the results will vary between them.
As usual, you can create your own comparisons and in-depth analyses using our interactive image lens comparison tool.