The new Sony FE 70-200mm F2.8 GM OSS II lens is an update to the 2016 version, though this is no mild makeover, even if it looks similar. Inside, Sony has completely revised the optical construction, reducing the number of overall elements from 23 to 17 to reduce the weight by some 435 g and making it the lightest of its type. To counter this, Sony has combined several exotic glass types and advanced optical construction techniques to at least match if not improve image quality over its forerunner.
In addition to two super ED elements, there are three further ED elements, with one also being aspherical to mitigate chromatic aberration. It also has three further aspherical elements, one being a high precision XA type to mitigate the grinding and polishing marks, or "onion" rings, seen in circular out-of-focus highlights.
In addition to optical stabilization, the lens has weather-resistant sealing, and the front element has a fluorine coating to aid in cleaning. The design also minimizes focus "breathing" and focus shift, according to Sony.
As well as modifying the optical construction, Sony has improved the AF and the new model adopts no less than four linear AF motors promising high-speed focusing and accuracy. It also has a closer-than-expected minimum focus distance of just 0.4-0.82m (15.7-32.3"), and a maximum magnification of 0.3x.
Externally, the lens is packed with controls. There are relatively wide rings for zooming and manual focus, programable focus hold buttons, focus limiter and IS mode switches, and a 'de-clickable' aperture control ring with a lock.
With a 77 mm filter thread, the lens is relatively compact and now weighs just 1045 grams (36.9 oz.). The new model is available now for around $2,800/3,000€.
You can view the results for all tested lenses and create your own comparisons and in-depth analyses using our interactive image lens comparison tool.
Key specifications:
17 elements in 14 groups
1 aspherical ED, 2 Super ED, and 2 ED elements
1 extreme aspherical (XA) and 2 aspherical elements
Image stabilized
11 blade, circular aperture
4 linear AF motors
77 mm filter thread
Minimum focus distance: 0.4-0.82m (15.7-32.3")
Weight: 1045 grams (36.9 oz.)
Test results
Our test engineers evaluated the Sony FE 70-200mm F2.8 GM OSS II on the 61 MP Sony A7R IV, where the lens and sensor are measured together as a system achieved an overall score of 41, which is the best-corrected lens in its class. While close overall in terms of optical performance to the previous 2016 version, the new model has higher sharpness and slightly lower lateral chromatic aberration and vignetting.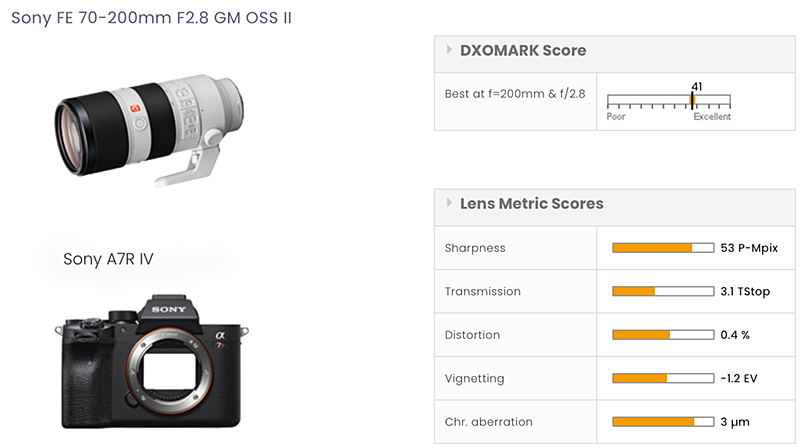 It's always worth going through the data to see how the lens performs at individual aperture settings. Also bear in mind the results don't include any software correction.
In-depth comparisons
While the Sony FE 70-200mm F2.8 GM OSS II is principally aimed at sports and action photographers, we've paired it with the Sony A7R IV as it's the highest resolution body in Sony's line-up and the best to test acutance and chromatic aberration. We've also compared the new lens with its predecessor, the around $2,000 Sony FE 70-200mm F2.8 GM OSS, on the same camera body so the results are directly comparable.
For an idea of how it might compare with a rival, our test engineers selected the $2,600 Nikon Nikkor Z 70-200mm F2.8 VR S mounted on the 47 MP Nikon Z7. While the Nikkor might not be as "stretched" on a body with a slightly lower resolution, which will probably be reflected in the acutance and CA comparisons, it remains useful when comparing between systems.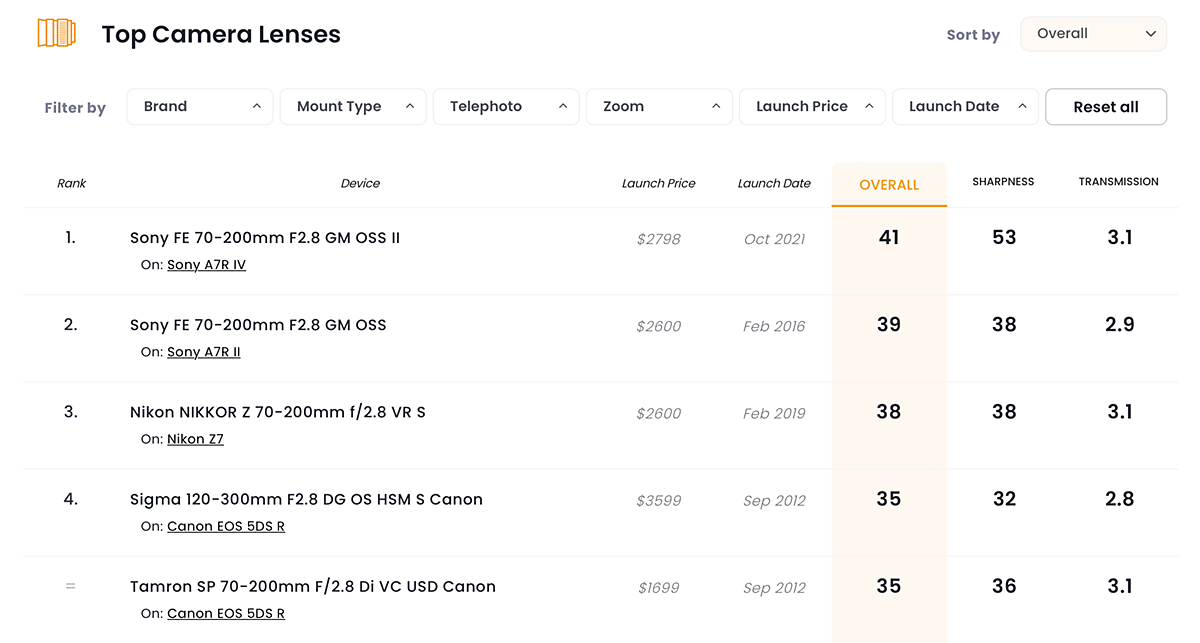 You can see an overview of this comparison in our database.
Sharpness
Telephoto zooms nearly always perform better in the mid to short focal lengths than at their longest, and we're beginning to see manufacturers working to improve this. While the older Sony already performs well at 200mm wide open in the center at just over 80% acutance, the mid-to-outer zone has some astigmatic-like behavior and lowers sharpness slightly. With the new Sony FE 70-200mm F2.8 GM OSS II, Sony has not only increased sharpness in the center to 85% acutance, but also has improved sharpness and uniformity in the outer zone.
At the other end of the zoom range, there's an improvement in uniformity and while sharpness is at similar levels centrally, the new lens has better sharpness out to the corners. Where the Nikkor Z 70-200mm F2.8 VR S is a little weak at 200mm, by comparison, it performs well at 70mm and is slightly sharper than the new Sony wide open, at least in a small central core. One whole stop down from the initial aperture the differences between all three are minimal, but the astigmatic behavior of the older Sony is clear.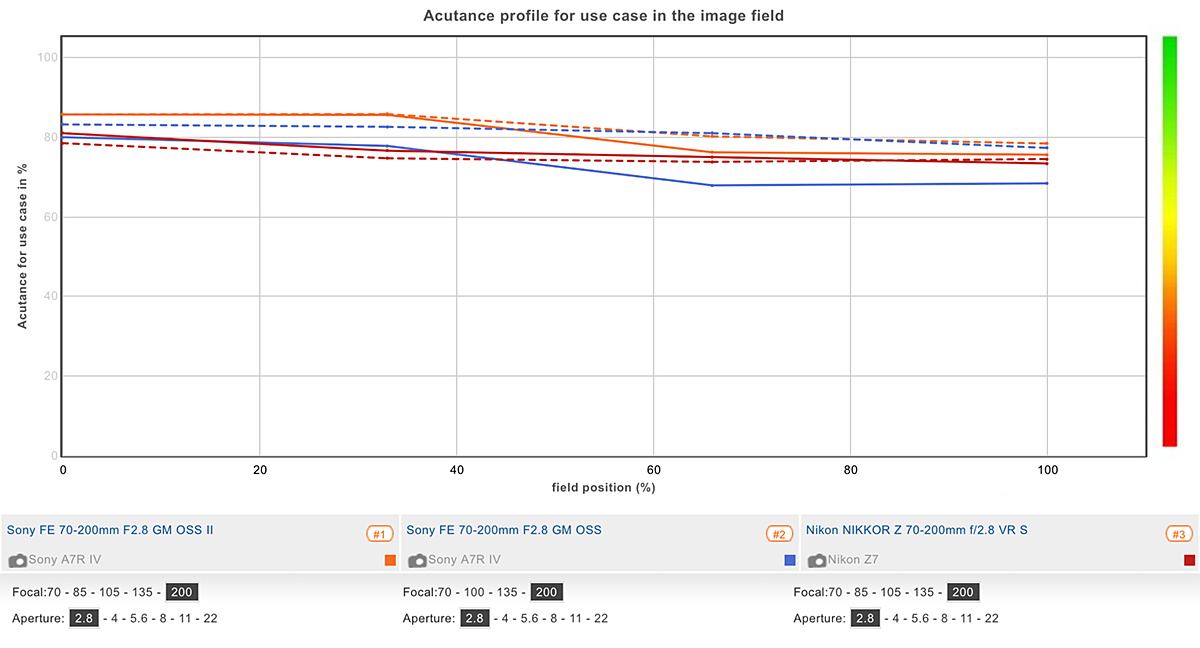 Chromatic aberration
The new Sony FE 70-200mm F2.8 GM OSS II is very well controlled in terms of lateral chromatic aberration, especially at the longer end of the zoom range where the lens has the lowest levels of the three. Levels are far lower at 200mm than either its predecessor or its rival, the Nikkor Z 70-200mm F2.8 VR S. Given that the results are published without any profile correction applied to reduce the effect, this is all very impressive. However, with levels peaking around 10 µm at 70mm when wide open, the new lens isn't quite as strong. While the results are still quite low, both the older 2016 Sony version and the Nikkor Z have lower levels.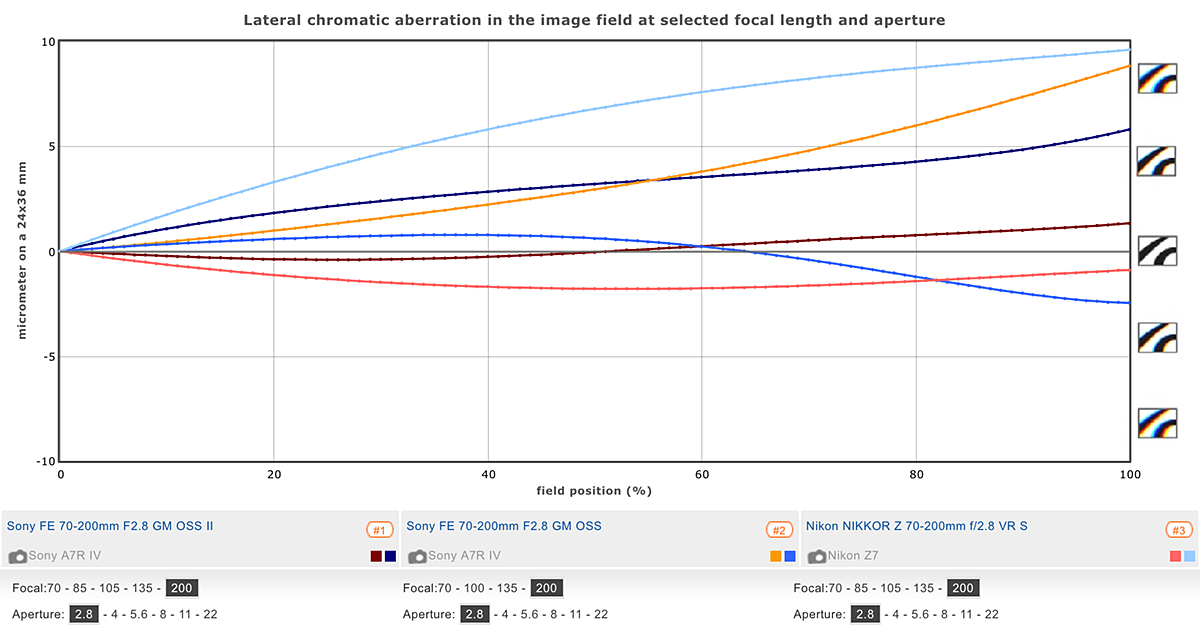 Geometric distortion
Compared with the original GM version, the distortion characteristics of the new Sony are quite different. Most telephoto zooms show barrel-type distortion at the wider end changing to some pincushion at the longer lengths. While that's typical of the earlier GM version, the new Sony FE 70-200mm F2.8 GM OSS II has no measurable distortion at 70mm. Instead, there's some slight pincushion after zooming in slightly, that gradually increases through the range to 200mm where it peaks at -0.6%. In that respect, the new Sony behaves much more like the Nikkor Z 70-200mm F2.8 VR S but even then all three have relatively low distortion.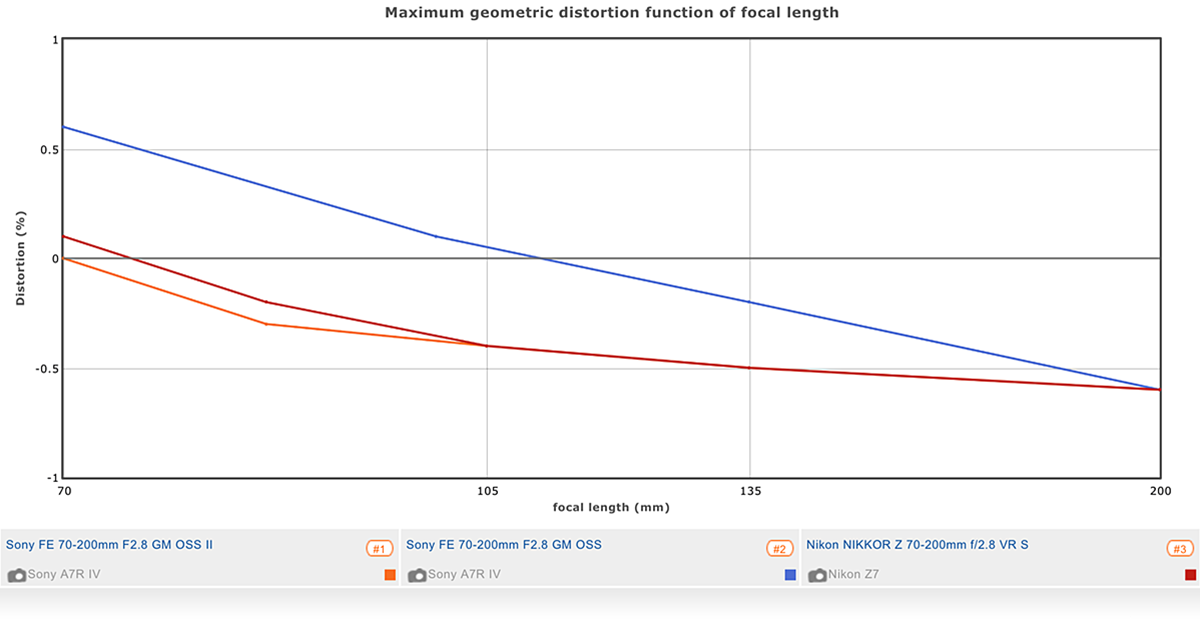 Vignetting (corner shading)
Vignetting is another shortcoming that's well-controlled in the Sony FE 70-200mm F2.8 GM OSS II. And in this group, it's the best lens of the three. Even so, the heaviest effects are visible at the longer end. While there's not much between wide open at 200mm, the new model has a wider central core free of vignetting than the other two and less darkening of the corners than the Nikkor Z 70-200mm F2.8 VR S or older Sony, in that order. What's more, the new model is almost free of vignetting just one stop down from the maximum at every other focal length.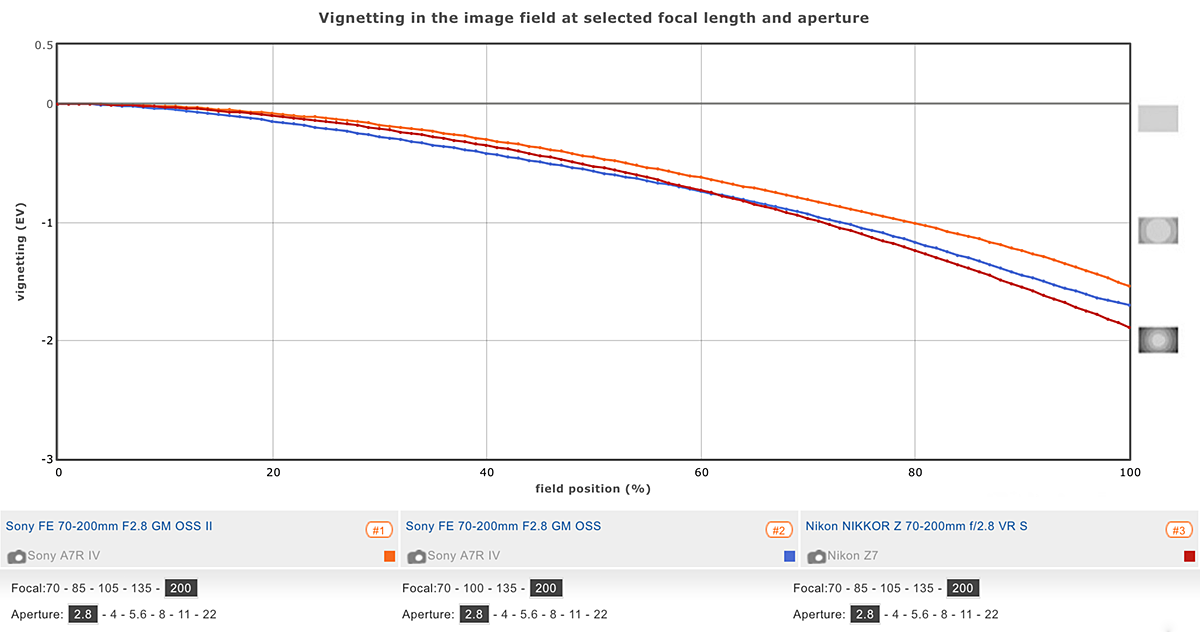 Transmission
With just about every mirrorless camera offering hybrid movie and stills capability, knowing the transmission may come in useful, especially with zooms where it might be possible to see the effects in the footage. In this regard, the Sony FE 70-200mm F2.8 GM OSS II performs well with a fairly consistent T3.1 and only a very minor difference between -0.2-0.3 EV from the stated aperture value. The Nikkor Z 70-200mm F2.8 VR S is very similar while the older Sony is slightly less consistent over the range, measuring -0.3-0.4 EV behind the stated aperture values.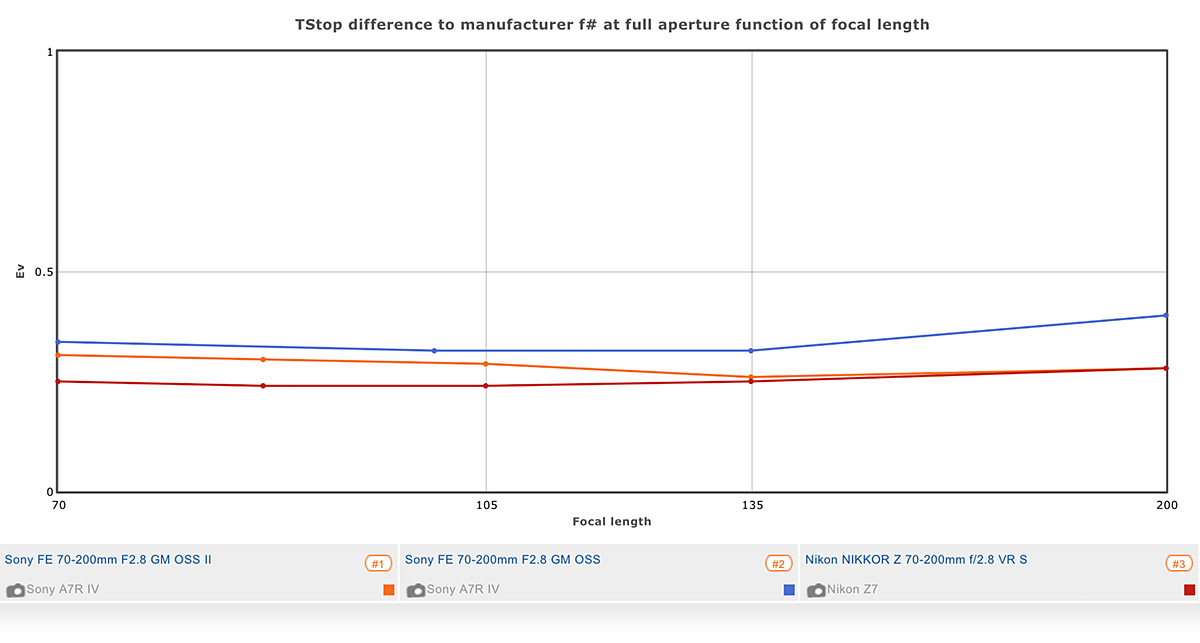 Conclusion
The original Sony FE 70-200mm F2.8 GM OSS was already a very good performer, but it looks as if pressure from rivals (Canon's RF 70-200mm F2.8 weighs just 1070 g) to lower the weight in this type has resulted in this newer GM2 version. Against its predecessor and the relatively new Nikon Nikkor Z 70-200mm F2.8 VR S (which at 1440 g is just 40 g less than the original Sony), the Sony FE 70-200mm F2.8 GM OSS II performs well and comes out in front, but it's not by a large margin. While the weight advantage is nice to have the new model comes with quite a hefty price tag attached.
In this review, we have compared the Sony FE 70-200mm F2.8 GM OSS II mounted on a Sony A7R IV to its closest rivals from other brands. Remember that the lenses may be used on various cameras with different sensors, or in some cases on different camera systems using different mounts, so the results will vary between them.
As usual, you can create your own comparisons and in-depth analyses using our interactive image lens comparison tool.