Even with a far less convoluted interface than the NEX-7's, the NEX-6 doesn't skimp on ergonomics and features, with its adjustable screen and its high-resolution OLED electronic viewfinder. The NEX-6 keeps the abundance of modes gracing recent Sony models, along with Full HD video recording in 50p, multi-shot Superior Auto mode, and as a bonus — WiFi.
High-dynamic 16 Mpix sensor
The NEX-6 uses the well known and perfectly mastered 16-Mpix Exmor APS-C CMOS sensor that astonished the photo world with its dynamic range and high-sensitivity image quality, as confirmed by our tests on the NEX-5N and the SLT-A57, which share the same sensor. The NEX-6 has a sensitivity range of 100 to 25,600 ISO.
If we had somewhat unconsciously felt that there was something missing in previous Sony compact hybrids, the NEX-6 by contrast feels like an embarrassment of riches: it is equipped with an integrated number 6 flash (a real plus compared to the NEX-5N and 5R), and is delivered with a small, non-integrated external flash. We also find the same 2.36 million-point OLED electronic viewscreen found on the NEX-7 and the SLT-A77; a 3-inch, 921,600-point adjustable screen; and a rapid burst shooting rate of 10 fps.
The camera retains the Superieur Auto mode, which uses multi-image capture for different modes — HDR, backlighting, bokeh, hand-held night photos, etc. The NEX-6 also offers Full HD 50p AVCHD video for a bit rate of 28 Mpbs and continuous autofocus, along with an integrated stereo microphone. The NEX-6's control dial makes it easy to switch between PSAM modes.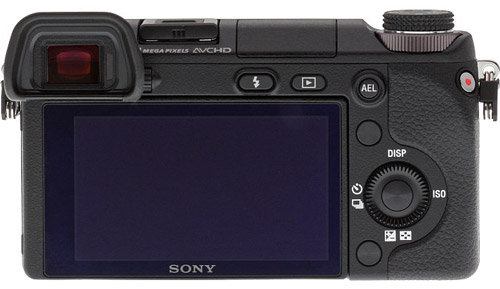 A connected compact
The NEX-6 is WiFi-capable just like the recently-announced NEX-5R. It can communicate with a smartphone, a tablet, a computer, and connect via a hotspot for sharing photos and videos by mail or on social networks. It is also possible to download PlayMemories applications with which to customize the camera.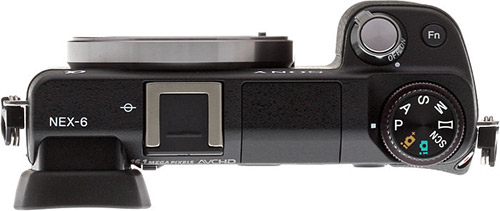 Pricing and availability
The NEX-6 will be available during November 2012 at a price of $1,000 in a kit with the new 16-50mm SEL1650 lens, a far more attractive lens than the 18-55mm usually delivered with Sony compact hybrids. The Sony E PZ 16-50mm F3.5-5.6 OSS is a compact zoom endowed with a telescopic mechanism similar to that of the Panasonic G X Vario 14-42mm Power zoom. It provides image stabilization along with the equivalent of 24-75mm, more wide-angle than most of its competitors.