Introduced in May 2019 as Sony's flagship smartphone, the Sony Xperia 1 comes loaded with a triple-camera system for its main camera, and is powered by a speedy Qualcomm Snapdragon 855 SoC paired with 6GB of RAM and 128GB of expandable storage. As befits a flagship phone, the Xperia 1 comes with an impressive list of audio specs, including aptX HD audio, Dolby Atmos, and active noise cancellation with a dedicated microphone.
We put the Sony Xperia 1 through our rigorous DXOMARK Audio test suite to measure its performance at both recording sound using its built-in microphones and playing audio back through its built-in speakers. In this review, we'll break down how it fared in a variety of tests and several common use cases.
Audio specifications:
Stereo speakers and stereo recording
Dynamic vibration system
Active noise cancellation with dedicated microphone
Dolby Atmos sound
Qualcomm aptX HD audio
High-resolution audio
About DXOMARK Audio tests: For scoring and analysis in our smartphone audio reviews, DXOMARK engineers perform a variety of objective tests and undertake more than 20 hours of perceptual evaluation under controlled lab conditions. This article highlights the most important results of our testing. Note that we evaluate both Playback and Recording using only the device's built-in hardware and default apps. (For more details about our Playback protocol, click here; for more details about our Recording protocol, click here.)
Test summary
45
audio
Test results for the Sony Xperia 1 are disappointing in light of its position as a flagship smartphone and its impressive-sounding list of audio features. Its Overall audio score of 45 places puts it in last place—well below the other Android phones we have tested, and much further behind the iPhone models and the current front-runner, the Huawei Mate 20 X (75 points).
The Xperia 1's low score was primarily driven by its mediocre performance when playing back audio through its speakers, resulting in a very low 39 Playback score. The Xperia 1 holds its own when it comes to recording audio, though, with a very respectable 64 in our recording tests, and reasonably good scores across all our tested recording use cases.
The Xperia 1's playback performance was generally weak in all our tested categories. Tonal reproduction, as measured by our timbre sub-score, was the poorest of any of the devices we have tested so far. Most of the other categories we tested were also weak, the exception being that the Xperia 1 produced clean sound, giving it a very good Artifacts score of 84.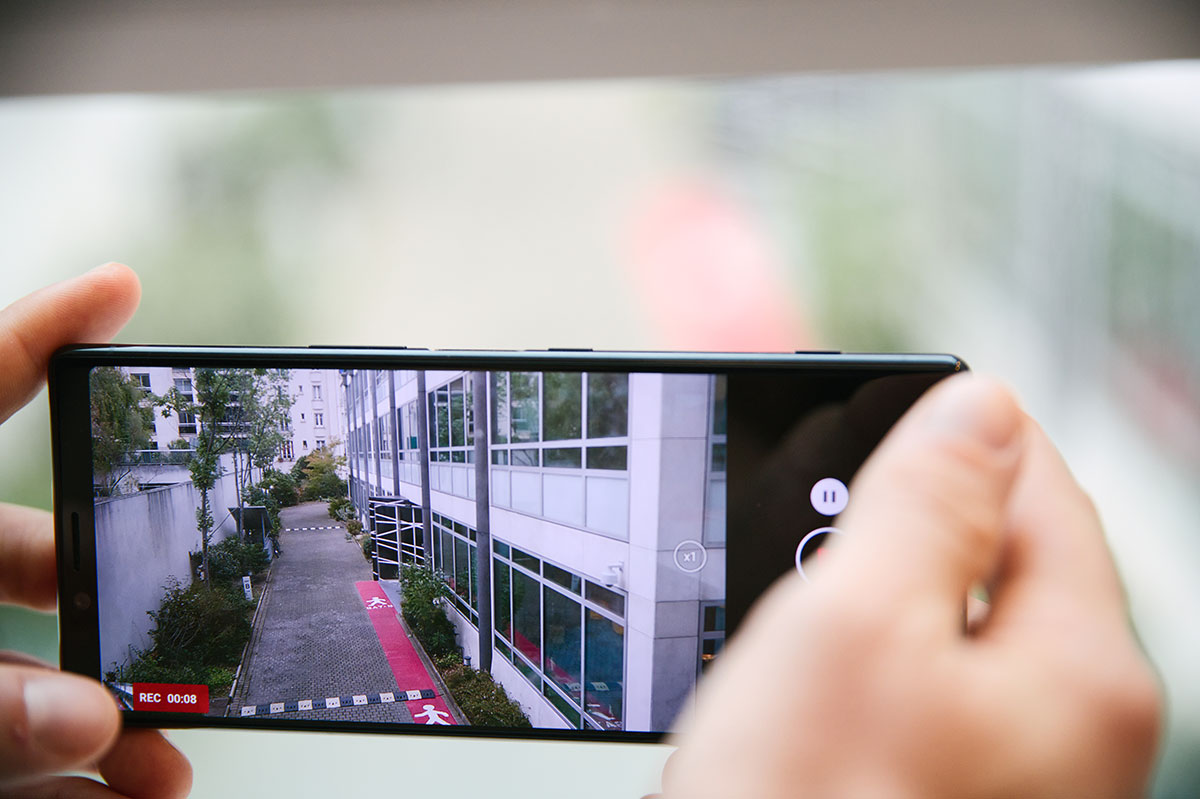 Evaluating audio quality when video recording with the Sony Xperia 1
The playback results mean that the Xperia 1 isn't among the best devices for listening to either music or movies through its speakers, although its good clarity translates well at reproducing gaming audio. One important note about playback performance is that the Xperia 1 does not have Dolby Atmos enabled by default, so that feature is not reflected in our test results. Listening with Atmos turned on, we found that it does result in an audible improvement in spatial performance.
When it comes to recording, the Xperia 1 is a more solid performer. Tonal reproduction was among the best of any devices we have tested. It also does an excellent job of accurately representing the locations of sound sources, as demonstrated by its high Spatial sub-score of 60. Recording volume and background sound reproduction were reasonable, with sub-scores in the middle of the range of the devices we've tested. In short, the Xperia 1 did a solid job across all of our Recording use cases, especially for recording voice memos and gaming audio.
Sub-scores explained
The DXOMARK Audio overall score of 45 for the Sony Xperia 1 is derived from the Playback and Recording scores and their respective sub-scores. In this section, we'll take a closer look at these audio quality sub-scores and explain what they mean for the user.
Playback
Timbre
Black Shark 5 Pro
Best: Black Shark 5 Pro (89)
Most notable in our tonal range tests of the Xperia 1 was its very poor bass reproduction when held in portrait mode. It improved noticeably in landscape mode, but was still weak. Midrange performance was better and the response curve was fairly flat, but it weakened again in higher frequencies. In our use cases, however, the high-frequency falloff didn't prevent the device from doing a good job of reproducing treble for our listeners, although in some cases the weakness in high frequencies was noticeable. You can see this illustrated in this graph of the phone's frequency response across our tested range:
Music playback frequency response
As you'd expect, tone reproduction was best in landscape mode for all frequencies, not just bass. Even then, the Xperia 1 was a weak performer across all our tested categories of music.
Dynamics
Black Shark 5 Pro
Best: Black Shark 5 Pro (81)
As illustrated by its Dynamics score of 44, the Xperia 1 didn't do a great job of recreating the energy level of audio sources. This was largely driven by poor bass precision and accompanying weak punch sub-scores, although there was some improvement in bass response and scores at higher volume levels. Conversely, notes reached their maximum levels quickly at low and medium volumes, giving the device solid attack sub-scores that fell off as volume increased.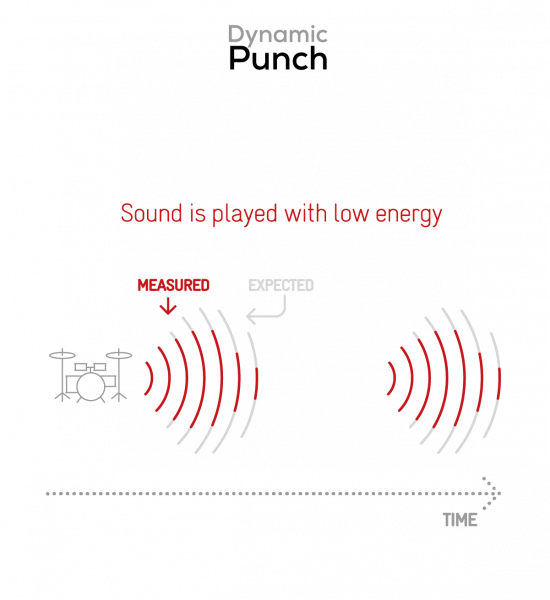 Dynamic could be improved.
Spatial
Black Shark 5 Pro
Best: Black Shark 5 Pro (88)
The Xperia 1 does a relatively poor job of allowing listeners to accurately place the location of audio sources. That held true across all of our tests, including multimedia playback in all orientations. And in some cases, one speaker would reproduce only high frequencies but not bass.
A lack of source separation (wideness) is expected when users hold a phone vertically in portrait mode, with the result that users hear sounds as if they are coming from directly in front, instead of from one side or the other, as illustrated here: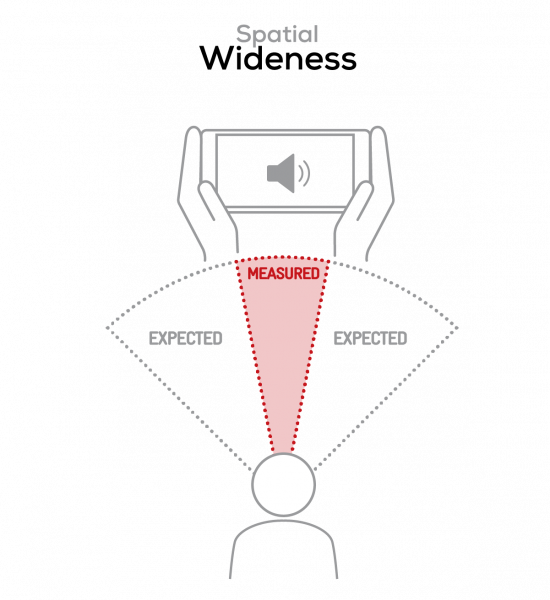 The Xperia 1 also failed to reverse the audio channels when held in inverted ("upside-down") landscape mode, so it was unable to accurately reproduce the location of sound sources in that orientation.
Volume
Nubia RedMagic 7 Pro
Best: Nubia RedMagic 7 Pro (91)
Volume levels on the Xperia 1 were also disappointing, as audio was nearly inaudible at low volume settings. Overall loudness was also not as good as most of the other phones we've tested. You can see the poor performance at low volume settings illustrated in this graph:
We carried out objective measurements in our laboratories on recordings of both hip-hop and classical music played at the maximum user volume step.
| | |
| --- | --- |
| Hip-Hop | Classical |
| 73.9 dBA | 69 dBA |
Artifacts
Xiaomi Redmi K50 Gaming
Best: Xiaomi Redmi K50 Gaming (113)
Keeping audio playback free from artifacts is one of the strengths of the Xperia 1, giving it a very good Artifacts sub-score of 84 based on relatively low temporal and spectral distortion. Game audio was the highlight here, with low distortion contributing to an impressive performance in our gaming tests. Notably, the phone still performed relatively well when one of the speakers was partially occluded by a user's hand. However, we did measure fairly high levels of noise, especially at high volume, when compared to other similar devices.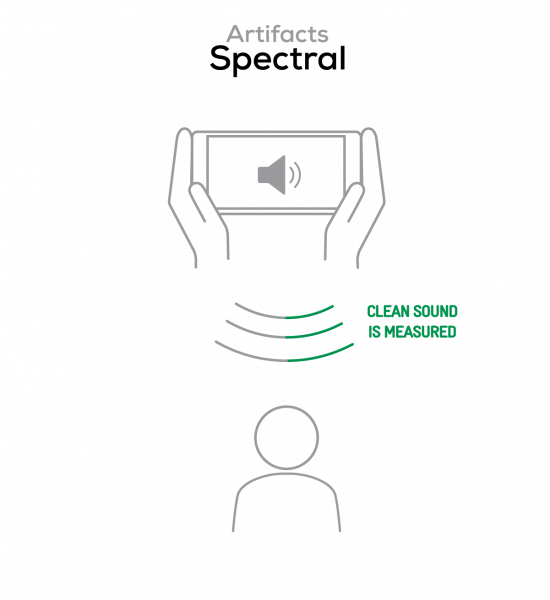 Recording
Timbre
Honor Magic3 Pro+
Best: Honor Magic3 Pro+ (91)
Unlike with Playback, the Xperia 1 does an excellent job of preserving bass when recording. However, midrange and treble performance could be improved; as things stand, the overall tone as measured by our Timbre sub-score tests is unbalanced. The left channel sometimes has undesirable resonances, and voices can also seem somewhat muffled in recordings of meetings. You can see the recording level consistency of the Xperia 1 in this graph:
Dynamics
Black Shark 5 Pro
Best: Black Shark 5 Pro (81)
The Xperia 1 did a good job of preserving the sound envelope of videos, but didn't perform as well when recording electronic music concerts. The signal-to-noise ratio was lower than for many other similar phones, and voices were not as sharp as they should be.
Spatial
Black Shark 4S Pro
Best: Black Shark 4S Pro (78)
The Xperia 1 does an excellent job of allowing listeners to locate sound sources in recordings across all of our use cases, as measured by our localizability tests. Good localization provides a more natural listening experience, as sound sources seem to originate from their real-world locations: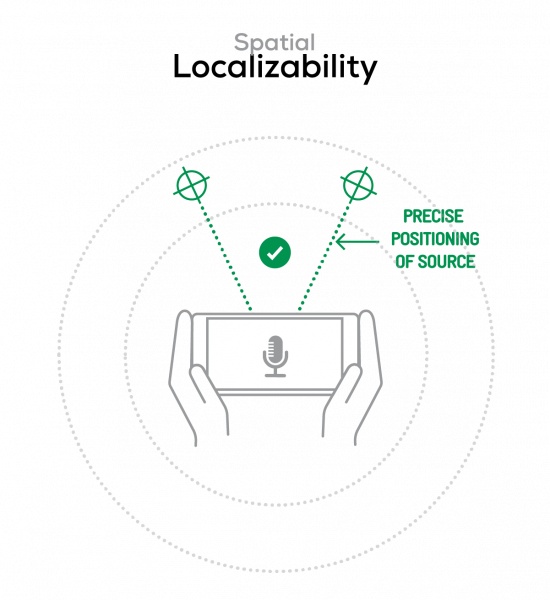 Good spatial localizability
The Xperia 1 also does a good job of separating audio sources when using the main camera to record, resulting in particularly good wideness scores in our life video tests (which use the main camera), and our meeting room recording tests. It produced reasonable scores in our selfie (front cam) video tests.
However, like most smartphones in the market today, the Xperia 1 doesn't allow for accurate directional isolation of audio sources when recording videos, but it does when recording meeting audio. Unlike some other phones we've tested, the Xperia 1 didn't do a good job of allowing listeners to hear how far away a particular audio source was. Sometimes voices seemed too far away and different frequencies sounded like they were coming from different distances.
Volume
Black Shark 5 Pro
Best: Black Shark 5 Pro (99)
The Xperia 1 is capable of creating fairly loud recordings without distortion. However, it still wasn't quite capable of capturing the high volumes often found when recording concerts. While distortion was low, the actual loudness levels encoded in recording files was often lower than it should be. Here are our test results, measured in LUFS (loudness unit full scale); note that results lower than –24 are unacceptable.
| | | | |
| --- | --- | --- | --- |
| Meeting | Life Video | Selfie Video | Memo |
| -24.8 LUFS | -18.5 LUFS | -16.3 LUFS | -19.1 LUFS |
Artifacts
Black Shark 5 Pro
Best: Black Shark 5 Pro (97)
The Xperia 1 suffered from more recording artifacts than most of the phones we have tested. For example, distortion was audible when there was shouting in the recording, and it frequently recorded a hissing noise. Spatialization can be awkward, with sounds sometimes seeming to come from behind the listener. Here is a sample clip of a noisy scene recorded with the Xperia 1 that you can use for evaluation:
One particularly troublesome issue with the Xperia 1 was that finger noises could be heard when the user changed their grip on the phone and held their hand near the speaker. When their fingers partially covered the area above the speaker, there was also a major degradation in the tonal response due to occlusion.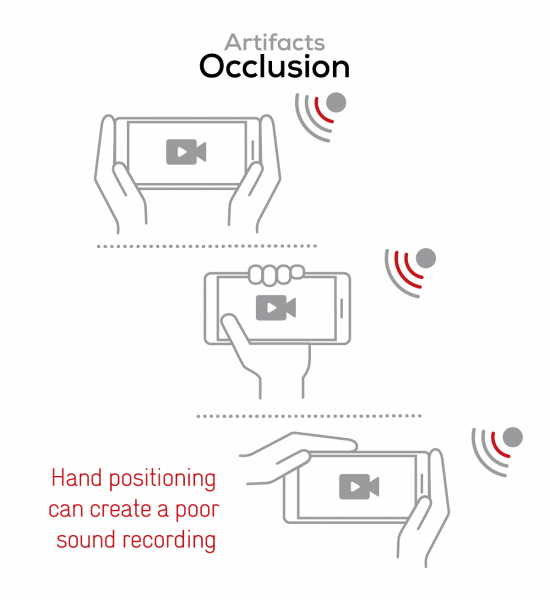 Occlusion artifacts are noticeable.
Background
Black Shark 5 Pro
Best: Black Shark 5 Pro (60)
The Xperia 1 suffers from poor directivity when recording both videos and memos, which makes it harder to correctly position and identify the primary audio sources coming from the background. In addition, the tonal response of the recording of the background is relatively poor.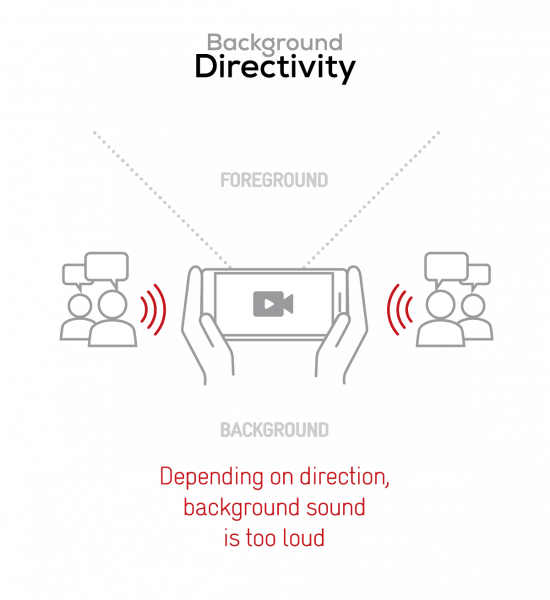 Poor background directivity.
Conclusion: Poor performance for a flagship phone
Sony has clearly invested a lot in the Xperia 1's audio feature set. Unfortunately, that investment doesn't shine through when using the device to play music or movies through its speakers at the default settings. (Users should definitely experiment with enabling the phone's Dolby Atmos functionality.) However, clarity is good even in default mode, which gives it a leg up for gamers.
For those recording videos or audio with the phone, the news is better, as the Xperia 1 holds its own in all our use cases.
Playback
Cons
Lack of bass response
Poor dynamics
Poor spatial separation of sound sources
Inaudible at low volume settings
Recording
Pros
Great bass preservation
Good localization of sound sources, wide sound stage
Relatively high maximum loudness
Cons
Poor midrange and treble recording
Muffled sounds in meeting recordings
Poor ability to hear direction of sound sources
Recorded voices often perceived as too far away
Signal-to-noise ratio is too low when recording voices