The Xperia 1 is Sony's most recent flagship smartphone, featuring a Qualcomm Snapdragon 855 chipset and 6.5-inch OLED display with 1644 x 3840 pixels. It's also the first Xperia device to feature a triple-camera with super-wide and tele lenses. However, this review is about the front selfie camera — a 8Mp device that features a 1/4″ type sensor with a pixel pitch of 1.12μm. It's fronted by a f/2.0 lens with an effective focal length of around 24mm. There are also helpful features such as HDR (High Dynamic Range) photo, 5-axis stabilization and both Hand and Smile Shutter onboard. Read our full review to find out how the Xperia 1 front camera performed in our tests.
Key front camera specifications:
Single-camera setup
8Mp 1/4" sensor with 1.12μm pixels
f/2.0-aperture lens
24mm-equivalent focal length
SteadyShot with Intelligent Active Mode (5-axis stabilization)
4K OLED display
About DxOMark Selfie tests: For scoring and analysis in our smartphone front camera reviews, DxOMark engineers capture and evaluate over 1500 test images and more than 2 hours of video both in controlled lab environments and in natural indoor and outdoor scenes, using the camera's default settings. This article is designed to highlight the most important results of our testing. For more information about the DxOMark Selfie test protocol, click here.
Test summary
78
selfie
An overall score of 78 puts the Xperia 1's selfie camera near the middle of our ranking, just ahead of the Google Pixel 2 but below the Apple iPhone XS Max. A good score of 82 for Photo is pulled down somewhat by the Video score of 72. Although the focus is fixed, the wide lens and extensive depth of field contribute to making Focus one of the Xperia 1's stronger areas. It also prioritizes faces well when calculating the exposure, with and without flash. And in most conditions, the noise reduction isn't too aggressive, so there's a good level of texture and detail. The camera's weakest area is Color, and we found many images suffering from a green or blue cast. The Bokeh score is also low, as the single camera relies on computational background blurring, which has mixed success. We also found some bad color fringing.
The Xperia 1 scores well for exposure, as it usually exposes the subject's face correctly. It performs best outdoors, but it also does a good job indoors and in low light. However, the dynamic range is rather limited and this can sometimes result in bright backgrounds being burned out. Some highlight clipping is visible in the background in the sample below, but overall the Xperia 1 has done a decent job, retaining some detail in the bright background without severely underexposing the subject. Underexposure on the face is much more noticeable on the two comparison devices but while the iPhone XS Max at least records good background detail, the Pixel 2 image shows strong highlight clipping on background elements.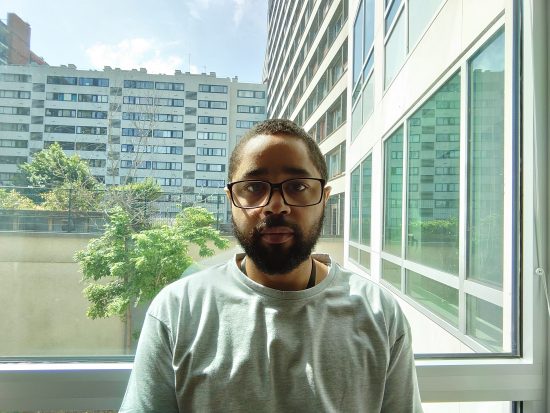 Sony Xperia 1, backlit portrait
The images below go some way toward explaining the Xperia 1's low score for color. Although the subject is nicely exposed, there's a distinct green cast which makes the image very unattractive. This color cast is visible in images shot indoors as well as outdoors.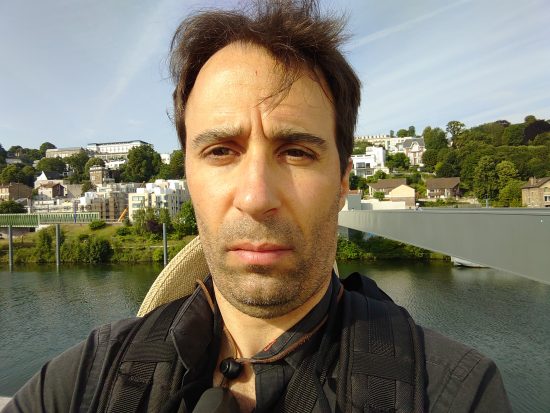 Sony Xperia 1, outdoor color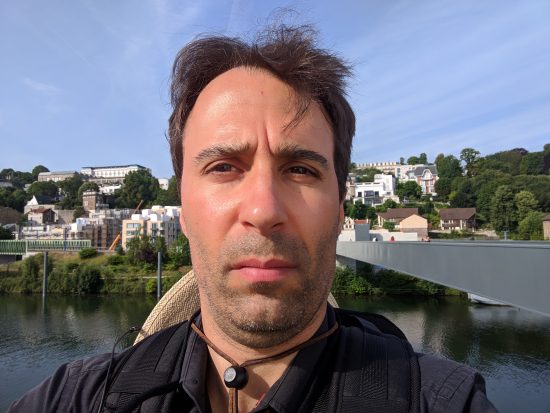 Google Pixel 2, outdoor color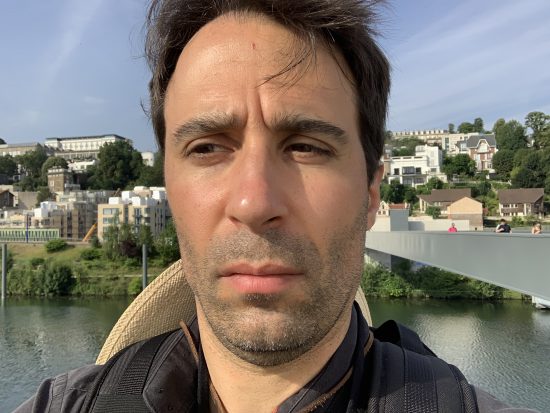 Apple iPhone XS Max, outdoor color
It may seem ironic that a camera with a fixed focus point scores so well for Focus, but the end results speak for themselves. As the camera captures a wide depth of field, selfies are sharp whether the camera is held at arm's length or on a selfie stick, and group shots are also usually sharp. The extensive depth of field also means that the Xperia 1 is a good choice for shooting selfies in front of landmarks.
It's also a plus point when shooting group portraits where not all subjects are in the same focus plane. In the comparison below you can see that subjects at the back of the group are perfectly sharp in the Sony image and slightly softer in the comparison shots.
Having lots of sharp detail presents a challenge when trying to replicate the appearance of shooting at a wide aperture with a large sensor camera in bokeh mode. The Xperia 1 applies a very shallow depth-of-field effect and its depth estimation is not the best. As a result, some areas of the subject are blurred when they should be sharp.
In very low light you can activate the Xperia 1's "flash" which uses the display to illuminate the subject. Like on many smartphone front cameras, this option is best reserved for emergencies, though. When shooting without any ambient light, high levels of both luminance and chroma noise are visible. When the flash is mixed with low ambient light,fairly strong color shading becomes visible. On the plus side, exposure and white balance differences between shots are only very minor.
The image below demonstrates the Xperia 1's ability to render group-selfies sharp and correctly exposed, but it also displays some noticeable chromatic aberration. Once you spot this fringing, it's hard to ignore it.
There's better news with regards to flare, however, as the Xperia 1 generally manages to control it well. Our testing revealed that it's rarely found and its impact is low. Other artifacts we found on Xperia 1 front camera images include a hue shift on faces and ringing.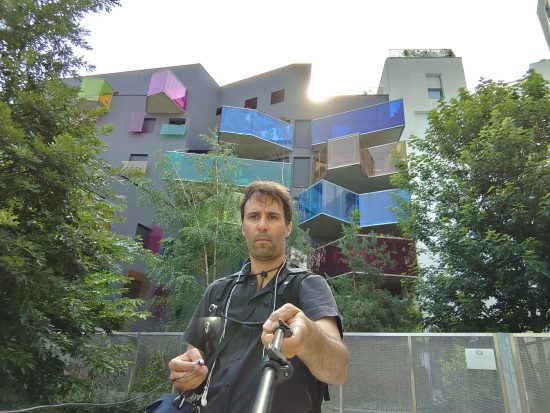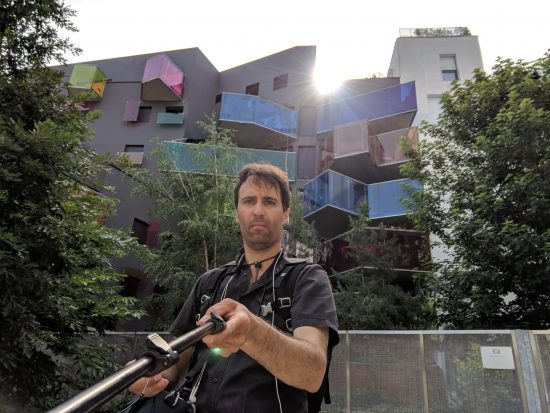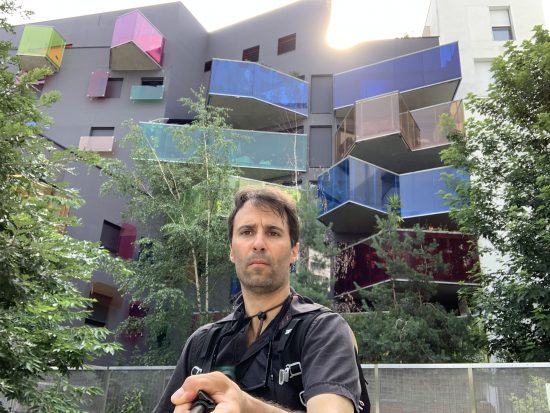 Apple iPhone XS Max, flare
In video mode, the Xperia 1 front camera is capable of shooting 4K video, but the default settings are Full HD at 30fps, and we use these for our testing. In our tests, the Sony Xperia 1's front camera achieves a Video score of 72 points, another mid-table performance. Again, its strongest area is Focus, but it also scores well for Artifacts and Stabilization. It also handles subject exposure well with statics scenes, but the camera is slow to respond to changes in brightness in moving scenes,
As with stills, the Sony handles target exposure well in videos when the scene is static, but it's less successful with changing scenes. Noise levels are also high in low light, and this has a negative impact on the level of detail visible in movies. We also found temporal noise was quite high in the lab, worse than in real-world shooting situations. The graph below shows the evolution of spatial and temporal noise against the chromaticity index and the light level. Noise chromaticity measures the level of color noise as a percentage of the total noise.
In bright outdoor conditions and under typical indoor lighting, the Xperia 1 renders textures in video clips fairly well, but a drop-off is noticeable once light levels fall below 100 lux and in even lower light conditions.
As with the stills, the Xperia 1 video mode's weakest area is Color, with footage often suffering from green or blue color casts. With a score of 70 points, stabilization is pretty efficient, though. The walking video particularly demonstrates the degree of stabilization, enabling watchable footage that may please vloggers and other front camera video shooters.
Sony Xperia 1, outdoor video, walking
Conclusion
Sony has done a great job with the focus system for the Xperia 1 selfie camera. It delivers nice sharp images in a wide range of situations and gets all the faces in a group in focus. This would make it a good choice for travel and vacations when you may wish to shoot selfies in front of key destinations. The video stabilization system also does a decent job, taking much of the shake and wobble out of handheld footage. However, a green or blue color casts mars many images by giving skins an unhealthy hue. There's also quite marked fringing in some images, but if you can live with these shortcomings, the Xperia 1 is worth considering.
Photo pros
Accurate target exposure in indoor and outdoor conditions
All faces in focus in group selfies
Decent texture and detail in most situations
Good exposure of faces with flash
Video pros
Wide depth of field
Good target exposure with static scenes
Acceptable stabilization
Good texture and detail, especially outdoors
Photo cons
Greenish cast in outdoor and indoor conditions
Sometimes unnatural skin tones
Limited dynamic range
Strong color fringing on high-contrast edges
Bokeh depth estimation not always accurate
Video cons
Visible color cast in several lighting conditions
Temporal chroma noise, even in bright light
Limited dynamic range
Skin tones often look unnatural