Launched in January 2018 with a sub-$250 price tag, the Xperia L2 is placed towards the budget-end of Sony's smartphone range. Its main camera, reviewed here, is a 13Mp affair with a 1/3.06-inch sensor and f/2.0 lens. That's a brighter optic than on the L1, which has an f/2.2 lens.
Sony has opted for the fairly uninspiring MediaTek MT6737T chipset along with a quad-core 1.5GHz CPU, giving the L2 3GB of RAM and 32GB of internal memory. In addition, there's a microSD port that can accept microSDXC cards of up to 256GB capacity.
Key specifications
Single camera
13Mp 1/3.06-inch sensor
f/2.0-aperture lens
LED flash
1920×1080 video at 30 fps
Selfie camera: 8Mp with 120-degree field of view
5.5-inch IPS touchscreen
Test summary
The Sony Xperia L2 camera achieved an overall score of 57, which puts it close to the bottom of our current ranking and in close company with other devices in the budget segment. At 58 points, the L2 Photo score is only marginally higher than the overall score. One of the main issues with the camera is its limited dynamic range, which means that highlights burn out and shadows block up relatively easily.
Subject exposure is generally good, although we found that there's a tendency to underexpose images in low light.
Focusing is another problem area for the L2, and it's one of the least responsive cameras we've seen for a while. The time the camera takes to focus is variable and it quite often fails to get the subject in sharp register. Low light exacerbates the problem, so images are routinely soft.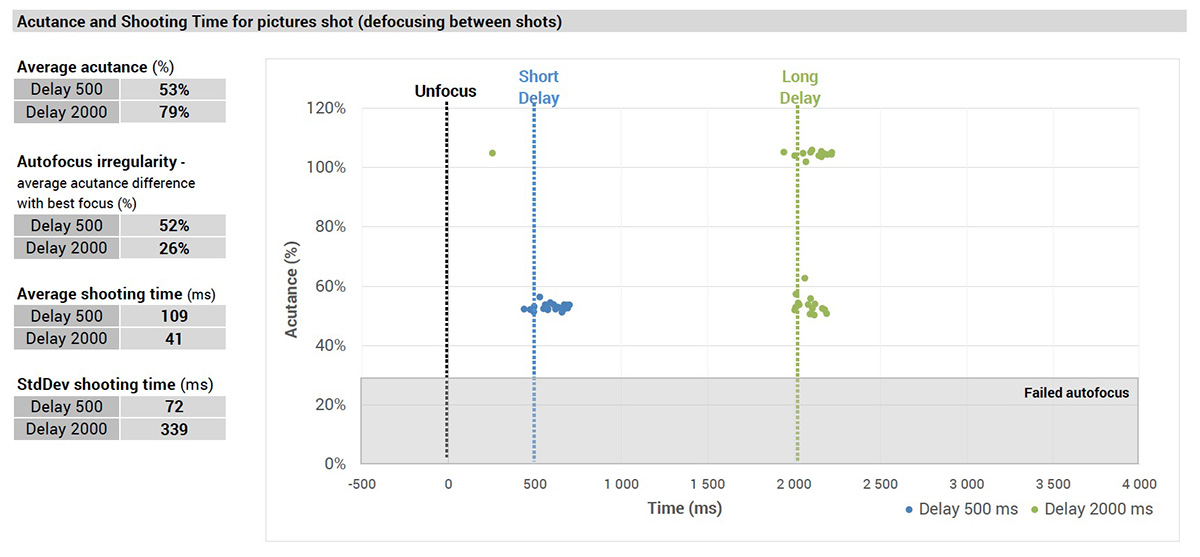 Sony Xperia L2 autofocus performance in low light (20 Lux).
The chart above illustrates that even when the L2 was allowed 2 seconds for focusing during our testing at 20 Lux (low light), a significant proportion of images were not completely sharp. When that time was cut to 0.5 seconds, none of the images were perfectly sharp. This indicates that the L2 is not a good choice for quick-fire photography or for shooting moving subjects indoors.
Detail levels are not high, but it's hard to tell if this a result of the lens or autofocus issues. Many objects photographed outdoors also suffer from ringing, and flare is visible in some high-contrast situations.
Our tests reveal that the L2 is prone to white balance casts, with many images shot inside and outdoors having a blue note. In addition, colors tend to be quite highly saturated, in some instances to an unpleasant or unnatural degree. There are also examples of slight color shading, which means that some objects change color depending on their location within the frame.
As the Xperia L2 has a single main camera, there is no bokeh mode. Similarly, only digital zooming is possible, and this proves to be of limited use because of a very noticeable loss of sharpness and detail.
On the whole, video quality from the Xperia L2 is disappointing due to a general lack of detail, and it manages a Video score of just 56 overall. As with the stills, the autofocus performance is poor. There's also no stabilization, so accidental camera movements are clearly visible.
Conclusion
The Sony Xperia L2 is built to a price and naturally, this brings a few compromises, one of which is made with the camera. If you have more than a passing interest in photography, then the L2 is not for you, but if you only want to take the odd image, perhaps with the intention of viewing it on your smartphone screen, its relatively affordable price makes it an attractive option.
While you can anticipate that the image will be well-exposed, don't have high expectations for the speed or success of the autofocusing system, sharpness, or color.
57
mobile
Pros
Good target exposure in most conditions
Flash produces good target exposure
Pros
Generally good target exposure
Little noise visible in low light
Cons
Very poor autofocus performance
Very limited dynamic range
Strong white balance casts
Noise often visible in areas of uniform tone
Cons
Very low levels of detail
Generally poor autofocus performance
Very limited dynamic range
Unstable exposure and poor transition