The Mi 10 Ultra is Xiaomi's flagship phone, powered by a speedy Qualcomm 865 chipset and featuring a bright 800-nit 6.67-inch OLED 120 Hz display. Configurations range from 8 to 16 GB of RAM and 128 GB to 512 GB of storage.
The back is studded with four cameras, including the most impressive long tele-module we've seen to date, but when you're shooting selfies, there's just one camera— a 20 MP 1/3.4-inch sensor behind a 26 mm-equivalent f/2.3 lens. In addition to stills (at the native 20 MP), it also records 1080p video at 30 fps. The Mi 10 Ultra is currently one of the highest-rated phones we've tested for overall rear camera performance; read on to find out how it fares on the flip side.
Key front camera specifications:
20 MP sensor with 0.8µm pixels
Fixed-focus f/2.3-aperture lens
Display flash
1080p/30 fps video
About DXOMARK Selfie tests: For scoring and analysis in our smartphone front camera reviews, DXOMARK engineers capture and evaluate over 1500 test images and more than 2 hours of video both in controlled lab environments and in natural indoor and outdoor scenes, using the camera's default settings. This article is designed to highlight the most important results of our testing. For more information about the DXOMARK Selfie test protocol, click here.
Test summary
Scoring
Sub-scores and attributes included in the calculations of the global score.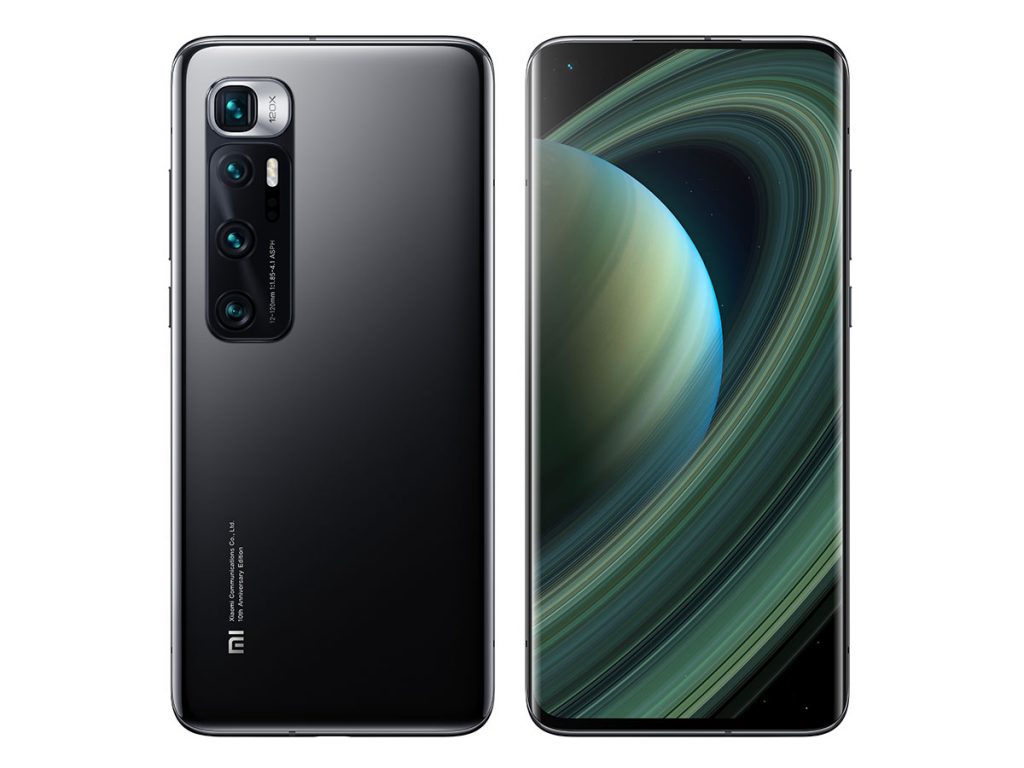 Xiaomi Mi 10 Ultra
115
selfie
Please be aware that beyond this point, we have not modified the initial test results. While data and products remain fully comparable, you might encounter mentions and references to the previous scores.
With a DXOMARK Selfie score of 88, the Xiaomi Mi 10 Ultra turns in a top-twenty performance in our front camera ranking, keeping company with strong phones from last year (it lands between the Huawei P30 Pro and the OnePlus 7 Pro). This is a bit better than its slightly down-market sibling Mi 10 Pro, but quite a departure from the chart-storming performance of its main camera system.
Its Photo score of 86 is a far cry from the top-ranked Huawei P40 Pro at 108, but the Mi 10 Ultra still manages good selfies if conditions are not too challenging. Exposure is generally accurate. The fixed-focus lens is properly optimized for close focus, but depth of field isn't quite deep enough to keep backgrounds sharp. Color is fairly neutral, though color rendering is not a strong point for the camera. The main weakness here is limited dynamic range, which will mean clipped highlights when shooting scenes with a wide brightness range.
Most of the Mi 10 Ultra's gain on its slightly older sibling, the Mi 10 Pro, comes from the Video score, and most of that boost comes down to a massive improvement in stabilization performance.
Exposure is generally accurate. The Mi 10 Ultra manages good exposures down to very low light levels in our lab testing. In the dimmest conditions tested exposure begins to drop, but not more than some leading devices. However, when it comes to capturing wide brightness scenes, the Mi 10 Ultra, like the Mi 10 Pro, really struggles compared to the best of the competition. Expect blown-out skies, as in the example below. Target exposure is also sometimes a bit low when HDR processing kicks in. In direct sunlight, blown highlights on the face can also be an unflattering problem.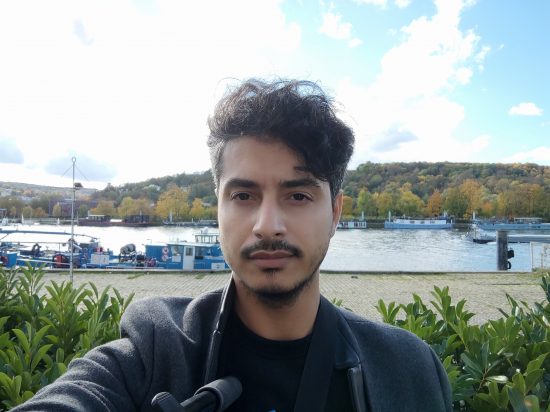 Xiaomi Mi 10 Ultra, good exposure on face, blown-out sky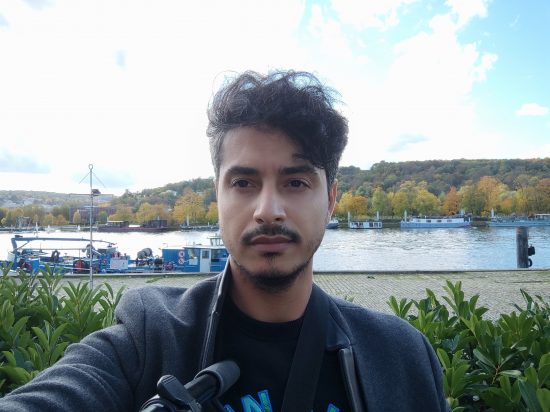 Xiaomi Mi 10 Pro, good exposure on face, blown-out sky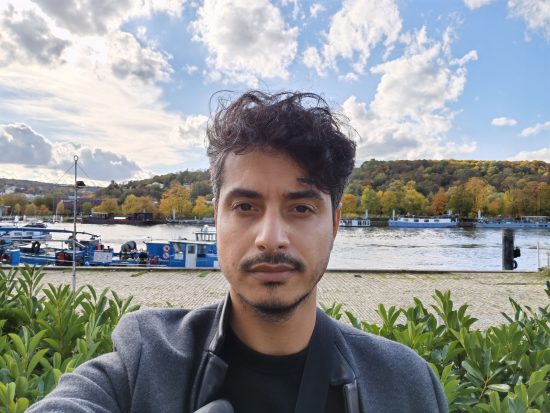 Huawei P40 Pro, good exposure on face, far more detail in sky
The Mi 10 Ultra's front camera often delivers pleasant and vivid color, but rendering errors are occasionally visible. White balance is generally neutral and quite accurate outdoors and indoors at moderate light levels, but color casts sometimes crop up in lower light conditions. In low light, our testers noted some color shading, but this is unlikely to bother most people.
In the example below, we see the Mi 10 Ultra's generally pleasant outdoor color output, with a color rendering glitch pointed out in the cropped image.
The Mi 10 Ultra's fixed-focus lens is optimized for a typical arm's-length selfie distance of 50 cm. It's also quite sharp at 30 cm and remains acceptable at a selfie-stick distance of 120 cm (where it's a tiny bit sharper than the Mi 10 Pro, though softer than what you'd expect from an autofocus system). In the group selfie below, we see that despite the simpler fixed-focus design of the Mi 10 Ultra's front camera, the lens's deeper depth of field keeps the farther subjects sharper than the Huawei or Samsung, which both have AF but have limited depth of field because of their larger sensors.
The Mi 10 Ultra's front camera captures a lot of detail, especially in bright light, but fine luminance noise is pretty much always visible. Acutance rolls off gradually below 100 lux, and even in very low light the camera captures an acceptable level of detail. Backgrounds are always a bit soft, but this is because of the fixed-focus lens, not the sensor.
Noise is more present than ideal, with fine luminance speckling visible under most conditions, becoming more apparent in low light. In the example below, we see the Mi 10 Ultra holding on to a lot of detail under these dim conditions, but at the expense of fairly intrusive noise.
The Mi 10 Ultra improves its artifact score over the Mi 10 Pro, but it's still very flare prone and loses the most points for that fault. Hue shift is visible in skies as they blow out, and our testers also noticed anamorphic distortion towards the edges of the frame and some color quantization. In the example below, the hue shift in the sky is quite pronounced.
In very low light the Mi 10 Ultra's screen can double as a flash. In darkness, the results show nice color with accurate white balance, but with some tungsten light in the mix, a green/blue color cast and some color shading skew things a bit. The mixed lighting condition also tends to increase noise and decrease detail. Flash exposure is inconsistent, as seen in the examples below, so it pays to check your results.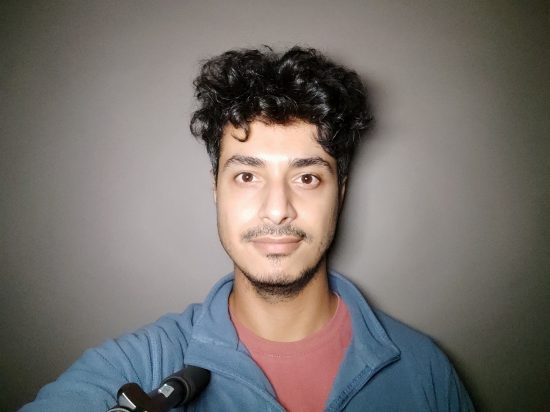 Xiaomi Mi 10 Ultra, flash exposure instabilities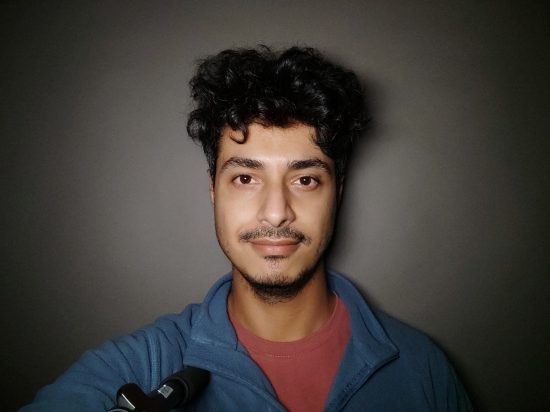 Xiaomi Mi 10 Ultra, flash exposure instabilities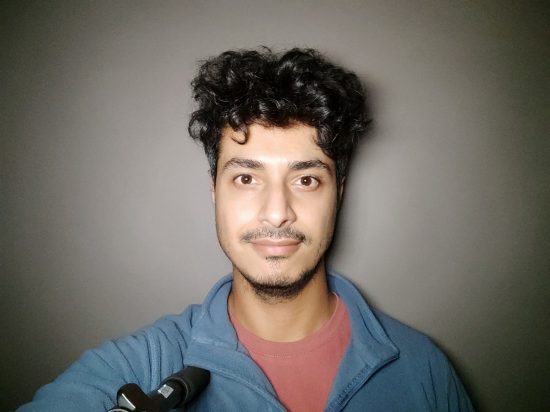 Xiaomi Mi 10 Ultra, flash exposure instabilities
The Mi 10 Ultra's portrait mode for simulating background blur unfortunately shows little improvement over the Mi 10 Pro's rather disappointing performance. As with that phone, the Mi 10 Ultra tries to detect the subject and then blur everything else in the frame: there is no blur gradient to speak of, no distinction between foreground, mid-ground, and background. For acceptable results, this mode should be used in compositions in which the subject is alone against a distant background. At least target exposure is accurate and colors are pleasant, and subject segmentation is reasonably accurate, though not as good as the best of the competition.
The Mi 10 Ultra achieves a score of 91 for video, a substantial jump over the Mi 10 Pro based mostly on enhanced stabilization, though most other areas also improved (with one exception). Its Video sub-scores are as follows: Exposure (70), Color (80), Focus (78), Texture (66), Noise (80), Artifacts (86), and Stabilization (81).
Target exposure on faces is accurate in bright light and in moderate indoor lighting. Below 10 lux, exposure drops, and in very low light, underexposure results. As with stills, dynamic range is limited, so clipped highlights are likely whenever the brightness range of a scene is wide. In the chart below we see that the Mi 10 Ultra maintains a good exposure down to 10 lux, but drops lower than the Huawei and the Samsung at the dimmest levels.
Color in video is not a strong point for the Mi 10 Ultra. Color rendering, especially of skin tones, sometimes looks unnatural, although it's a slight improvement over the Mi 10 Pro.
On the downside, texture performance actually decreased from what we measured on the Mi 10 Pro, with detail being lower across the entire range of tested lighting conditions. In the chart below, we see that the Mi 10 Ultra's acutance at 1000 lux is lower than the Samsung S20 Ultras acutance at sub-10 lux levels. At 1 lux, when the best phones can produce something even if detail is very low, the Mi 10 Ultra has fallen off the scale.
Noise on the other hand is quite well controlled down to 5 lux, a very respectable performance comparable to that of some of the most capable phones. Note, however, that captured video is so underexposed at 1 lux we could not include the results here as we normally would.
Artifacts noted in still photos (flare, hue shift, color quantization) continue to be an issue in video output. Our testers also noted that the depth of field of the fixed-focus lens can be a bit narrow for videos when having more background in focus is desirable.
The Mi 10 Ultra makes great strides in stabilization over the Mi 10 Pro, nearly doubling that phone's score and missing the top scorer in this sub-category (the Huawei P40 Pro) by a single point. You can leave your gimbal at home: the Mi 10 Ultra keeps things rock steady.
Xioami Mi 10 Ultra, outdoor video
Huawei P40 Pro, outdoor video
Conclusion
The Xiaomi Mi 10 Ultra holds a high position in our database for rear camera performance, but its front camera lands much further down the list. Selfie still image quality is largely unchanged from its slightly-lower-end sibling, the Mi 10 Pro: it delivers properly exposed, detailed photos under optimal conditions, but its dynamic range can't touch the better competition and leads to frequent clipped highlights when challenged with wide brightness ranges. The portrait mode remains slightly disappointing.
The Mi 10 Ultra's video score, on the other hand, is a marked improvement over the Mi 10 Pro, mainly because of enhancements in stabilization. It still trails leading devices by a few points (due in part to low detail levels), but is worthier of a phone that so clearly excels in rear camera shooting.
Still, users who prioritize front camera performance should carefully consider competing phones in the Mi 10 Ultra's price range.
Pros
Generally accurate exposure on faces
Face in focus at typical selfie distances
Neutral white balance under most conditions
Effective video stabilization
Well-controlled video noise
Accurate video exposure
Nice skin tones in bright light and indoor videos
Good detail in bright-light video clips
Cons
Limited dynamic range, clipped highlights in stills and video
Noise visible, especially in low light
Hue shift, flare, color quantization artifacts in stills and video
Flash exposure inconsistent
Unnatural blur effect in portrait mode
Facial detail lost in videos, especially in low light
Occasional unnatural colors and skin tones in video
Fairly ineffective video stabilization; jello effect
Unnatural skin tones in low-light videos
In the Press