Xiaomi's thirst for disrupting the industry hasn't been quenched yet: with its five cameras, a 2.2GHz octa-core Qualcomm Snapdragon 730G chipset, a 108MP Quad-Bayer sensor, and no fewer than two tele-lenses, the Mi CC9 Pro Premium Edition rates as one of the very best camera phones we've tested to date. On the audio side, however, the specifications are not quite so overwhelming: a headphone jack for wire enthusiasts, Hi-Res Audio certification, and only a single speaker.
Audio specifications include:
Single speaker (bottom left)
Headphone jack
Hi-Res Audio
About DXOMARK Audio tests: For scoring and analysis in our smartphone audio reviews, DXOMARK engineers perform a variety of objective tests and undertake more than 20 hours of perceptual evaluation under controlled lab conditions. This article highlights the most important results of our testing. Note that we evaluate both Playback and Recording using only the device's built-in hardware and default apps. (For more details about our Playback protocol, click here; for more details about our Recording protocol, click here.)
Test summary
54
audio
With an overall Audio score of 54, the Xiaomi Mi CC9 Pro Premium Edition is one of the lowest-scoring phones we've tested so far. At times solid, but often disappointing, it was unable to deliver a consistent performance.
In Playback testing, despite a decent overall performance for a single-speaker device, the phone's score is inescapably linked to its single-speaker design, impaired mainly by the narrowness and imbalance of the sound field, a significant lack of bass, and a considerable amount of distortion at maximum volume. At soft to nominal volumes, however, artifacts are extremely discreet. The single speaker gives a good sense of distance and localizability, and delivers a crisp attack, thanks to a clear midrange and precise treble reproduction.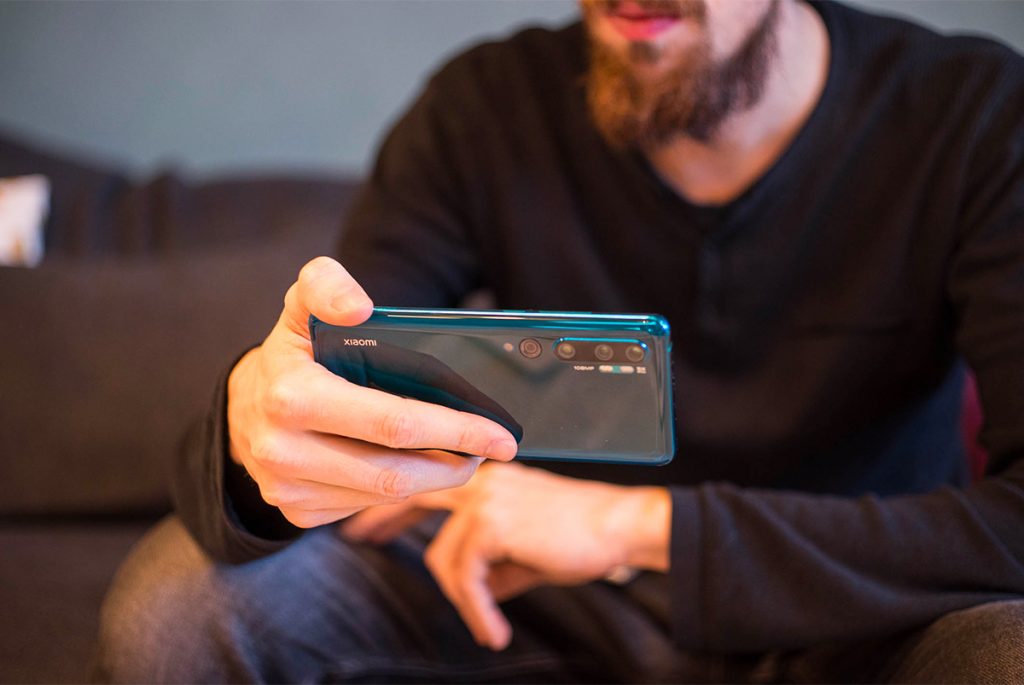 The Xiaomi comes with a total of five cameras, but only one speaker.
In our Recording tests, sub-scores for Timbre and Artifacts are very high (the latter ranking as second-best to date), but a lack of bass, inverted stereo in life/selfie video, and over-compression in loud environments weigh heavily on the global score.
Sub-scores explained
The DXOMARK Audio overall score of 54 for the Xiaomi Mi CC9 Pro Premium Edition is derived from its Playback and Recording scores and their respective sub-scores. In this section, we'll take a closer look at these audio quality sub-scores and explain what they mean for the user.
Playback
Timbre
Xiaomi Mi CC9 Pro Premium Edition
58
78
Xiaomi Mi 10 Pro
DXOMARK timbre tests measure how well a phone reproduces sound across the audible tonal range and takes into account bass, midrange, treble, tonal balance, and volume dependency.
The CC9 Pro Premium Edition delivers a fairly bright overall sound, but is slightly tinny due to a significant lack of bass, which lack is accentuated by very clear and precise midrange and treble reproduction—even at soft volumes. At maximum volume, however, midrange and high-end resonances appear (visible in the graph below at around 4 kHz) and turn out to be particularly irritating. Compared to the Huawei Mate 30 Pro and the Honor 20 Pro, the Xiaomi's CC9 Pro Premium Edition's weak low-end extension seems even more severe.
Music playback frequency response
Predictably, the phone fared the poorest for such genres as hip hop and electronic, and the best for movies and pop rock songs, as midrange and treble precision play a key part in vocal intelligibility and instrument timbre reproduction.
Despite the absence of a second speaker, the phone performed better in landscape mode than in portrait mode across all frequency ranges.
Dynamics
Xiaomi Mi CC9 Pro Premium Edition
57
75
Huawei Mate 20 X
Our dynamics tests measure how well a device reproduces the energy level of a sound source, and how precisely it reproduces bass frequencies.
The Mi CC9 Pro delivers an average dynamics performance. The lack of bass (and therefore, the faded energy) is compensated for by the high-end precision, allowing a good overall sense of attack. Bass precision is noticeably better at maximum volume, slightly improving the Punch sub-score. However, the Attack sub-score diminishes in inverse proportion to the Punch sub-score as the phone reaches substantial volumes, due to the previously-mentioned resonances.
Spatial
Xiaomi Mi CC9 Pro Premium Edition
27
77
Xiaomi Mi 10 Pro
With a single speaker placed at the bottom left, wideness is essentially nonexistent and the balance shifts to the right when in landscape mode. These shortcomings weigh heavily on the Spatial sub-score, which almost ties the Honor 20 Pro's. However, distance rendering is fairly good and localizability is average, which means the user can rather accurately place the original location of instruments, actors, and other sound sources in a recording.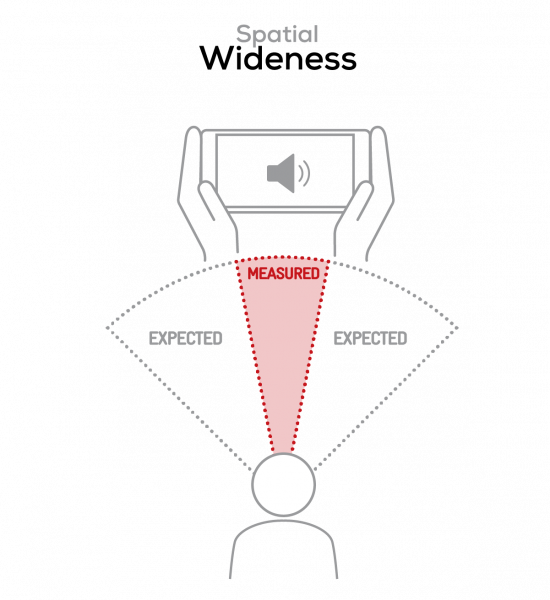 Poor spatial wideness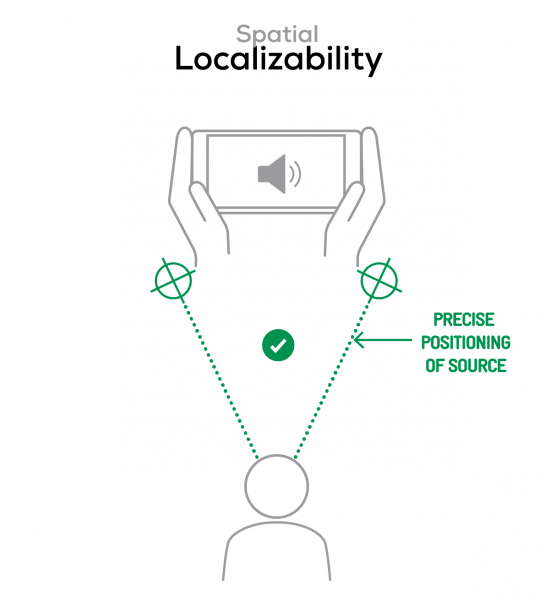 Volume
Xiaomi Mi CC9 Pro Premium Edition
57
79
Realme X2 Pro
Our Volume tests measure both the overall loudness a device is able to produce and how smoothly volume increases and decreases based on user input.
In this area, the CC9 Pro Premium Edition is similar to Huawei's Mate 30 Pro, in that it delivers quite good maximum loudness for a single-speaker device, but nothing earth-shattering compared to the vast majority of stereo devices. The lowest volume step is also too low, forcing the user to turn up the volume a step or two to correctly hear quieter tracks.
The volume curve shows consistent linearity, except for the last volume steps where it flattens a bit, which translates into smaller deltas of volume perception.
| | |
| --- | --- |
| Hip-Hop | Classical |
| 71.1 dBA | 67.2 dBA |
Artifacts
Xiaomi Mi CC9 Pro Premium Edition
84
90
Samsung Galaxy Note20 Ultra 5G
Our Artifacts tests measure how much source audio is distorted when played back through a device's speaker. Distortion can occur both because of sound processing in the device and because of the quality of the speakers.
Apart from noticeable distortion at maximum volume, especially in Game Mode, the CC9 Pro excels at controlling playback artifacts. Noise and compression effects are particularly clean, both at nominal and at maximum volume. Regrettably, occlusion happens too easily on the speaker, which significantly lowers the performance.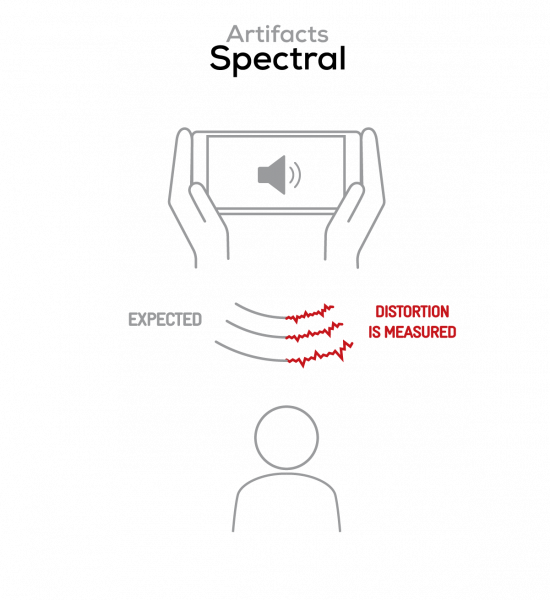 Distortion is noticeable at maximum volume.
If it weren't for these two flaws, the CC9 Pro Premium Edition would probably match (or even surpass) the Honor 20 Pro, which achieves the highest Artifacts sub-score so far.
Recording
Timbre
Xiaomi Mi CC9 Pro Premium Edition
76
85
Apple iPhone SE
As illustrated by its Timbre sub-score of 76, the CC9 Pro Premium Edition's microphones deliver rather faithful timbre recordings. In keeping with the speaker's performance, midrange and treble are clear and precise. However, yet again, the lack of bass slightly impairs the tonal balance—especially in electronic concert-like situations.
Life video frequency response
That said, as shown in the graph above, the drop hardly reaches -4 dB at its worst, while the Honor 20 Pro's bass recording curve sinks down to around -9 dB (and that noted, the graph does not show the Black Shark 2 Pro's surreal drop to -25 dB). Perceptual tests confirmed that the microphones performed better for non-musical files (life and selfie video, meeting room, and memo), which contain fewer frequencies (and less bass). Memo recordings cut abruptly above 16 kHz, which luckily does not interfere with the general perception of treble reproduction.
Dynamics
Xiaomi Mi CC9 Pro Premium Edition
65
78
OnePlus 8
Thanks to a good sound-to-noise ratio and an accurate sound envelope, the CC9 Pro Premium Edition earns itself a top-tier Dynamics sub-score of 65. Voiced plosives (such as "p" and "b" ) in particular are faithfully reproduced. Sadly, over-compression hampers the recording quality in situations similar to the electronic concert use case, crushing the dynamic range and annihilating live fluctuations.
Spatial
Xiaomi Mi CC9 Pro Premium Edition
56
74
Asus ROG Phone 3
In the Spatial category, the Xiaomi's major problem is inverted stereo recordings in life and selfie video use cases. Apart from this slipup, though, the spatial rendering is accurate, and the distance as well as the localizability performances are both excellent.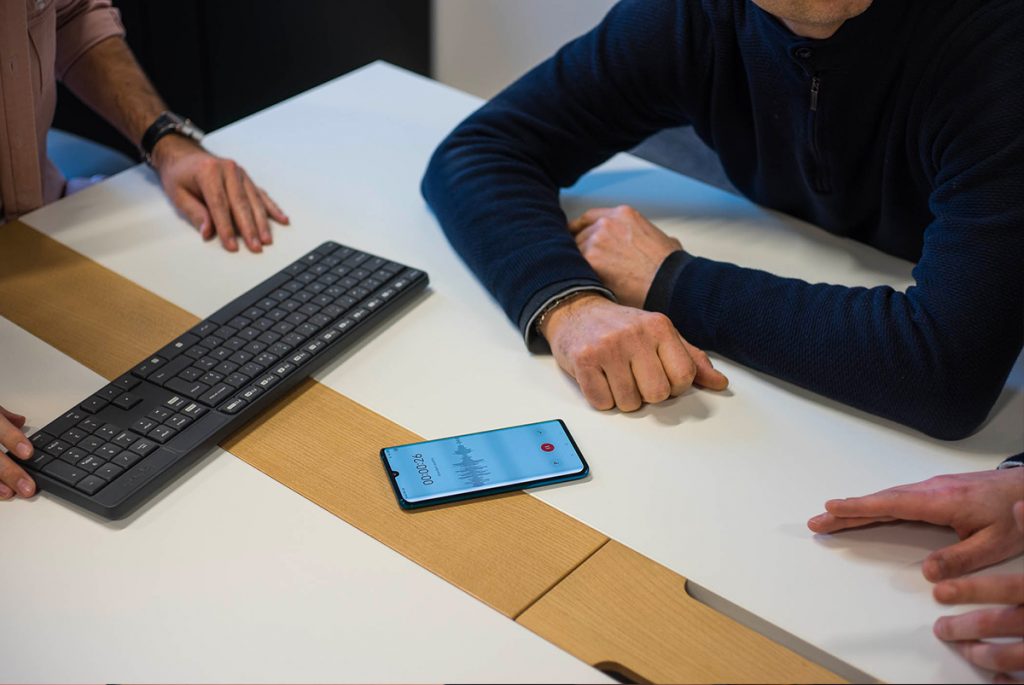 The Xiaomi Mi CC9 Pro Premium Edition makes a good recording companion during meetings.
In the meeting room use case, where wideness and directivity are not affected by the issue of inverted stereo, the CC9 Pro Premium Edition achieved a highly respectable sub-score of 68.
Volume
Xiaomi Mi CC9 Pro Premium Edition
60
88
Huawei Mate 30 Pro 5G
The CC9 Pro Premium Edition's Volume performance is only average compared to other devices with similar specifications. While the maximum loudness level without (audible) distortion is quite good, the various audio files' loudness is rather disappointing—especially in meeting, memo, and life video use cases, as shown in the table below.
| | | | |
| --- | --- | --- | --- |
| Meeting | Life Video | Selfie Video | Memo |
| -25.3 LUFS | -23.5 LUFS | -22 LUFS | -23.4 LUFS |
Artifacts
Xiaomi Mi CC9 Pro Premium Edition
71
84
Google Pixel 5
Heavy compression is a temporal artifact, so therefore the pumping effect we see in the Dynamics graph above also reduces the Artifacts sub-score. Occlusion on the microphones can also significantly alter the recording quality, especially in selfie video mode.
These two issues aside, recordings have relatively few artifacts, be they temporal or spectral, resulting in the second-best Artifacts sub-score of any of the devices we have tested so far. You can hear this for yourself in the sample recording:
Background
Xiaomi Mi CC9 Pro Premium Edition
47
58
Apple iPhone XS Max
Background rendering is average, with tonal balance once again impaired by the phone's lack of bass when recording. However, no artifacts are perceptible.
Conclusion
While the Mi CC9 Pro Premium Edition is a formidable competitor in the camera field, its overall Audio score of 54 sends it straight to the back of the classroom. Its most notable flaw is of course the single speaker placed at the bottom left of the device, which not only creates an unnatural experience when playing back music and movies, but can also be problematic when playing games. Other issues, such as noticeable lack of bass, inverted stereo recording, and high distortion at maximum volume, also pile up on the negative side.
On the positive side, the Xiaomi CC9 Pro Premium Edition delivers very precise and crisp playback, with good localizability and distance, and makes a good companion for listening and recording non-musical contents—especially vocal files or in meeting room-type situations.
Playback
Pros
Decent overall performance for a single-speaker device
Good attack, thanks to clear and precise midrange and treble reproduction
Good distance rendering and almost average localizability
Few artifacts, including distortion, from soft to nominal levels
Cons
Thin sound because of lack of bass
Lack of wideness and stereo shifted to the right
Minimum volume is too low
Considerable distortion at maximum volume
Recording
Pros
Good overall performance
Efficient localizability, thanks to a clear midrange and precise treble
Few artifacts and good dynamics performance in average loudness use cases
Cons
Significant lack of bass
Loudness is too low in meeting and memo use case scenarios
Recording in loud environments generates numerous temporal artifacts
Inverted stereo in life and selfie videos