Designed for Sony's E-mount full-frame cameras, the Yongnuo YN 85mm F1.8 S DF DSM is a compact and lightweight portrait lens that supports both manual focus and autofocus. A DSM stepping motor enables quiet focusing, making the Yongnuo also an interesting option not only for still photographers but also for video shooters.
The lens features 9 elements in 8 groups and comes low-dispersion glass. Firmware is upgradeable via a USB Type-C port and a metal bayonet with gold-plated contacts promise durability and reliable communication with the camera body.
With a significantly lower sticker price than the more established competition the Yongnuo looks like a viable alternative for budget-conscious Sony photographers. Let's see how it shapes up in our DXOMARK Lens tests.
You can view the results for all tested lenses and create your own comparisons and in-depth analyses using our interactive image lens comparison tool.
Key specifications:
Nine elements in eight groups
Nano-multilayer coating process
Seven blade aperture
DSM AF motor
58 mm filter thread
Minimum focus distance: 0.8 m (30.5″)
Weight: 346 grams (0.76 lb)
Test results
We tested the Yongnuo YN 85mm F1.8 S DF DSM on the 61 MP Sony A7R IV, where the camera sensor and lens together achieved a DXOMARK score of 51 points. This is an excellent score and makes the Yongnuo the best 85mm lens for full-frame E-mount cameras in our database, albeit by a tight margin of only 2 points over the Sony FE 85mm F1.4 GM.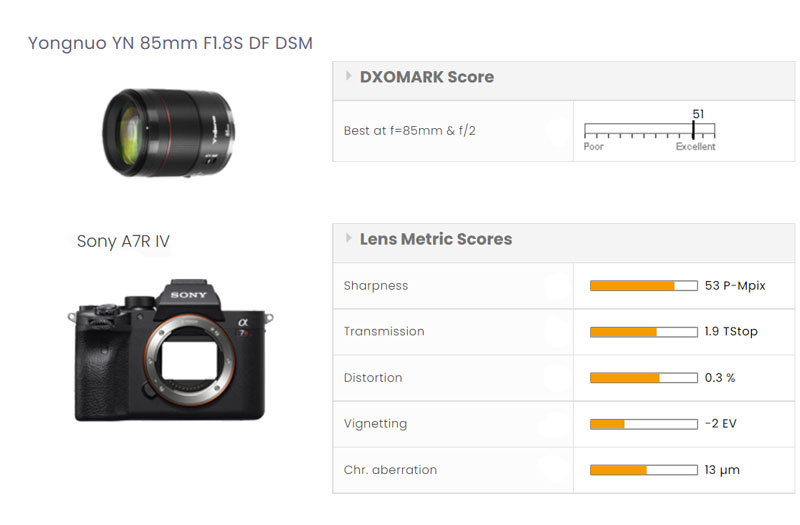 The Yongnuo YN 85mm F1.8 S DF DSM delivers impressively sharp images, even at the maximum aperture. This is especially true at the center of the frame. Astigmatism is well under control when stopping down a little and transmission is on a similar good level as for comparable lenses.
It's not all positives, though, and Yongnuo photographers will have to make some compromises. Our testers observed a lot of lateral chromatic aberrations and sharpness drops off significantly towards the edges of the frame. Vignetting is visible as well at all aperture settings from F1.8 to F4. Vignetting is visible as well at all aperture settings from F1.8 to F8.
In-depth comparisons
We compared the Yongnuo lens to the Sony FE 85mm F1.8 and the Carl Zeiss Batis 85mm F1.8 Sony FE all tested on the same camera. Both comparison lenses offer the same maximum aperture as the Yongnuo but are longer and heavier. Most of all they're quite a bit pricier as well. Let's see if the more affordable Yongnuo YN 85mm F1.8 S DF DSM can keep up with the competitors from the more established manufacturers.
You can see an overview of this comparison in our database.
Sharpness
The Yongnuo YN 85mm F1.8 S DF DSM performed especially well in sharpness (acutance) testing. It has very good center sharpness at the maximum aperture of F1.8 achieving a high acutance of just over 85%. However, there is a drop off towards the edges and corners where we measured acutance of around 70%. Stopping down to F4 will improve things at the edges and increase acutance to just under 80%. At F8 corner sharpness reaches its maximum and decreases when the lens is stopped down further.
Neither the Sony lens nor the Zeiss can match the Yongnuo's center sharpness at F1.8 but the Sony is slightly better at the edges. When stopped down to F2.8 all three lenses are at a very similar level at the center but the Sony offers better corner sharpness than the Yongnuo and Zeiss, and pretty good uniformity across the field.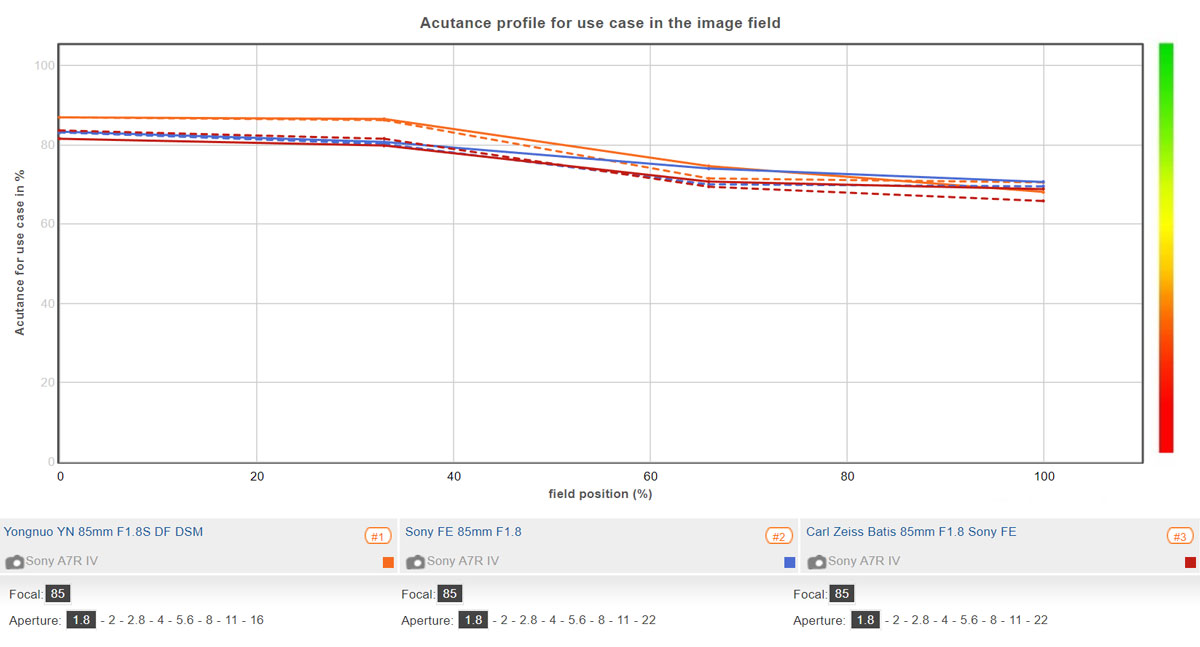 Chromatic aberration
The Yongnuo has pretty high levels of lateral chromatic aberration at all apertures and things get slightly worse as you stop down. Both the Sony and Zeiss control the effect much better, with lateral chromatic aberration much less noticeable. The more expensive Zeiss is a touch better than the Sony but there really isn't much between them despite the price difference.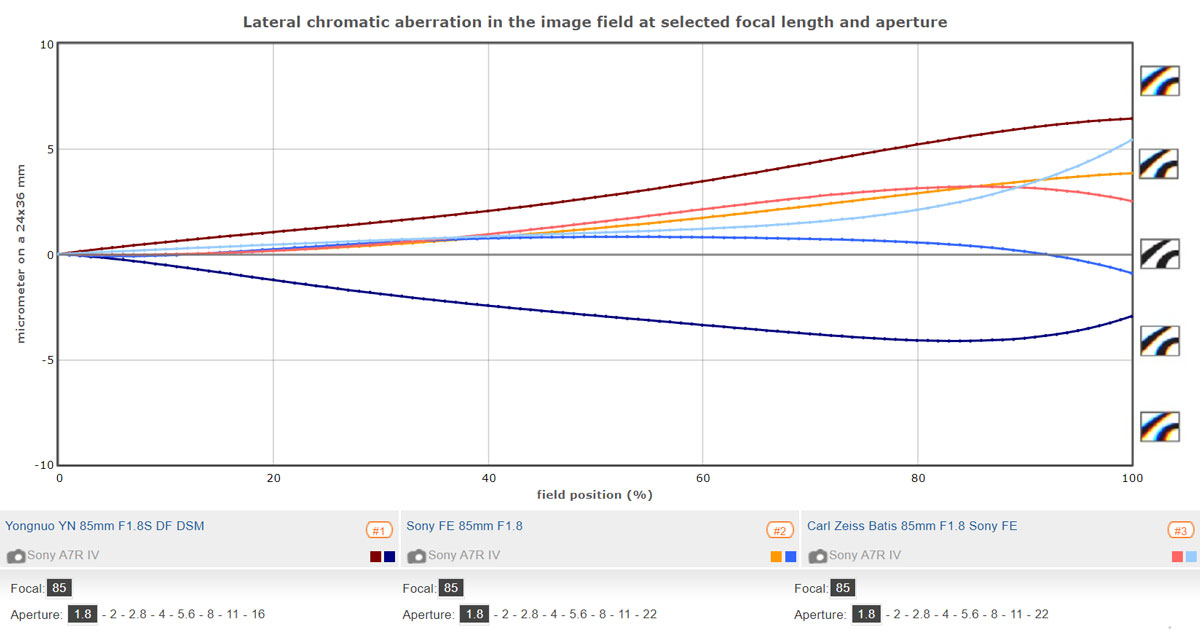 Geometric distortion
As you would expect at a 85mm focal length geometric distortion is well controlled on all three lenses but the Sony is a touch more uniform across the field than the Zeiss and Yongnuo.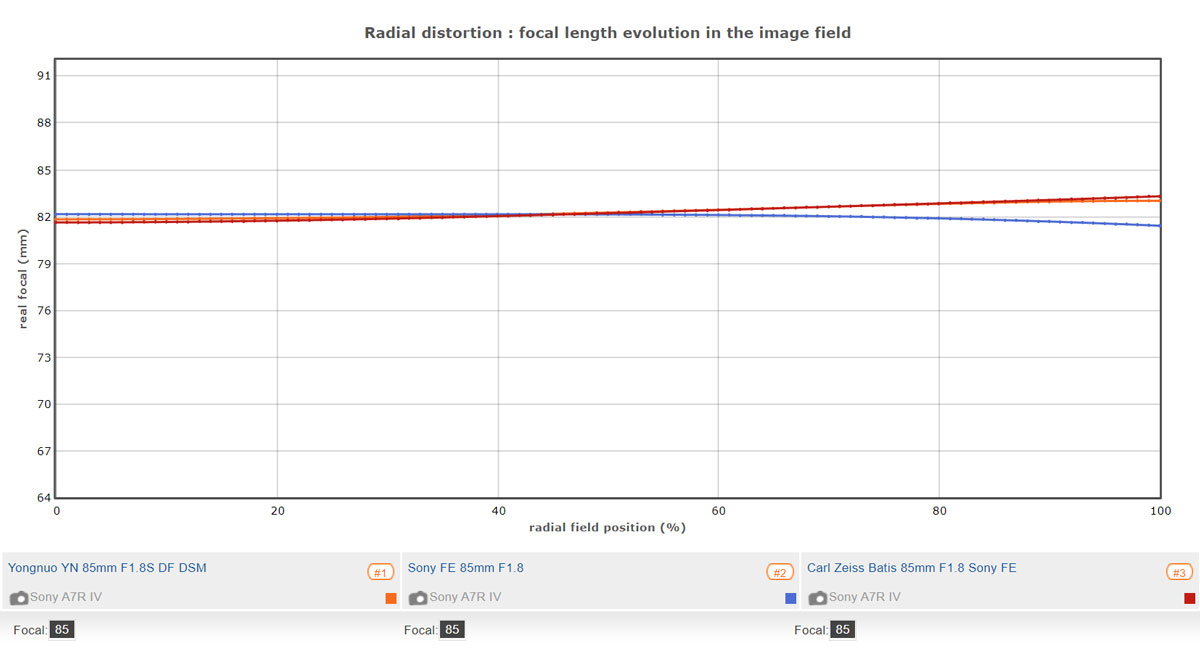 Vignetting (corner shading)
Vignetting is quite noticeable on the Yongnuo YN 85mm F1.8 S DF DSM when shooting wide open. There is a noticeable improvement when stopping down to F4 but some corner shading remains even at the smallest aperture settings. At F1.8 the Yongnuo does well compared to the competition. It's on a similar level as the Sony and noticeably better than the Zeiss. However, vignetting is reduced more on both comparison lenses by stopping down. From F2.8 onwards the Sony and Zeiss are noticeably better than the Yongnuo, with not much difference between the two at most aperture settings.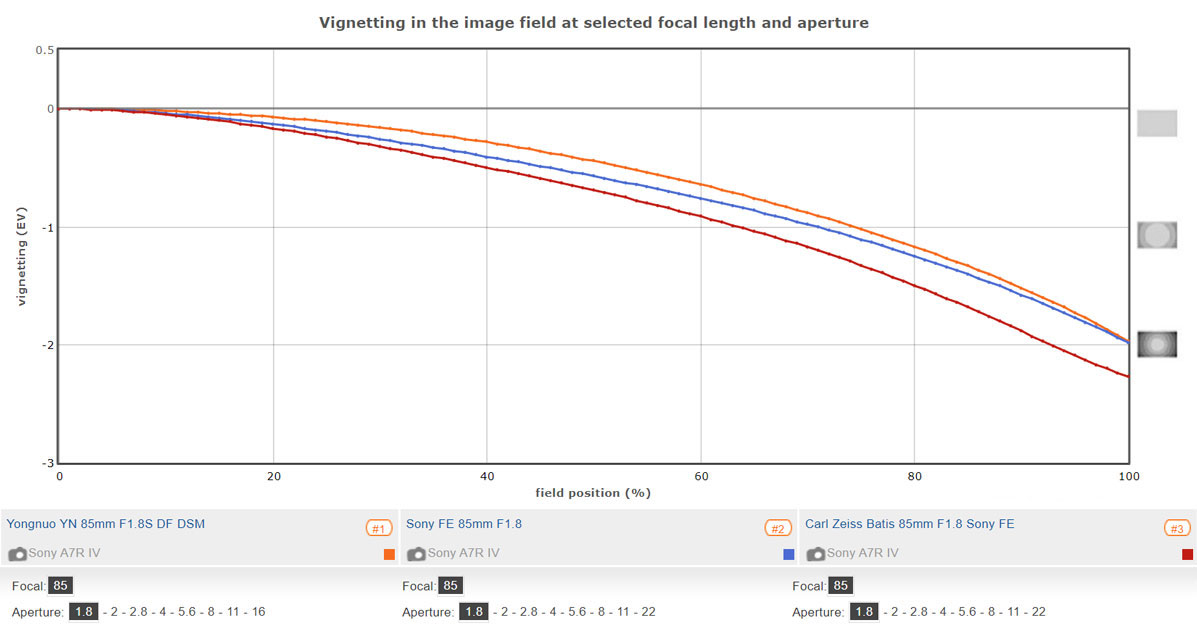 Transmission
The measured T-stop relative to the quoted F-stop is nice to know if you're using your lenses for videography but it isn't really relevant for stills. Transmission may indicate how the lens handles flare and ghosting, but that's not what's tested here. In any case, with a 1.9 T-stop measurement the Yongnuo is very close to the Sony and Zeiss which we both measured at 2. All three lenses show approximately a -0.3 EV difference against the reported F-stop.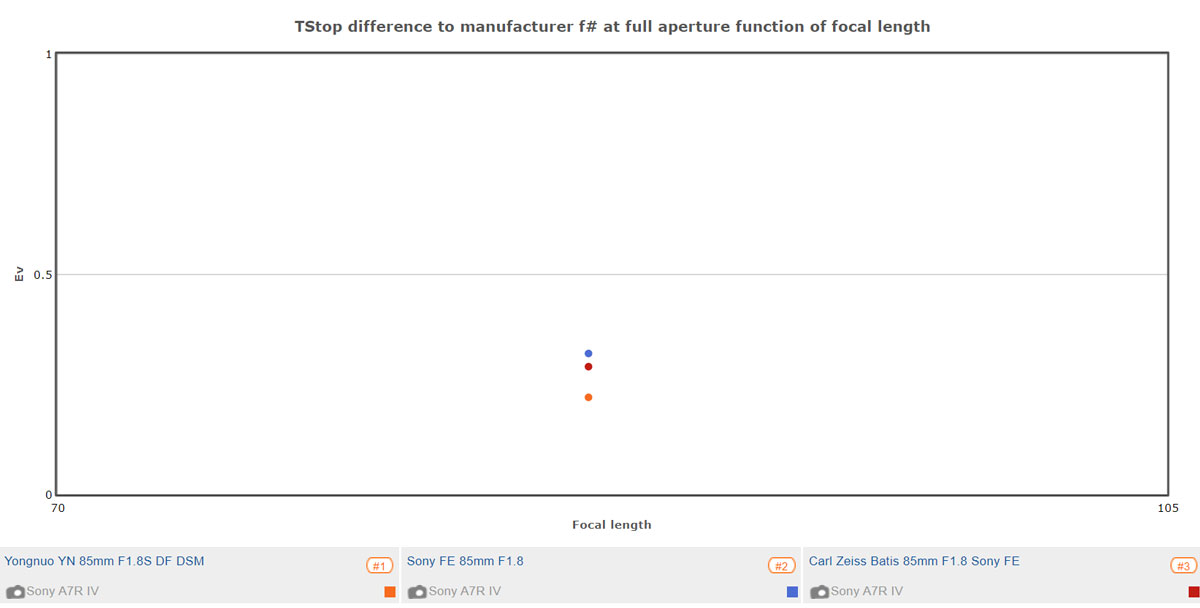 Conclusion
Photographers who shoot with the Yongnuo YN 85mm F1.8 S DF DSM get excellent sharpness at the center of the frame but will have to make some compromises, especially in terms of corner softness and chromatic aberrations. Build quality and materials are also not quite on the same level as the comparison lenses from Sony and Zeiss but essentially the Yongnuo offers a high level of quality at a fraction of the price of its competitors, making it an enticing option for budget-conscious shooters.
In this review, we have compared the Yongnuo YN 85mm F1.8 S DF DSM mounted on a Sony A7R IV to its closest rivals from other brands. Remember that the lenses may be used on various cameras with different sensors, or in some cases on different camera systems using different mounts, so the results will vary between them.
As usual, you can create your own comparisons and in-depth analyses using our interactive image lens comparison tool.