Best lenses for the Canon EOS 70D
By Kevin Carter -
Friday August 30 2013
Lens Recommendations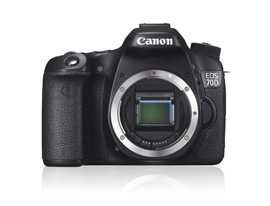 Introduced in July this year, the EOS 70D at first sight seems like a regular update to the maker's mid-range EOS 60D model. It shares a number of features with the firm's existing SLR range including a 19-point cross-type phase detection AF system, a 3-inch (1.040M dot) articulated touchscreen and built-in WiFi connectivity with remote viewing and image transfer. The camera can also shoot at up to 7fps and has 1080/30p video recording with stereo sound using an optional external microphone.
While all of those features sound promising, it is the inclusion of a new 20.2 Mpix Dual Pixel CMOS AF sensor that makes the $1,199 EOS 70D particularly attractive to video users. This new sensor adopts two photodiodes per pixel location, which are used separately for phase-detection AF in Live View mode and during video-capture, although the firm say only 80-percent of the frame is used. For stills capture, the output from the two photodiodes is combined, giving a pixel count of 20.2 million. At the time of the announcement, Dual Pixel CMOS AF is compatible with 103 current EF lenses, spanning both EF and EF-S models but it also has limited compatibility with many more, mainly older lenses.
Although we've not tested AF compatibility (or reliability), the labs have worked incessantly to analyze the optical performance of over 130 models from both Canon and third-party makers, ranging from the uniquely wide, yet reasonably compact APS-C Sigma 8-16mm f/4.5-5.6 DC HSM through to the affordable 18-55mm 'starter' zooms and up to the new and not so accessibly priced full-frame EF 600mm f/4 IS II USM and EF 200-400mm f/4 IS USM Extender 1.4x models.
Some of the more recent introductions analyzed by DXO Labs include:
- Canon EF 200-400mm f/4L IS USM Extender 1.4x (extender on and off)
- Sigma 18-35mm F1.8 DC HSM A Canon
- Canon EF-S 18-55mm f/3.5-5.6 IS STM
- Sigma 30mm F1.4 DC HSM A Canon
- Canon EF 35mm f/2 IS USM
Comments
Are your 70D Reviews a good guide for the 7DM2 also?

Hey DXOMark,

Thanks for a really informative article. As with lots of people on here I struggle to know what is a good lens with so many different options out there.

I know you guys were pretty disappointed with the 7DM2 and there are too many bodies to test all body/lens combinations. I have been using your 70D Reviews as a good guide for what to expect with the 7Dii but figured I would ask the experts as I want a wide angle and the Tokina AT-X 11-16 is not cheap but looks a lot better than the Canon EF-S 10-18mm.

Thanks in advance

Brian


Reply
---
Added by

mty55

| November 16 , 2014

price filter for recs

Thank you for these recommendations!
Some dream lenses in there.
Unfortunatelyi have a certain budget not to exceed....

Is there a possibility to filter by price, so i would see only lenses below 1000 usd and hence the top 15 an 20 come up and are notoutrun by unaccessible / too pricy pieces?
Thanks for your site


Reply
---
Sigma 17-70mm F2.8-4 DC MACRO OS HSM C

I would like to know how the Sigma 17-70mm F2.8-4 DC MACRO OS HSM C performs compared to the other zoom lenses.


Reply
---
Added by

jmkiska

| September 12 , 2013

Sigma "Best Zoom" Lenes with 70D and DPAF (Live View)

Emillie,

How did the Sigma 17-50mm f/2.8 EX DC OS HSM and the 50-150mm f/2.8 EX DC OS HSM APO work with the Dual Pixel CMOS AF system on the 70D? Did you do any testing with "Live View"?


Reply | Read all replies for this comment
First replies for this comment
---
Error in 50-150 chart

Appreciate your info so much DXO. Might want to check the sharpness chart for the Sigma 50-150. I think you are displaying the older version of the lens and not the new OS model which is a far better performer. Also, in the write up, you write "god" rather than good. Keep up the god work! ;)


Reply | Read all replies for this comment
First replies for this comment
---
Ooops, just didn't see it. Normally it gets better reviews -- Bad copy???

Probably you had a bad copy of the Canon 15-85mm IS, if it scored that closely to the 18-135s and 18-55??


Reply
---
What about the Canon EF-S 15-85mm IS ?

Your site's reviews of Canon EF-S lenses is missing one of the most useful, versatile, and supposedly most high performance all-around lenses, the Canon 15-85mm IS .

That should be a great walk-around lens and is the widest Canon EF-S zoom to incorporate IS, very useful for all handheld video and many stills situations, too, of course.
As a pro newspaper photog, I appreciate our great 2.8 and/or L-series glass, but the 15-85mm complimented with one of the two nice 75-300mm IS options should be a great and relatively compact travel kit, especially for people who shoot handheld video or handheld low-light stills in slower subject situations. Perhaps add a 1.4/1.8 wide or normal prime (or two) for some trips.

It'll be interesting to see how the 15-85mm IS compares to the Canon 17-55mm IS and the others :)


Reply | Read all replies for this comment
First replies for this comment
---
Canon Vs Nikon lens tests

@dichiaras .... go to a tourist site ... I'm always amazed at how many Canon's there are and how few Nikons ...



Reply
---
Added by

Toshik

| September 02 , 2013

Lenses tested on D7100

[url=http://forum.dxomark.com/index.php?action=profile;u=10453]Emilie[/url] you told us [url=http://forum.dxomark.com/index.php/topic,1450.msg2920.html#msg2920]here[/url] to publish Nikon APS-C lens recommendations, after Olympus PEN EP5 and in September.

Olympus lens recommendations were published 27th August and September has already come. Where are Nikon APS-C lens recommendations? Or at least please say when to expect them.


Reply | Read all replies for this comment
First replies for this comment
---
Lenses tested on D7100

Are you kidding me? The first Canon 70Ds have just left the factory, with one of them you already tested quite a few lenses, and the 6-months-old Nikon D7100 has zero tested lenses? Really?
Maybe there is some new Canon funding we don't know about...


Reply | Read all replies for this comment
First replies for this comment
---