Best lenses for your Pentax K-50: Pentax lens overview
By Kevin Carter -
Thursday August 22 2013
Lens Recommendations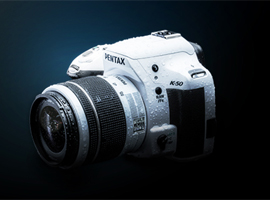 Announced in June this year, the K-50 is an accessibly priced environmentally sealed DSLR featuring a built-in stabilization and a 16-MPix APS-C size CMOS sensor. As Pentax has yet to introduce a full-frame DSLR to the range the K-50, like others before it, can benefit from one of the largest lens ranges designed for the smaller APS-C sensor. The result is an appealing and unsurpassed range of compact and highly portable primes and zooms. We have analyzed the optical properties of 28 different models in total from Pentax as well as third-party makers, mounted on the new K-50, to help you in your selection either when buying new for the first time or when simply choosing which lens to take with you on your next shoot.
At $699 body only, the K-50 replaces last year's unconventionally styled K-30 but besides the return to a more familiar body design and many similar features such as six frames per-second continuous shooting and a top shutter speed of 1/6000th sec it adds an upgraded image processor and doubles sensor sensitivity of the K-30 to ISO 51,200. It's a very likable camera and as we've shown in our past report, the K-50 is an excellent performer, achieving a DxOMark Sensor score of 79 points overall; just ahead the firm's APS-C Ricoh GR, and only a couple of points behind the top-of-the-range Pentax K-5 II models. Our DxOMark lens scores take into account the sensor performance of the camera, especially the results from the Color Depth test and Dynamic range. Noise also affects the testing as one of the many criteria of the lens scores is based on the sharpness in low light levels (see here).
Database Overview
We've tested the K-50 with 28 lens models, ranging in focal length from 10mm (equivalent to 15mm in full-frame 35mm angle of view) with the Tamron SP 10-24mm f/3.5-4.5 Di II LD Aspherical IF up to 300mm (450mm equivalent) using the premium Pentax smc DA Star 300mm F4 ED (IF) SDM lens.
Admittedly, one or two lenses are full-frame types such as the new Sigma 35mm f/1.4 Art-series and older Tamron SP AF 28-75mm f/2.8 XR (42-113mm equivalent) model, but the majority are APS-C types made by Pentax. While it's debatable whether models like that are wholly suitable for APS-C cameras the lenses are available in Pentax mount and, therefore, entirely reasonable to compare the optical performance.
Please note that we've not yet had the opportunity to analyze the Pentax 31mm f/1.8, 43mm f/1.9, 77mm f/1.8 Limited models or the 18-135mm f/3.5-5.6 and 60-250mm f/4.0 zooms, however we will be publishing the data on these important models in the future and will update the findings of this overview."
For more information about the sensor check our Pentax K-50 sensor review
Further readings for the Best lenses for your Pentax K-50: Pentax lens overview
To provide photographers with a broader perspective about mobiles, lenses and cameras, here are links to articles, reviews, and analyses of photographic equipment produced by DxOMark, renown websites, magazines or blogs.
---
---
---
---
---
---
---
---
---
---
Comments
Added by

AtitG

| December 17 , 2013

Pentax lens test

I think the new 20-40mm limited and the soon to be released sigma 18-35/1.8 for k-mount would generate a lot of interest among pentaxians. I hope that you could test it on the k-3 and k-50.


Reply | Read all replies for this comment
First replies for this comment
---
Added by

kgyd

| September 18 , 2013

Pentax lenses

As the K-50 (and K-30, earlier) also comes bundled with the 18-135, the most urgent issue is this lens. Also, I would be most interested in a comparison between the 17-70 and various alternatives. Is it better to buy the K-50 + 18-135 kit or to pay extra buying a frame and a 17-70 separately?


Reply | Read all replies for this comment
First replies for this comment
---
Added by

dosdan

| August 24 , 2013

Pentax Lens Tests

I'd like to see the Sigma 70-200/F2.8 tested on a Pentax. I have both Mk II non-OS version of this lens and a Pentax DA* 60-250/F4 and I continually switch between the two.

The 60-250 has weatherproofing, better range at both ends, less CA, and is lighter, but it extends so it's physically more bulky.

The 70-200 has an extra stop, does not extend so it's more compact, has a bit more CA, and I think it may be sharper. It also has a unpleasant character to the OOF background in some shooting situations. Look at the quality of the bokeh in this shot:

https://dl.dropboxusercontent.com/u/51093924/K5_15351.jpg


I shoot junior sports with both, switching between them based on subject(s) composition (do I need shallow DOF or not), light level, shooting distance range for a particular event and the weather.

I still have not been able to come to a decision about which one I prefer. I think a comparison between these two and the cheaper Pentax 55-300/f4-5.8 would be informative.

Dan.


Reply | Read all replies for this comment
First replies for this comment
---
First replies for this comment
---
First replies for this comment
---
Added by

josa

| August 23 , 2013

lens

Weird lens line up, slow, expensive and odd focal lengths...nothing for me.


Reply
---
Pentax Lens Tests

I am planning to purchase a Pentax K30, however confused with lenses and lens choice. Like the camera body but a camera body by itself cannot do much. Waiting for your reviews.
Thank you for the site full of excitement.
Leo


Reply
---
Added by

magma

| July 23 , 2013

Pentax Lens Test

It would be nice to see your test on DA* lenses like DA* 16-50, 50-135 and the big and great 60-250.


Reply
---
First replies for this comment
---
First replies for this comment
---