Canon 5DS & 5DS R Review: New top-ranking Canon EOS sensor
By Paul Carroll -
Wednesday July 08 2015
Sensor Review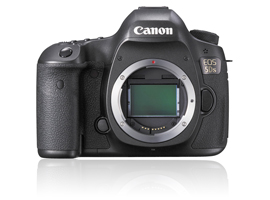 Boasting a monster 50.6Mp resolution, the $3699 EOS 5DS and $3899 5DS R (which differs due to its low-pass cancellation filter), become the new top-ranked Canon sensors on our database. With screen and print scores checked and verified, let's analyze the results to see how Canon's latest full-frame sensor stacks up against the competition.
Further readings for the Canon 5DS & 5DS R Review: New top-ranking Canon EOS sensor
To provide photographers with a broader perspective about mobiles, lenses and cameras, here are links to articles, reviews, and analyses of photographic equipment produced by DxOMark, renown websites, magazines or blogs.
---
---
Comments
Added by

TonyG

| October 21 , 2015

How comprehensive are the testing criteria?

It will be good to see how well the 5DS(R) perform with Canon lenses. I value DxO testing because of the objectivity, but also understand that testing cannot be totally comprehensive because some of us have additional criteria which are perhaps difficult to measure consistently. Nikon and Sony sensors appear to place more emphasis on the blue channel: hence I prefer Canon for landscape and portrait work where results often appear to correspond more closely with what my eyes and brain see. But this never shows up in DxO tests. Signal to noise ratios are important, though I have noticed with 5DSR output that Lightroom (and DxO Optics Pro) can easily remove noise without losing significant detail. And it really depends on what the final output will be. Printing a 5DSR image at, say, A3 means that noise can be eliminated without noise reduction even at ISO1600, while significant detail remains. Sensor tests are useful as indicators, and probably more useful than car manufacturers' mileage claims that nobody can achieve in the real world. But sensor tests are not the whole story.


Reply
---
Compromised tests

The testing methods used by DXOmark are very different to the way we test lenses. We MTF on and off axis, we test using a projector set up precisely with a graticule for even field illumination, chromatic aberrations and image fall off and a f-stop / t-stop machine etc.
The camera is tested without a lens to check various elements like DR, smear and well-overload etc. and native iso.

We then test the camera and lens together with critical tests for resolution, fall off, noise, field illumination and severe over & under exposure.
Overall Canon lenses especially newer designs are much better than the DXOmark results its idiotic that anyone thinks they are only good for 20MP.
Lenses and cameras to be truly matched should have a nyquist value rated to the pixel pitch of the sensor no camera manufacturer can claim that certainly for each camera because the pixel pitches vary.



Reply
---
Canon 5Ds

As primarily a landscape shooter and being invested in Canon since before the EOS system was invented I feel connected to their system. I do however have Olympus M.4/3rds cameras as well mainly for holidays as they are lighter for travel.
I recently purchased the 5Ds and contary to those that have not bought it find the camera demanding in technique (to avoid vibrations mainly) but the results to be truly outstanding when you get everuthing right. the two stop advantage in DR Nikon & Sony have to me have not proved an issue with this camera I use filters regularly and with considered composition etc. the 5Ds resolution advantage (remembering difraction kicks in earlier) is a thing to behold allowing tighter cropping and fully detailed prints.


Reply
---
First replies for this comment
---
Real world

after using a 5Diii, an 810 and now a 5DSR I am perplexed by the scores. Maybe it's just a personal opinion but the colors and sharpness of the Canon 5DSR far outweighs the DR advantage of the 810. Prior to the 5DSR I used the 5Diiii for portraits and the Nikon for landscapes, Head to head I like the image quality of the Canon 5DSR over both. I really appreciate dxoMark but feel as though they focus too much on technical measures rather than real life quality. Check out the reviews of other photographers, most of whom like me, were skeptical of the 5DSR but now have changed their minds. Now there are some things that bug me about the 5DSR (time it takes to write time exposures to the card) but to see the detail and colors - wow!


Reply | Read all replies for this comment
First replies for this comment
---
First replies for this comment
---
Added by

jackt

| July 15 , 2015

Lenses...

I'm more concerned about how these cameras will perform with Canon and Zeiss lenses. The lens rankings are dominated by top brand lenses mounted on the the d800e and d810 mainly due to their high Mxp count it seems, but apart from that - CA, Vignetting and Transmition and generally similar scores. So it would be interesting if you tested the top ranking lesnes on the 5DS and 5DR - they could possibly beat the Otus 55 + D800e score?


Reply | Read all replies for this comment
First replies for this comment
---
Added by

LRM

| July 09 , 2015

No need to count down...

just read the test results. They speak for themselves.


Reply
---
Canon is becoming synonim to garbage.

Most of my friends photographers cancelled 5ds/r orders and ordered a7rII long time ago, even before this test. It was already clear. Now this just confirms it.

Bye-bye Canon, it was a good journey. I'm still going to use some of my L lenses on Sony A7RII. At least lenses are still good.


Reply
---
print vs. screen

It appears the author himself doesn't quite understand the DXO test method and data. As an example, "print" results are always and principally higher than "screen" (as long as the sensor has >8MP), that need not be emphasized again and again.


Reply | Read all replies for this comment
First replies for this comment
---