Nikon D7100 review: Update to popular DSLR drops anti-alias filter for sharper images
By Janice Chen -
Wednesday March 27 2013
Sensor Review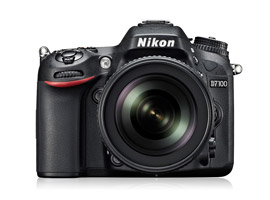 Although the new Nikon D7100 looks fairly similar to its predecessor (the popular Nikon D7000), Nikon has made some significant changes under the hood that belie the surface similarity. The D7100 not only includes a higher-resolution CMOS sensor, but even more significantly, the company chose to use a sensor without an anti-alias filter for the first time on a non-full-frame DSLR. While this should enable better sharpness and resolution, it may also result in more moiré patterns in some images.
Back when Nikon first introduced the D7000 two and a half years ago, the only real competition in its midrange DSLR class was from Canon. In fact, the D7000 carved out a new spot in the Nikon DSLR lineup between the D90 and the D300s to compete directly with the Canon EOS 60D. The new Nikon D7100 (priced at $1,200) takes the D7000's place as Nikon's flagship APS-C sensor camera, but enters a market that has a lot more contenders. Besides the Canon EOS 60D, which has since dropped in price to $900, recent DSLRs that compete directly with the D7100 include the Sony SLT Alpha 77 ($1,100) and the Pentax K-5 II and K-5 IIs ($1,100 and $1,200, respectively).
Like the Pentax K-5 IIs (and big brother Nikon D800E), the Nikon D7100 eschews an anti-aliasing filter – or optical low pass filter (OLPF) – to gain sharpness. Though this enables photographers to achieve higher resolution and clarity for detailed images, you may end up with increased moiré effects when shooting subjects with patterns (read more about anti-aliasing filters here).
In addition to removing the anti-aliasing filter from the sensor, the D7100 bumps resolution up from the D7000's 16.2 megapixels to 24.1 megapixels. The new camera also sports an improved autofocus system with 51 AF points (15 cross-type), in comparison to the D7000's 39-point (9 cross-type) AF system. Other improvements include a larger and higher-resolution LCD (3.2-inch 1,229K dots in the D7100 vs. 3.0-inch 921K-dot model in the D7000), a new viewfinder that utilizes a high-contrast OLED display, and improved HD video recording capabilities (1080/30p or at 60i/50i in 1.3x crop mode). Support for an optional WiFi adapter for easy wireless file transfer and remote control (with a supported smartphone or tablet) also sets this camera apart.
Further readings for the Nikon D7100 review: Update to popular DSLR drops anti-alias filter for sharper images
To provide photographers with a broader perspective about mobiles, lenses and cameras, here are links to articles, reviews, and analyses of photographic equipment produced by DxOMark, renown websites, magazines or blogs.
---
---
---
---
---
---
---
---
Comments
AF Zoom-Nikkor 80-200mm f/2.8D ED ?

Hi there, i wanna ask some question.
Are this lens (Nikkor AF 80-200 f/2.8D) ever tested on Nikon D7100?
Coz I see this lens not yet tested by dxo mark, why?
I wanna know is this lens is worth than Nikkor 70-200 f/4? for money and quality comparison, .

Thanks,

- aksatriou


Reply
---
Inconsistent classifications

The D7100 was classified as a "Semi-Pro" DSLR and yet the Pentax K3 has more useful features including full weather sealing and is considered by DXO an "Entry-level DSLR" camera. Please explain the rationale/criteria when classifying the cameras or do you folks arbitrarily bin products for no specific reason. Thanks


Reply | Read all replies for this comment
First replies for this comment
---
Added by

mwahaha

| September 27 , 2013

Best lenses

Eagerly awaiting the best lenses review for this camera, especially since k-50 and 70D already got theirs when they are more recent cameras.


Reply | Read all replies for this comment
First replies for this comment
---
First replies for this comment
---
Sony A99 has a much higher score than the ISO that you specify

Your rating ISO is completely wrong!
Sony A99 has a much higher score than the ISO, which you state your lab tests around the SLT are misleading and reflects micro differences eye and do not perceive the SLT greatly underestimated.

It seems someone painting on the same high ISO 7100 vs A99?

ISO 1600 at 7100 already in JPG visible noise, the A99 anything.
ISO 3200 in 7100 noise is no more evident for A99 small changes
ISO 6400 in 7100 image was far more noisy at A99 level as in 7100 iso 1600!
ISO 12800 in 7100 to significantly increase noise compared to the A99, which is still applicable.

RAW same ...

You write and publish half-truths.
The problem is that the A99 has LOW LIGHT-ISO 1550 but over 2000.

Anyone can look at the samples! and really looking to compare 1:1.
http://www.dpreview.com/reviews/nikon-d7100/21


Reply | Read all replies for this comment
First replies for this comment
---
Is not a big diference between D7000

Upgrade from D7000 to D7100 not worth
Upgrade from D7000 to D600 worth
Upgrade from D90 to D7000 worth
Upgrade from D90 to D7100 Totally worth
Upgrade From D90 to D600 Totally Worth
Upgrade From D300 to D600 Totally Worth
Upgrade From D300s to D7100 Worth

if you have to choose between the d7000 or d7100 go for the d7100 if money is not a problem spend 800$ and get the d600 but if you wanna save 300$ and get a better lens get the d7000

It is not a must have upgrade for those who currently have a D7000 but, if you shoot a lot of video it becomes something you may well want to consider.



Reply | Read all replies for this comment
First replies for this comment
---
First replies for this comment
---
Nikon D7100

I`m sure intentionally was downsized in order not to compete with other more expensive cameras. I don`t belive it is 13.7 DR. Please check again.


Reply | Read all replies for this comment
First replies for this comment
---
First replies for this comment
---