Sony A7 review: Mirrorless marvel?
By Kevin Carter -
Thursday December 05 2013
Sensor Review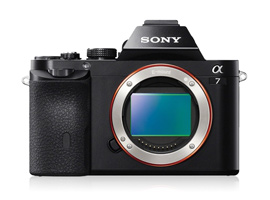 As the lower pixel count of the two full-frame A series mirrorless models from the firm the Sony A7 has been somewhat overshadowed by its pricier sibling. But with a less demanding 24-Mpix sensor and on-chip phase detection AF, the A7 sounds promising for legacy glass as well as offering faster focusing with the existing E and new FE mount lenses. Read on to find out how this intriguing new model performs.
Introduced in October alongside the 36-Mpix A7R, this SLR-style mirrorless model with its 24-Mpix full-frame sensor has been eclipsed somewhat by the promise of more highly detailed files from its sibling. However, at around $600 less, the short register and the less demanding 24-Mpix sensor of the A7 sounds promising for those wishing to use legacy SLR and old rangefinder lenses with the camera.
Apart from pixel count the A7 sensor differs in one other important aspect. It has a number of pixels dedicated to phase detection AF, allowing faster autofocus than A7R with the new native full-frame FE and earlier APS-C E-mount lenses. However both A7 and A7R should be evenly matched when using firm's A-mount SLT lenses with the new optionally available LA-EA4 mount adaptor. Although those earlier lenses were designed for phase-detection AF, the new mount adaptor has the SLT technology and PD-AF system already built-in.
Despite the differences in the sensor the A7 and A7R are otherwise very similar. It shares the same small, dust and moisture resistant magnesium alloy body and highly detailed XGA OLED viewfinder with focus peaking. Other notable features include a tiltable 3.0-inch high-resolution rear LCD, sensitivity running from ISO100-25,600 and a 5fps burst mode.
The A7 also supports both PAL and NTSC movie recording with AVCHD 1920x1080p clips at 60/50/25/24 fps. Filmmakers will also appreciate audio monitoring and the option of a 'clean' HDMI output for external recorders.
Removing the mirror has resulted in the A7 (and A7R) being one of the smallest, most portable full frame 35mm models available. It measures 126.9 x 94.4 x 48.2 mm and weighs 474g (16.7 oz ) without lens. The Sony A7 is shipping now at $1,699 body only, or for $1,999 with FE 28-70mm f3.5-5.6 OSS zoom.
Key specifications:
24.3-Mpix Full Frame (35.8 x 23.9 mm) Exmor CMOS sensor
Sony E-mount mirrorless body
1.3cm, 0.5-inch type (236M dot) OLED EVF
117-point phase detection plus 25-point contrast detection AF system
3.0-inch (921k dot) tiltable LCD
1080p video at 60/50/25/24 fps AVCHD
1/8000th second max shutter speed
5 fps maximum continuous shooting
ISO 100-25,600
Single SD/MSPro memory slot
Further readings for the Sony A7 review: Mirrorless marvel?
To provide photographers with a broader perspective about mobiles, lenses and cameras, here are links to articles, reviews, and analyses of photographic equipment produced by DxOMark, renown websites, magazines or blogs.
---
---
---
Comments
A7 and lens tests

Hello DxOMark,
I appreciate really a lot the scientific approach to measure lenses quality. Sorry for submit again this question - alredy posted on this group - but I see you tested all the Sony FE on the amazing A7R, and I would like to know if you plan to make also some tests (at least 1 lens) on A7 in few months.
Regards
Paolo


Reply | Read all replies for this comment
First replies for this comment
---
Added by

lexsix

| July 24 , 2014

A7 and A6000 Lens Tests

Hi DxO Team,
Any idea when you will publish Lens scores as tested on the Sony A7 and A6000? A lot of people are very interested and waiting, waiting, waiting.....



Reply | Read all replies for this comment
First replies for this comment
---
Added by

FER

| May 27 , 2014

fer

I am a photographer underwater life.
When ready to have an objective SONY 16mm fisheye???
really??
I am very interested for my photographic activity.


Reply | Read all replies for this comment
First replies for this comment
---
First replies for this comment
---
testing request for sony a6000

hi dxomark,
just wondering when will you be reviewing the new sony ICLE-6000? I'm very interested in how it compares to the A7 and NEX-7. Also, will you test the sigma 19mm f2.8 for E-mount lens? Thank you!


Reply | Read all replies for this comment
First replies for this comment
---
A7 Facebook Group

https://www.facebook.com/groups/AlphaA7/


Reply
---
First replies for this comment
---
Added by

Emacs23

| December 01 , 2013

A7 DxO Optics Pro

When A7 support will be available in DxO Optics Pro?


Reply
---
First replies for this comment
---