Sony Alpha 7S sensor review: New low–light champ
By Kevin Carter -
Tuesday June 17 2014
Sensor Review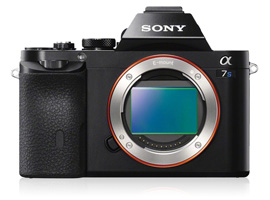 If you read the forums on colleagues' sites lots of users lament the selling of their old full-frame Canon EOS 5D, Nikon D700 or even their bulky Nikon D3 or D3s. Practically every user, so it seems, says their pictures from those old models had something special that the newer models lack. Sony think they may be on to something and have introduced the A7S a full-frame model with a newly-developed 12.2-Mpix CMOS sensor. Read on to find out well this new model performs?
Sony has added a third model to the firm's innovative full-frame A7 mirrorless camera line-up, concentrating on high sensitivity, low noise and a wide-range of video capture options including 4K from its full-frame sensor.
Shunning the hi-res' imaging of the A7 and A7R, the A7S adopts a sensor with a mere 12.2-million pixel count but with an expansive stills sensitivity of 100-102,400 (expandable to ISO 50-409,600). The new specially developed sensor is also the first to deliver UHD (4K) video from the full width of the sensor without pixel binning, albeit limited to HDMI only. With third-party external recorders starting just under $2,000 (for the recently announced Atomos Shogun), though that makes it an expensive option.
Fortunately the A7S has a complement of Full HD (1920x1080) video modes recording to the SD card at frame rates up to 60 fps with a range of recording formats including XAVC S with bitrate encoding up to 50 Mbps. Native sensitivity in movie capture echoes that of stills, and it can be expanded to ISO 100-409,600. Other features include the 25-point contrast-detection AF system from the A7R albeit modified with sensitivity to a unusually low Ev-4, XGA OLED EVKF, WiFi with NFC capability and Sony are developing a new XLR-type microphone adaptor kit using the camera's multifunction shoe.
The A7S is available for pre-order at $2,498 body only.
For more information, please see our preview at http://www.dxomark.com/Reviews/Sony-A7S-Preview-A-low-resolution-marvel-for-low-light-video
Key specifications
12.2Mpix CMOS Sensor with gapless microlens design
5fps continuous shooting with autofocus (up to 200 frames)
25 point contrast AF module with sensitivity to -4 Ev.
2.36M dot OLED viewfinder
Pull-out tilting 1.23m dot LCD screen
1/8000th top shutter speed, 1/250th flash sync.
ISO 100-102,400, 50 – 409,600 (Extended)
1080p up to 60 fps movies
4:2:2 UHD 4K output (only via HDMI to external recorder)
Built-in Wi-Fi with NFC
Further readings for the Sony Alpha 7S sensor review: New low–light champ
To provide photographers with a broader perspective about mobiles, lenses and cameras, here are links to articles, reviews, and analyses of photographic equipment produced by DxOMark, renown websites, magazines or blogs.
---
---
---
---
---
---
---
Comments
Dynamic Range of A7s vs A7R

Hi Sophie,
thanks for replying my first email.
After using the A7R and the A7s extensively, It is very difficult to reconcile your Dynamic range numbers. The A7s does have quite a bit more usable range, especially in the highlights. This dawned on me after I mistakenly took the A7r as opposed to A7s to a shoot on a bright sunny day.
Thanks for sending me the link about your process, I will study it closely.
However, given models are supposed to be good measures of a more complex World, and we choose parameters to maximise the model's closeness to the real world I would suggest DXO, look into the potential of upgrading it's algorithm to be more reflective of what a real world user would experience. Other than that I'm a big fan of your site. Very informative and useful for both lens and camera purchases. Excellent work, I'm a big fan. Many in the industry have argued, one should never buy cameras etc without personally checking out all the information personally. Unfortunately, most people do not have that kind of time. This is where your site is invaluable for resesrch.



Reply
---
To DXO staff

You guys do great work, really appreciate it
There seems to be a huge difference between what DXO thinks Sony A7s DR is and the company.
Please could you clarify?
Sony seems to implyyou tested an old version of the firmware.


Reply | Read all replies for this comment
First replies for this comment
---
A7s

Did you test the DR with mechanical shutter or electronic shutter? The DR is lower in silent electronic shutter mode, see

http://www.dpreview.com/forums/thread/3693689


Reply | Read all replies for this comment
First replies for this comment
---
Big disappointement

I put really grater expectations in this sensor, given the huge photosites and Sony's expertise...

If only we could have a D620 with a good FX autofocus soon, I'd be a happy man (or a d810 with a lower pixel count, but it won't happen)


Reply | Read all replies for this comment
First replies for this comment
---
Added by

mnznp

| June 18 , 2014

Anyone explains the result of the dynamic range in this test?

really curious about the results,as we've told the dynamic range extended to 15.3 stops as sensor RAW output after updating the firmware ?



Reply
---
Added by

a7s

| June 18 , 2014

Dynamic Range extended to 15.3 stops as sensor RAW output?

Dynamic Range extended to 15.3 stops as sensor RAW output?


Reply
---
a7S firmware version

What firmware version was used for the Sony a7S measurements?

Sony recently announced a new firmware version, claiming 15.3 stops of dynamic range in raw: http://presscentre.sony.eu//content/detail.aspx?ReleaseID=9810&NewsAreaID=2


Reply | Read all replies for this comment
First replies for this comment
---
Stops

I like big pixels and I like high ISO scores from DXoMark, but this is only about a third of a stop better (.376) than the score my D800 gets. I'd wait for the D810 :)


Reply
---
Result of A7 shown in A7S Comparison

I am surprised in the comparison by the A7 ISO result compared to the A7R.
Do you have any explanation as I would expect the lower density to produce superior results to the A7R.



Reply | Read all replies for this comment
First replies for this comment
---
First replies for this comment
---