Sony NEX-F3 review
Thursday October 04 2012
Sensor Review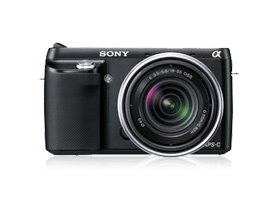 The NEX-F3 is one of three Sony mirrorless camera models released in 2012, and it's the company's eighth since the launch of the NEX line in 2010. The NEX-F3 borrows heavily from higher-end models, but also taps much of the technology found in its predecessor. So is there any big evolution in sensor quality for the NEX-F3? Or were most of the changes to the camera cosmetic? DxOMark has some answers.
The Sony name combines the Latin word "Sonus," meaning sonic, with "Sonny," an English derived word symbolizing a youthful boy, or small size. The latter is fitting given Sony's foray into the genre of mirrorless technology – an increasingly popular line of smaller and compact-sized cameras that provide photographers DSLR-like flexibility by providing interchangeable lenses.
Sony has been aggressively rolling out mirrorless models this year to compliment its growing NEX-series which debuted back in 2010. Since May, it has announced three new cameras to its NEX-line, with the NEX-F3 being rolled out first.
The NEX-F3, which is stuffed with a 16-megapixel APS-C sensor, replaces the NEX-C3, and is the third generation entry-level model to the NEX-line. Although, it's difficult to find anything entry-level about this amateur interchangeable lens product because it borrows so much from its higher-end relatives: its design closely mimics the NEX-5N and NEX-7, its ISO range has been increased to 16,000, and the NEX-F3 upstages its predecessor by adding a flash.
Despite the changes made inside and outside of the NEX-F3, the camera surprisingly makes no image quality evolution over its predecessor, the NEX-C3.
 Pros of the Sony NEX-F3:
 Improved ergonomics, with a better hand grip.
 Vivid 921k-dot LCD screen that tilts 180 degrees.
 Wider ISO range of 200-16,000.
 Built-in flash.
 HD video.
 Good dynamic range.
 Good control of noise.
 Nice color depth.
Cons of the Sony NEX-F3:
 No gain in image quality over its predecessor.
 Low light performance could be better.
Further readings for the Sony NEX-F3 review
To provide photographers with a broader perspective about mobiles, lenses and cameras, here are links to articles, reviews, and analyses of photographic equipment produced by DxOMark, renown websites, magazines or blogs.
---
Sensor
|
October 04, 2012
| | |
| --- | --- |
| | The NEX-F3 is one of three Sony mirrorless camera models released in 2012, and it's the company's eighth since the launch of the NEX line in 2010. The NEX-F3 borrows heavily from higher-end models, but also taps much of the technology found in its predecessor. So is there any big evolution in sensor quality for the NEX-F3? Or were most of the changes to the camera cosmetic? DxOMark has some answers. |
---
---
---
---