Introduction
The Sony name combines the Latin word "Sonus," meaning sonic, with "Sonny," an English derived word symbolizing a youthful boy, or small size. The latter is fitting given Sony's foray into the genre of mirrorless technology – an increasingly popular line of smaller and compact-sized cameras that provide photographers DSLR-like flexibility by providing interchangeable lenses.
Sony has been aggressively rolling out mirrorless models this year to compliment its growing NEX-series which debuted back in 2010. Since May, it has announced three new cameras to its NEX-line, with the NEX-F3 being rolled out first.
The NEX-F3, which is stuffed with a 16-megapixel APS-C sensor, replaces the NEX-C3, and is the third generation entry-level model to the NEX-line. Although, it's difficult to find anything entry-level about this amateur interchangeable lens product because it borrows so much from its higher-end relatives: its design closely mimics the NEX-5N and NEX-7, its ISO range has been increased to 16,000, and the NEX-F3 upstages its predecessor by adding a flash.
Despite the changes made inside and outside of the NEX-F3, the camera surprisingly makes no image quality evolution over its predecessor, the NEX-C3.
Pros of the Sony NEX-F3:
Improved ergonomics, with a better hand grip.
Vivid 921k-dot LCD screen that tilts 180 degrees.
Wider ISO range of 200-16,000.
Built-in flash.
HD video.
Good dynamic range.
Good control of noise.
Nice color depth.
Cons of the Sony NEX-F3:
No gain in image quality over its predecessor.
Low light performance could be better.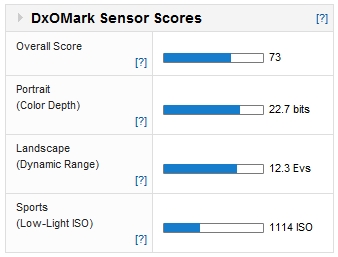 Sony's NEX-F3 sensor received a commendable DxOMark Overall Score of 73 placing it in a three-way tie for 11th place among Sony cameras – it's equalized by the NEX-C3 and the Sony SLT Alpha 55. Interestingly, the mirrorless NEX-7 tops all other Sony cameras in DxOMark sensor rankings, illustrating the NEX-F3 had a lot of opportunity and potential to increase its sensor quality.
The hybrid NEX-F3 received praise for its color quality. It can register about 22.7 bits of color, making the camera a real color hunter. Portrait and nature photographers would easily be attracted to this mirrorless camera's ability to capture a wide variety of colors and contrast.
Landscape and architecture photographers will appreciate the NEX-F3's praise-worthy dynamic range quality. Its best dynamic range is around ISO 200, but the camera still produces quality details in contrasting environments until about ISO 800.
NEX-F3's weakest sensor quality is its uninspiring performance in low light. It reached an ISO threshold of about 1115, after which its image quality began to deteriorate. Nevertheless, it remains satisfactory for an APS-C sensor.
Comparison: Sony NEX-F3 vs. Panasonic Lumix DMC-GF5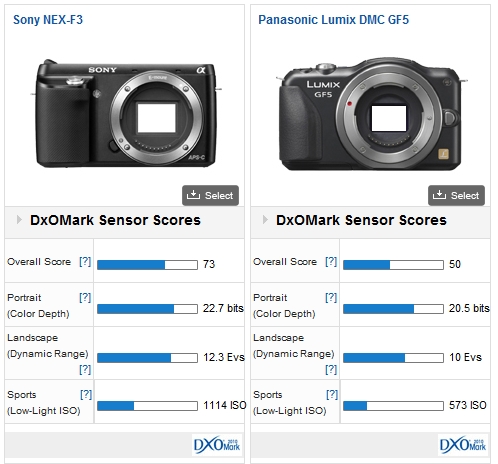 In a battle of hybrids, DxOMark pits Sony's mirrorless NEX-F3 and its 16-megapixel APS-C sensor against Panasonic's mirrorless Lumix DMC-GF5 and its 12-megapixel Micro Four Thirds sensor. The duo, which view for the same consumer base, are extremely close in price range – just one US dollar separates the two. However, that's where many of their similarities end.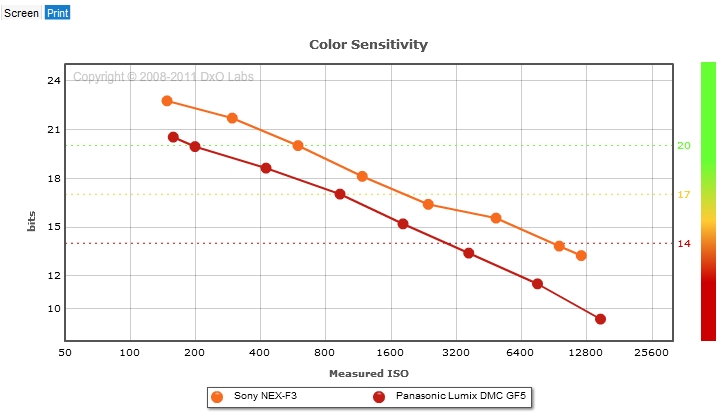 There is a wide gulf in sensor quality between the dueling competitors. For starters, the NEX-F3 registered 22.7 bits of color compared to the 20.5 bits of the Lumix DMC-GF5. This two-bit difference means the NEX-F3 can reproduce four times as many colors as the Lumix DMC-GF5. The two also have a significant difference in tonal range – nearly 2/3-stop separates the two.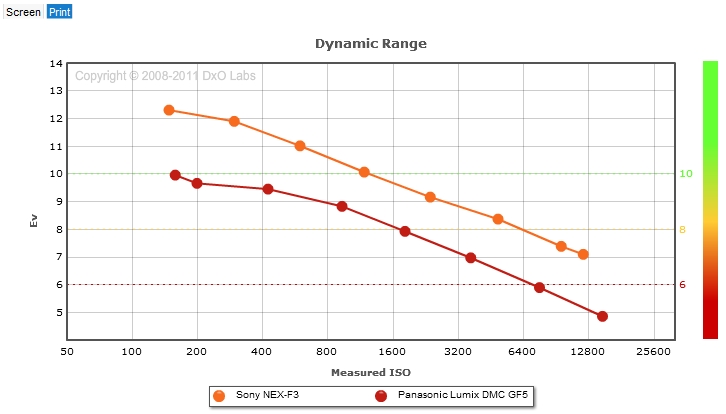 The two also had striking differences in dynamic range and low light ISO. The more than 2 Evs advantage of the NEX-F3 translates to a whopping two-stop difference between it and the Lumix DMC-GF5. The NEX-F3 also is much more masterful in low light, registering a full-stop brighter than the Lumix DMC-GF5 – the latter you see image quality drop off at ISO 573 and higher; and the NEX-F3 this is noted at ISO 1114 and higher.
The NEX-F3 handed the Lumix DMC-GF5 a convincing blow in sensor quality. The larger sensor size is a contributing factor to the NEX-F3's resounding sensor superiority over the Lumix DMC-GF5. But how does the NEX-F3 compare to an alternative Sony camera? The family comparison is much less dynamic and in some regards disappointing.
Comparison: Sony NEX-F3 vs. Sony NEX-C3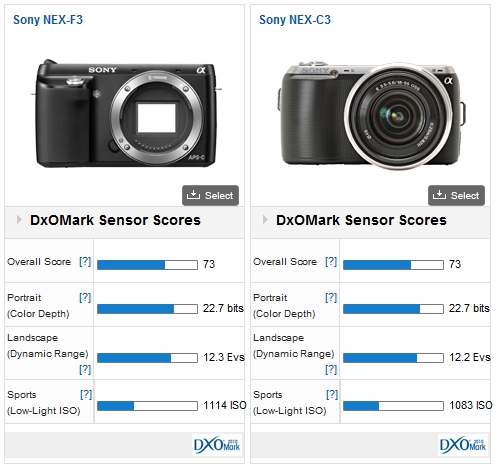 Changes to the Sony NEX-F3 seem largely cosmetic, as its image quality made no gains – and thankfully no losses – in image quality from its predecessor the NEX-C3. The pair had nearly identical results, with the NEX-F3 just marginally edging out the NEX-C3 in dynamic range and low light ISO performance.
However, the separation between the two was so small that is well within DxOMark's margin of error and did not warrant an increase in the NEX-F3's overall score.
These sensor quality similarities are partly expected, as the NEX-F3's and NEX-C3's sensors were largely identical. Unfortunately, this refreshed sensor, and not replaced sensor, leaves the NEX-F3 on a flat trajectory for image quality improvement. It would have been more wise for the electronics giant to have at least tinkered with the sensor's low light performance, as it still underwhelms in dim conditions, and would likely turn off many sports and event photographers.
The Sony NEX-F3 is a high quality entry-level mirrorless camera. Amateur photographers looking to advance their camera expertise will find the Sony NEX-F3, and its interchangeable lenses, a rewarding upgrade from their point-and-shoot. For its part, the NEX-F3 supplies rich and vivid color, preserves details nicely in high contrast images, and does better than most hybrid cameras in low light settings. However, for those looking to replace an older mirrorless camera, they might be reluctant to invest in the NEX-F3 after noting its lackluster, or barely negligible, sensor quality improvements.